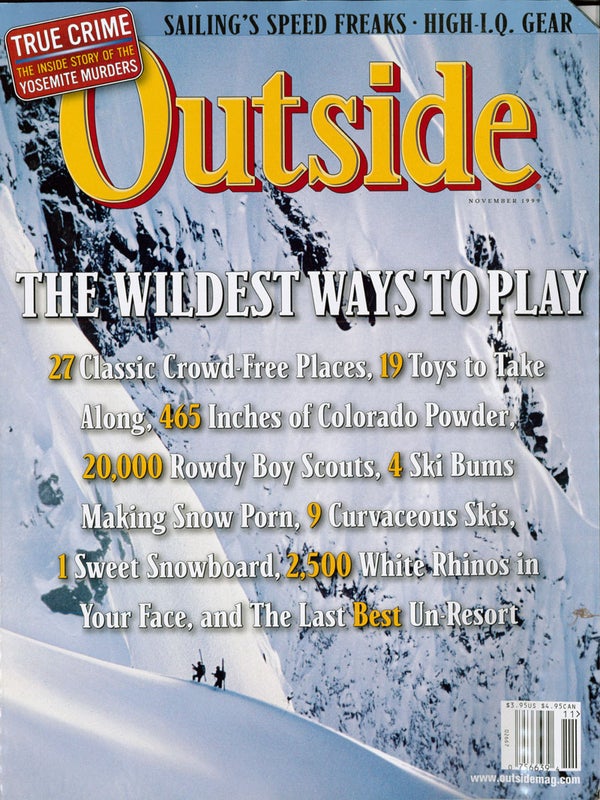 Outside Magazine, Nov 1999
---
F E A T U R E S
Super-Fat Days, Coma Nights, and the Quest for Tearjerker Footy
Four raucous filmmakers are putting the bum back in skiing. Which is to say, they're not afraid to race avalanches down tight couloirs, dangle from icy helicopter skids, spit tobacco on their truck's floorboards, call Warren Miller a poseur, jump 40-foot cliffs, and, along the way, demolish their credit ratings—tuition, of sorts, for the New School of skiing.
By Rob Story
Eyes on the Veld
The old-guard Afrikaners who run South Africa's Kruger National Park use an electric fence to enforce a simple master plan: Keep the animals in, the neighbors out, and nature in its place. Is this Eden, or just the best run zoo in the world? That's the 10,000-volt question.
By Mark Levine
Thrifty, Clean, and Brave
Be prepared. Be very prepared. For a visit to the Boy Scouts' mountain Valhalla is a return to the half-forgotten geography of adolescence. Every summer 20,000 teenagers trek into the wilderness of New Mexico's Philmont Scout Ranch to test their skills in map-reading, fire-starting, good deed–doing, and the heroic expulsion of intestinal gas.
By Adam Goodheart
Journey to the Center of the Edge
There comes a time in every man's life when he must embark on a great and dangerous Adventure. He must remain steadfast and brave even as he battles angry crevasses, wayward wolfchildren, ungrateful subordinates, and parrots so bothersome they must be silenced. Behold the long-lost diary of Colonel Edward Pike, valorous explorer of the tropical frozen heath!
By Marshall Sella
The Yosemite Horror
Authorities were baffled by last spring's discovery of three women's bodies just outside the national park—an intruder, it seemed, had struck and then vanished into the woods, perhaps forever. But after a fourth victim turned up during the summer high season, the mystery began to unravel, and locals learned a shocking truth: The killer lived among them, disguising an unbearable past.
By Joshua Hammer
D E P A R T M E N T S
Dispatches
Just when you thought sailing's cowboy fringe couldn't get more extreme, here comes The Race of the Millenium, a round-the-world regatta with one rule: Fastest boat—and craziest skipper—wins.
Could the rebirth of the rebreather open high-altitude mountaineering to the masses?
Mountain-biking masochist John Stamstad blitzes the Great Divide Route in record time.
Hell-bent longboarder Dave Frissyn makes road-rash cool again.
P L U S : Endangered ocelots obsess over Calvin Klein's Obsession; Al Gore's Floodgate; California's "unscalable" freeway walls; and more.
The Wild File
Why do hypothermia victims hallucinate? How do mogul fields form? Why do llamas spit? And what makes wild meat taste gamy?
By Hampton Sides
The Hard Way
After 21 young people died this July in a Swiss canyoning disaster, the media message was stereotypically simple: Risk kills. But the ethical questions provoked by the accident are far more vexing, as our correspondent finds after a journey to the scene.
By Mark Jenkins
Out There
Informed that the world was about to end, our man stopped off for the last chocolate malt of his life and drove to the top of Steens Mountain in deepest, darkest eastern Oregon. And what does he discover? There are no words.
By Tim Cahill
Destinations
Beyond the Fringe: Finding deeper drifts means trading mega-resorts for mom-and-pops, and high-speed quads for climbing skins. A purist's guide to this season's biggest thrills on far-flung hills.
Nirvana, Montana: Road-tripping through Big Sky country.
Northwoods nordic: Gliding along the Gunflint Trail, Minnesota's Rx for cabin fever.
B.C. backcountry: Going way off-piste at Rogers Pass. (Don't forget the Molson.)
Gladerunning: At Vermont's Jay Peak, the chill is fierce, but the tree-skiing leaves you breathless.
A knuckledragger's bounty: Carving Colorado's biggest snow crop at shred-friendly Wolf Creek.
Walk like Sasquatch: Snowshoeing and coyote-tracking in Adirondack country.
Bodywork
Hero Snow: A multidiscipline primer on handling rough terrain, with advice from the best in the biz.
How to swoosh through powder like a pro—and live to walk another day.
The quads you need for conquering the bumps.
Stay cool, keep your eyes off the trees, and other tips for bombing the glades.
Review
The Shape of Things to Come: The next generation of alpine skis are shorter, edgier, and more responsive, no matter the conditions. Introducing nine very versatile planks from Atomic, Dynastar, K2, Nordica, Olin, Rossignol, Salomon, Volant, and Völkl. Plus, how to buy wisely.
At last, boots with all the performance and none of the pain.
Heads up: Five stalwart helmets that can save your brainpan.
PLUS: A snowboard that gets you up the mountain, too; low-tech crampons; breezy new gaiters from Mountain hardwear, and Kestrel's palm-size weather station
The ultimate equipage: Super-light parkas, climate-controlled gloves, no-fog goggles, and other goods no adventurous snow-eater should be without.
PLUS: The Longest Silence, by Thomas McGuane; River Horse, by William Least Heat-Moon; The Voyage, by Philp Caputo; and more.