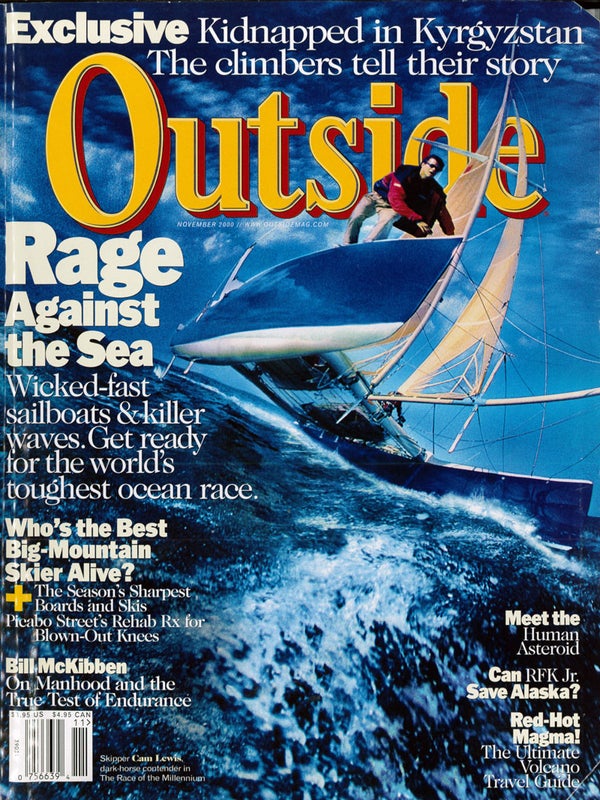 Outside Magazine, Nov 2000
---
F E A T U R E S
THE RACE OF THE MILLENNIUM SPECIAL
Sailing Off the Edge
Even by the punishing standards of ocean competition, The Race, which begins on December 31, 2000, will be a mind bender: a 25,000-mile breakneck sprint around Antarctica on state-of-the-art mega-multihulls capable of shattering world records. That is, if the boats don't rip apart first.
Go, Speed Racer, Go
For American Cam Lewis, The Race is a chance to prove, once and for all, that he's not only one of the best pure sailors alive, but also a world-class skipper.
By Rob Buchanan

Real Cool Cat
An analysis of the most innovative boat in The Race.
By Tim Zimmermann

Handicapping The Race
Meet the skippers who intend to risk—and win—it all.

Riding Out the Storm
The ultimate in foul-weather apparel.
Fear of Falling
It might be the only real law of the frontier: The more remote, wild, and enticing a place is, the more volatile it's likely to be. That's what four of America's best young climbers discovered in August when they were kidnapped at gunpoint in southeastern Kyrgyzstan. For the first time, they tell the full story of their harrowing escape.
By Greg Child
Across the Disappearing Finish Line
No easy trick being a man, what with all the iron to pump, diet numbers to crunch, vitamins to pop, and newfangled sex techniques to master. So when the author decided to become an athlete in midlife, he turned for wisdom to his father. Then he learned his dad had cancer.
By Bill McKibben
Is Just Like Amerika!
Pack the sausages, cigars, some pivo (beer), a bedroll, an old six-string, and a few campfire ditties you know by heart. We're going tramping, Czech-style!
By Brad Wetzler
Sick, AK
Though the makers of Red Bull might have you believe otherwise, the preposterous (and sometimes deadly) art of freeskiing has nothing to do with marketing and everything to do with why people quit their jobs and move to Alaska. And so, when the marketers meet the mountain—it's no contest.
By Marc Peruzzi
D E P A R T M E N T S
Dispatches
Antler Diplomacy: Robert F. Kennedy Jr. braves 40-degree bathwater, rhapsodic PR flacks, and armies of voracious mosquitoes in a barnstorming bid to save the Arctic National Wildlife Refuge from oil drills.

A GPS device that puts 50,000 maps in the palm of your hand.
Sasquatch comes to prime time! .
In the zone: A controversial new wilderness management plan heats up on Mount Hood.
Rated V (for vertigo): Hollywood attempts to take climbing to dizzying new extremes.
Will skydiving pioneer Cheryl Stearns become the first supersonic human?
Lava lowdown: a blow-by-blow guide to the world's most active—and accessible—volcanoes.
PLUS: Braving Bhutan's wildest whitewater; toeing the line on the first snowboard descent of Half Dome; and pro surfer Sunny Garcia shines bright.

The Wild File
Why is the ozone hole over Antarctica? Is chocolate headed for the endangered-species list? Why do moths prefer wool? Is there really such thing as a "second wind"? By Stephanie Gregory

The Hard Way
In an attempt to steel himself for the hypoxic heights of a 20,000-foot peak, one masochist seals off his bedroom, Hours into a stormy speed ascent of Mount McKinley, our veteran adventurer remembers a lesson learned 20 years earlier: that teamwork is everything, and technical skills are no substitute for human chemistry. By Mark Jenkins

Destinations
Come Sail Away: Want to explore Belize's barrier reef while avoiding the masses of a live-aboard scuba boat? Just charter a bareboat catamaran and you can anchor among deserted atolls, descend plunging coral walls, laze around on empty beaches, and—best of all—do it on your own sweet time.

Discover the world's eight greatest bareboating getaways.
New! Backcountry Pass: All the beta you need to make the most of the season at hand, starting with a late-fall raft down Utah's Green River.
Plus: A safer antimalaria drug (no more psychotic episodes!) arrives in pharmacies everywhere; Cape Town crowns itself Africa's wildest adrenaline playground; and round-the-world airfares hit record lows.

Bodywork
Brand New Picabo: Proving that three time's a charm when it comes to knee-trashing crashes, Olympic downhill champ Picabo Street shares her winning blueprint for rebuilding your knees and getting back on the slopes stronger than ever.

Review
Aggression Pact: The ski and snowboarding companies are finally sharing R&D secrets, and producing some of the most advanced equipment the industry's ever seen. Here are 18 skis and boards guaranteed to match your every obsession—be it all-mountain, moguls, racing, park and pipes, or Alaska-style powder.

Plus: Accessorize! The coolest new poles, watch, helmet, pack, goggles, and hydration system to get you down the mountain in style.
Books: In the Land of White Death, by Valerian Albanov; The Beast God Forgot to Invent, by Jim Harrison; Light Action in the Caribbean, by Barry Lopez; and Voyage to Mars, by Laurence Bergreen.
Cover photo by Gerald Bybee/Bybee Studios/SF. Assisted by Sam Yocum and Alan Love.