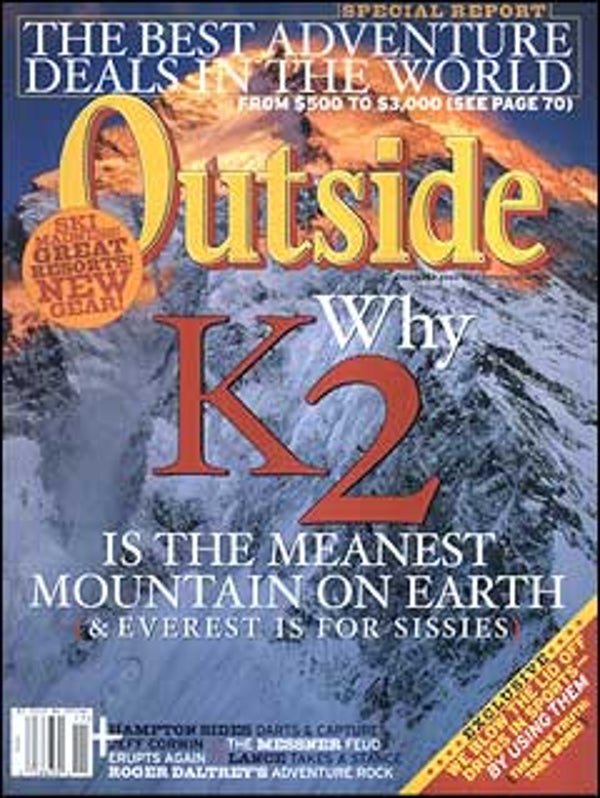 Outside Magazine, Nov 2003
---
F E A T U R E S
VALUE TRAVEL 2003/2004
GO LIKE A PRO
Wanna buy low and fly high? You need our insider's guide to bargain trips, smart travel, and dream adventures—from skiing Whistler to camel trekking in Mongolia. We dish on 44 high-value outings you can't afford to miss, showcase five destinations eager to cut you a deal, wring priceless advice from veteran globetrotters, and chart a few epic rambles that don't require a second mortgage.
b MONEY CHANGES EVERYTHING
Living large, and less large, in Cabo San Lucas. By Mike Steere PLUS: Tips for snagging affordable airfare And lodging, our yearlong travel-savings calendar, gear steals, and more.
DRUG TEST
What happens when an amateur athlete turned doping guinea pig begins using banned performance enhancers like anabolic steroids, EPO, and human growth hormone? In this exclusive firsthand report, he gets bigger and faster, and starts to feel very, very strange.
By Stuart Stevens
COVER STORY
THE MOUNTAIN OF MOUNTAINS
Nobody made it to the top of K2 in 2003, and it's no wonder: The world's second-highest peak is a far deadlier and more challenging goal than Mount Everest. A terrifying look at the riskiest climb there is, and the brave souls who can't resist taking it on.
By Kevin Fedarko
BEASTMASTER
Danger, danger, Croc Hunter! Jeff Corwin is the new alpha male of television's animal world. We corral the host of The Jeff Corwin Experience to chat about elephant constipation, snacking on worms, and hot critter sex.
By Hampton Sides
D E P A R T M E N T S
DISPATCHES
In an explosive controversy over REINHOLD MESSNER 's 1970 ascent of 26,660-foot Nanga Parbat, two members of his expedition accuse the alpine legend of sacrificing his brother's life for his own glory. Now Messner, 59, is vowing to return to the Himalayas to clear his name. PLUS: The star of FUSION SKIING turns big mountains into glorified terrain parks; ON A MISSION FROM GOD : Philip Smethurst is training young adventures to spread Christianity to the planet's wildest corners; Roger Daltry HEADLINES A SURVIVAL TOUR through adventure's hairiest moments; and this month's RADAR .
THE WILD FILE
Why do flies have compound eyes? What factors determine where base camp goes? Can you dream your way into better shape?
By Brad Wetzler
THE HARD WAY
On a two-week rock-and-ice-climbing tear through New Zealand's Southern Alps, our man discovers that sometimes it pays to turn off your brain, trust YOUR INNER ANIMAL , and see where your body takes you.
By Mark Jenkins
SNOW REPORT 2004
Go global and think local in your search for fresh powder. We've got the planet covered, from ITALY'S MONTEROSA to CHILE'S PORTILLO —and rate our faves for domestic bliss. PLUS: Whether you crave freshies, steeps, glades, or ice, we've got the SKI AND SNOWBOARD GEAR you need to carve the earth's vertical playgrounds.
BODYWORK
Rip it up—the smart way—when you follow our illustrated fitness prescription for the PERFECT SKI RESORT WEEKEND .