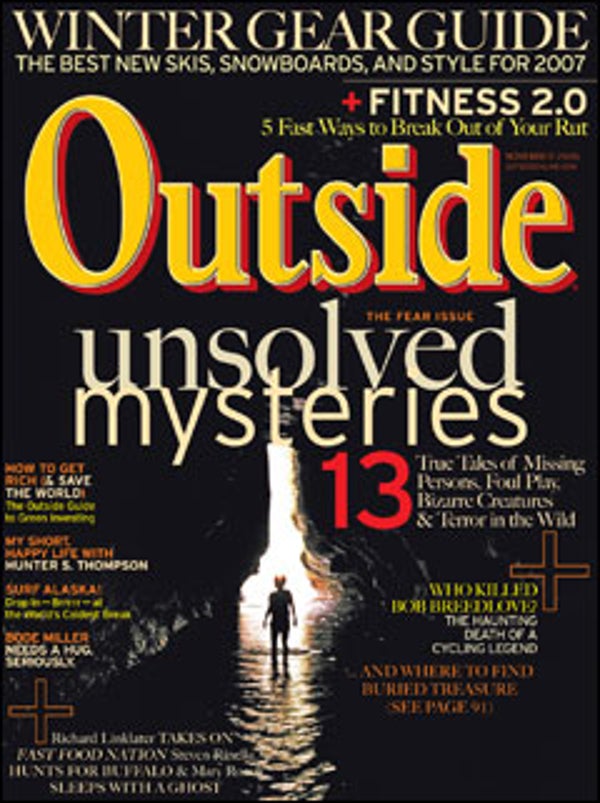 Outside Magazine, Nov 2006
---
F E A T U R E S
CASE COLD
Beyond your doorstep lies a world of dark and weird unknowns. To scare you out of your boots, we've assembled 13 tantalizing, true accounts of vanished adventurers, spooky beasts, and snatched skulls.
BY TIM NEVILLE AND TIM SOHN
BODE MILLER NEEDS A HUG
We're here for you, dude! So shut up, listen up, and get ready for your slopeside makeover.
BY BRYAN CURTIS
PUT YOUR MONEY WHERE THE GREEN IS
Presenting the Outside portfolio: CARLEEN HAWN guides you through the hottest clean-technology stocks and mutual funds, brightest businesses, and other opportunities that help the planet and pay off. PLUS: Meet Elon Musk, a venture capitalist who's putting serious juice into the electric car.
BY JOSHUA DAVIS
COME HERD OR HIGH WATER
When the author gets a rare chance to hunt wild buffalo in remote Alaska, it's a primal dream come true. But nobody mentioned the rushing rapids, hypothermia, and 500-pound grizzlies after his hide.
BY STEVEN RINELLA
FOOD FIGHTER
Before you chomp that next burger, get a load of what Richard Linklater is serving in his hard-hitting new movie, Fast Food Nation, based on Eric Schlosser's bestselling exposé of the junky, obesity-inducing American diet.
INTERVIEW BY STEVEN KOTLER
WRECKED
When marathon cyclist Bob Breedlove was killed during last year's Race Across America, the cops said he'd passed out and weaved into the wrong lane. Friends and family think it had more to do with an unlicensed teen driver, a bad investigation, and hometown favoritism—and they're out to prove it.
BY ALAN PRENDERGAST
D E P A R T M E N T S
DISPATCHES SPECIAL: 2007 SKI & SNOWBOARD HOT LIST
To bring you the best of winter, we set up shop in Aspen, the over-the-top playground of dry powder, long steeps, and never-sleep nightlife.
» THE O ZONE: San Francisco's urban ski fest; CamelBak's boom box/backpack.
» ESCAPES: Alaska heli-skiing gets its first five-star makeover.
» RISING STAR: Lynsey Dyer's got her own show (think Cribs for the active set) and still has time to polish her switch 360.
» LIFESAVERS: Cutting-edge backcountry gear is there when you're in deep. PLUS: RIDES: Toyota resurrects the classic FJ. Good news: It still loves the muck.
» HOTELS: Glass-and-steel ski digs from Park City to Whistler.
» HUCK U.: How pro freeskier Justus Meyer overcame Ivy League hardship.
» BARS: Eric Hansen staggers through the highs and lows of Aspen nightlife.
» THE LOCAL: The final days of Aspen wildman Hunter S. Thompson.
» THE WILD FILE: Do animals hold grudges? What's the perfect shape for a skipping stone?
» REVIEW: Winter's fastest, toughest, and carvingest skis and boards.
PLUS: The freeheel binding that will revolutionize telemarking.
STYLE
The streets hit the peaks with performance couture from Holden, The North Face, Patagonia, Sorel, and others.
BODYWORK
Where to look for the latest in boredom-busting, performance-enhancing fitness fads? Why, Hollywood, of course. PLUS: THE PULSE on Viagra and heart burn, and advice from Chris Carmichael on winter-specific conditioning.
OUT THERE
Why is the ghost of a dead seaman haunting the hold of a Mystic, Connecticut, whaleboat? Mary Roach scuttles her skepticism to find out.
FIELD NOTES
With 33,000 miles of coastline, Alaska is the new frontier for diehard surfers. Mark Sundeen reports from the middle of the wet gold rush.