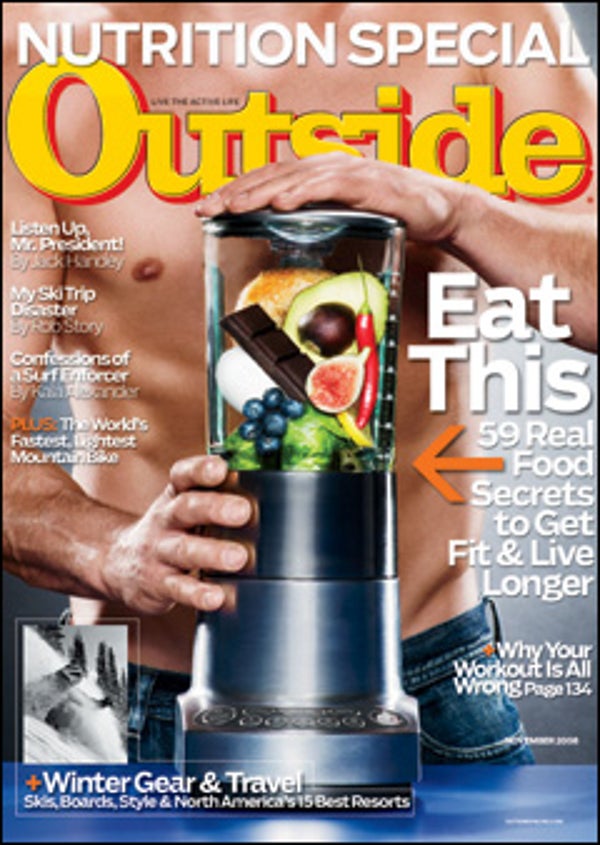 Outside Magazine, Nov 2008
Stories
What Twight rails against is mediocrity of effort. I'd drunk heavily from his rancid punch, and in a strange way I looked forward to more.
---
THE GUIDE
EAT THIS WAY
In which we burn the diet books and deliver a smart and simple guide to modern nutrition. It's a lot easier than you might think.
By Walter F. DeNino
THE TEXAS CHAINSAW STOPPER

With time running out for the Amazon, Stephanie Pearson susses American expat John Cain Carter's quest to save Brazil from itself.
CAUTION: BIKE FREAKS AT WORK
Peek inside the mind of a cycling juggernaut as Specialized takes the 2009 Epic from drawing-board dream to single­track master.
By Alex Frankel
THE GOAT ROUTE
Forget the fabled Haute Route. Rob Story & Co. cobbled together a grand new ski path across the Alps, under the influence of a little Belgian doobie, some exquisitely gooey cheese, and a certain gonzo angel.
ROUGH JUSTICE
In this exclusive, the meanest local ever to surf Oahu's North Shore, Kala Alexander, talks about the violence of the past and the possibility of peace in the future. As told to Brad Melekian
THE HELL-ON-EARTH FITNESS PLAN

We don't call him the Lab Rat for nothin'. Fitness experimentalist Nick Heil endures a revolutionary (and brutal) regimen at Salt Lake City's Gym Jones-and lives to gush about it.
DISPATCHES
» First Look: Worshiping ski champ Lindsey Vonn let us count the ways
» News from the Field: Baz Luhrmann, director of this month's blockbuster Australia, talks about camping out with Hugh Jackman and crocodiles; a peek at the first commercially available jet pack
» The Drawing Board: How a street-legal ten-wheeler drives through tornadoes. Plus: Mountain films 101.
» Books: Accidental eco-celeb E.O. Wilson takes us inside an ant commune; an Appalachian epic tackles the bloody birth of Great Smoky Mountains National Park; William Least Heat-Moon drives again
STYLE
Telluride's top mountain men guide us through the wilds of fall fashion
DESTINATIONS
» Ski-Resorts Special: Thank God it's freezing! To celebrate, we ranked the 15 best ski-and-snowboard destinations in North America-without apologies.
THE ESSENTIALS
» Covet: A featherlight jacket fit for the Himalayas (and your local ski hill)
» Skis and Snowboards: The season's best new underfoot offerings for steeps, powder, corduroy, and everything else

» Outfitted: Winter running gear
COLUMNS
THE BIG IDEA
Hey, Mr. President, congrats on the win. Now I've got a proposition for you.
By Jack Handey
CODE GREEN
Just how eco-friendly is the ski industry? Ask Aspen Skiing Company's green guru, Auden Schendler, but you may not like his answer.
By Elizabeth Hightower
OUT OF BOUNDS
Few men have been crazy or stupid enough to attempt a 110-mile, off-trail crossing of the Olympic Peninsula's peaks, forests, glaciers, and rivers. We happily added Eric Hansen to their ranks.
FIELD NOTES
Correspondent Tim Sohn swims with sharks in New Guinea to solve a decades-old mystery as the host of a new Travel Channel show.