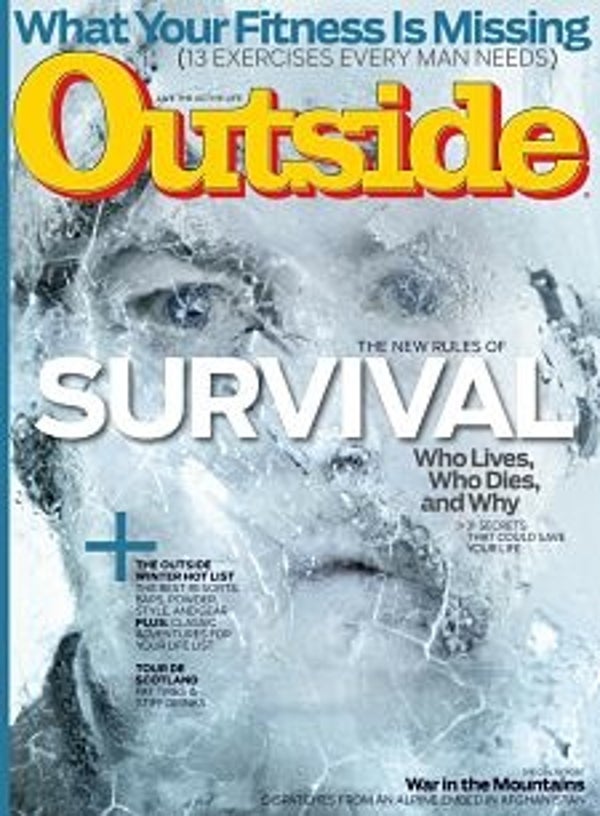 Outside Magazine, Nov 2009
Stories
In the rugged eastern provinces of Afghanistan, where peaks rise thousands of feet on all sides and the next valley is a world away, American troops are engaged in a kind of alpine warfare not seen for decades. Months can go by without combat, but when you're patrolling terrain as dangerous and unpredictable as the enemy, the calm is often shattered when you least expect it.
Endless Powder! Rowdy Bars! Screaming Deals! Secret Stashes! Huge Steeps!
---
THE OUTSIDE SURVIVAL SPECIAL
THE NEW RULES
Vital new lessons on coming out of the worst the world can throw at you: from survivors, scientists, and other experts, including our own in-house rescue crew.
PLUS: VIDEO TIPS, OUR BEST SURVIVAL STORIES, SURVIVAL GUIDES FROM THE ARCHIVES
(LINK CURRENTLY UNAVAILABLE)
FIRE ON THE MOUNTAIN
Ambush and treachery are constant threats for the American soldiers fightinga creeping insurgency from remote outposts in the desolate mountains of Afghanistan. BRIAN MOCKENHAUPT embeds.
SCOTCH ROCKS
On a recon mission to Scotland, MARK LEVINE crosses the country on knobby tires, discovering a mountain biker's paradise and taking a wee dram or two along the way.
FLAT
In a high-risk, high-speed pursuit like World Cup skiing, the most troubling factor isn't catching an edge or clipping a gate. It's being scared of the consequences. JENNIFER KAHN reports.
THE OUTSIDE TRAVEL HALL OF FAME
To help you kick off the season in style, we've gathered five classic winter vacations that will have you drooling.
Departments
DISPATCHES
» FIRST LOOK: Can Animal Planet's Jeff Corwin shed his kid-friendly, critter-TV image and expand his habitat?
» NEWS FROM THE FIELD: Polar explorer Eric Larsen attempts one of the last great (sorta contrived) firsts; a brief history of American running; post-apocalypse preparations (LINK CURRENTLY UNAVAILABLE)
» XX Factor: Zee Avi brings her ukulele-based Malay music to U.S. shores
» SPECIAL REPORT: The founder of the Mavericks Surf Contest has been fired for failing to adequately promote it. Can the big-wave competition survive without him?
» BOOKS: We rate and review the greatest adventure bios of all time. PLUS: A new Jacques Cousteau biography.
DESTINATIONS
» SKI RESORTS: The best of everything: from pristine slopes to roaring nightlife to the sweetest deals around
ESSENTIALS
» SKIS and SNOWBOARDS: The season's best skis and decks, in every category
» COVET: A powder lover's perfect car
STYLE
Five Steamboat Springs locals give you the lowdown on easy mountain living
BODYWORK
The last in our four-part Pillars of Fitness series: You've built speed, strength, and a good base; now it's time to put it all together with a quick lesson in agility
Columns
THE BIG IDEA
Want real health-care reform? Forget prescription drugs and tax all those La-Z-Boys. Lab Rat NICK HEIL explains.
CODE GREEN
Conservationists are taking a dramatically different approach to saving wildlife: putting people first. BY ELIZABETH HIGHTOWER
DROPPING IN
A band of American tenderfoots enter Nepal's 27th World Elephant Polo Championships and surprise even themselves BY JOSH DEAN