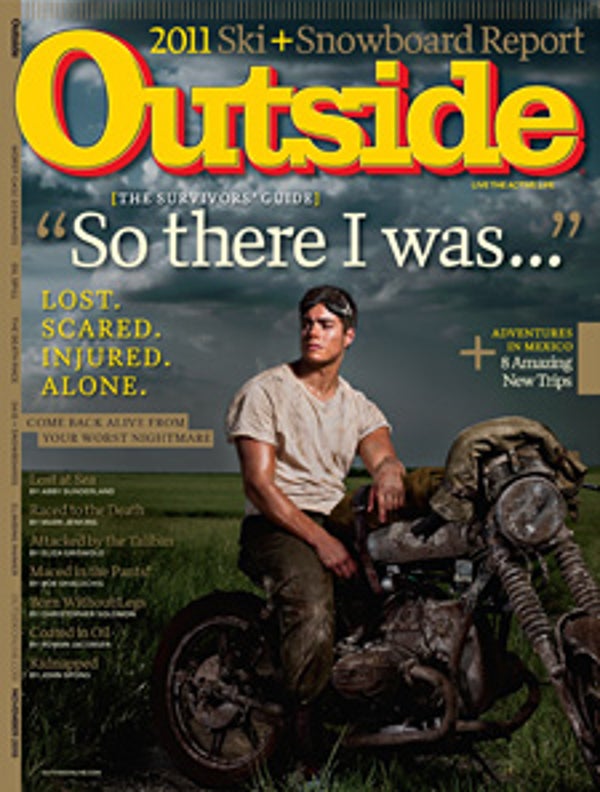 Outside Magazine, Nov 2010
---
the guide
STORM HACKER
Nothing can turn a great adventure into an even greater debacle like unexpected weather. Get savvy about the sky with our primer on powder prediction, flash floods, El Niño, and other meteorological mysteries.
Worst Case Studies
Lightning! Avalanches! Angry mobs! Bear attacks! Bear-spray attacks! And other nightmarish scenarios, as told by the survivors themselves.
Bury My Pride at Wounded Knees
We heard it could actually kill you. So, naturally, we sent the most borderline-invincible guy we know, Mark Jenkins, to take on Vermont's preposterously cruel Death Race, two days of physical and mental torture designed to break all but the hardest ladies and gentlemen.
Kevin Connolly Will See You Now
At 25, he has a pair of X Games medals, a blossoming photojournalism career, and a well-received memoir. What doesn't he have? Legs. Christopher Solomon skis Big Sky with one of the baddest guys ever to walk on two hands.
The Spill Seekers
On a wind-powered quest for black goo—and with a conservationist and the real- life Forrest Gump as sidekicks—Rowan Jacobsen sails into the despoiled Gulf of Mexico to find out what the feds aren't telling us and to see just how bad it could get for this national treasure. (And, OK, he kinda has an awesome time.)
style
ELEVATED CONSUMPTION
Altitude must be good for your palate. From Vail to Carbondale, these five mountain-town chefs are dishing up more than your standard après-ski fare.
departments
DISPATCHES
First Look: Can big-mountain snowboarder Jeremy Jones become the Yvon Chouinard of his sport?
News from the Field: Tony Hawk dishes on how he created a billion-dollar franchise; the rise and fall of the cougar; the world's first GPS-enabled ski goggles.
XX Factor: The Wassner twins, Rebeccah and Laurel, are on a tear in the competitive triathlon circuit.
The Wild File: Why carbon fiber costs so much; Tibetan altitude genes; insects—they're what's for dinner (in 2050).
Books: Ian Frazier wanders and wonders through Siberia; a heavy-duty history of surfing; a biography of legendary sailor Joshua Slocum.
DESTINATIONS
Get Lost: Mexico. The beaches are fabulous, sure, but then so are the mountains, canyons, culture, and cuisine. Presenting the best of everything, from Oaxaca to Copper Canyon.
ESSENTIALS
Covet: A perfect cold-weather glove.
Skis & Snowboards: The best new sticks for the upcoming season.
BODYWORK
Yes You Can … Climb Mount Rainier: The lower 48's most glaciated peak is a beast to climb. Here's how.
columns
NATURAL INTELLIGENCE
Yellowstone's legendary Druid Peak wolf pack, once the park's largest and most studied, is done. What happened? Josh Dean explores the end of an era.
DROPPING IN
African Americans make up only 2 percent of hunters in the U.S. But not for long—that is, if Donny Adair has anything to say about it: It's The African American Hunting Show! By Michael J. Mooney
plus
EXPOSURE
BETWEEN THE LINES
LETTERS
PARTING SHOT