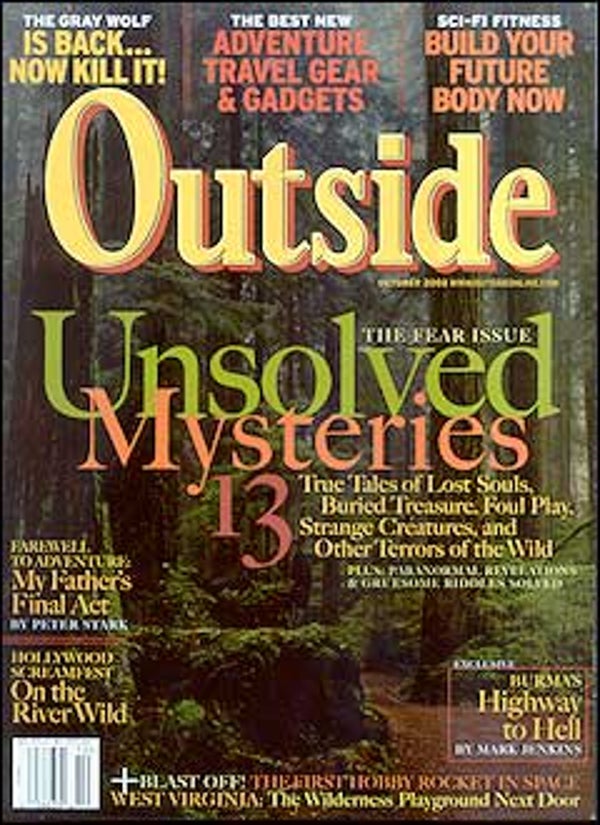 Outside Magazine, Oct 2003
---
F E A T U R E S
UNSOLVED MYSTERIES
THE O FILES
Murder. Shocking disappearances. Haunting riddles. Although we all love to head into the wild in search of inspiration, sometimes what we find are dark enigmas. To explore this eerie side of things, we investigate 13 haunting true-life tales of crime and enduring mystery. By Jason Daley and Tim Sohn
PLUS: Ian Frazier on why it's only human to get creeped out; Bruce Barcott on Bigfoot, the Mothman, the yeti, and other legendary beasts; and a few gruesome cases that finally got solved.
THE GHOST ROAD
Once an American military supply route snaking through a remote corner of Myanmar, the Burma Road is now just a shadowy jungle path. When the author trespasses this forbidden highway, he discovers a world where more than his own life is at stake.
By Mark Jenkins
MASTER BLASTER
Ky Michaelson, the king of model rocketeers, has a dream: to pack 500 pounds of space-shuttle fuel into a homemade, titanium-tipped rocket and send that streamlined, 17-foot baby 62 miles up into suborbital space.
By Bryant Urstadt
LAST TIME AROUND
Ten months after a vibrantly active father takes his own life, his son looks back on a legacy of risk-taking, a life lived to the fullest, and a heartbreaking struggle to cope with the encroaching end of adventure.
By Peter Stark
D E P A R T M E N T S
DISPATCHES
America's GRAY WOLVES could be booted off the endangered species list—and soon. Will the revived predator become prey? PLUS: The outdoor industry's HOTTEST PRODUCT DESIGNER ; CAVE DIVERS map threats to Florida's main water source; and this month's RADAR .
THE WILD FILE
Why are apes stronger than humans? How fast must one fly to enjoy a perpetual sunset? Why do squirrels chatter?
By Brad Wetzler
DESTINATIONS
THE EAST'S WILD WEST: Fierce whitewater, hundreds of miles of singletrack, more than 2,000 bolted climbing routes, and nary a crowd in sight. It's not heaven; it's WEST VIRGINIA . PLUS: The South Pacific's UNDERWATER POST OFFICE ; learning to surf on MEXICO'S PACIFIC COAST ; and ASPEN ON THE CHEAP .
OUT THERE
How do you save a pristine CHILEAN RIVER from being dammed? With Robert F. Kennedy Jr., Glenn Close, one scared landlubber, and five days of Class V rapids.
By David Rakoff
REVIEW
Our top picks of the greatest new ADVENTURE TRAVEL GEAR for everything from down-the-road weekend getaways to round-the-world epics. PLUS: OUTSIDE STYLE: Tougher than the rest
BODYWORK
Become the ATHLETE OF THE FUTURE —as sci-fi tech gets real, artificial muscles, brainpower in a pill, and replaceable joints are seeing the light.