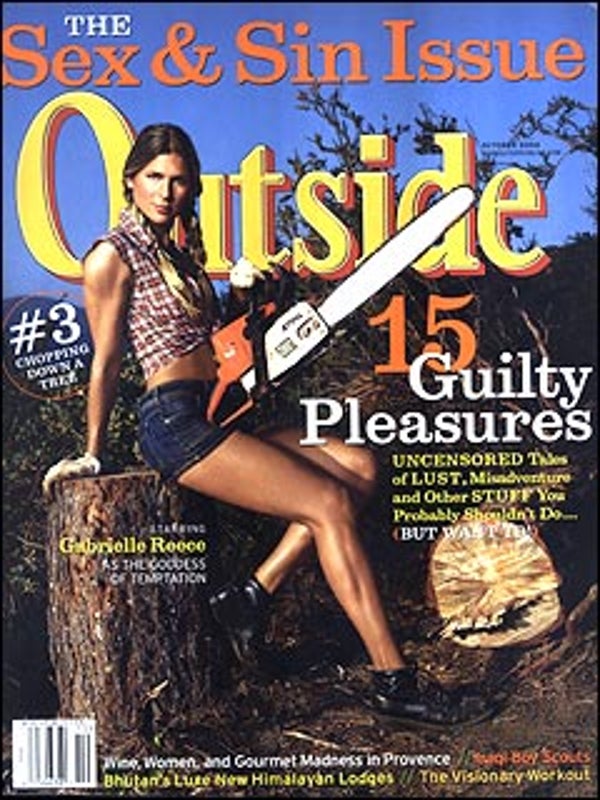 Outside Magazine, Oct 2004
---
F E A T U R E S
EL DIABLO MADE ME DO IT
Fitness and clean living feel good, but being bad feels really good. In a radical kiss-off to our better angels, we asked some of our favorite writers to gallop with the devil and confess their most sinful pleasures. Hoo boy, did they respond.
Joel Achenbach on CAMPING DRUNK Ian Frazier on BUG CRUELTY Kate Wheeler on COCA ABUSE Jack Hitt on DRIVING A HUMMER John Heilemann on PIGGING OUT Lisa Anne Auerbach on GIRLS, GUNS, AND BOMBS Randy Wayne White on HIGH-SEAS HEDONISM
PLUS: BUFF-BOD GODDESS GABRIELLE REECE POSES AS OUR GUILTY PLEASURES GIRL; A RIVER GUIDE DISHES WHAT REALLY HAPPENS IN THE CANYONS AFTER DARK; A CACKLING TREE HUGGER WHACKS A MIGHTY PONDEROSA; A ROGUE FLOATER POACHES WALDEN POND; AND MORE.
THE KILLING BONES
Jack Harelson was an amateur archaeologist operating outside the law. And when he found a hidden grave in Nevada and dug up ancient remains of two Native American children, his life began a dark and fateful slide.
By Bruce Barcott
A JUG OF WINE, MORE JUGS OF WINE, ET MOI
Ah, cycling in France: the sunflowered fields, the lazy rivers…the decadent avalanche of food! Join us for a mobile feast in the culinary hot spots of Province, where the only thing sweatier than the cheese wheels are the pedal-pumping gourmands.
By Bill Vaughn
D E P A R T M E N T S
DISPATCHES
High fashion gets and extreme makeover with the VERTICAL CATWALK , a high-wire runway that brings climbing cool to designer threads
Spice up your SEX LIFE with the planet's hottest herbs
Nike strips down while Adidas beefs up for the FOOTWEAR REVOLUTION
The WILD FILE weighs in on pet vampire bats, spying Neil Armstrong's flag through a telescope, and whether or not bike drafting is a drag
Achieve WEIGHTLESS FLIGHT in Fort Lauderdale's zero-gravity sky ride
Peter Heller chronicles Scott Lindgren & Co.'s insane first descent of the TSANGPO in Hell or High Water, while we check in on the alpha kayaker's next big feat
PLUS: SPORTING BREWS worth your thirst; superhero HALLS OF FAME ; and a GYM-READY JOYSTICK turns slacking into serious sport
THE HARD WAY
In a rant against ALL THINGS SISSY —from the lazy man's diet to bogus survival programs—our man indulges his guiltiest pleasure.
By Mark Jenkins
OUT THERE
What happens when a former CIA agent and retired Navy commander resurrects the Boy Scouts—in Iraq? Follow Chip Beck as he lays the groundwork for thousands of KHAKI-CLAD DO-GOODERS .
By Patrick Graham
REVIEW
High-end enhancements to DIGITAL OPTICS are giving adventurers a visual power boost. Dig the hottest new digital SLRs, DVD videocams and technical binos. OUTSIDE STYLE: Waterproof leather kicks to keep your feet dry—and you street-sharp
BODYWORK
Sharpen your VISION —and your game—with the coach who helped the San Francisco Giants keep their eye on the ball. What you see is how you play. PLUS: Winter fitness programs that aren't afraid of the dark.