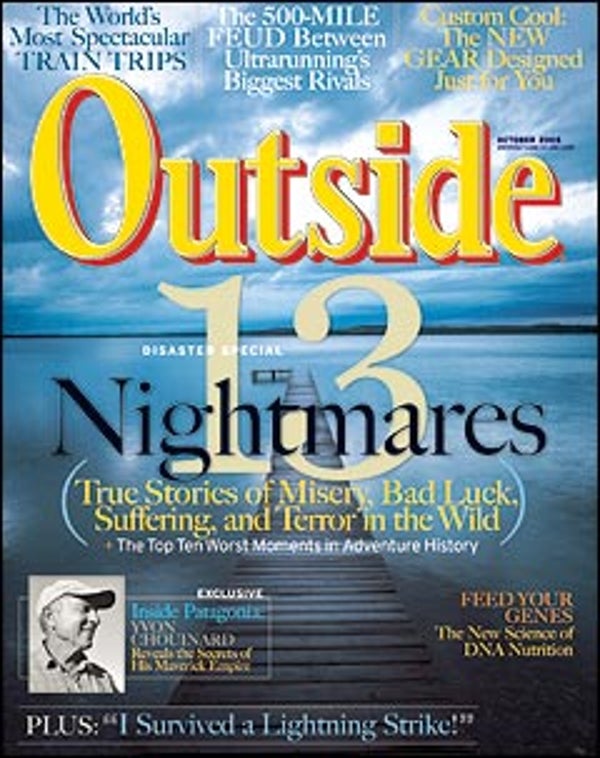 Outside Magazine, Oct 2005
---
F E A T U R E S
WORST MOMENTS SPECIAL
LET THE BAD TIMES ROLL
Some journeys make you feel like a hero. Others leave you crying for Mommy. In a rousing tribute to misadventure, 13 of our unluckiest writers recall the day they got punk'd. DANIEL DUANE suffers a big-time big-wall indignity! JON LEE ANDERSON dodges bullets in Nicaragua! KEN COLLINS wipes out surfing Jaws! JANE SMILEY picks up hitchhiking ex-cons! And more. PLUS: TOP TEN WORST MOMENTS IN ADVENTURE HISTORY and the BEST BOOKS ON REALLY BAD TRIPS .
STRUCK
On the worst day of Rod Liberal's life, lightning jolted him high on the Grand Teton. He survived, but his struggle to be whole again may never end.
By Jason Daley
MEMOIR
LET MY PEOPLE GO SURFING
Over the past 32 years, YVON CHOUINARD has built Patagonia Inc. into an adventure-apparel giant and the archetype for a mod management style driven by authenticity, environmental ethics, and a commitment to giving back. In this exclusive preview of his forthcoming book, the legendary dirtbag tycoon shares the secret of turning a profit without losing your soul.
ENDURANCE
DESPERATE HOUSEWIFE STALKS MALE SUPERMODEL IN SPORTS DEATH MARCH
By all accounts, Pam Reed is an ultrarunning phenom. But no matter how many miles she slogs, she's overshadowed by Dean Karnazes, a chiseled champion who's achieved a level of fame and fortune she desperately wants. What's a girl gotta do to get some attention around here?
By Florence Williams
D E P A R T M E N T S
DISPATCHES
» Faris Al-Sultan is a walking paradox—a Muslim sponsored by a German brewery—and a favorite to win October's IRONMAN HAWAII .
» PASSING ON GAS We hit the road with an enviro-visionary who crossed the U.S. in muscle machines like a Hummer, a single-engine plane, and a motorcycle—without a drop of petrol.
» At 20, Washington's Danielle Fisher became the youngest person to complete the SEVEN SUMMITS . Now she's sizing up the world's other 8,000-meter peaks.
» It's time for a reality check with LES STROUD , TV's Survivorman.
» SOLAR POWER is being integrated into gear. We suss sun-charged packs that'll keep your phone and iPod charged for the long haul—anywhere.
» CHRIS CARMICHAEL designs Rocky-style workouts—like running stadium steps and chopping wood—to get you fit without gym fees.
» Quarterbacks and sluggers take a backseat to THE NEW BIG MEN ON CAMPUS : Climbing, kayaking, and snowsports are now breeding high school heroes.
» SIMIANTICS Two new books—Our Inner Ape, by Frans de Waal, and The Ape in the Corner Office, by Richard Conniff—take a wild, hairy look at the primate in us all.
» Rail world: For epic travel, nothing tops our six favorite TRAIN JOURNEYS , from the CANADIAN ROCKIES to AUSTRALIA and beyond.
» THE WILD FILE peers into the world of rattlesnake-proof rodents, the number of earthlings per acre, forbidden dances, and more.
BODYWORK
We take a look at the controversial new science of DNA NUTRITION —in which genetic testing tells you what to eat and how to train for peak performance, naturally.
REVIEW
Gear works better when it's tailor-made just for you. We torture-test a range of CUSTOMIZED STUFF —including a Seven road bike, Timberland boots, and Ultimate Ears earbuds—to answer the burning question "Is it worth it?" (Yes.) PLUS: Kill the chill with the BEST FALL FASHION , from wool sweaters to bomber overcoats.
THE HARD WAY
Sixteen years after a chance encounter with a kindred soul, Mark Jenkins rekindles a FRIENDSHIP BUILT ON A BIKE in wildest Russia.