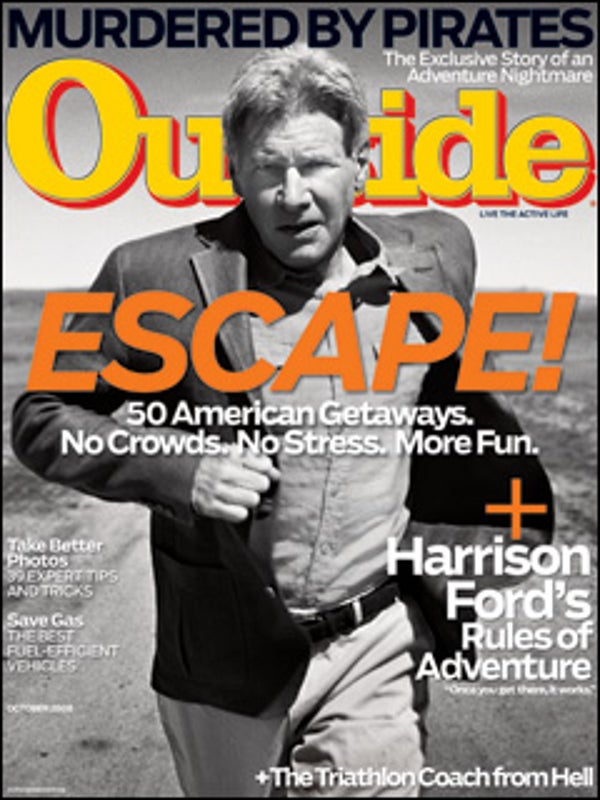 Outside Magazine, Oct 2008
Stories
Ever fantasized about building a restful escape, with your bare hands, in some untrammeled back of beyond—and it all coming together just as you'd planned? Moron.
John Long was living the greatest adventure of his life, sailing home from San Francisco to his native Ireland. But when his beaten and bruised body was found floating off the lawless, empty coast of Chiapas, it was a scene that sailor and author David Vann knew all too well.
Forget theory. You want results. Our tutorial lays bare the tricks, techniques, and gear of our favorite photographers.
---
THE GUIDE
HOW TO TAKE THE GREATEST PHOTO IN THE WORLD

(VIDEO LINK CURRENTLY UNAVAILABLE)
Add the secrets of our very best photographers to your bag of tricks.
LAST VOYAGE OF THE CÚLIN

Retired carpenter John Long had planned to sail from San Francisco to Ireland, but his battered body was discovered off the coast of Chiapas, Mexico, instead. Tragic accident or something far darker? David Vann investigates.
THE NEW AMERICAN LIFE LIST

(MAP LINK CURRENTLY UNAVAILABLE)
Some cranks call America one big parking lot, but they've got their heads in the cement. Behold, 50 pristine peaks, remote rivers,concealed cabins, and more, all of them off the radar. Until now. PLUS: Harrison Ford on how to get lost in an overwired world.
THEY SHOOT TRIATHLETES, DON'T THEY?
Critics say controversial coach Brett Sutton, locked away in a compound in the Philippines, pushes his elite athletes to the brink. But no one is arguing with the results.
By T. J. Murphy
THE CABIN OF MY DREAMS
In which Patrick Symmes pursues that Arcadian ideal, a faraway hideout in the manner of Thoreau's shack (but forgets to take into account the Latin sense of time, group dynamics, and volcanoes).
DEPARTMENTS
DISPATCHES
» First Look: DC Shoes co-founder Ken Block gets behind the rally-racing wheel

» News from the Field: Bradford Washburn's camera blasts into orbit
» The Drawing Board: In the zoo of tomorrow, the humans will be stuck behind bars
» Epics: The descendants of Shackleton's crew try to take care of unfinished business
» Books: Thomas Friedman dishes on just how screwed up our energy policy is; a look inside ski star Kye Petersen's toughest run
» Media: Original castaway Robinson Crusoe hits prime time
DESTINATIONS
» Spot On: Steamboat Springs, Colorado the next big fishing getaway?
» Get Lost: Food trip! Dig in (literally) tothe harvest season's best eats, from the Cascades to the Maine coast.
» The Weekend Plan: Adventure travel can be hard. Here's how to cheat. Plus: Ben Harper's guide to Austin City Limits.
STYLE
Walk softly with comfortable, rugged kicks for the backyard or office
THE ESSENTIALS
Cars: Automakers are being forced to smarten up and slim down. It's about time. We pick the best of the new lot.
BODYWORK
The Master Plan: Skiing and snowboarding. All the exercises, gear, and tricks you need for your best winter yet.
COLUMNS
THE BIG IDEA
The case for American motorcycle taxis
By Matthew Fishbane
CODE GREEN

(VIDEO LINK CURRENTLY UNAVAILABLE)
The government is opening up our western wilderness for oil and gas drilling at an unprecedented rate. Will McCain or Obama stop the bleeding?
By Elizabeth Hightower
THE LAB RAT
Is this parkour craze for real? Our man goes off the wall to find out.
By Nick Heil