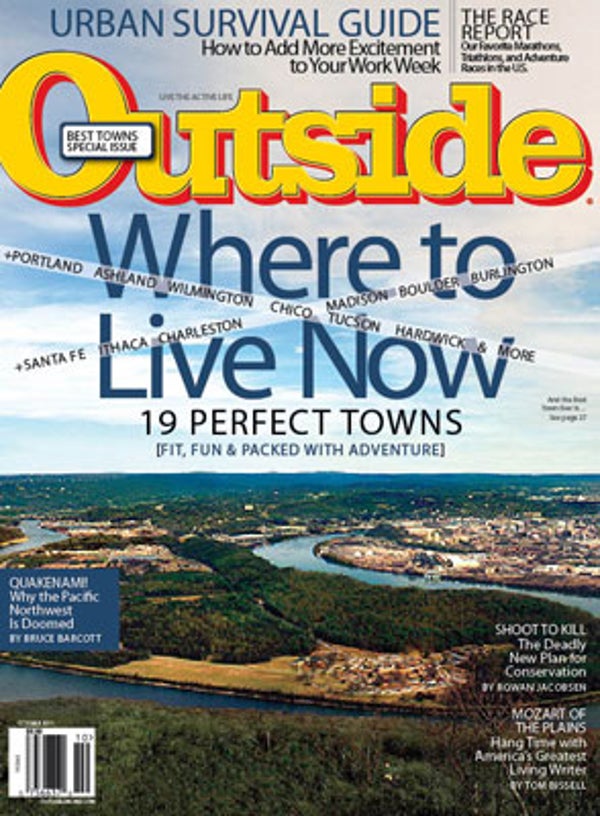 Outside Magazine, Oct 2011
---
NUMBER ONE WITH A BULLET
Kaziranga National Park in India boasts two-thirds of the world's one-horned rhinos and its highest density of Bengal tigers—both among the region's most heavily poached species. The secret to the park's success? They shoot poachers on sight. ­Rowan Jacobsen ­reports from the front line of a new conservation war.
PAN-SEARED HAMA HAMA SEA ROCKET TOPPED WITH TOOTHWORT ROOTS AND AGED LICHEN
Meet Evan ­Strusinski. A high-end forager with an ­encyclopedic knowledge of edible plants, Strusinski is the U.S. ambassador of the ­blossoming wild-foods movement. And New York's top chefs can't get enough of him. By Richard Conniff
TOTALLY PSYCHED FOR THE FULL-RIP NINE
Many geologists believe the Pacific Northwest is overdue for an offshore megaquake. And when it ­arrives, it could churn up a tsunami large enough to swamp the Northwest coast, transforming it into a ­Katrina-like disaster area. Bruce ­Barcott walks us minute-by-minute through the coming quagmire.
THE LAST LION
Jim Harrison is the king of a dying breed: a larger-than-life novelist and poet who partied with Jack Nicholson and once ate a 37-course meal just for the hell of it. Through it all he's remained true to his mission, chronicling man's fraught relationship with the wilderness. On the eve of Harrison's 34th book, The Great Leader, Tom Bissell visits the master at his Montana cabin.
departments
HOW TO LIVE NOW
BEST TOWN EVER
The rednecks and chiggers of ­Chattanooga have a brand-new title to celebrate. Chuck Thompson spends a day getting to know the town Outside readers say tops them all. Plus: find your own best town with our interactive town finder and map.
ESSENTIALS: COMMUTE
No excuses. It's time to ditch that gas-guzzler for an electric car.
MORE GREAT TOWNS
These 18 burgs are the finest runners-up you'd ever want to call home, from a Midwestern mountain-biking hub, to a Seattle-area hang-gliding mecca, to, um, Boulder. (We know, shocker.)
ESSENTIALS: STYLE
An ode to bike parking in the big city. Plus: A dapper shirt, cap, and kicks for urbanites.
ESSENTIALS: TOOLS
High-tech gear to navigate the city.
BRIGHT IDEAS
Bike shares, LED streetlights, and five more upgrades making U.S. cities shine.
>Phone Books: Cycle, surf, ski, climb—13 apps that put you a click away from the beta you need.
>Epic: A sub-urban caver preps for Paris.
>Transformers: Pimp your iPhone with a titanium case, detachable lenses, and more.
>The Urban Dweller's Life-Hack ­Manual: Five ways to enrich city ­living.
>Street Cleaning: Metros are shrinking their footprints with these five tactics.
ECO-ARCHITECTURE
The buildings we live and work in account for more pollution than the cars we drive. Architect Jason McLennan's Living Building Challenge is a manifesto for greener cities.
BODYWORK
Americans are lining up for marathons, ­triathlons, and adventure races in record numbers. Here are 15 of the nation's premier races and the best reason to enter each one.
ESSENTIALS: LUGGAGE
Go-anywhere bags for quick escapes, from a duffel to a man purse you'll actually want.
NEW WORKOUTS
On chilly San Francisco Bay, members of the Open Water Rowing Center train in shipping lanes and thick fog. ­Outside executive editor Michael Roberts dips an oar and gets crushed by a pack of middle-aged women.
plus
EXPOSURE
BETWEEN THE LINES
LETTERS
PARTING SHOT