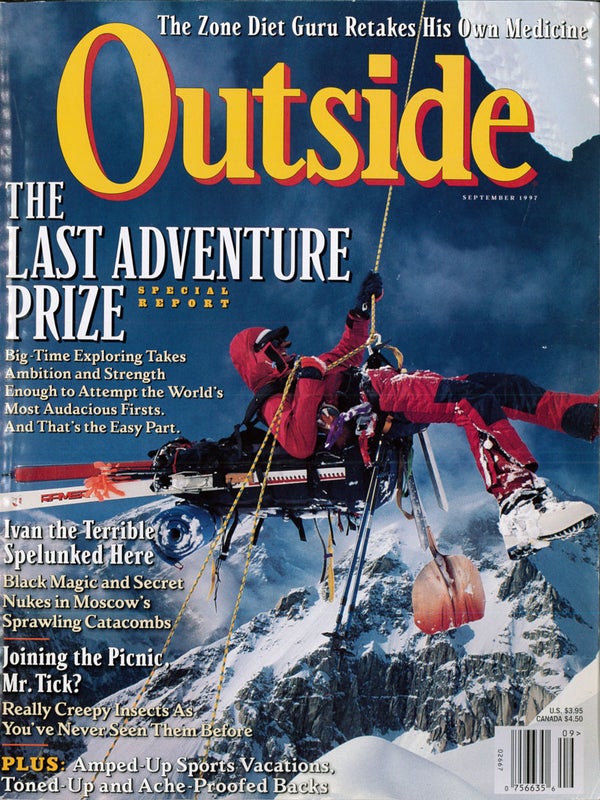 Outside Magazine, Sep 1997
---
Features
E X P L O R A T I O N S P E C I A L
The Twilight Expedition
The state of big league exploration is a precarious one these days. But the hazards aren't just the impassable jungles, turgid seas, and unassailable peaks you might expect. As Lonnie Dupre is discovering with his epic attempt to circumnavigate Greenland, the most daunting obstacles often show up before you even leave home.
By Brad Wetzler
Gunning for the Grails
Looking for a challenge? There are still plenty of Big Adventures-or at least Big Stunts-that nobody's done yet, from rafting the harrowing Indus to ballooning round the planet.
By Bill Donahue
Look Ma, No Shame
Why are those folks pretending to be salmon? Why was that man dangling from a cliff with his mountain bike during a lightning storm? Hey, you try dreaming up an original expedition.
By Elizabeth Royte
Pleased to Meet You, Hope You Guess My Name
A microscope-enhanced gallery of bloodsucking, skin-munching, gas-shooting, nightmare-inducing B-movie bugs that simply can't wait to make your acquaintance.
By Katherine Dunn
Fear Me, Giant Sewer Rodents,
for I Am Vadim, Lord of the Underground!
Come, tag along in the cool and creepy catacombs of Moscow, where you just might encounter chanting satanists, radioactive gunk, or Ivan the Terrible's torture chamber. Your eager hosts: the Diggers of the Underground Planet.
By Erin Arvedlund
Dr. Feelbetter
When Barry Sears came up with The Zone, the diet/lifestyle that he promised would bring unlimited energy, health, and happiness, millions believed. Now he's not sure which enemies are worse: the critics calling him a quack or the entrepreneurs busy cashing in on
his ideas without him.
By Paul Keegan
F A L L F A S H I O N
The Natives Are Restless (But Smartly Dressed)
The autumn colors are out in Alaska, where a day in the life can include dodging a moose, landing a plane on a glacier, or fending off challengers for the title of Talkeetna Wilderness Woman. And where despite it all, the locals still manage to look sharp.
By Vicky McGarry
Departments
Dispatches
The sound and the fury over Minnesota's Boundary Waters comes to a crescendo, as Congress decides whether to expand the reach of motorboats in one of America's most prized wildernesses.
By Jonathan Weisman
Adventure: Bet My Bentley Can Smoke Your Rolls
An intercontinental race puts vintage wheels-and their upper-crust drivers-to a very uncivilized test.
By Carl Hoffman
The Deep: Crude Awakening
Will a World War II-era tanker slime the California coast?
By Christopher Weir
Sport: Didn't You Used to Be Scott Tinley?
Over-the-hill athletes strut their stuff for table scraps on the Legends of Triathlon tour.
By Andrew Tilin
Cops: Stop, or I'll Pop a Wheelie!
The latest weapon in the war on drugs: mountain-biking Border Patrolmen.
By Jonathan Hanson
PLUS: Distance legend Ann Trason captures ultramarathoning's two most prestigious events; an Indiana inventor concocts an antidote to the charred marshmallow; a supermodel-sponsored racing syndicate sets sail in the Whitbread-but will its rosy-cheeked namesake be aboard? And more.
Field Notes
The Brits have always embraced absurdity-and that extends to their brand of environmentalism. A visit to the bucolic but doomed Bollin Valley, on the trail of an elusive green soldier named Swampy and a burgeoning land-use movement whose time, remarkably, seems to have come.
By Bruce Schoenfeld
Out There
Trips have a way of making dramatic about-faces-especially when good food is at stake. On the broiling, barren Venuscape of Baja, our man falls under the spell of a proud woman possessing a wicked skill with ceviche.
By Randy Wayne White
The Wild File
Why do so many bugs end up dead on their backs this time of year? Are there any camels in the wild? Could Ecuador's Mount Chimborazo be the world's highest mountain?
Destinations
Just do it-and do it, and do it again: tearing into the exhausting new world of the multisport adventure, in which go-go travelers seek out smorgasbords of aerobic challenge. From Utah to Borneo to the Australian outback, five smartly run tours that quite literally have it all.
By Paul Kvinta
Smart Traveler: Lariam's Sting
Is the world's most widely prescribed malaria prophylaxis unsafe?
By Eric Ransdell
Eco-Travel News: Let No Man Own Our Island!
A tiny island in the Hebrides renounces its feudal past-and then touts itself as Scotland's newest ecotourism hot spot.
By Steven Harris
PLUS: The fall foliage hotline, bovine warfare in the pastures of neutral Switzerland, a canine-friendly trek through France, and more.
Bodywork
Hey, vertebrae: Frighteningly, a full 80 percent of us can expect to experience an irritating back blowout at some point in our lives. So how can you increase your chances of joining the lucky one-fifth? A primer on the care of your spine and its surroundings.
By Bob Howells
Options: Where to turn when pain persists
Tried-and-true techniques for combating back pain.
Prescriptions: Fighting Back
The skinny on medical options, from acupuncture to osteopathic therapies to the good old M.D.
Regimens
Five stretching regimens for a more limber lumbar.
Routines
Marathon training on a New Yorker's schedule
By Jim Harmon
Standards
A quad stretch you won't soon forget
By Daryn Eller
Review
Footwear for the middle path: Sturdy but not clunky, nine midweight leather backpacking boots that'll serve you well on almost any trek this side of the Himalayas.
By Douglas Gantenbein
Classics
Not just for sailors anymore: Five updated variations on the classic pea coat.
By Kent Black
Books
Rachel Carson: Witness for Nature, by Linda Lear;
It's a Slippery Slope, by Spalding Gray; and more.
By Miles Harvey
The Other Stuff
A new "global compass" that gives far-flung travelers their bearings from here to the antipodes; Cascade Designs rethinks the lowly water bottle; and an intelligently pocketed fishing shirt that would have made Papa proud.