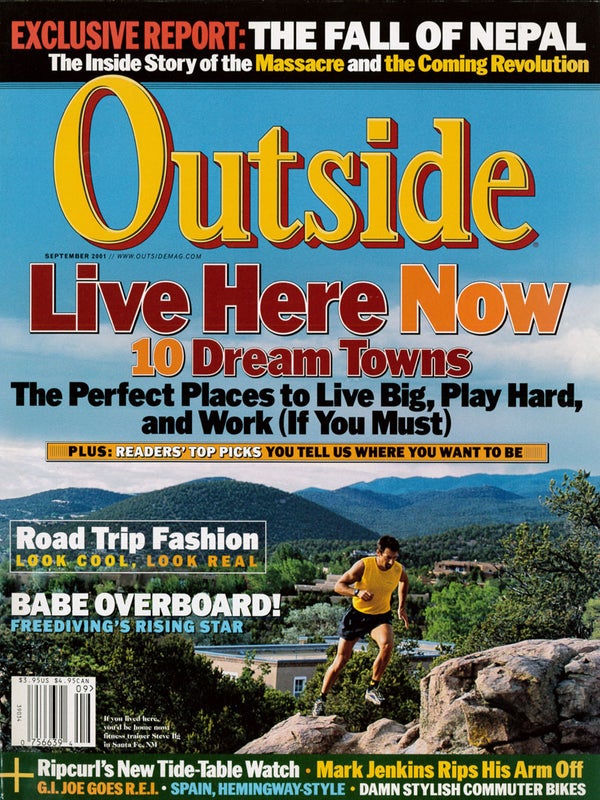 Outside Magazine, Sep 2001
---
F E A T U R E S
The Last Days of the Mountain Kingdom
The most storied adventure-travel destination in the world is teetering on the brink of all-out civil war. In the wake of the massacre of Nepal's royal family, with Kathmandu rocked by strikes and riots, a group of communist insurgents in the countryside is vowing to take over—to hoist a hammer-and-sickle flag atop Everest. An exclusive report, through the eyes of one of the first American journalists ever to gain access to the rebels, on the violent events unfolding in the shadow of the Himalayas. By Patrick Symmes
Dream Towns 2001
Welcome to Your New Backyard
Start packing, baby, we're outta here! From the saltwater cruising capital of the Northeast to the surfing meccas of the West Coast, here's the definitive guide to finding Your Town—the best places in America to work, play, and live the Outside lifestyle. By Mike Grudowski
Bellingham, Washington: Sailing, sea kayaking, biking, and backpacking in one of the best outdoor-recreation spots north of Puget Sound.
Santa Fe, New Mexico: Skiing, rafting, and climbing in the Sangre de Cristos, where the southern Rockies meet the high desert.
Chattanooga, Tennessee: Some of the best caving and whitewater paddling to be found south of the Mason-Dixon Line.
Eureka/Arcata, California: Wild rivers, majestic peaks, and ancient redwoods on the fabled North Coast.
Camden, Maine: Hiking and cycling trails a mere stone's throw away from the prettiest harbor on the Eastern Seaboard.
Blacksburg, Virginia: A high-tech gem in the heart of the Blue Ridge, where the whitewater is Class V and the singletrack is off the charts.
Northampton, Massachusetts: Ski, cycle, row, or run trails in one of New England's artsiest outposts.
Santa Barbara, California: A Mediterranean enclave on the Pacific that boasts year-round sailing, surfing, and rock climbing.
Duluth, Minnesota: The gateway to the Great Lakes, the North Woods, and the Boundary Waters.
Missoula, Montana: America's last best place to ski, kayak, and rock climb. Honest! (And yes, a river really does run through it.)
Plus: Readers pick their favorite outdoor locales; our fail-safe checklist for selecting the perfect town; and where to live if money's no object.
Mr. Bush Has a Dream
It's a vision thing! President George W. Bush is channeling a bold plan to tidy up Central Park (log it!), protect wildlife (build an animal pipeline!), and more. Illustrations and text by Bruce McCall.
D E P A R T M E N T S
Dispatches
This month, legendary climber Sir Christian Bonington heads to northern India to tackle an entire range of unclimbed peaks. His expedition is proof that the future of exploration in the 21st century is brighter than ever.
New Mexico's high-altitude velodrome aims to annihilate cycling world records.
Hold your breath: Tanya Streeter shoots for a new freediving record of 450 feet.
Passages: Jay Moriarity, fearless big-wave surfer, drowns off the Maldives.
Plus: The U.S. military embraces futuristic adventure technology; climber Mike Libecki challenges China's "Desert of No Return"; and the world's best mountain-bike racers take on Vail singletrack.
The Wild File
Why don't woodpeckers get migraines after hitting their heads against trees all day? Do your feet stretch from wearing sandals? Why do campfires hiss and pop? How do insects walk upside down? By Stephanie Gregory
The Hard Way
After a stealth gopher hole sends him flying over his handlebars, into the ER, and through excruciating rehab, our restless recon agent travels to Greece's Mount Olympus, home of the immortals, to face his own mortality. By Mark Jenkins
Destinations
Gorge games: All it takes to explore Arizona's remote canyons is a rope, a belay device, and some deep desert know-how. Our intrepid guide to the booming sport of canyoneering takes you down to blue-water pools and shady sandstone oases you never knew existed.
Herbal wraps and mountain biking at Montana's Potosi Hot Springs Resort.
Cast for brown trout and Hemingway lore outside Pamplona, Spain.
Plus: Treat yourself to eight days of self-guided trekking on Corsica; learn Spanish while helping the environment in Guatemala; and snorkel legendary Tahitian reefs on the cheap.
Bodywork
Time is on your side: Are shorter days sabotaging your summer fitness gains? No problem. Our four 30-minute workouts make the most of your schedule and will keep you strong, quick, and limber all fall.
Plus: A simple accessory gives the Concept 2 rowing machine the feel of flying across water.
Review
Give a hoot, bike commute: As if the environmental virtues weren't enough, three new traffic-stopping bikes and a wardrobe of weather-taming apparel make pedaling to work irresistible and guilt-free.
Plus: Spanking-new commuter bike helmets, lights, bags, and tools to get you to the job on time, in style, and intact.
Books: Wildlife Wars, by Richard Leakey and Virginia Morell; Dangerous Beauty, by Mark Ross; Eye of the Whale, by Dick Russell; and The Botany of Desire, Michael Pollan.