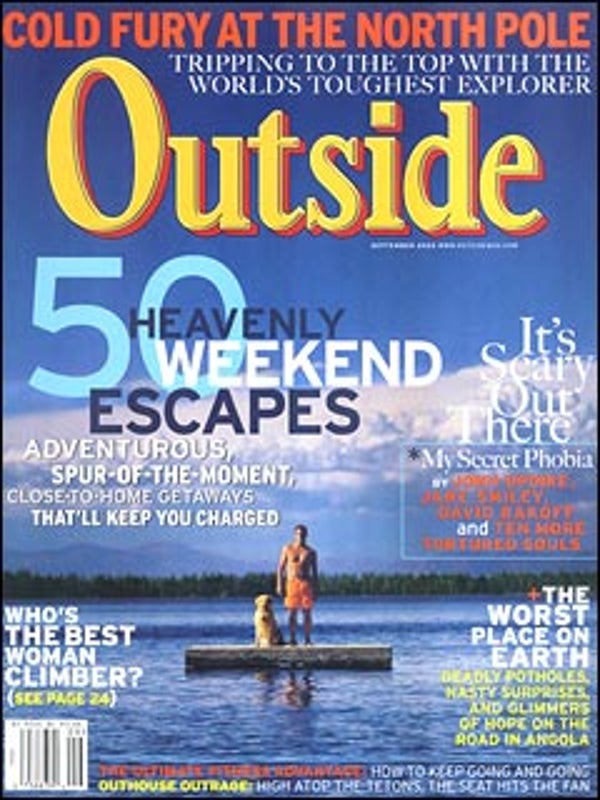 Outside Magazine, Sep 2002
---
F E A T U R E S
LET'S ALL CHILL
Sixty miles on skis is no big deal—unless they're the last 60 miles to the North Pole, your fingers are bleeding from frostbite, and the guy in front of you is Børge Ousland, king of the coldest ordeals on earth.
By Stuart Stevens
WHAT SCARES ME
Thirteen otherwise courageous writers reveal their deepest, darkest fears in our homage to the creepy, crawly, menacing world of phobias. Prepare to squirm.
FREEZING When the ice starts to crack, somebody's going in.
By Stewart O'Nan
SLEEPING BAGS The demons that haunt your snooze sack.
By Michael Perry
SWIMMING He's afraid of water—exquisitely afraid.
By John Updike
LIGHTNING If an electric bolt catches you outside, you're toast.
By Katie Arnold
JUMPING Forget vertigo. How do you handle the urge to leap?
By Pico Iyer
ARMADILLOS Tiny dinosaurs may lurk under the porch.
By Bucky McMahon
LIMA BEANS One man trembles before the sinister legume.
By Bruce McCall
WHITEWATER Once you almost drown, you're always underwater.
By Donald Katz
BATS Hell hath no fury like a million flying creatures in a cave.
By Jack Hitt
TICKS They exist for one reason: to drink your blood.
By Jane Smiley
BEING BURIED ALIVE Rest assured—you will never be found.
By David Rakoff
SNAKES When a cottonmouth hits the ground, run like hell.
By Jo Ann Beard
STARS Why the night sky is infinitely terrifying.
By Mary Roach
THIS IS THE SITUATION. THIS IS THE CONFUSION. THIS IS ANGOLA.
After 27 years of civil war, rapacious diamond mining, and ecological devastation, one of the loveliest countries on earth prepares to rise from its own deathbed. Can Angola flower again?
By Mark Jacobson
D E P A R T M E N T S
DISPATCHES
Will a new voluntary PACK-OUT-YOUR-OWN-WASTE-POLICY clean up our smelliest national parks, or should rangers enforce a backcountry hygiene regime? PLUS: PICKUP GAMES for the willing; The bold NEW FACE OF BOULDERING wears lipstick—and climbs like a man; rest in peace (and fertilize trees!) at America's newest ECO-CEMETERY ; a spirited version of MTV's Road Rules TAKES TO THE PAVEMENT ; Outside continues to keep its EAR TO THE GROUND in Hollywood; BOOKS by Tony Horwitz, Timothy Ferris, and Olivia Judson; and more.
THE WILD FILE
Can a mockingbird and a robin mate? Why are planets round? Are there any whirlpools south of the Equator?
By Brad Wetzler
THE HARD WAY
Thanks to GPS technology, the lowly printed map (and its inspiring beauty) seems destined for decorative wallpaper, right? Not so fast.
By Mark Jenkins
REVIEW
Turn-ons: The LIGHTS and LAMPS you need to bike, climb, and paddle all night long. PLUS: A CARBON-FIBER SURFBOARD that breaks in half—on purpose; NEW ICE-CLIMBERS from Vasque; functional and STYLISH OUTERWEAR from the fashionistas at Bonfire, DKNY, Tommy Hilfiger, Prada; and more.
BODYWORK
The final installment of our five-part fitness plan, The Shape of Your Life, offers BALANCE AND AGILITY drills to fine-tune your athleticism. PLUS: A blueprint for SUSTAINED PERFORMANCE that's guaranteed to last.
DESTINATIONS
FAST GETAWAYS
We mined the nation for 50 close-to-home ADVENTURE QUICKIES that squeeze a week's worth of bragging rights into 48 hours. Start
packing now.
SEATTLE: Ever try heli-biking? How about paragliding?
SAN FRANCISCO: Lucky bastards—you have the Pacific, Tahoe, and everything in between.
LOS ANGELES: Like NoCal, 'cept the water's warmer and days are sunnier.
DENVER: Packed with mountains high, rivers deep, and bliss nearby.
HOUSTON: This hot town has plenty of stay-cool escapes.
MINNEAPOLIS: It's the Land of 10,000 Lakes. Water sports, anyone?
CHICAGO: Heaven's due north. It's called Wisconsin.
WASHINGTON, D.C.: Surrounded by outdoor options that'll satisfy both Democrats and the GOP.
NEW YORK CITY: Rock climb! Paddle whitewater! Witness real life!
BOSTON: Classic scenery and shockingly modern thrills.