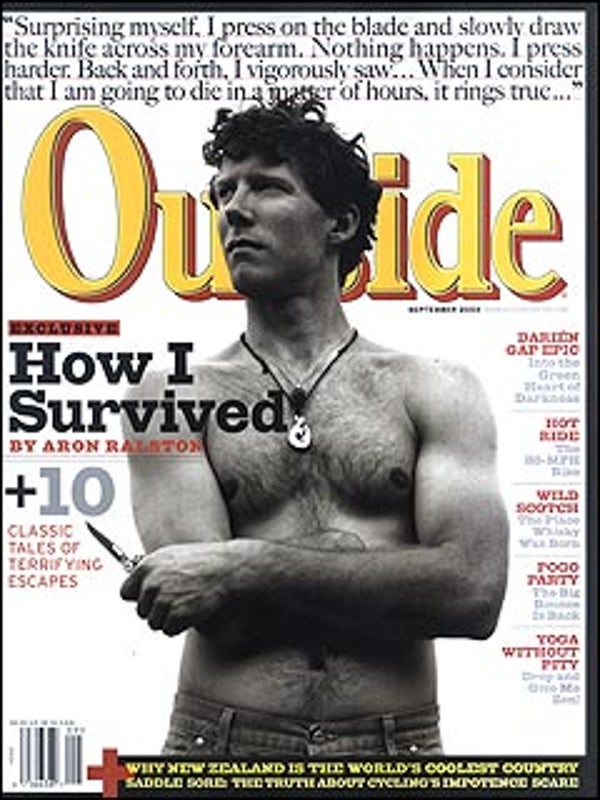 Outside Magazine, Sep 2004
---
F E A T U R E S
GODZONE QUEST
Why is New Zealand a traveler's paradise nonpareil? Maybe it's the culture. Maybe it's the world-class wine. Maybe it's a fantasy landscape perfect for high-adrenaline fun. Or maybe it's all of the above.
By Stephanie Pearson
OM WRECKER
Bodybuilder Peter Seamans, a.k.a. the Iron Yogi, has stepped onto the sticky mat with a rough, tough body-bending routine he's selling to the Crunch Fitness crowd. What the heck's happening to yoga?
By Eric Hansen
AN IMPOSSIBLE PLACE TO BE
On a six-week mission to the Darién Gap, the author tries (and tries) to penetrate the wilderness dividing North and South America—a no-man's-land where explorers vanish, guerrillas lurk, and lawmen fear to tread.
By Ben Ryder Howe
SURVIVAL EXCLUSIVE
TRAPPED
Pinned for six days by an 800-pound boulder, Aron Ralston had only one option: to cut off his own hand. Now, in a preview of his new book, Between a Rock and a Hard Place, the climber tells his story in astonishing detail.
I WILL SURVIVE
Bear maulings, plane wrecks, deadly volcanoes… Charting the ten hairiest survival tales of all time.
By Jason Daley
D E P A R T M E N T S
DISPATCHES
A radical TORPEDO BIKE is poised to leave the world cycling speed record in the dust
Meet Aussie mountain biker and glam girl NIKI GUDEX
The newest trend on the fitness scene: THE STATIONARY MOUNTAIN BIKE
A souped-up new POGO STICK gets you scary-high
TOMMY CALDWELL 's historic free climb on El Cap
THE WILD FILE explores poisonous honey, the windiest place in the solar system, and the medicinal use of coconuts
CULINARY SCHOOLS for the adrenaline-hungry
Soak up the balmy end of summer at choice LAKESIDE HIDEAWAYS in the great northern woods of Michigan, Wisconsin, and Minnesota
PLUS: Bold adventure and BOLDER WHISKEY at Scotland's wild distilleries.
OUT THERE
Once a year, the meanest peak in the East opens its toll road and dares a tribe of cyclists to brave sub-zero cold, bike-bucking winds, and nearly 5,000 feet of vertical. Why race the MT. WASHINGTON AUTO ROAD HILLCLIMB ? Because it hurts.
By Todd Balf
REVIEW
"Epic sufferfest" shouldn't apply to your tent time. The newest SOLO SHELTERS let you skip the snoring and score some Class V shut-eye. PLUS: NEXT-GENERATION KNIVES that go way beyond the blade. OUTSIDE STYLE: Plush sweaters to warm your core.
BODYWORK
BETTER SEX through biking! Well, not exactly, but a breakthrough test promising friendlier saddles may finally eliminate men's fear of impotence—and take cycling out of the hot seat. PLUS: Top-performing seats designed to let it flow—from Specialized, Selle Italia, and Terry Precision Cycling.