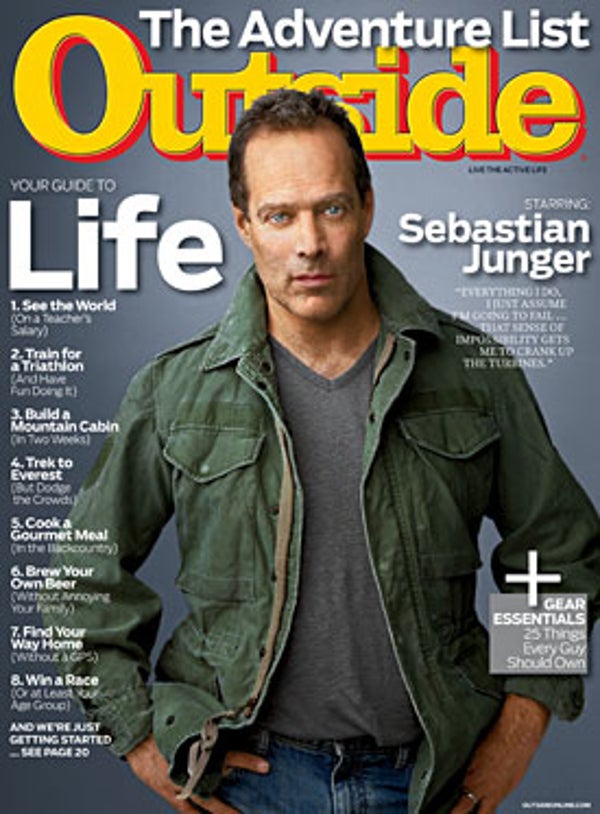 Outside Magazine, Sep 2010
---
life list 2010
YOU'RE GONNA NEED A BIGGER BUCKET
Live abroad. Win a race. See a giant panda in the wild. Ski-bum for a year. And 47 more must-do items for the adventurous soul. Plus: Reader picks.
the essentials
CLUTCH CARGO
All the indispensable items—from a heavyweight duffel to a killer pair of sunglasses—that every gearhound needs.
media
YOU CAN'T MAKE THIS STUFF UP
The 25 best documentaries for the Outside reader, as chosen by the crew at Mountainfilm in Telluride. Plus: Our favorite action-packed sports films.
style
STEP INTO CELLULOID
These seven visionaries represent the vanguard of a new generation of filmmakers who give adventure top billing.
the guide
BACHELOR OF LOST ARTS
Somewhere between Frogger and the advent of the iGadgets, we lost some crucial knowledge. Here's how to get back to—and master—the basics, from steering a canoe to perfect campfire tale.
THE PATH OF MOST RESISTANCE
Eric Hansen catches up with Sebastian Junger—world-class author, prodigious runner, undaunted war correspondent, and, now, director of a new film from the front lines.
TWIN FREAKS
Wait, a pair of identical accountants, when not playing the calculator, are using those left brains to knock off the world's tallest mountains—on skis? Damn skippy.
By Nick Paumgarten
HEART OF DARK CHOCOLATE
In which Rowan Jacobsen floats deep into the Bolivian Amazon to play Marlow to a German agronomist's Kurtz. Discovering wild cacao—presumed extinct, source of the world's most bafflingly awesome chocolate—has driven the man to extremes.
WATERSHIP DOWN, DOWN, DOWN, DOWN, DOWN, AND (ALAS) DOWN AGAIN
Dallas Trombley has an obsession. Or is it a compulsion? The Huck Finn hopeful just knows he has a mission to complete: to build a raft that can survive the mighty Hudson and float him to Manhattan. But will the seventh time be the charm?
By Christopher Solomon
STONED
The old man of the mountains (just three years shy of 90) still climbs as boldly as ever. Having lost count of his first ascents, we thought it was about time you got to know Fred Beckey. An oral history
by Justin Nyberg.
bodywork
YES YOU CAN … FINISH THE ESCAPE FROM ALCATRAZ
Part three of our four-part fitness special takes on the Bay Area's infamous triathlon. We break down the course and dish up training tips for conquering San Fran by sea and by land, including what to wear, what to eat, how to strengthen your core. BONUS: A complete five-month training plan.
plus
BETWEEN THE LINES
LETTERS
PARTING SHOT