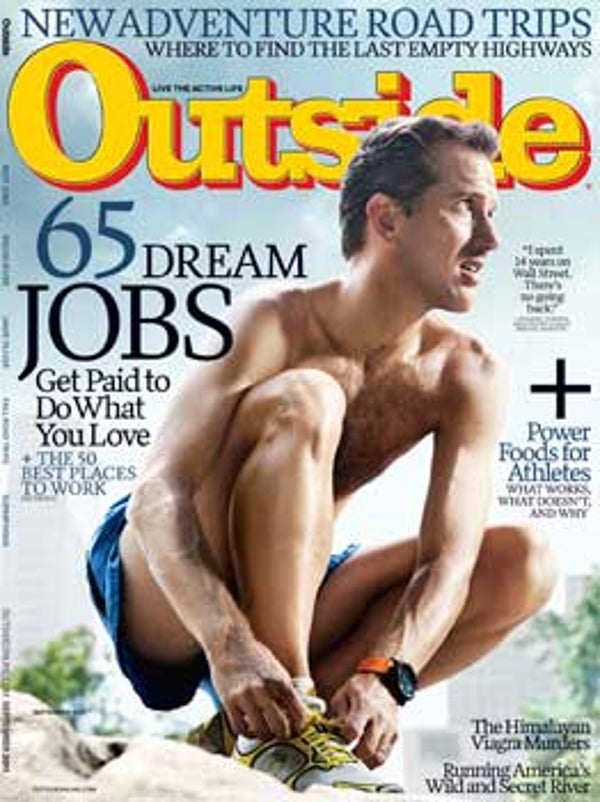 Outside Magazine, Sep 2011
---
BEST PLACES TO WORK 2011
TAKE THIS JOB AND LOVE IT
Used to be that work was what happened to you when you were busy making other plans (climbing Everest, floating the Nile). No longer. A new generation is finding ways to turn their life's passion into a rewarding career. Here's how you can too. Plus: Hot industries, career-switching case studies, and landing your action-sports dream job.
OUTSIDE'S TOP 50 COMPANIES
Our annual ranking, including the best perks, who's hiring, and how to apply.
WILL WORK FOR FOOD
Jamie Oliver never planned for any of this. An appalling student with a faux hawk and a flair for osso bucco, he rewrote the celebrity-chef script overnight. Now with Food Revolution, he's become a polarizing advocate for a reformed American diet. By Jeff Gordinier
YOU'VE GOT A PROBLEM ON YOUR HANDS
With its microscopic holds and laser precision, bouldering is the brain surgery of climbing on rock. And nobody's digging deeper into the gray matter than 24-year-old Paul Robinson. Matt Samet breaks down his most difficult send, Lucid Dreaming.
THE LOST RIVER OF DIVINE REINCARNATION
In its last alkaline stretch before sluicing into the Rio Grande, the Lower Pecos is a river abandoned by time. Which is why, when four friends get lost, stranded, and thirsty while canoeing it, their encounter with the real West couldn't be more complete. By S.C. Gwynne
departments
DISPATCHES
First Look: For their new film The Art of Flight, filmmakers at Brain Farm used cutting-edge HD cameras to capture some of the most face-melting snowboarding footage ever seen. Is this the birth of the action-sports blockbuster?
Media: A hundred years ago, Roald Amundsen became the first man to reach the South Pole. A new biography by coldwater swimmer Lynne Cox revisits the feat.
Also: A tragic novella places a lonely hermit in the aftermath of an Idaho wildfire, and a memoir recounts the trials of motherhood—and crocodiles—in Central Africa.
DESTINATIONS
Road Trips: Presenting eight romantic, spontaneous, epic, and quest-driven cruises down America's emptiest highways—plus the gear you need to make the most of them.
STYLE
Seven surfers from Montauk, New York, give you the lowdown on one of the East Coast's premier surf towns.
BODYWORK
No More Barriers: Part three of Outside's four-part series on overcoming fitness obstacles tackles fueling and nutrition. Here's how to optimize your diet, improve performance, and still eat like a champ.
THE ESSENTIALS
Top Chef: A modern chuck box to keep your cook kit organized
The Bright Side of the Lens: From pocketable HD point-and-shoots to a do-it-yourself 3-D videocam, eight perfect ways to capture the moment.
Spectrum: Four soft shells hard enough for any weather.
OUT OF BOUNDS
In 2009, seven Nepalese villagers died mysteriously while foraging for a fungal aphrodisiac worth its weight in gold. Was it murder? Eric Hansen travels to the remote Lost Valley, in the high Himalaya, to investigate the little-known, immensely profitable yarchagumba trade.
plus
EXPOSURE
LETTERS
BETWEEN THE LINES
PARTING SHOT