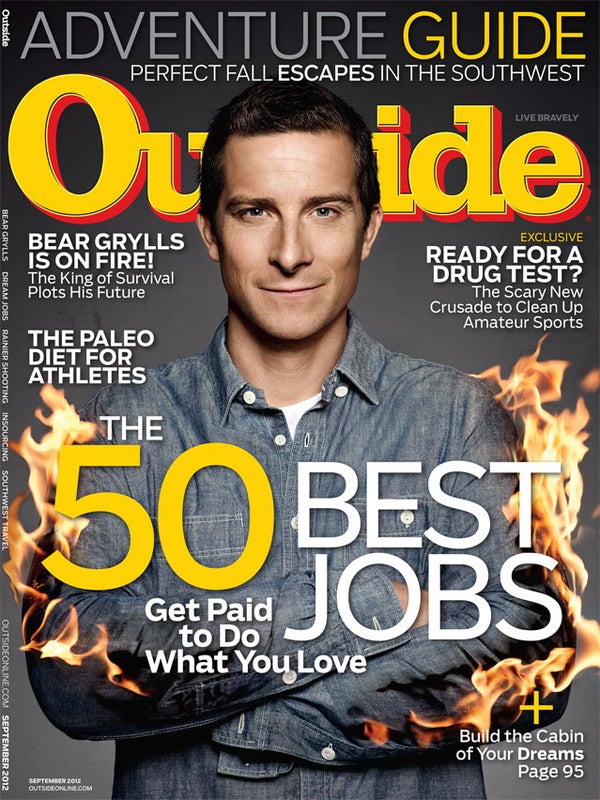 Outside Magazine, Sep 2012
---
Gone With the Wind
Bear Grylls is the biggest name in adventure TV. So what does he do now that he doesn't have a show? Launch a multiplatform brand, of course. Michael Roberts sits down with the survival star as he plots his next move.
Best Places to Work 2012
They Pay You for This?
Duties: regular workouts, mandatory lunch hours, and the occasional rafting trip. Benefits: international adventure travel, personal training sessions, and sweet swag. These jobs really do exist. From a brewery in Colorado to a tech firm in Ohio, here are Outside's Best Places to Work. Plus: A hard look at four highly coveted fantasy jobs.
Talk to Me
Marine biologist Denise Herzing has spent two decades communing with dolphins off the coast of Florida. Now, equipped with sophisticated devices capable of making the sounds they use to communicate, she's trying to converse with them. Tim Zimmermann reports on a radical effort that could change the way we think about animals.
style special
Solar Powered
An Italian chef, a pro snowboarder, and five other Sun Valley, Idaho, locals tell you the best way to play in one of America's most pristine mountain towns. By Sam Moulton
The Devil on Paradise Road
Last January, after shooting four men in Seattle, a former Army specialist drove to Mount Rainier National Park with an arsenal of deadly weapons and murdered a ranger. Bruce Barcott recounts one of the darkest days our national parks have ever known.
departments
DISPATCHES
First Look: A big-box-fitness tycoon is buying up endurance events. Is he sucking the soul out of homegrown races or giving them the boost they need to go huge?
News From the Field: Twenty-five years of Shark Week, a man without arms or legs swims the open ocean, and Bike Snob NYC deconstructs messenger-exploitation flick Premium Rush.
Epic: One man's plan to kayak 40 of the world's deadliest rapids in a single day.
Feuds: Why surfers hate paddleboarders.
Media: A new film unravels the history of environmental activism. Plus: Peter Heller's terrific, apocalyptic first novel.
DESTINATIONS
Southwest Escapes: Go deeper into the desert with these seven new adventures, from road biking in Utah's Henry Mountains to canyoneering in Colorado's San Juans.
Weekends: Island hopping back east, luxury camping out west, and renting bikes from cash-seeking cyclists nationwide.
Journeys: Kick back in Africa's most surprising conservation haven.
THE ESSENTIALS
Covet: A prefab cabin for idyllic getaways.
Hard Bodies: Seven weatherproof, pocket-size, video-capable cameras.
Perfect Cast: The gear you need—and the perfect Scotch—for fall fly-fishing season.
BODYWORK
In the Lead: Drug testing comes to amateur racing. But do we really need it?
Tools: The best blenders for whipping up recovery smoothies.
Fuel: Rediscovering buffalo, our ancestors' go-to protein.
columns
DROPPING IN
There's no prize money, no sponsor banners, no cameras rolling. But when the fastest kiteboarders on earth convene to race near Martha's Vineyard, bragging rights and a few speed-sailing records are on the line.
FIELD NOTES
Used to be technical outerwear was manufactured almost exclusively in China. No longer. Tom Vanderbilt reports on the growing number of gear makers producing apparel in the USA.