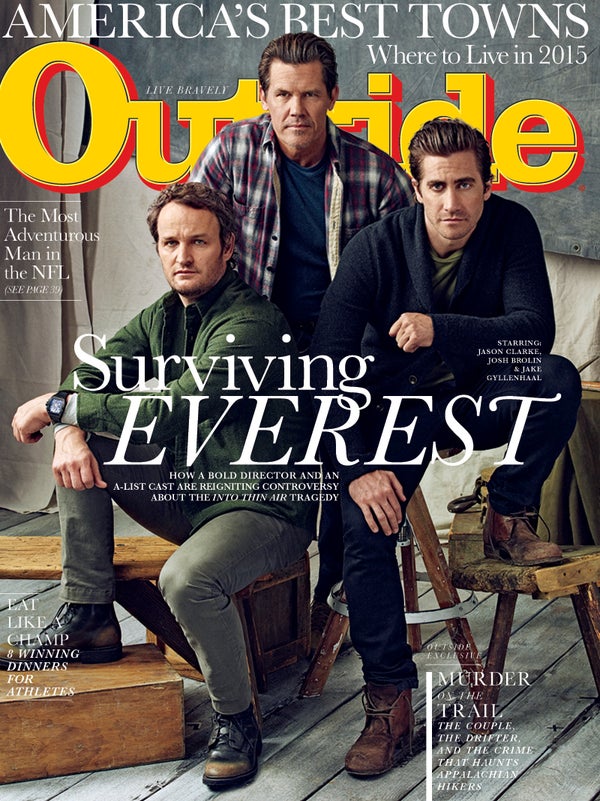 Outside Magazine, September 2015
Surviving Everest and Best Towns
---
Everest Stays in the Picture
Hollywood hits the Death Zone with a gripping take on the mountain's infamous 1996 tragedy, starring Jason Clarke, Josh Brolin, and Jake Gyllenhaal. Nick Heil talks with the actors and director Baltasar Kormákur about breathing new oxygen into an adventure classic.
Cache Money
Hunting for a mysterious chest of gold, rubies, and diamonds sounds like the plot from an old western. But the search for Santa Fe millionaire Forrest Fenn's hidden treasure has turned plenty of modern lives upside down, none more so than a former Seattle cop named Darrell Seyler. By Peter Frick-Wright
Style Special: Detroit Rising
Active cool is being reborn in the Motor City, where idealistic young entrepreneurs are colonizing old neighborhoods and setting up shop in former factories to manufacture watches, bikes, and heritage denim with a new American spirit. By Meaghen Brown
Up on Cove Mountain
Twenty-five years ago, Earl Swift was hiking the Appalachian Trail when two young trekkers he'd met along the way were murdered in a camping shelter. Last spring, he returned to the Pennsylvania mountains to try to understand the killings that shattered our idea of safety in the woods.
DISPATCHES
First Look: The World Surf League has invested millions to stream contests to viewers. But will landlubbers watch?
Drink: Clear craft liquor.
Racing: An American Skyrunning series is punishing ultra athletes.
Tech: Juicing up mountain bikes.
Outsider: Arizona Cardinals wide receiver Larry Fitzgerald swaps the pigskin for an ice ax.
Covet: Vintage Overland's custom backcountry trailer.
BODYWORK SPECIAL
Performance Nutrition: In the last of our three-part series, we take you to dinner. Eight athletes share their evening fuel strategies, from wild-caught salmon to prosciutto and chocolate. (We'll have what he's having.)
DESTINATIONS SPECIAL
Best Towns 2015: River- and mountain-loving Chattanooga, Tennessee, took home the top prize—again—in our annual contest. But the other 15 finalists have something for everyone, too. Plus: the biggest challenge facing our favorite adventure hubs.
ESSENTIALS
Wanted: A compact, Hollywood-caliber adventure camera.
Outfitted: From wheels to work, the perfect bike-commuting kit.
Stress Tested: Sport-specific shades for running and more.
Spectrum: Training watches.
Basics: A primer on underwear.
Plus
Exposure
Parting Shot