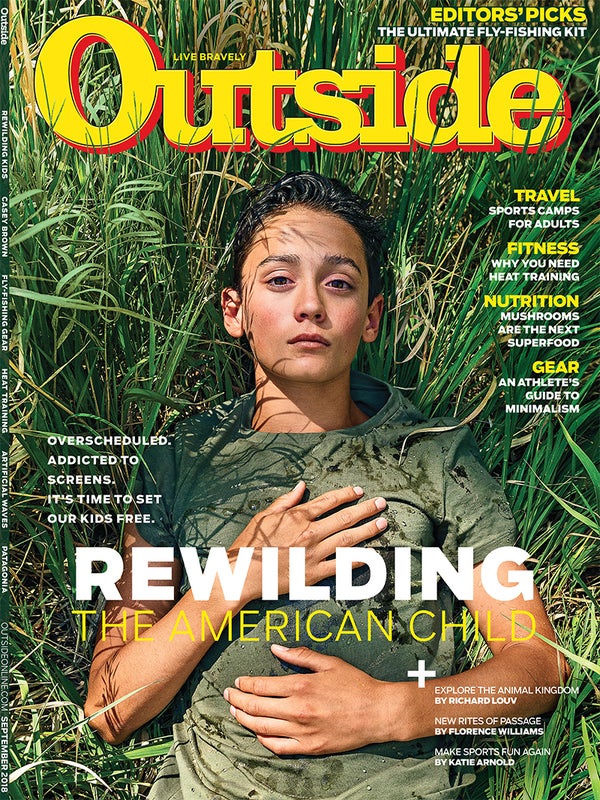 Outside Magazine, September 2018
---
Features
Rewilding the American Child: Kids today, we can all agree, are disconnected from nature, addicted to screens, and tamed by well-meaning parents. So how do we restore their freedom, fire up their imaginations, and let them loose to play? The answers are all around us.
In the Land of Giants: Chile's nearly completed Route of Parks is thanks in large part to Kristine and (the late) Doug Tompkins, who worked with the government to protect millions of acres of peaks, rivers, glaciers, and fjords. Stephanie Pearson rolls south through Patagonia's new string of jewels.
On a Rampage: Few mountain bikers can match Casey Brown's hang time, speed, or grit. Now she wants to be the first woman to ride in the sport's most punishing event. —Gordy Megroz
It's Not That Simple: A growing legion of minimalist adventurers insist that when it comes to the gear shed, less is more. But as Tom Vanderbilt found out the hard way, getting rid of sports apparel hurts a lot more than unloading jeans and polos.
Dispatches
Media
Memoir: A new voice in exploration literature cycles the Silk Road. Plus, ranking creature features.
Big Idea
The Artificial Wave: Why the first World Surf League competition on a man-made swell is nothing to celebrate. —Alex Wilson
Travel
Adventure Schools: Classroom time isn't so bad when you're building fly rods in Virginia, pack-rafting in Alaska, or barbecuing in the Lone Star State.
Journeys: Swipe right for guides, and the best acces­sories for your next trip.
­
Outsider
Bethany Hamilton: Just because she lost her arm to a shark doesn't mean this surfing champion—the subject of the new documentary Unstoppable—is a victim.
Gear
Wearable Tech: A solar smartwatch that never needs charging.
Fishing: Rods, reels, waders—everything but the one that got away.
Boat: Hobie's pedal-powered Mirage Pro Angler keeps hands free to fish.
Women's Base Layers: Good-looking, hard-charging bottoms and tops.
Fitness
Performance: Athletes are turning up the thermostat with heat training. Bring on the hot tubs and sauna workouts.
Laird's Laws: The good and the bad of superfoods, from turmeric to butter coffee.
Training: A wholesale update to Joe Friel's cycling bible.
Nutrition: The magic of mushrooms.
Style
Shoulder-season classics that go from barn to bar.