About the Outside Fellowship Program
Our paid fellows work closely with our editorial team for six months, learning the ins and outs of magazine journalism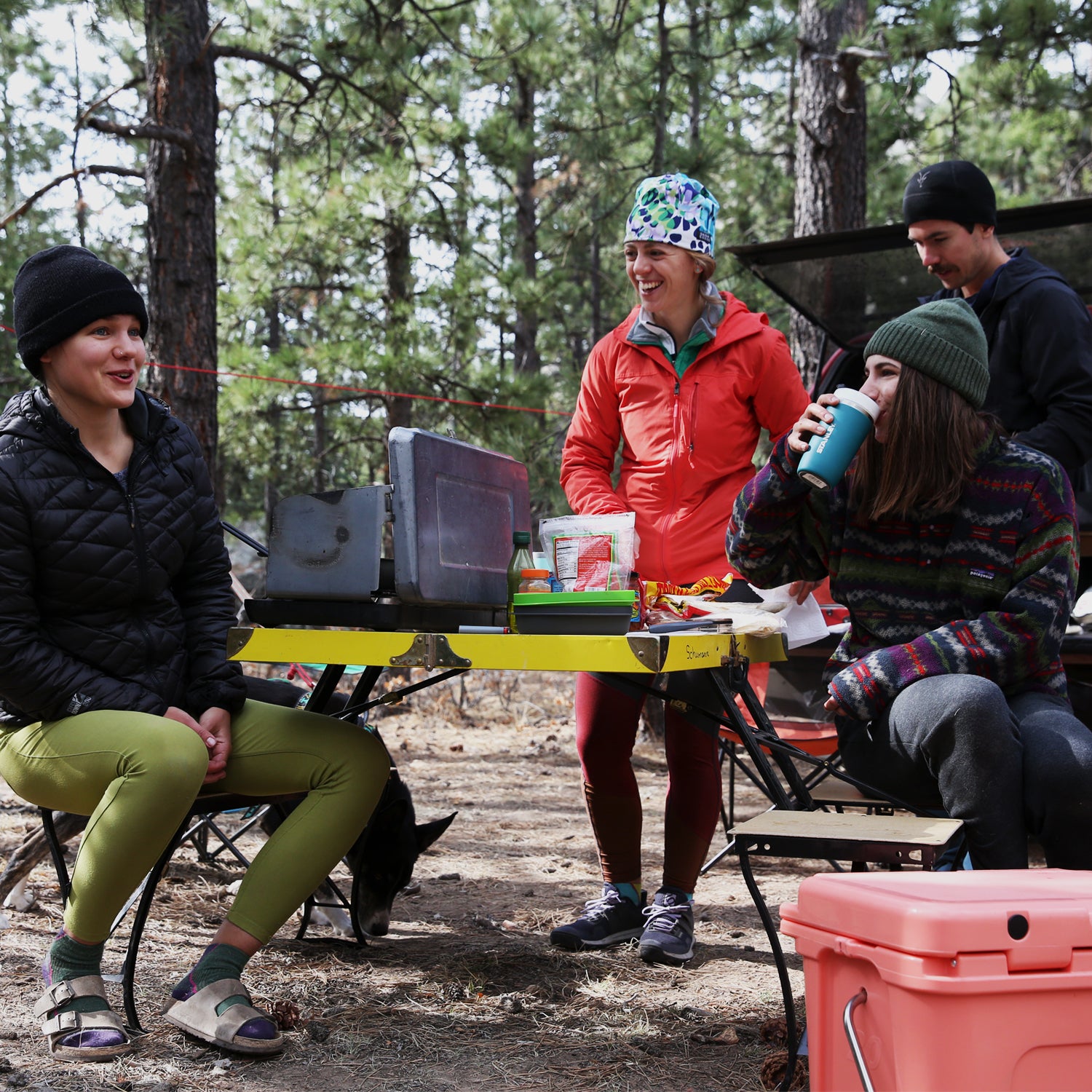 Heading out the door? Read this article on the new Outside+ app available now on iOS devices for members! Download the app.
Outside offers paid six-month fellowships at our headquarters in Santa Fe, New Mexico. We have a few different fellowship roles—including editorial, production, and video production—all of which include working closely with top editors on everything from fact-checking long-form features to building stories and editing videos. Our fellows are included in nearly all of Outside's editorial processes, including feature pitch meetings, film shoots, and casual brainstorming sessions. They get a firsthand look at how a multiplatform national publication comes together. They also have the opportunity to execute their own work during their time at Outside, including a long-term capstone project: previous fellows have written a narrative feature, produced a short film, and managed a social-media platform. Finally, fellows get to participate in periodic instructional seminars and one-on-one meetings with our editorial staff and award-winning contributors, which provide invaluable mentorship and professional-development opportunities.
Who We're Looking For:
Early-career journalists and creatives who are excited to contribute to Outside. If you're new to the outdoor world but passionate about the topics we cover, please don't hesitate to apply. We especially encourage applications from women, people of color, LGBTQ people, people with disabilities, and others who have been historically underrepresented in journalism and the outdoor industry. Outside is unable to provide work visas for those applying from outside the United States. Normally our fellows are based in Santa Fe, and we look forward to returning everyone to our offices as soon as possible. Until then, this position will be remote. Doing the fellowship remotely after the office is fully reopened is also an option if you live in California, Colorado, Illinois, or New York (where Outside has current business operations). The most competitive applicants typically have some post-college journalism experience, but we do not require college degrees.
Compensation:
Our fellowship roles are 40 hours per week, Monday through Friday. They pay $15 per hour (and time-and-a-half for any overtime hours).
How to Apply:
For more information about our specific fellowship roles and how to apply to them, read on. Our fellowships start at different periods, and we hire for them throughout the year.
Editorial Fellowship
The editorial fellowship is a great opportunity for early-career journalists who want to learn how long-form journalism works. We're currently hiring an editorial fellow to start March 1, 2021.
Editorial fellows' responsibilities include:
Working with our editors and writers to fact-check our print and online feature stories. At Outside, fact-checking is an integral part of the editorial process, and as a fact-checker, you get to watch how a long-form story takes shape, reengineer the writer's reporting to make sure it's fair and accurate, and often have a significant voice in the story's editing process.
Fact-checking shorter online and service stories. We also want to make sure our news coverage and reader service is authoritative and credible, and to that end, our fellows fact-check shorter articles, too, from quick-turnaround gear news to health packages and travel guides.
Contributing research to various stories and projects. This may include tracking down nautical charts for a map, putting together a data set for a chart, obtaining a court document for an investigation, or reaching out to experts to develop a feature or package idea for an editor.
Generating stories ideas to bring to pitch meetings and brainstorming sessions. We encourage our fellows to constantly come up with ideas, be it a quick news hit, an idea for a special issue, or a pitch for a longer online story.
Writing for the online site as well as the magazine. We often tap our fellows for everything from sidebars in the magazine to online stories on a news development. Fellows also have opportunities to pitch and pursue longer stories, including for a capstone project, which involves working with an editor to develop and write a narrative online feature.
Applicants should:
Possess strong attention to detail and problem-solving skills
Be able to work well under pressure
Have a collaborative, team-oriented attitude
Be passionate about the outdoors (but not necessarily a hardcore athlete)
Have some professional experience reporting and/or fact-checking at a newspaper, magazine, or website
To apply, please send a cover letter, résumé, and three relevant writing samples to fellowships@outsideim.com.
We are no longer accepting applications for the fellowship cycle starting in March 2021. We will update this page when we're hiring for the next fellowship cycle. 
Production Fellowship
Production fellows work closely with our editors and art team to present all online content in a clean, timely way.
Production fellows' responsibilities include:
Tackling both daily and long-term production needs for the brand
Working closely with the production manager to build stories and packages in the CMS
Assisting with photo research
Helping with the overall display and presentation of stories
In addition to the above primary responsibilities, fellows with an interest in art direction have the opportunity to work with and sit in on meetings with the art team; fellows with an interest in reporting have the opportunity to sit in on editorial story meetings and write and fact-check articles for the website.
Applicants should:
Have experience navigating a content management system (we use Drupal)
Be proficient in Adobe Photoshop
Have an eye for copy editing and headline writing
Have some college or post-college professional experience working at a newspaper, magazine, or website
Previous experience as a producer is a plus, but if you're motivated, detail oriented, a fast learner, and interested in the editorial processes of a national magazine, we encourage you to apply.
We're not currently hiring for this fellowship. 
Video-Production Fellowship
Outside's video-production fellow is responsible for aiding in the production of all in-house video content and supporting our video team to achieve overall channel goals. 
Video-production fellows' responsibilities include:
Contributing to the weekly video story-idea meeting
Assisting in shooting and editing videos
Planning production logistics of on-location shoots
Overseeing digital management and the physical organization of camera equipment
Building videos for the website and YouTube platforms
Preparing the on-site studio for shoots by setting up lighting, checking audio, and building cameras
Helping with media management, such as backing up footage and ingesting and organizing new and old footage
Managing transcription services and adding corrected transcripts to live videos
Applicants should:
Have previous experience shooting video and editing with Adobe Creative Suite
Be passionate about video production and the outdoor industry
Have great organization skills and the ability to juggle multiple tasks at once
Have a collaborative and positive team spirit
We're not currently hiring for this fellowship.