Aces Wild
They've paid their dues, mastered their game, and pushed the limits. And this year, they've been blowing our minds. Meet the new icons of cool.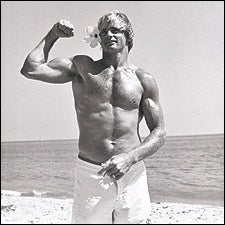 Peggy Sirota
Heading out the door? Read this article on the new Outside+ app available now on iOS devices for members! Download the app.
Plenty of people rocked our world this year—like resilient shark-attack survivor Bethany Hamilton, Olympic supa-swimma Michael Phelps, valiant Iraq war photographer Chris Anderson, and (of course) Lance, with his butt-whompingest Tour win yet. Meet the top 25 picks in our roundup of adventure heroes who stand a cut above.
Laird Hamilton

Laird Hamilton
Laird Hamilton: Big-Wav Surfer



Misty May & Kerri Walsh: Solid-Gold Spikers



Rush Sturges, Marlow Long, & Brooks Baldwin: Mad Auteurs



Keir Dillon: Snowboarder



Lauren Lee: Model Climber



Stewart & Brown: Eco-Fashionistas



Alexander Fyfe: Soccer Captain



Joe Don Morton: Smoke Jumper



Lance Armstrong: The Boss



Bethany Hamilton: Surfer



Justin Carven: Guru of Grease



Danny Way: Big-Air Huckster



Becky Bristow: Expedition Kayaker



Kit DesLauriers: Freeskier



Jimmy Chin: All-Mountain Man



Michael Phelps: Heavy-Medal Swimmer



Rush Randle: Wave Doctor



André Tolmé: Golfer in the Rough



Tim Bluhm: Vagabond Rocker



Dwight Aspinwall & Perry Dowst: Gear Savants



Arnold Schwarzenegger: Environmental Action Hero



Chris Anderson: Fronline Photographer



Jim Prosser: Sustainable Vintner



Jim Fraps & Jeff & Paul Pensiero: Big-Pow Hoteliers



Darren Berrecloth: Freeride Mountain Biker
Misty May & Kerri Walsh
Solid-Gold Spikers
Despite the anything-can-happen aura surrounding this summer's Olympic Games, certain outcomes seemed inevitable: There would be drama and tears in the gymnastics competition, archery would not make prime time, and the American women would win beach volleyball gold. Of course, it's easy to achieve world dominance on the sand if you are the formidable twosome of Misty May—a five-foot-nine, 150-pound 27-year-old with coils for legs—and Kerri Walsh, 26, whose six-foot-two, 155-pound beanstalk body lets her cover every inch of the net and court. It's not surprising that both women are blessed with Athena-given genes—May's mother was a nationally ranked tennis player, while Walsh's mom was voted MVP on her college volleyball team at Santa Clara University—and both were college superstars in their own right. At Long Beach State, L.A. native May led her team to a 36–0 record and the 1998 NCAA championship, while Walsh, a native of Santa Clara, California, racked up four All-American honors and two consecutive NCAA championships at Stanford. The two paired up in 2001 and were ranked number one in the world by the end of the 2002 season, becoming the first American team to win the world championships, in 2003. Three years of playing solid ball together certainly paid off: The duo (who beat Brazilians Shelda Bede and Adriana Behar in the gold-medal round) didn't drop a single game in Athens. "We played consistently and aggressively from the very first game," says May. "I didn't have any doubt we would win gold."

Rush Sturges, Marlow Long, & Brooks Baldwin
Mad Auteurs
Judging from the footage in Young Gun Productions' 2004 DVD New Reign, extreme kayaking has found its heirs apparent. The flick, 30-plus minutes of pure kayak porn, stars the trio and a cadre of their underage, overtalented pals running 70-foot waterfalls, cartwheeling through ten-foot standing waves, and raising hell on some of the world's fiercest waterways, from Uganda's White Nile to Canada's Slave River. Set to rap and hip-hop, it forgoes narration for frame after frame of lemming-style plunges and teenage rowdiness. (In one scene, paddler Merlin Hanauer cranks the rental van through high-speed donuts in a Norway parking lot.) Talent and guts notwithstanding, the Young Guns' irreverence and Hiltonesque reputation for partying haven't gone over well with the sport's veterans. "Don't get me wrong—they go huge," says Clay Wright, 37, a member of the U.S. Freestyle Kayak Team since 1995. "But they need to learn that people aren't just watching them when they're on the water." Which, as it turns out, is most of the time: Long, 20, Baldwin, 20, and 19-year-old Sturges, the 2003 junior world freestyle champion, made their first movie, The Next Generation, in 2002 as students at the Vermont-based kayaking academy Adventure Quest. For their next offering, Dynasty, due out in late 2005, they'll head to the Congo's big water. "With a 15- or 20-foot wave," says Sturges, "anything's possible."

Keir Dillon
Snowboarder
Keir Dillon
Keir Dillon
Keir Dillon couldn't concentrate. It was the February 2004 World Superpipe Championship in Park City, Utah, and the pipe's 18-foot walls were booming with the sound system's house music and the noise of the raucous crowd. So he put on his earmuff-size Sony headphones, tuned in to the mellow vocals of a singer from his church, dropped in, and won gold. That same focus earned Dillon third-place finishes in both the X Games in January and the U.S. Open in March—a trifecta of podium appearances at the sport's most renowned contests. In the pipe, Dillon, 27, is known best for his personalized McTwist—a 540-degree spinning front flip—and soaring amplitude. Off the snow, the Carlsbad, California–based boarder—who is married and sticks to a rigorous year-round training regimen in hopes of making the 2006 Olympic squad—is leading a new revolution of career-focused riders by being up front about who he is and what it takes to win. "You can't be pro these days and be a complete derelict," he says. "It's about being dialed."

Lauren Lee
Model Climber
"I don't have the patience for sticking around climbs very long," says 24-year-old boulderer Lauren Lee, "so I just send them [climb without falling] as quickly as possible." In her case, impatience is a virtue. After less than two years of crag time, the five-foot-five, 110-pounder from Cincinnati was snagging first-place finishes at the 2001 American Bouldering Series and the Subaru Gorge Games. In 2002, she finished second to France's Myriam Matteau at the Bouldering World Cup in Rovereto, Italy, then went on to win the prestigious Phoenix Dyno competition in April 2003 and the Professional Climbing Association competition in Salt Lake City in January 2004. But just because Lee can rage on the rock doesn't mean she's a dirtbag climber: A model for gearmakers Five Ten, Prana, and BlueWater, Lee has been known to compete in a skirt. True to form, she's throwing herself headlong into the next step: sport climbing. In July, Lee put up the fastest female ascent on Dumpster BBQ, a notoriously difficult 5.13c pitch outside Rifle, Colorado. And in September, she became the youngest American woman, and third overall, to send a 5.13d. "It's one thing to be strong, but it's another to know how to move on the rock," says World Cup climber Chris Sharma, 23. "Lauren has both. She's got huge potential."

Stewart+Brown
Eco-Fashionistas
Stewart+Brown

Stewart+Brown
At long last, the human species has evolved to the point where we can grasp the concept that earth-friendly fashions need not stop at hemp. This is due in no small part to Stewart+Brown, the Ventura, California–based green-produced, downtown-inspired apparel company created in 2002 by the husband-and-wife team of designer Karen Stewart, 35, and brand guru Howard Brown, 37, alumni of Patagonia and Urban Outfitters, respectively. "You know the Dr. Seuss book The Lorax? 'I am the Lorax, I speak for the trees!'" says Brown, by way of explaining their mission. "We want to mix environmental consciousness with good, cool design." Toward that end, Stewart+Brown gives 1 percent of its gross profit to environmental causes. All of their cotton products are 100 percent organic; the cashmere comes from a fledgling Mongolian cashmere co-op run by herders who process the woolly stuff themselves; their Surp+ tote bags are stitched from leftover ripstop nylon and the remnants of fly-fishing waders; and their fleece is Stewart's own invention, a proprietary blend of organic cotton, polyester, and spandex. They'd intended to take their new line slowly, conceiving the company while raising their two-year-old daughter, Hazel. But when the zeitgeist calls, you have to answer, particularly when those calls are for cashmere and they're coming from national franchises like Anthropologie, trendsetting boutiques like Butter, in Brooklyn, and celebs like Cameron Diaz and Liv Tyler (who ordered their infant line: cashmere baby blanket, hat, and neckie). While tastemakers swoon—"Oooh, the hats!" cries Organic Style's Danny Seo—Stewart and Brown are planning to expand, and scrambling to keep up with existing sales. "Did you hear that sigh?" says Brown. "I just spent six straight weeks packing boxes, and people are already placing reorders. Stores are selling out."

Alexander Fyfe
Soccer Captain
While the Iraqi National Soccer Team was gearing up for its knockout performance at the 2004 Summer Olympics, U.S. Army captain Alexander Fyfe was helping the country's next generation of athletes sharpen their dribbling skills. Fyfe, a civil-affairs officer with the Fort Lewis, Washington–based 1st Battalion, 37th Field Artillery Regiment, was stationed in Mosul, Iraq, last February when he noticed some local kids playing with a makeshift ball made of straw. The 26-year-old West Point grad—a standout midfielder as a teenager in Rocky Point, New York—e-mailed his high school coach, Al Ellis, and asked him to ship over a few balls. Ellis broadcast the request over the Internet, and soon Fyfe had received $25,000 worth of jerseys, balls, and other soccer equipment from the United States and Japan, which he helped distribute to children throughout northern Iraq. Though his is a goodwill mission, Fyfe still has to watch his back: In June, while on a delivery run to schools near the town of Qara Qosh, his convoy was ambushed by anti-American insurgents. The soldiers escaped harm, but the incident rattled Fyfe, who hopes to end his tour of duty by year's end and return home to the Northwest for a winter of hiking and skiing. "This soccer project is one of hundreds of good news stories happening here every day," he insists. "I'll leave Iraq knowing that I played a small part in a very big production." Whatever the outcome in Iraq, it's hard to contest the rightness of kids playing sports outside.

Joe Don Morton
Smoke Jumper
The wildfire outside the Alaskan town of Arctic Village was small, maybe only five acres, when veteran firefighter Joe Don Morton hurled himself from the belly of a Casa 212 aircraft on June 22, 2004. Even 125 miles north of the Arctic Circle, in the sparsely vegetated foothills of the Brooks Range, it took eight men and two CL-215 tanker planes three days to douse the blaze. Morton, 34, is a veteran Alaska Smokejumper, one of 68 elite firefighters who serve as the Last Frontier's first line of defense against wildfires, parachuting into the backcountry as soon as flames are spotted. Smoke jumpers are a burly breed, but in Alaska—where 99 percent of the state is wild and roadless backcountry—the job redefines hardcore. "When I heard about guys throwing themselves into the middle of burning, untamed wilderness 500 miles from the nearest road," says Morton, a former Navy search-and-rescue swimmer who got his start fighting fires in Arizona, "I knew it was my calling." Good thing, because 2004 was Alaska's worst fire season on record, with 680 separate blazes charring nearly 6.5 million acres across the state, including the headline-grabbing Boundary Fire, which scorched 537,000 acres of the White Mountains National Recreation Area and threatened suburban Fairbanks in June. "It looked like a war zone," says Morton, who made nine jumps between May and late September, often hauling up to 110 pounds of gear (including a Kevlar jumpsuit, hard hat, ax, and chainsaw) to clear terrain just ahead of the flames. "The large fires kept our guys out there a long time," says base manager Dalan Romero. "They were a challenge to everyone's endurance."

Lance Armstrong
The Boss
Tour de Lance
Revisit our
coverage of the 2004 Tour de France
—follow Lance to his historic sixth win, explore our extensive Armstrong archives, page through our Tour photo galleries, and more.
More Lance? Yeah, more Lance. Because a cyclist now ranks alongside transcendent, single-name icons like Pelé and Jordan. Because, as a 32-year-old cancer survivor, he accomplished something after cancer—six Tour de France victories—that no one else has managed in an entire career. Because here's how he described this summer's 2,110-mile battle for his record-setting yellow jersey: "It's as if I was with my five friends and we were 13 years old and we all had new bikes and we said, 'OK, we're going to race from here to there.'" Because rather than quit now, he is out there training, getting ready to unleash another season of hurt on the competition. Because he stamped LIVESTRONG on a yellow rubber band, sold it for a buck, and has generated upwards of $13 million for his cancer foundation. Because his rock-star girlfriend lives in L.A., and his career is based in Europe, but he insists on training in Texas so he can be closer to his kids. Because his cameo was the best part of Dodgeball. Because no matter how much is written about him, the next time he races, you'll watch.

Bethany Hamilton
Surfer
Bethany Hamilton

Bethany Hamilton
"Then it happened," writes 14-year-old Bethany Hamilton in her new book, Soul Surfer. "A wave rolled through, I caught it, put my hand on the deck to push up, and I was standing. I guess I started getting the technique wired after that." Let us be the first to say that this is a massive understatement. Last January, ten weeks after losing her left arm in a grisly shark attack that made international headlines, Hamilton rode a six-foot wave on her six-foot-two-inch surfboard and placed fifth in her age group in a National Scholastic Surfing Association meet in Hawaii. In August she won the women's open division of an NSSA Hawaii conference contest, outsurfing the reigning champ, 12-year-old Carissa Moore. How is this possible? Hamilton credits her family (her parents, Cheri and Tom, and two brothers, Noah and Timmy, all surf), supporters in her hometown of Princeville, Kauai, her strong faith, and her unwavering mission to turn pro. In addition to physical therapy, her daily workouts include beach sprints, crunches, stretches, and balance work. She also surfs three times a day on Kauai's best breaks, fine-tuning her technique with help from surf-training legend Ben Aipa, 63, who has coached Kelly Slater and Sonny Garcia. Though she wears a prosthetic on land, she rides the waves without one: paddling with her right arm, kicking hard, planting her body in the middle of the board, standing up, and then dropping in. "For most of us, surfing with two arms is hard enough," says Sunshine Makarow, publisher of Surf Life for Women. "But Bethany's still out there surfing competitively, and she can rip!"

Justin Carven
Guru of Grease
No doubt you've been hearing the buzz about biodiesel. A chemically processed mixture of vegetable oil, methanol, and lye, usually blended with other diesel fuels, it sells for about the same price as unleaded gas, with fewer greenhouse-gas emissions and up to 40 percent better mileage. But 27-year-old Justin Carven, of Florence, Massachusetts, has come up with a smarter, cheaper way to drive greener. Carven's Greasecar Vegetable Fuel System modifies any diesel engine to run on pure recycled cooking oil—cleaner and more fuel-efficient than biodiesel and free at Chinese restaurants and fast-food joints nationwide. Carven developed the Greasecar concept while studying mechanical design at Hampshire College, in Amherst, Massachusetts. His first real road test—a 2000 postgraduation trip from Cape Cod to California and back in a grease-powered VW Westfalia—drew so much attention that he soon began marketing easy-to-install Greasecar kits to the public. Carven and his staff of three (who produce all the components by hand in East Hampton, Massachusetts) report that 2004 sales are up 500 percent over last year, with 60 Greasecar kits, at $795 a pop, being ordered each month by a customer base that's grown beyond the original dreadlocks-and-patchouli crowd. "I tried using biodiesel, but it was hard to find, and I figured why not go 100 percent?" says Mark Howard, an information-technology consultant in New Hampshire who installed a Greasecar system on his 1997 VW Passat last spring. "I estimate that I save $80 to $100 a month on gas." Carven admits that vegetable oil is not the perfect replacement for gasoline—for one thing, lugging around vats of grease and filtering out the McNugget batter and other impurities can be a chore. But he thinks it's a worthy alternative until another green fuel is developed. "It's renewable, produced domestically, and not going to run out like fossil fuels," he argues. "This stuff literally grows on trees."

Danny Way
Big-Air Huckster
Danny Way

Danny Way
In the four-wheeled world of skateboarding, the name Danny Way has always been synonymous with big. That's because, from the start of his pro skateboarding career, at age 14, Way has never stopped flying. The 30-year-old vert (a.k.a. halfpipe) skateboarder and father of two from Encinitas, California, made headlines in 1997 when he became the first skateboarder to jump from a helicopter onto a vert ramp—a move he aptly named the "bomb drop" and repeated two years later for MTV. In June 2003, Way set two back-to-back world records in a single jump at a mega–skate ramp in Temecula, California: First he landed a 75-foot-long backside 360 over a 40-foot gap, with the momentum carrying him into the vert pipe, where he soared to 23.5 feet of vertical. This August, he wowed audiences at the X Games in Los Angeles by breaking his own world record with a practice jump of 79 feet—and then going on to win the big-air ramp event. Needless to say, it can be messy work: In the past year, Way has received 25 stitches on his right elbow, ripped off all the skin on his stomach, and been knocked unconscious twice. But that's nothing compared with his eight surgeries—six on his left knee alone—in the past ten years. Way is just as aggressive off the ramp. In 1995, he helped his brother, Damon, and friend Ken Block start DC Shoes, a San Diego–based skateboarding-apparel company, which they sold to Quiksilver in March 2004 for $100 million. Now he has the windfall to develop his latest idea—a portable 90-foot-high, 300-foot-long ramp that, he hopes, will kick off a big-air world tour. "Trying something new can be rough," Way admits, "but once you make it happen, the possibilities are endless."

Becky Bristow
Expedition Kayaker
Just eight weeks after the U.S. State Department warned Americans off traveling to Iran this May, 27-year-old expedition kayaker Becky Bristow drove overland from Turkey with a team of paddlers from Britain and Argentina for a series of self-supported multi-day descents down Iran's Class IV and V Bakhtiari, Zez, and Sezar rivers. As it turns out, pushy water was only half of the challenge: Reconciling river-rat culture with Islamic law came with its own set of hardships. Despite 100-degree average temperatures, Bristow paddled in long pants and a long-sleeved shirt and donned a head scarf while portaging. At one point, three villagers accosted the team along the Zez River—holding Becky in her boat and making menacing hand gestures until the team's British photographer, Alex Nicks, handed over his camera to appease them. "That was some outrageous stuff that I don't think happens over there that often," says Bristow. "The majority of the time we met beautiful people who were generous and friendly." Bristow got her start on tamer waters in 1989, paddling the North Saskatchewan River near her home in Rocky Mountain House, Alberta, in a 13-foot fiberglass kayak her father bought at a garage sale. Fourteen years later, she has notched first descents in Alaska, Ecuador, Russia, and B.C. (she scouted drainages from a helicopter during the three summers she fought forest fires), starred in TGR's film Wehyakin and Scott Lindgren's Aerated, and is in the process of launching her own production company, Wild Soul Creations. "She comes off as an unassuming, mild-mannered Canadian," says fellow paddler Kristen Read, 29. "It turns out she's also a total badass."

Kit DesLauriers
Freeskier
Kit DesLauriers

Kit DesLauriers
When Kit DesLauriers, 35, arrived at the base of Alaska's 20,320-foot Mount McKinley this May, the entire summit was capped in blue ice. But a little hardpack wasn't going to stop her from becoming the first American woman to ski the continent's tallest peak. For 26 days, she and her husband, Rob, assaulted the mountain, helping to rescue a stranded Korean party and enduring biting snowstorms. At the summit, DesLauriers strapped on her alpine planks and skied down windswept icefields, arriving, eight hours of skiing later, at base camp at 7,200 feet. As an extended warm-up to the McKinley expedition, the Jackson, Wyoming, local carved turns on 13,770-foot Grand Teton in June 2003 and, the following November, clinched the first female ski descent of New Zealand's 9,960-foot Mount Aspiring. This spring, DesLauriers will attempt two more ski expeditions—one to the Himalayas or Greenland and one to an undisclosed peak in Chile. "Skiing is life," says DesLauriers. "I love winter. I love the mountains. Sometimes it feels like the easiest thing in the world to be doing."

Jimmy Chin
All-Mountain Man
Jimmy Chin

Jimmy Chin
How do you get to be a professional adventurer? It's a frequently asked question, and 31-year-old Jimmy Chin has the bona fides to answer. Based in Jackson, Wyoming, he has made newsworthy ascents in the Karakoram, the Himalayas (including Everest), and the tallest sandstone towers in the world, in Mali. A couple of years ago, he joined mountaineer Conrad Anker, the late photographer Galen Rowell, and me on a 275-mile unsupported traverse of a never-explored corner of northwestern Tibet, where each guy had a 250-pound rickshaw strapped (as Jimmy put it) "to our asses." Jimmy proved his strength, not only carting gear at 16,000 feet but capturing the decisive moments with both still and video cameras. But that's the easy part of what you need to be a pro. The more difficult (and important) part is something you're born with, and it makes you the type that other adventurers want on their team: You can't stop smiling, no matter how tough it gets; you never complain, because your glass is always half full and there's nothing to complain about; and your ego is post-Copernican—out there orbiting around with everyone else's, not at the center of anything. And, oh, yeah, I forgot—I guess it doesn't hurt if People magazine votes you one of the country's most eligible bachelors.

Michael Phelps
Heavy-Medal Swimmer
In case you fell asleep during the gazillion hours that the Olympics were televised this August, here's a news flash: Michael Phelps was the Man. Swimming 17 races in seven days, the 19-year-old Maryland native nabbed six gold medals and two bronzes, a record haul for any sport in a single, non-boycotted Olympics. Although Phelps's physique guarantees domination in the pool—observe his lean six-foot-four, 195-pound frame, flipperlike size-14 feet, six-foot-seven-inch wingspan, and extra-long torso—it was his bring-it-on mentality that cemented him as the one to beat in Athens. "He went after competition, not glory," says Olympic commentator Rowdy Gaines, who won three gold medals at the 1984 Los Angeles Games. "He wasn't afraid to take on the world's best." Case in point: Instead of entering the 200-meter backstroke—an event where at least a silver medal was a lock—Phelps swam against his Australian rival Ian Thorpe in the 200-meter freestyle, losing to Thorpe but snagging the bronze and breaking his own American record. But the much-heralded sportsmanship moment came when Phelps gave up his butterfly leg in the 4-by-100-meter medley relay to then-medalless teammate Ian Crocker. The U.S. team proceeded to win gold. Phelps's pro status makes him ineligible for collegiate competition, but he's still logging 50 pool miles a week as he prepares to start his freshman year at the University of Michigan, under the watchful eye of his longtime coach, Bob Bowman. It's never too soon to start training for Beijing.

Rush Randle
Wave Doctor
Rush Randle, the greatest wave-sports athlete you've never heard of, lives for the cutting edge. Ever heard of tow-in surfing? Randle, 31, along with fellow all-star Laird Hamilton, invented it on Maui's north coast in the early nineties. Ditto for kiteboarding, which made its debut in 1994–95, also on Maui. But his latest and greatest concoction is the upstart sport of foilboarding. The hybrid invention—which mounts an aluminum or carbon hydrofoil blade onto a wakeboard—got Hollywood treatment in Step Into Liquid and Billabong Odyssey, with sequences of foilboarders riding long, graceful swells. The physics are like that of an airplane wing: As the blade slices cleanly through the water, it provides so much lift that the board glides clear above the surface of the wave. The result is longer, faster, smoother rides—which may someday be the key to catching 100-foot waves. "It feels like flying," says Randle, who builds and sells foilboards on Maui, where he lives with his wife, Erin, and their seven-year-old son. "It's like being a pelican, riding the swells." So for now, the Oahu native has dialed back his competition in the wildly nichefied sports of flow surfing (done in artificial pools) and sling surfing (in which a jet ski flings the surfer at a wave, launching him into acrobatic aerials) to concentrate on the hydrofoil. When the right swell hits this winter, he'll be out there going the distance: "I want to take the longest ride on a single swell ever," declares Randle, whose personal best is two miles. "With the right swell, I think I can go 50."

André Tolmé
Golfer in the Rough
For most duffers, losing 509 balls and shooting 290 over par in one round would be a sign to quit the sport. Not for André Tolmé. His epic traverse of the world's longest, most unconventional links—the 2.3-million-yard, par-11,880 country of Mongolia—made him the global spokesman for a nascent sport: extreme golf. In July, the 35-year-old civil engineer from Northfield, New Hampshire, completed his epic 90-day, 1,300-mile golfing expedition across the Mongolian steppes, where he spent most days fighting off fierce Siberian winds as he whacked balls with a 3-iron. What kept Tolmé going were the nomadic Mongolians who welcomed him into their yurts at night and fed him high-calorie (if not haute-cuisine) slabs of mutton fat, fermented mare's milk, and sheep-brain pâé smeared on sliced sheep's liver. Tolmé's efforts landed him a spot on Jay Leno's guest list in August and the coveted title of Golfer of the Year (as proclaimed by venerable New York Times sports columnist Dave Anderson)—beating out country-club champs Tiger Woods and Phil Mickelson. When asked what could possibly top teeing off across Mongolia, he would only say, enigmatically, "I've got a few ideas."

Tim Bluhm
Vagabond Rocker
Tim Bluhm

Tim Bluhm
Tim Bluhm lives in a 1995 Chevy Sportvan, but don't let that throw you: The lead singer of the San Francisco band the Mother Hips has still managed to release nine albums, play more than 2,000 concerts, and build a cultish fan base—all the while stringing together a life of wilderness rambles that are as much Jack London as Jack Johnson. He tramps up and down the Golden State, skiing Mount Shasta, free-soloing Tuolumne Meadows' Cathedral Peak, surfing the cold Northern California coast, and telemark-skiing the Sierra. This summer, he broke a 14-year concert streak and worked as a climbing guide in Yosemite. With a sun-soaked sound that blends Merle Haggard with the Beach Boys, Bluhm pitched his tent on a plot of California's imagination and has been singing into the roar of the bulldozers ever since, a self-proclaimed "time-sick son of a grizzly bear" along the lines of Gram Parsons and Townes Van Zandt, with a similarly loyal following. In February, lines formed around the block in San Francisco for the premiere of Stories We Could Tell, a feature-length documentary about the band. This month, Bluhm releases California Way, a two-day session that Fog City Records producer Dan Prothero calls a "love letter from and about a disappearing place." Reached by cell phone on a highway in the Sierra, Bluhm admitted that if he'd hit the jackpot ten years ago, he "probably would have just spent it all. Now," he said, "I'd buy a better van. Or at least get my brakes fixed."

Dwight Aspinwall & Perry Dowst
Gear Savants
What do you get when two New Hampshire engineers train their Ivy League brains on the lowly camp stove? Say hello to the Jetboil, a snazzy, all-in-one portable kitchen that—in 11 months on the market—has revolutionized backcountry cooking. It began as a brainstorm back in the nineties, when software engineer Dwight Aspinwall, now 43, was trekking Tasmania's rain- and wind-pummeled South Coast Track. Every day, he'd watch his Aussie friends root around in their packs for their stoves, their pots, and their matches to make afternoon tea. Gotta be a better way, he thought. In 2001, Aspinwall teamed up with his second cousin, engineer Perry Dowst, 44. Three years and a few accidental fires later, the $80 Jetboil Personal Cooking System was born—an integrated fuel burner/pot/mug combo with a Star Trek–looking "FluxRing" heat exchanger that gives it double the heat-transfer efficiency of most other backpacking stoves. All you really need to know, though, is that, with infomercial-worthy ease and a flick of a knob (no lighter required!), it boils a cup of water in 60 seconds and uses 50 percent less fuel than a standard camp stove to do it. Since arriving in outdoor stores last January, Jetboil has become the buzz of bivy ledges and surf breaks nationwide—with everyone from firefighters to alpinists preaching the gospel of a fast cup of joe on the go. "A monkey could put this thing together and start boiling water within a minute," says mountain guide Steven Tickle, who packed Jetboils for his clients' fast-and-light assault on Nepal's 22,494-foot Ama Dablam this fall. "You can always rely on it."

Arnold Schwarzenegger
Environmental Action Hero
When he took over as governor of California in November 2003, Arnold Schwarzenegger, the 57-year-old, Austria-born bodybuilder and action-film star, was poised to do what many thought was impossible: turn the GOP—or at least his Left Coast slice of it—green. " 'Jobs vs. the environment' is a false choice," he said on the campaign trail, and then he backed it up with an ambitious environmental action plan for California that included mandates to cut air pollution in half by 2010; start a Green Building Bank, offering incentives to eco-friendly construction projects; and ensure that 20 percent of California's power comes from renewable sources by 2010 (and 33 percent by 2020). So how's he doing so far? After focusing on budget deficits and government restructuring for the first ten months of his term, in September the Governator signed into law more than 20 pro-environment bills, creating the Sierra Nevada Conservancy to protect 25 million acres of central California and cracking down on cruise-ship pollution, while also backing a 25 percent reduction in exhaust emissions from cars and light trucks by 2016. Even skeptical groups like the Sierra Club are giving him a cautious thumbs-up. "He's off to a fair start in signing legislation," says Bill Allayaud, legislative director of Sierra Club California. "But his whole record is uneven." Right, and what about the famous vow to modify one of his Hummers into a hydrogen-fuel-cell hybrid? California EPA director Terry Tamminen, the former head of Santa Monica BayKeeper whom Arnold appointed at the recommendation of cousin-in-law Robert F. Kennedy Jr., is standing by his boss. "He promised to convert one of his Hummers to hydrogen during the campaign," says Tamminen, "and the governor is always a man of his word."

Chris Anderson
Frontline Photographer
Chris Anderson

Chris Anderson
American Chris Anderson didn't set out to become a war photographer. "It chose me. I didn't choose it," he says of his recent status as the intrepid shooter on every photo editor's short list. At the relatively young age of 34, he has all the trappings of a grizzled photojournalist: an assortment of dented and dust-clogged rangefinder cameras; barely lived-in apartments in Paris and New York; a prestigious Robert Capa Gold Medal, awarded by the Overseas Press Club for exceptional courage and enterprise; and a passport bloated with stamps from conflict-torn hot spots in Afghanistan, Iraq, and Israel. In truth, when Anderson signed on with U.S. News & World Report to spend three months covering the war in Afghanistan—and, 16 months later, with The New York Times Magazine to cover the war in Iraq—all he really desired was to see how people live their lives and to capture moments of human drama by "shooting stories at eye level," as he calls his brand of experiential photography. "Chris is the embodiment of the creative spirit: restless, searching, always moving on," says legendary photojournalist James Nachtwey, 56. "He wants to know how things look out of the corner of his eye, on the dead run." Such was the case on April 7, 2003, two days before Baghdad fell, when Anderson was riding with an armored column through the center of the city, the only journalist to do so. He survived a direct RPG hit on his vehicle and, despite nearly losing an eye to shrapnel, joined a similar mission two days later. "People are usually shocked that I enjoy my job as much as I do," he admits. "But with all the strife and chaos going on around me, as sick as it sounds, it's an absolute adventure."

Jim Prosser
Sustainable Vintner
Oregon winemaker Jim Prosser says his delectable 2002 vintage possesses "an ageable combination of power and grace." The same can be said of the 41-year-old recreational mountaineer–cum–professional vintner, whose 1999 debut pinot noir turned international critics into salivating sissies. Prosser's J.K. Carriere label continues to wow oenophiles at restaurants from NYC's Oceana to Aspen's Ajax Tavern, with pinots ranging from $18 to $65 that, Prosser says, are "more about seduction and less about 'haul you back to the cave by the hair.'" He and his crew of 16 produce the wine in a converted hazelnut barn in the Willamette Valley, using centuries-old techniques and locally grown, pesticide-free grapes. "Great wines are made at the margins," says the Peace Corps alum (he served as a small-business consultant in Lithuania from 1993 to 1995), who compares winemaking's risks and rewards to those of climbing a peak or catching a trout. When he's not off skiing Mount Bachelor or fishing the Deschutes, Prosser relishes the long hours caught up in the vines or on the crush deck. But things get less rosé when the bees come out to bite. Deathly allergic, he's twice ended up in a near-coma working in the vineyards. "It reminds me I've made a conscious choice to do what I do," declares Prosser. "Know thine enemy, I say." Fittingly, his label pays tribute to his nemesis: A big wasp underlies the vintage.

Jim Fraps & Jeff & Paula Pensiero
Big-Pow Hoteliers
Annual snowfall of 42 feet, 36,000 acres of untracked bowls, and 18,000 vertical feet of deep turns a day: Welcome to the "church of the fall line" at Baldface Lodge, one of North America's largest—and newest—snowcat skiing operations, whose worshipers have included late snowboarding king Craig Kelley, Pearl Jam guitarist Stone Gossard, and Foo Fighters bass player Nate Mendel. Eight years ago, the founders of this 24-guest powder haven in the heart of British Columbia's Kootenay Mountains, 37-year-old Jim Fraps and his college buddy Jeff Pensiero, 35, were working and boarding in Tahoe—surviving on ramen noodles and a dream: to cash in on B.C.'s backcountry. The two scraped together $50,000, then scouted an area near Nelson that raked in consistently huge snowfalls. By the time they were granted tenure from the B.C. government for the land, in 2000, their $50,000 was history. Then a friend introduced Pensiero to Mendel and Foo Fighters lead singer Dave Grohl, both eager investors. In December 2002 the duo, along with Pensiero's wife, Paula, opened the lodge, a timber-framed structure perched at 6,750 feet on a ridge linking five peaks. A steady diet of cabernet and plank-grilled salmon—along with guides like 1998 Olympic boarder Mark Fawcett—and a happy, happening vibe have charmed guests ever since. "Their enthusiasm is infectious," says Mendel. "It spreads throughout the whole operation."

Darren Berrecloth
Freeride Mountain Biker
Darren Berrecloth

Darren Berrecloth
Darren Berrecloth, 23, remembers the exact moment he decided to dedicate his life to mountain biking. It was the summer of 2002, he'd taken the day off from his job at a Vancouver, B.C., machine shop to compete in a dirt-jump contest in Whistler, and his boss was pissed. "This skinny, nerdy guy was yelling at me that I needed to snap out of this biking thing," he remembers, "to wake up and smell the coffee." Berrecloth was fired on the spot. That fall, he showed up in Virgin, Utah, for the Red Bull Rampage—freeriding's premier huckfest—unregistered, unsponsored, and virtually unknown. He took third. Since then, "Bear Claw" has almost single-handedly radicalized freeride mountain biking by bringing BMX stunts like spins, hand grabs, and no-hands seat grabs to an already extreme sport. With signature moves like the Superman Seat Grab Indian Air (translation: flying through the air, feet off the pedals, bike out in front, one hand on the bars), he won both the 2003 Joyride Slopestyle Expression Session, in Whistler, and the 2004 Monster Park Slopestyle Invitational, in Marquette, Michigan. While Berrecloth's outta-nowhere podium finishes have raised eyebrows, his film segments have redefined what's possible with two knobby tires and eight inches of travel. In the 2003 video New World Disorder IV: Ride the Lightning, he pulled a 360 off a 25-foot cliff in Kamloops, B.C. "People were blown away," says filmmaker Derek Westerlund. "It was a big jump for most riders to even go off, and Darren rode up and did a 360 off it." In Westerlund's latest film, Disorderly Conduct, Berrecloth clears a 50-foot jump over a canyon in France. One man's lunacy is just the logical next step for Berrecloth: "I'm always pushing myself to learn new things," he says. "That's what makes me tick."

Trending on Outside Online