Activists Claim Moscow Sea Park Torturing Orcas
Whales allegedly kept in rusty cages and abused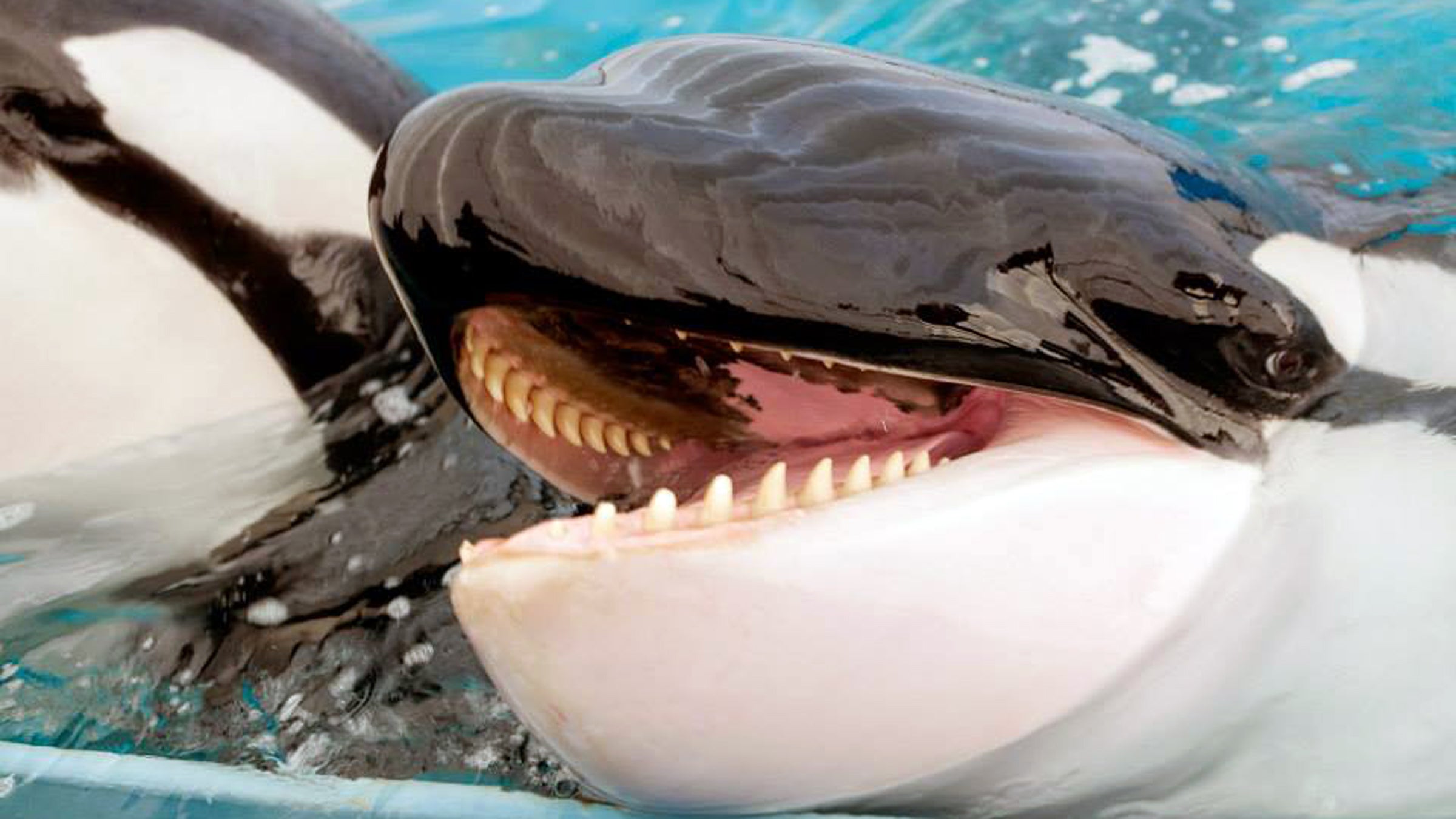 Heading out the door? Read this article on the new Outside+ app available now on iOS devices for members! Download the app.
Activists from the Russian animal rights groups Vita and Dolphin Embassy gathered Monday to protest the treatment of two orcas that they believe were being "tortured" in Moscow's VDNKh exhibition center.
According to the Daily Beast, the orcas were reportedly living in rusty tanks, and park visitors had heard "horrifying screams" and loud splashing. When the activists approached the locked gate, park workers told them there were no dolphins or orcas, only construction material.
An official police report released Monday confirmed that the orcas, a seven-year-old female and a five-year-old male, are indeed in the park and had been pulled from the sea in the Amur region between the Russian far east and northeastern China last November. The whales were then flown to VDNKh in December, where the park kept them secret until now, hoping to unveil them at the opening of the unfinished oceanarium. The report says that the orcas are under "strict veterinary and medical control," with five trainers watching over them and checking their health daily.
The report also says that the orcas were originally meant for Sochi dolphinariums but were instead rented by Renaissance, a company that's supposedly building Europe's biggest oceanarium on the VDNKh grounds. But the park is not yet ready. The Daily Beast reports that Renaissance can't confirm the date for the opening, and the orcas wait.
Nicole Gratovsky, the leader of Dolphin Embassy, said that in their conditions, the orcas have almost surely gone crazy by now—and this could result in human deaths down the line. "When the poor orcas, whom the jailers drove insane, kill somebody later," Gratovsky told the Daily Beast, "once again everybody will blame it on the animals and not on people responsible for their imprisonment."
In response to the sudden firestorm of attention, VDNKh posted a photo gallery and videos of the orcas on its Facebook page. The photos show the killer whales in a long, covered tank. General director Yulia Frolova wrote that the two eight-meter-deep pools—metal framed with special waterproofing—each hold more than 2 million gallons of water. They also stress that this is only temporary until the complex is complete.
"The statement that due to ultrasonic means of communication killer whales deafen themselves in conditions of closed space and go mad, made by the representative of 'Vita' is laughable, as all mammals of the Delphinidae, to which belong killer whales, dolphins, and white whales, communicate by means of echolocation," Frolova wrote. "Modern technologies have long before allowed creating comfortable conditions for animals comparable to natural habitat in which they can communicate underwater."
Moscow police will not press charges, and VDNKh has promised to carry out an assessment of the situation with environmentalists, according to the Moscow Times, but no specific date has been set.
The activists are not happy. Grigory Tsidulko, director of the Russian branch of the Antarctic Oceans Alliance, told RT that it's very hard to create proper conditions for whales in captivity. "Killer whales swim very long distances daily—up to 150 kilometers," he said. "Basically, you take a small child out of a family, transfer him or her God knows where, and keep the child in a small cage."
Lead Photo: VDNKh/Facebook