Let Us Now Praise Crazy Mofos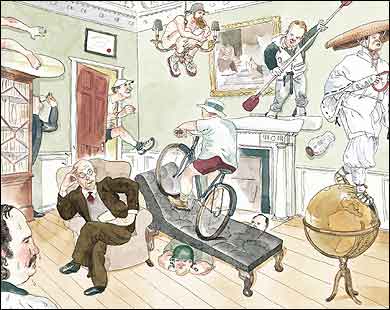 Heading out the door? Read this article on the new Outside+ app available now on iOS devices for members! Download the app.
Adventure sings a bewitching song, and whether the challenge involves climbing a deadly mountain or plunging into a bottomless abyss, a few undaunted individuals hear the call and say, "Why not?"
But you know all about that. What you may have missed is the rarely glimpsed world of obsessive superachievers and foolhardy flakes who crank things up considerably. Like the guy who pedaled off on a bike ride—and kept going for 42 years and 300,000 miles. Or the guy who spent 147 days buried underground, shattering a record set by his mom.
Applaud, gasp, and, yes, laugh, but give these brave souls the respect they deserve. When they stumble by on their mad rounds, take a deep breath, issue a crisp salute, and say, "Wow. Better him than me."
Meet the monk who jogged seven years straight, the Frenchman who walked across the Atlantic, the American who "vacationed" in Iraq, and a mob of other courageous kooks.
Without a Barrel
Wearing nothing but his street clothes, Kirk Jones flung himself over Niagara Falls. Why? He's still trying to come with an answer
By Jake Halpern