All Legs On Deck!
Did a crew of French sailors bump heads with a deep-sea legend?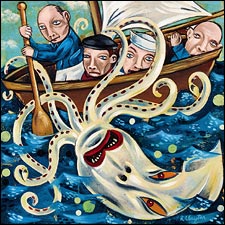 Heading out the door? Read this article on the new Outside+ app available now on iOS devices for members! Download the app.
THERE'S NOTHING LIKE a giant squid to liven up a long ocean voyage. On January 11, Frenchman Olivier de Kersauson, 58, skipper of the trimaran Geronimo, set off from Brittany with an 11-man crew, hoping to break the around-the-world-sailing speed record. On the third day out, 400 miles from Gibraltar, his boat was grabbed by a 30-foot squid that slithered off the stern when the trimaran stopped. Scientists doubt it, since giant squid are deep-sea creatures and have never been seen live on the surface. "I'd say there's a real possibility he hit a dead squid," says Clyde Roper, zoologist emeritus at the Smithsonian's National Museum of Natural History. "If it was alive, then professionally I'm very jealous." We caught up with le capitaine by sat phone soon after the incident.

Illustration by Rob Clayton

What happened when you hit the great beast?
All at once the boat slowed down. And quite quickly. We were at 20 knots, and then we were down to 13.


What did you do?
We have a glass-bottom hull section by the rudder, so we can see what's down there. I saw two arms of something that might have been a big octopus or squid. The arms were about the size of a man's, red and white, very pretty. But I don't want it grabbing my boat!


Giant squid are known to Tangle with sperm whales. Were you scared?
At the very beginning, no. But when we decided to stop, I said, "What kind of awful things are we starting now?" I was scared by the idea that the animal might come aboard if we stopped. I don't know anything about those big calamari!