Amazon Supertower to Measure Climate Change
Rainforest structure will be tallest in South America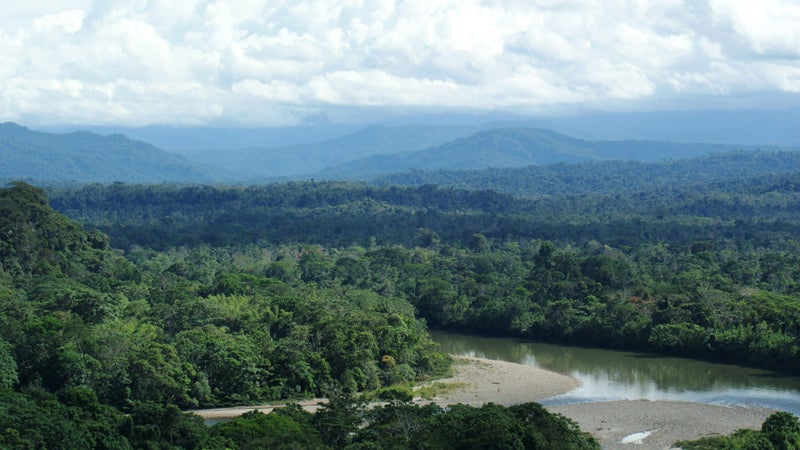 Heading out the door? Read this article on the new Outside+ app available now on iOS devices for members! Download the app.
Brazil has broken ground on an observation tower in the Amazon that will rise above every skyscraper in South America and help scientists understand climate change in rainforest ecosystems.
The BBC reports that the Amazon Tall Tower Observatory (ATTO), rising 1,066 feet above the rainforest, will enable researchers to measure atmospheric changes over hundreds of square miles. Equipped with more than 30 high-tech instruments, the tower will enable scientists to investigate cloud formation, greenhouse gases, weather patterns, and other processes important for understanding climate change.
Located 100 miles from Manaus in an area relatively free of human impact, the tower will give researchers a better idea of how forests naturally influence atmospheric cycles. Large and dense forests like the Amazon play a major role in global carbon intake and release, a primary factor in global warming. According to USA Today, the tower will also help researchers measure the impact of climate change on the Amazon. 
Brazilian newspaper Estadão reports that the tower is a joint effort between Brazil's National Institute of Amazonian Research and Germany's Max Planck Institute. It has been in planning stages since 2007 and has already cost nearly $8,500,000. It will be integrated into a system of smaller observatories, including one in Central Siberia. 
For a visual representation of the tower, see Estadão's interactive graphic (text in Portuguese).
Lead Photo: Dallas Krentzel/Flickr