The Axis of Eco
Earth-friendly cool is everywhere, from Hollywood and innovative building design to hybrid cars and candy bars. You live, breathe, and play green already—so why not come full circle by bringing it all back home?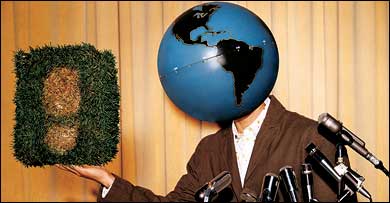 Joseph Rafferty
Heading out the door? Read this article on the new Outside+ app available now on iOS devices for members! Download the app.
In the old days, trying to live with an environmental conscience could be tricky, if not downright unpleasant—filled with hard-to-find organic bulgur salads, tiresome carpools, and scratchy hemp ponchos. But there's good news for greenies everywhere: You no longer have to live like John the Baptist to contribute to a healthier planet. Being kind to the earth has never been more hip, luxe, delicious, and deprivation-free. Simply put, a growing commitment to do no harm is transforming culture and commerce, making it possible to play hard and live well while living responsibly.


"It's a lot easier being green now than it was ten years ago," says David Gottfried, author of Greed to Green—a 2004 memoir about his transformation from grasping real estate developer to green do-gooder—and founder of the U.S. Green Building Council, a nonprofit that certifies and promotes eco-friendly design. Today, green cred is a status symbol being sought by builders worldwide, including architects of such landmarks as the Freedom Tower, at the World Trade Center site, where wind turbines will help power the building. In fact, green is so red-hot that corporate America is getting the picture, creating nontoxic, recycled, and energy-efficient products, from skateboards to motherboards. "Being green spurs corporate innovation," says Michael Porter, the pioneering professor who heads Harvard University's Institute for Strategy and Competitiveness.


The result? Today you can choose green when you ski, drive, buy a dishwasher, or drink a beer. You can savor transcendent, sustainably produced chocolate, swig organic coffee, and heft a solar-paneled backpack on your way to hanging ten on a green surfboard (but first use natural sunscreen). The fashionista in you can enjoy eco-jeans or plush socks made from recycled polyester. And in 34 states, select utility companies will let you check a box on your electric bill and buy renewable energy, like wind power.


"When we look at nature, we do not see a glass half empty," says renowned architect William McDonough, a guru of the green-design movement, whose buildings are famed for their "ecological intelligence." "We don't even see a glass half full," says McDonough. "We see a world postively brimming with abundance."


Take off that hair shirt, read our 13 hot trends—and let your glass runneth over.
Harmony House
Architecture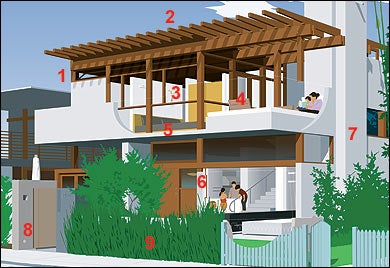 "The term 'ecological building' is sort of an oxymoron," says David Hertz, a leading green architect who designs spectacularly sustainable eco-manors (and mere houses) for everyone from Hollywood stars like Julia Louis-Dreyfus to, well, his own family. The irony, he says, is that the greenest structures are no structures at all—or tiny, movable ones. Still, this 44-year-old surfer and father of three constructed a beautiful 2,700-square-foot family residence near the ocean in Venice, California, using the latest planet-friendly technologies and materials, including one he invented himself. Syndecrete—a smooth concrete made from recycled fly ash (the byproduct of incinerated coal) and post-consumer industrial products like electronics, glass, and carpet fibers—graces his floors, counters, sinks, tubs, and planters. Sliding doors open to three inner courtyards, including one with a solar-heated, chlorine-free lap pool. Après surfing or beachgoing, the family can wash sand off in a solar-heated outdoor shower, then dry wet stuff on their bathroom's solar-heated radiant floor. "For L.A., this place is modest in scale and large in inventiveness," says Hertz of his multi-pavilioned home, which is sited to catch prevailing sea breezes and cloud views. "I can tell which way the wind is blowing from inside."


1. For ventilation and natural indoor temperature control, the windows and skylights are "climate responsive"—programmed to open and close automatically by sensing atmospheric temperature and moisture.


2. Outfitted with photovoltaic panels, the rooftop maximizes solar gain via parabolic oxygen-free glass tubes that concentrate the energy from rays. The solar power runs the water heater.


3. Inside the upstairs master bedroom, and in bathrooms throughout the house, bidet-like paperless toilets offer a rear and front wash-and-dry option, with a push button that blows water and then warm air.


4. Beds and chairs on sleeping porches are made from sustainable teak and organic cotton batting and fabric.


5. Embedded with radiant tubes for circulating solar-heated hot water, the carpet-less floors offer a clean and efficient closed-loop heating system—and provide thermal mass to warm the house.


6. On most days, Hertz's house creates "nega-watts": It makes enough solar-powered electricity to sell some back to the utility company. On foggy days and at night, it draws from the grid.


7. Made of stucco, concrete, glass, and remilled timber such as Douglas fir, the house's exterior echoes its interior, adding to the flow of indoor-outdoor living space. The stucco is pigment-integrated—free of paint and volatile organic compounds.


8. Made of rammed earth—the soil excavated from the site—the wall alleviated the need to buy soil or use wood to fence the property.


9. Hardy, drought-tolerant plants thrive in the open areas, keeping the foliage as eco-positive as possible.

Low-Carb Living
Greenhouse Gases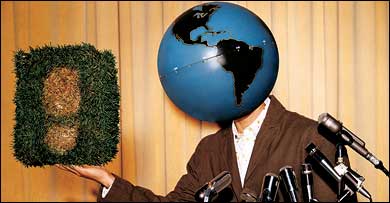 Green Light On
Twice a month, ride your bike to work, play, school, or the store and reduce 360 pounds of auto pollution annually. Ride once a week and you'll double that emission omission.

Modern life—from driving to jetting—has unavoidable enviro costs. How high are yours? Go online and check out your "carbon-dioxide footprint," a calculation of the amount of greenhouse gases that your existence generates. Then shrink your footprint with simple lifestyle tweaks (see the "Green Light On" boxes on these pages). Or, for as little as $15, let groups like Future Forests (www.futureforests.com), Climate Care (www.climatecare.org), or Trees for the Future (www.plant-trees.org) offset your CO2 by planting trees or supporting clean-energy projects. Read up—and erase your trace.

Eco-Chic
Gear
Board Certified
Making surfboards is so toxic that glassers don respirators to protect themselves from pollutants. But Patagonia Surfboards—started by Fletcher Chouinard, son of Patagonia founder Yvon Chouinard—aims to change all that. The company has switched to low-polluting foam, chromium-free fiberglass treatments, and epoxy resin, which is lighter and more ding-resistant than the widely used noxious polyester resin. $495; 805-641-9428

Soul Boots
Jade Planet's casual hiking boots for urbanites have evolved from the company's first recycled-material shoe—developed by founder Julie Lewis with input from Bill Bowerman, of Nike fame—to the Pachira, a durable stomper with artificial leather derived from plastic soda bottles, a hemp-and-cotton-blend upper, and a sole made from 40 percent tire rubber. When you've worn them down, simply return the boots to Jade Planet and they'll turn them into stuffing for dog beds. $75; 503-297-2093, www.jadefootwear.com
/gt_gui_include
Recyclable Razors
Who knew the green bug could find space in your dopp kit? It will if you use Recycline's toothbrushes and razors, which are made from 100 percent recycled plastic, chiefly from discarded Stonyfield Farm yogurt cups. When you're finished with a brush or razor, mail it back to Recycline in the included postage-paid envelope. It'll be turned into plastic lumber. $7, four razors; $4, toothbrush; 888-354-7296, www.recycline.com

Sustainable Socks
Sure, Teko's line of toe cozies may be knitted for competitive sports, but its earth-friendly fabrics belie a softer edge: nontoxic dyes, Swiss-grown organic cotton, chlorine-free merino wool, and recycled polyester (a process that turns No. 2 plastics into fiber). Wear 'em once and you'll be soled. $10–$23, depending on fabric; 800-450-5784, www.tekosocks.com

Barrier Chief
Sensitive-skin types can try Jason Natural's 30+ SPF, a chemical-free sunscreen that uses zinc oxide and titanium dioxide instead of petroleum-based protection. $19; 877-527-6601, www.jason-natural.com

Green Jeans
New York fashion company Rogan has collaborated with U2 frontman Bono and his wife, Ali Hewson, to create Edun (read it backwards), a rock-star-worthy full-fashion collection made in eco-friendly, sweatshop-free factories in Africa and South America. Available at Saks Fifth Avenue, from $163; www.edun.ie
Rocky Mountain Maestro
Ski Resorts
Green Light On
Save thousands of gallons of water a year by installing low-flow showerheads, faucet aerators (which reduce tap usage by 50 percent), and low-flush 1.6-gallon toilets.
Auden Schendler

SKIING'S LEADING EDGE: Auden Schendler and recycables at Aspen
After decades of wiping trees off mountains, plunking down swanky high-rise condos in alpine paradises, and spewing diesel fumes into the air, the ski industry is finally starting to wake up and smell the CO2 . Surprisingly, they're being led by one of the ritziest players out there: Aspen Skiing Company. In 1997, prompted by growing concerns about climate change, ASC president and CEO Pat O'Donnell, 66, created the resort's Environmental Affairs Department, the American ski industry's first. Two years later, Aspen hired superstar enviro Auden Schendler, 34, a former corporate-sustainability researcher at energy-conservation nonprofit Rocky Mountain Institute, as its environmental-affairs director. Under Schendler's guidance, ASC (which operates Ajax, Aspen Highlands, Buttermilk, and Snowmass) started recycling everything from bottles to building materials, and implemented guidelines that call for all new construction to incorporate improved insulation, sustainably harvested wood, recycled carpeting, and more efficient cooling and heating systems. Aspen now has an on-slope, no-impact microhydroelectric plant, which uses snowmaking runoff to power a turbine, and an employee foundation that in seven years has raised nearly $700,000 for conservation projects. Need more? Ajax's Cirque chairlift runs on wind power, and 5 percent of Ajax's energy purchase comes from renewable sources—more than any other ski resort in the country. Even the snowcats and snowmobiles at all four ASC mountains run on biodiesel. Schendler's efforts have garnered the resort numerous awards—including certification from Switzerland's International Organization for Standardization, which evaluates operating standards of everything from shoe manufacturers to ski areas. It was the first of its kind awarded to a U.S. ski resort. "In the green-business world, that designation is the Nobel prize of environmental responsibility," says Schendler. "We're in the big leagues now."

The Wheel Deal
Automobiles
Smart Car

Smart Car
Revolutions have a way of mixing things up, as the auto world surely knows. Veggie oil is the new diesel. Green is the new black. What's a driver to believe? Well, here's one turn signal you can trust: In 2004, sales of hybrid vehicles, featuring gas-and-electric engines, shot up 80 percent over 2003, to more than 85,000. And hefty haulers like the 2004 Ford Escape—the world's first hybrid SUV—are selling faster than dealers can say "great gas mileage." But small is also the new green, especially when it comes to a hyperefficient gas-only import that's so puny it'll fit in an SUV. Here's what's under the hood in 2005:

Smart Car
This two-seat Euro buggy (pictured above) looks like a Little Tykes Cozy Coupe—and gets a whopping 60 mpg. While DaimlerChrysler, Smart's corporate parent, weighs whether to make the metallic pod in the U.S. or not, Zap (www.zapworld.com)—a California-based electric-car-and-scooter manufacturer—has been buying Smart Cars in Europe, floating them across the pond, reengineering them to meet U.S. standards, and selling them for a base price of $19,800. "They're four feet shorter in length than the Mini Cooper," says Zap CEO Steve Schneider, "and just as fun."

Mercury Mariner
To help meet demand, Ford plans to launch this hybrid SUV in late 2005—a year early. A cousin to the Ford Escape, the Mariner will offer up to 33 mpg in a new body surrounding Ford's 155-horsepower drivetrain, with luxury trim and a smoother ride.

Toyota Highlander
Due to debut in June, the Highlander will be the first seven-passenger, four-wheel-drive hybrid. Its V6 gas engine and 50-watt electric motors (one in front, one in back) create 270 hp and zero-to-60 acceleration in less than eight seconds—while getting 28 mpg.

That's Eco-tainment!
Hollywood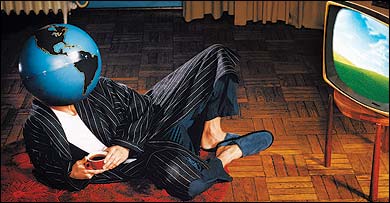 Green Light On
Replace your five most-used incandescent light bulbs with compact fluorescent lights, which save 65 percent more energy, last ten times longer, and can cut lighting bills in half.

Before Gary Pearl, executive producer of the 2004 NBC miniseries 10.5, set out to cinematically destroy the environment with a massive earthquake, he wanted to make sure the set didn't contribute to, um, destroying the environment. To that end, his production company, Pearl Pictures, used only sustainably harvested wood, ditched Styrofoam for reusable dishes, and required workers to refill their water bottles, among other major changes.

By the looks of it, filming on environmentally friendly sets seems to be a growing Hollywood trend. Once known for its apathetic attitude, the industry is now doing everything from printing scripts on recycled paper to leasing hybrid cars. Last fall, the Environmental Media Association (EMA) awarded its first-ever Green Seal Awards, honoring productions that take initiatives such as using nontoxic building materials, clean diesel fuel, and low-emissions transportation. In addition to 10.5, winners included the feature films A Cinderella Story and Garden State and the sitcom According to Jim, which goes so far as to use tablet PCs instead of paper scripts. "In the third season of According to Jim," says Jeffrey Hodes, an executive producer, "we used nearly 300,000 sheets of paper. We've easily cut that in half."

Still, making a film set green can come with a price. For his 2004 adventure thriller The Day After Tomorrow, director Roland Emmerich shelled out $200,000 of his own money to ensure that the set would live up to his environmental standards. Pearl, who is sticking to his eco-friendly ways with the sequel to 10.5, currently in production, believes the practice will continue. "It's not hard to do this at all," he says. "Nobody is going to say, 'I want to pollute more.' "

"We're on a mission to make all of Hollywood green," says Debbie Levin, president of the EMA, which teams producers with groups like Future Forests that help companies reduce or "neutralize" CO2 emissions and take other environmental steps. Next year, Baldwin Entertainment Group is expected to release a film based on tree squatter Julia Butterfly Hill's best-selling book The Legacy of Luna, which co-producer Paul Bassis predicts will be shot on "the greenest set ever." One thing he's planning on: complete carbon neutrality. Stay tuned.
Switch Stance
Skateboarding
It's no surprise that skateboarding—which is responsible for the existence of several hundred wooden-ramp-filled skate parks in America and the production of more than 200,000 wooden decks every month—is tough on forests. Enter Bob Burnquist, 28, a Brazilian-born, California-based pro skateboarder who cofounded the Action Sports Environmental Coalition (ASEC) in 2002. The nonprofit uses its street cred to convince board and park builders to choose sustainably grown materials surfaced with eco-friendly composites of water, recycled paper, and cashew oil.


In August 2002, Burnquist raised his effort to the international level with a Greenpeace benefit and skating competition in Manaus, Brazil. (Burnquist, who grew up in São Paulo, is one of Brazil's top skaters.) The event featured a ramp endorsed by the Bonn, Germany–based Forest Stewardship Council, an international agency that certifies sustainable forestry. This year, ASEC hopes to green up the Gravity Games and NBC's Action Sports Tour. It also plans to construct 20 new eco-friendly skate parks and adjacent organic gardens in at-risk communities. ASEC executive director Frank Scura says a key to continued success is leveraging its athletes' grom appeal. With 82 percent of America's nearly 12 million skaters 17 years old or younger, in an industry generating $5.2 billion annually, that could mean big bucks for the ASEC cause. "Everyone votes every day with their dollars, and we have a lot of influence on the youth," says Burnquist. "It's hard to change older people set in their ways, but these kids are going to be the leaders and CEOs of the future."
Inn Sync
Lodging
Green Light On
More than 50 percent of American consumers can buy clean, renewable energy like wind or solar power from their electricity suppliers. Find out if you can, too, at
www.green-e.org
.
Lodging

REST ASSURED: Suite living at El Monte Sagrado
Hotel Triton
San Francisco, CA
From biodegradable cleaning products to office documents printed on recycled paper with soy-based ink, earth-saving attention to detail is high at this downtown boutique hotel. Rooms on the Eco Floor have organic linens and towels, energy-efficient light bulbs, and water-saving fixtures. Or book one of the Celebrity Suites, designed by the likes of Woody Harrelson and the Red Hot Chili Peppers. Doubles, $149–$219; 800-800-1299, www.hoteltriton.com

El Monte Sagrado Living Resort and Spa
Taos, NM
The designers of this two-year-old high-desert sanctuary seamlessly wove conservation elements into a luxurious environment. As you soak in the private hot tub outside your Morocco-themed suite, you may not notice that it's chlorine-free, or that the tropical gardens are living on recycled water, or that the wrought-iron tree sculptures actually integrate solar panels. Doubles, $255–$1,095; 800-828-8267, www.elmontesagrado.com

The Lenox Hotel
Boston, MA
When the first guests at this posh 1900 hotel rolled up in their horse-drawn buggies, saving the planet was not yet in vogue. Now there's at least one environmental upgrade in place for each year of its existence. Highlights include infrared motion sensors that help cut energy consumption, double-paned windows, and compact fluorescent light bulbs. Doubles from $189; 800-225-7676, www.lenoxhotel.com

Basic Green
FAQ
Green Light On
Buy Energy Star products—the energy efficiency of which is certified by the Environmental Protection Agency and the Department of Energy—and cut power bills by up to 30 percent.
FAQ

I have a "friend" who swears it's better to drive his '78 Gremlin than to buy new wheels, since manufacturing cars is so toxic. Is he wack?

The next time you pass your pal's heap, feel free to chuck your mochaccino at it. The increased fuel efficiency and decreased emissions of a new (post-1996) car more than compensate for the energy used to produce all of its steel, aluminum, and rich Corinthian leather. On average, driving a car consumes ten times more energy over its lifetime than building one.



Is there any defense for a lush lawn?

Sorry, Mr. Cleaver, but a typical lawn is the environmental equivalent of fertilized asphalt—or worse, if you use phenoxy herbicides and other weed killers and pesticides, 102 million pounds of which are dumped on 17 million acres of residential turf each year. On average, 30 to 60 percent of city water goes to lawn care, and more than half of it evaporates or pours down storm drains, toxic chemicals and all—polluting creeks, rivers, and water everywhere. The only way to redeem your soul is to use drought-resistant, slow-growing turf varieties, like zoysia grass, which need less H2O. Better yet, try native prairie grasses, wildflowers, or whatever grows naturally in your eco-zone. And, please, forgo the Roundup.


Paper or plastic?

Ah, a question for the ages. The answer? Neither. The real solution is to use that cloth tote bag the Sierra Club sent with your last renewal. Barring that, you should opt for (drumroll, please) plastic—which wins by a narrow, subjective margin. Plastic is more energy-efficient to produce than paper and takes a bit less juice to recycle. Then again, thanks to double-bagging, the average shopper uses more plastic bags than paper, negating plastic's advantages. So ask yourself this: Would you rather waste oil or trees? Plastic comes from unrenewable petroleum. Paper sacks involve mowing down millions of trees a year—although, theoretically, they'll grow back by the time your great-grandchildren visit Last Living Trees National Park. Mr. Green votes for the tote.



Do green household cleansers actually do the job?

It's impossible to vouch for every phosphate-free soy-'n'-aardvark-saliva product, since consumer eco-cleansers (unlike commercial ones) aren't subject to standardized tests. But thanks to naturally derived (non-petroleum-based) cleaning agents and nonchlorine bleach, major brands like Seventh Generation and Simple Green are dandy sanitizers. Plus they come in recyclable packaging.



I'm on the fence: What's better—electric or gas?
Electricity (usually produced from coal or by Homer Simpson) is so inefficient, 80 percent of it is lost to the ether during production, transport, and usage. Gas is 90 percent energy-efficient. So the gas is greener, no matter what side of the fence you're on.
Revel Without a Pause
Vices
vices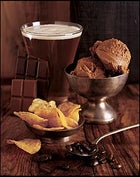 Gorge without guilt on Ithaca Fine Chocolates' Art Bars (named for the recycled-paper "art cards" inside, featuring works by American artists and children from around the world). They're processed in an energy-efficient plant in Switzerland, and with every bite you're helping support Bolivia's organic-cocoa farmers. 607-257-7954, ithacafinechocolates.com

Grounds for Change, based near Seattle, uses only organic, shade-grown, and Fair Trade– certified beans, then ships them in recycled-content boxes—letting you be a java snob without promoting pesticides, clear-cutting, paper waste, or low wages for coffee workers. 800-796-6820, www.groundsforchange.com

Fort Collins, Colorado's New Belgium Brewing Company, which puts out the cult Fat Tire brew, employs a full-time sustainability coordinator, recaptures and reuses water, relies on wind power, and turns old keg caps into tabletops. 888-622-4044, www.newbelgium.com

If the roads in Salem, Oregon, smell like French fries, thank Kettle Foods—a snack-food biz whose company cars run on biodiesel made from safflower and sunflower cooking oils. The potato-chip maker uses only solar power and donates nearly 90 tons of potatoes each year to local food banks. 503-364-0399, www.kettlefoods.com

Lest you think Ben & Jerry's has cornered the market, meet Northern California's Straus Family Creamery, whose organic ice creams are just as tasty and eco-friendly. The dairy is powered by a methane digester that converts cow poop into electricity, reducing greenhouse-gas emissions and creating enough energy to keep it mostly off the public power teat. 415-663-5464, www.strausmilk.com
The E-viator
Celebrities
Green Light On
To reduce wattage waste, avoid using the hot-water setting on your washing machine (warm and cold temps get most duds clean)—and use the sensor-driven auto-dry setting on your dryer.

His year kicked off with a Golden Globe for best actor, he's made nearly 20 films (for which he now rakes in a rumored $20 million a pop), and he's only 30 years old. Could life get any better for Leonardo DiCaprio? Yeah, he'll tell you: The world could be a lot cleaner. Few stars push the green message as hard as DiCaprio—and he doesn't just roll up to the red carpet in a Prius (the only kind of car he owns) to do it.

DiCaprio didn't always live the life of e's. In 1998, a gorgeous beach on Thailand's Phi Phi Leh Island got bulldozed during the making of his movie The Beach. But that year he also launched an enviro foundation in his name. Its Web site (www.leonardodicaprio.org) is a cyber-bullhorn, packed with news and "take action" tips about global warming, biodiversity, and sustainability. He supports groups like the Natural Resources Defense Council and Global Green USA. And, along with Global Green and Tree Media Group, he's also writing and narrating movie shorts about conservation. Leila Corners-Peterson—Tree Media's president and one of DiCaprio's co-writers for the films—says the star never lets his green work slip. "Even in the midst of the Golden Globes," she told Outside, "he e-mailed me and asked me where we were with everything. I think that speaks a lot to who he is."

Get a Load of This
Appliances
Appliances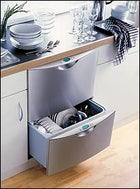 From your HDTV monitor to that other reigning rectangle, the fridge, it's now possible to buy nature-nurturing appliances everywhere. To find great green goods—like those below—look for the Energy Star (www.energystar.gov), the government-backed energy-efficiency label.

Fisher & Paykel DD603 Dishwasher
F&P knows your dirty secret: You run the dishwasher half empty. No problem. The DD603 (pictured above) uses 57 percent less electricity than standard models and has two independent washing drawers. Half a load uses just 2.4 gallons of water, six less than old-school units. $1,419; 888-936-7872, www.fisherpaykel.com
/gt_gui_include
Sun Frost RF-16 Refrigerator
The way-cool RF-16 runs up to five times more efficiently than a standard fridge, one of your home's biggest energy hogs. $2,497; 707-822-9095, www.sunfrost.com

Bosch Nexxt Premium WFMC 6400 Washing Machine
The 6400 uses 76 percent less electricity and 72 percent less H2O than traditional washers—and can save more than 70 gallons of water a week. From $1,199; 800-921-9622, www.boschappliances.com

Panasonic
From a 50-inch HDTV monitor ($3,300) to a progressive-scan DVD/VCR combo ($170), Panasonic, an eco-innovator, sells 400-plus energy-efficient items. 800-211-7262, www.panasonic.com
Out of the Box
Mobile Homes
Green Light On
When building a new home, maximize natural heating, cooling, and lighting (and slash your power bills) by facing longer sides to the north and south, with few windows facing west.
Jennifer Siegal

METAL WINNER: Architect Jennifer Siegal puts the fab in prefab.
Living in a heap of metal is suddenly ultrahip, thanks to a new breed of talented prefab designers. Take 39-year-old Jennifer Siegal: The founder and principal of the Venice, California–based Office of Mobile Design (www.designmobile.com), she builds kinetic, affordable, wheelless homes that tread lightly and travel well—so you can take them with you when you move.

A hot-dog-cart operator while in graduate school, Siegal—whose own home in Los Angeles is part bungalow, part shipping container—admires all things easily disassembled. "Portable structures," she says, "are dynamic, accessible, and sustainable." Her Portable House—which starts at $79,000 for 480 square feet—is fully constructed, then trucked to your site. Her modular, endlessly reconfigurable Swell House gets assembled like Legos at your dream spot and features Biofiber (a recycled cabinet composite made from sunflower seeds), finishing material made from recycled newspapers, and "ply-boo" (renewable bamboo) flooring—for $200 per square foot. And if you're picturing your uncle's cheap vinyl double-wide—with its propensity to blow across the plains in tornado season—think again. Siegal's sleek, modern models sit on solid foundations, with optional multistories and annexes. The dwellings in EcoVille, her 40-unit live-work development for artists, in downtown Los Angeles, are 60-by-12-foot boxes, stacked two high. She's even designed a (not-yet-built) pod of neoprene-skinned, solar-powered, floating Hydra Houses, for a future of rising oceans. Homes, as she sees it, should be more like computer chips and less like immutable castles. "We have our iPods, our cell phones, our laptops. Mobility is integrated seamlessly into our lives, yet our residences are stale," she says. "If we want to be lighter and more compact, why shouldn't our buildings be, too?"