Andy Schleck Talks Pro Cycling Challenge
Heading out the door? Read this article on the new Outside+ app available now on iOS devices for members! Download the app.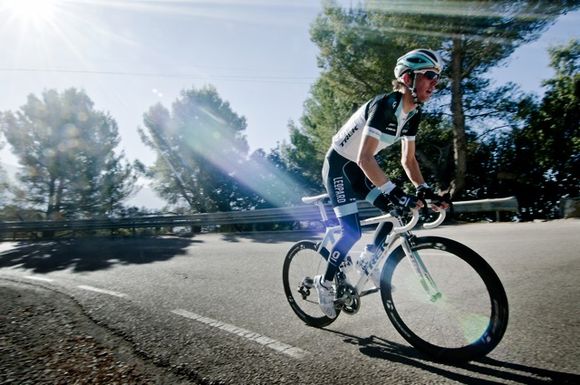 When the USA Pro Cycling Challenge rolls out on August 22, it will have a star-studded roster, including all three podium finishers from the Tour de France. One week ahead of the race, Andy Schleck and his girlfriend were staying in Steamboat, Colorado, where the three-time Tour de France runner-up was preparing for the upcoming race. On Monday morning, Schleck showed up for a community ride, and though the appearance was announced only that morning, several hundred cycling fans turned out to ride with the star. Later that afternoon, Schleck sat down with me to talk about the Tour de France, doping in cycling, and his expectations for the Pro Cycling Challenge.
–Aaron Gulley
www.aarongulley.com
OUTSIDE: That was a big crowd this morning. Would that many people show up to ride with you in Europe?
SCHLECK: I don't think so, actually. In Luxembourg cycling is very common. I was really, really surprised there was that many people this morning. I know how a peloton looks with 200 people—that's usually what we ride in—and this morning I just looked back down the road and I was really surprised there were that many. I make a wild guess, but I would say there were maybe 400 or 500 people.
Where's Frank?
He's back in Luxembourg with his family. I called him to tell him that he was really missing out. I didn't expect it to be so beautiful. I might even buy a house here.
What's it like being on a team with your brother?
As long as I ride, we will never ride for different teams. We grew up together and we are really close, more than normal brothers I would say. Even outside of cycling we spend a lot of time together. We are competitive, but not in the races. If we go fishing, then there's a competition. Whatever we do, even in training it's a competition. But in training we  have a gentleman's agreement that I won't drop him and he won't drop me. In races, we ride on the same team and most of the time we have one leader, either it's him or it's me, and I don't mind. Of course there are races you do when you like to be the leader, but sometimes it's nice to race and to just do your work without the big pressure. I'm just as happy when Frank wins a race as when I do.
One criticism of the approach of your teams is that because of your and Frank's competing interests as co-leaders, you haven't been able to get the top results. How do you respond?
I completely disagree. I think our strength in the big races is the fact that we are two. For example in 2010 I was alone, and I think that's what cost me the Tour. Alberto could control me; he could take care of one. But if we were two, it would have been totally different. We could have attacked earlier, like what we did this year on the Izoard. If I'd been alone, Alberto would have followed me. But on the Izoard the others said, "If we go after him now, Frank will be next to attack." And I think that, in the end, is what helped make our race.
On Stage 18 of this year's Tour, when you attacked on the Izoard and went on to gain two minutes and 15 seconds over Cadel, that was probably the most dangerous moment of the Tour. Do you think Cadel and Alberto miscalculated when they let you ride away on the Izoard?
Up to that point the Tour was hard, but I could see that there weren't many stages where we could make big time differences. So four or five stages earlier, I was looking at the stage up the Izoard and the Galibier, and I decided to try something because I didn't want to ride into Paris and feel like I hadn't tried everything. Yes, they miscalculated. But I didn't miscalculate. I did that stage in training twice, and I knew that if I rode way in the front, it's the leaders who would have to chase me down. The gregarios, they can't chase me down on that terrain  because I can ride faster than them. If I'm in front and I'm hurting like hell, then it's up to Alberto and Cadel to ride and catch me. Unfortunately, it didn't work to the end. Sure I got a nice stage win and the day after I took yellow. But the big goal was to win, and I didn't in the end.
Tell me about the final TT. How do you stay calm as you line up knowing that you're the underdog against Evans?
You go in there, you do your warm-up…it's like a list on the day of a time trial, you just have to do everything in order and if you do it all right and in order to get ready, then there's no concern of getting nervous. I knew that Cadel was a better time trialist, but I believed that I could do it. In training in the morning I didn't feel good because I had the Galibier stage, which was very hard, still in my legs. And then straight after, the Alpe d'Huez stage, which was a short stage but from the beginning I was up front with Alberto. Then we slept on Alpe d'Huez, which is not the best recovery, sleeping at altitude after two hard stages. In the end the time trial, you just have to go to the limit of your pain…I think I did a good time trial. I came 15th or something on the stage [Editor: Schleck finished the TT in 17th, 2:38 behind Evans], but Cadel was just flying that day.
Will you focus on improving your time trialing in the future?
I am not a specialist in the time trial. I have worked a lot in it. I think I have improved a lot in it. But no matter what I do I know that I'll never beat Fabian Cancellara in the time trial. And I also know that I will never win the Tour in the time trial. If I want to win the Tour, I have to win it with my strengths, and that's climbing. So in the future I'm still more focused on improving my climbing.
Leopard Trek came into the season with the goal of winning the Tour de France. Does the team look at second and third place as a failure?
To be second and third in the classics like Fabian and then second and third in the Tour, maybe it isn't a question of who's the strongest but a question of luck or no luck. But it's the first year for the team and it's been a great year so far. We're leading the team rankings in the WorldTour standings.
You've gone second three years running.
Frustrating,  yeah…? [Schleck laughs.]
In light of that, do you still believe that you can win the Tour?
Yes, of course. I'm getting every year closer. This year I was standing on the podium in Paris, and I was happy. If I do my maximum like I did this year, I cannot do more than that. I trained and my shape was at the maximum. I had no regrets before; I did a really good preparation. At the Tour, these are the best riders in the world. I just have to accept that someone was better. This year it was Cadel, but I'll go again next year to the Tour and maybe it will be me. In French we say, "Jamais deux san trois." [Editor: This French idiom translates approximately to the English expression, "Bad things always come in threes."] I'm not totally stressed to win the Tour. I would like to win it once, and I'm 26 so I think I have all the time ahead of me.
Everyone is saying that cycling is cleaning up and that this was the cleanest Tour in years. Do you believe it?
I really believe that cycling is getting cleaner and cleaner. There's always going to be people who try and cheat; that's everywhere in society. I had 64 blood controls for the Biological Passport this year. I had in the Tour more than 30 urine controls. I mean, there's not more I can do to be transparent to the people. Every hour of the day, they know where I am. They can come here, they can come to my cabin, they can come to the restaurant where I'll eat tonight, and they can control me. There's not a lot more that I can do to make the sport clean. People who believe that cycling is only possible with doping, they shouldn't watch it anymore.
What about the Contador case?
The Contador case is really complicated, and I'm not in a position to judge it. For me it's black or white: if he's cleared and he's free to ride, then I will believe he didn't do anything; but if he's not cleared to ride, then he's done something that's not okay. But there are experts and scientists whose job it is to check the case. I'm not in a position to judge it.
As the person who stands to have suffered the most if Contador cheated and stands to benefit the most if his title is stripped, why didn't you complain publicly when the news of the positive was released?
I can't say that now because there hasn't been a decision made in his case. I'm a cyclist, not a scientist, and I don't know if it's possible or believable that he got the clenbuterol in his system the way he says he did. I simply don't know. I wish for cycling, I wish for Contador—it's not easy to live in the situation he's in now—that the decision would come quicker. It's not okay that it takes that long. But I can't say now if I've been cheated or not. I don't know.
What do you think about the USA Pro Cycling Challenge? Does the course suit you?
I've never been in Colorado before and I thought the climbs were harder. The climbs aren't too steep, but what makes it hard is the altitude. You don't push 450 watts, you push 380, and normally you'd push a lot more. And the recovery is different, so I believe that's what will make it hard. I've only seen two climbs from the race, but I heard there's one really hard one on a dirt road. And I've heard this should be the hardest climb, when we finish in Aspen. [Editor: Stage Two from Gunnison to Aspen ascends a dirt road over 12,126-foot Cottonwood Pass before finishing on the paved climb over 12,095-foot Independence Pass.]
How have you prepared for Colorado?
After the Tour, I slept only three nights at home. We went to Trek in Wisconsin, and then I came straight here. The idea behind this is to be in altitude; I've never done any altitude training before. I want to see how the effect is on me, to see how my body reacts to the altitude. But this week, now I have to be really careful at the altitude because you really can go to deep. In the first days I was here we did one mountain bike ride for three and a half hours,  and at the finish I was completely dead. You can't ride for too many hours here and you can go in a high pulse, but for not too long. I want to stay here in Steamboat until the race, but then the team told me that I need to go down to sea level for three days before the race to recover from the altitude and then come back up. So hopefully this is a good test to see how it affects me. Maybe altitude training is something that will be good in the future, maybe even for the Tour.
Are you here to win?
I had a break after the Tour. I took four days off my bike. So I don't really know where I am because my last race was the Tour. But I believe my shape is good. I didn't gain any weight; I'm skinny. The first days here were hard because of the altitude, but now I'm starting to feel good. I'm starting to have the power on the climbs. I really think it's going to come down to five or six riders. There's Levi, there's Vande Velde, there's Chris Horner, and there's Tom Danielson, who I think is the big favorite for this race. I hope to feel good, and if I feel good I hope I'll be up there, too.