Bikes vs. Cars: The Deadly War Nobody's Winning
Liability lawyer and former professional bike racer Megan Hottman spends her working hours representing cyclists who've been injured by reckless drivers. She spends her leisure time riding and telling people what they don't always want to hear: in the perpetual, complicated conflict between two wheels and four, bike riders are part of the problem, and they have to be a big part of the solution.
Heading out the door? Read this article on the new Outside+ app available now on iOS devices for members! Download the app.
Concussion or no concussion, Steve Hill wants a new bike. Pronto.
"To be honest with you, I feel like I should have it already," he says to the woman he's facing, Megan Hottman, a 35-year-old personal-injury lawyer who's taking notes on a laptop inside her Golden, Colorado, office. From where I sit, just to the right of Hill*—who is 38 and trim—he looks pretty good, considering that he suffered a concussion and whiplash in a car collision just one week ago. But as I watch him, I have to wonder if he should have even driven himself to this meeting. As a longtime rider, I've endured similar injuries: I once went to the ER with a concussion after a crash, and I felt the effects for weeks. Hill has already told Hottman that he's been experiencing dizzy spells.
*Because of ongoing litigation, the name of Hottman's client has been changed.
Talking a beat too slowly, Hill describes a big ride he's supposed to do eight days from now. It's a Colorado event that took place last summer and covered more than 100 miles and over 13,000 feet of vertical gain—a major undertaking.
Hottman nods. She's a dedicated rider herself, so she knows all about the hunger to get back on the road. But Hill is in no shape for a day like that, and he's naive to think that a lawyer can serve up a new high-end bike anytime soon.
"Almost every client sitting in that chair has some event coming up," Hottman says diplomatically. "These accidents only seem to happen when you have something on the burner."
Hill's crash occurred in Boulder, 20 miles north of Golden. Pedaling his $10,000 dream machine on a pleasant summer afternoon, Hill was traveling north on two-lane Cherryvale Road as he approached South Boulder Road. He had the green light as he entered the intersection, at about 25 miles per hour.
Just then, a car turned left in front of him. Hill was far enough away to avoid a crash, but a second car abruptly turned left, too, and he couldn't dodge it. The vehicle's right front corner hit his left foot, shearing the pedal cleat off his cycling shoe. The car bulled into the seat tube of Hill's frame, which snapped. He went flying, helmet first.
"I had very little road rash," he says. "But I hit my head."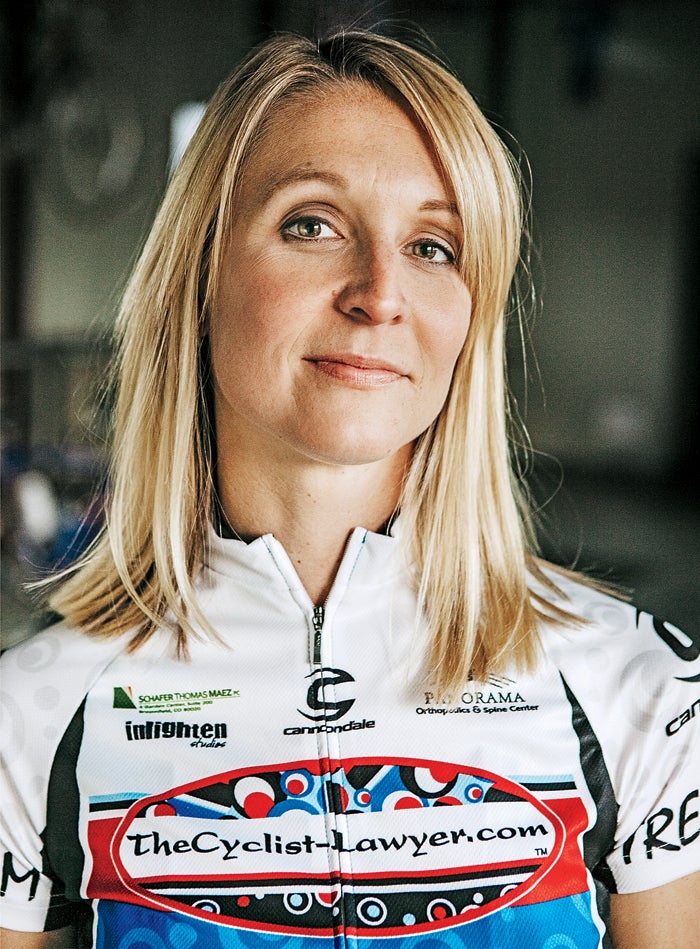 "Yowzers," says Hottman, a long, lean, and outgoing ex–professional road racer who now runs her own 50-member cycling team—called TheCyclist-Lawyer.com—and still manages to ride 6,000 miles a year. "Super, super violent!"
Hill again brings up the long ride he wants to do. "Do you think we'd be able to settle in a timely manner?" he asks.
With that, Hottman lifts her hands off the keyboard and peers up from the screen. Cyclists who consider hiring Hottman don't always know about her out-of-office activities, which include a lot of educational work. She teaches bike-handling skills to beginners. She gives lectures to cops about relevant laws. She's the coauthor of a forthcoming reference book that's aimed at every attorney and judge in her field. Hottman has dissected cycling athletically, legally, and ethically, and she's concluded that, while she dearly loves her two-wheeled brothers and sisters, riders don't always display sound judgment.
"I'm not pro-cyclist all the time," Hottman told me when we first spoke months earlier. "I get frustrated when I see riders behaving badly."
She leans back in her chair and looks into the eyes of her shell-shocked visitor. Unless Hill has his facts wrong, the motorist who hit him was legally at fault, and in the end Hottman will take his case. But if you put Hill on a bike anytime soon, he would be a risk to himself and others.
"Really, I'm kind of glad you don't have a new bike already," Hottman says after a long pause. "Because if you did, Steve, you'd be trying to ride it."
Obviously, Hottman isn't implying that Hill is to blame for being injured by somebody else's bad left turn. But as a lawyer who keeps a close watch on the endless antagonism between drivers and riders, she does what she can to maintain the peace and to help everybody stay as safe as possible. Part of her mission involves telling riders that, with the odds on the road stacked against them, they need to be smart and impeccably law-abiding when they're out there. She thinks of cycling as an ecosystem: all the involved parties have to do their part.
With Hill, her long-term goal will be financial restitution for his injury and loss of property. But the short-term concern is that he's too impatient. "Sure you don't want any water for the road?" Hottman says, rising to shake Hill's hand as he prepares to leave.
"I'm OK," he says.
Hottman eyes him warily. "I'm a little worried about that head of yours," she says. Hill doesn't seem to be. Before long he waves and leaves. For all I know, he got on a different bike the next day.
---
In her office, in the courtroom, in the news, on the Web, and on city streets and country roads, Megan Hottman encounters various species of the same genus: riders who are sure they've been wronged and simultaneously believe that cyclists are always right.
Often as not, they have been wronged, but Hottman consistently quotes a statistic that many riders don't know or choose to ignore: roughly 47 percent of all bike-car mishaps happen because riders are at fault. That figure is debatable—there's no national database, and Hottman's use of it derives from small-sample studies, media accounts, and her own experience working on cases over the years. Still, there's no doubt that riders often behave recklessly on roads and highways. Ask any driver who's seen them blow through red lights or come screaming the wrong direction down one-way streets.
A particularly sour moment for cycling's image occurred last September in New York City's Central Park, when Jill Tarlov, a 58-year-old mother of two, stepped off a curb and into the path of 31-year-old Harlem cyclist Jason Marshall, who was swerving around other pedestrians and reportedly in an aerodynamic tuck when he hit her. Three days later, Tarlov, the wife of a CBS senior vice president, died from severe head trauma. Marshall, who told reporters that the collision was "unavoidable," hasn't been charged with a crime.
In San Francisco in March of 2012, cyclist Chris Bucchere killed an elderly pedestrian in the city's Castro district, hitting him after running multiple stop signs. According to a report on the mishap in the San Francisco Chronicle, three other pedestrians had been mowed down in the Bay Area in the past year. Bucchere ultimately pleaded guilty to felony vehicular manslaughter.
There's no doubt that some bike riders behave recklessly on roads and highways. Ask any driver who's seen them blow through red lights or come screaming the wrong direction down one-way streets.
We all know that motorists can be reckless and myopic as well, and statistically they may be at fault in car-bike accidents nearly half the time. When drivers screw up or drive too aggressively—or with outright malice—the consequences are usually dire for bicyclists because of the harsh realities of physics. Cars are massive metal beasts; bikes are not. When collisions happen, bikes and their riders get the worst of it, regardless of who's at fault.
Compared with countries like Denmark, the U.S. doesn't do nearly enough to give vulnerable riders the buffers they need on the road. In Copenhagen, more than 50 percent of residents cycle to work or school. The most advanced bike-commuting American city—Portland, Oregon—has only one-tenth that percentage of daily riders. Transportation experts believe that protected cycling lanes, as opposed to bike lanes spliced into roads, are cycling's safest routes. Such infrastructure is growing, but it isn't close to being fully woven into any major American city.
So riders take to the roads and take their chances. There, they can encounter distracted, impatient, or drunk drivers, lane-hogging SUVs, deteriorating pavement, and traffic-clogged grids. Multiple dangers exist from coast to coast. The Los Angeles Times reported that, between 2002 and 2012, hit-and-runs involving cyclists increased by 42 percent in Los Angeles County. The Houston Police Department sends plainclothes cops out on bikes to discourage motorists from buzzing riders, either through negligence or on purpose. A Manhattan pedestrian or cyclist dies, on average, almost every other day in a traffic accident. In Baltimore in January, an Episcopal church bishop named Heather Cook was arrested and later charged with vehicular manslaughter after she struck a prominent local cyclist named Thomas Palermo, allegedly while driving under the influence. For cyclists, significant causes of death by car include drivers who fail to yield—either because they turn left in front of a bicyclist or because they don't move far enough past a rider before turning right—and who hit riders from the side or from behind.
All too often, law enforcement's response to such accidents is lackluster or shoddy. In a notorious case that started in October 2011, Mathieu Lefevre, a 30-year-old artist from Canada, was killed in Brooklyn by a crane truck that hit him and moved his body nearly 40 feet down the road. An unnamed police source told a reporter that the New York Police Department concluded that Lefevre had run a red light. The department then spent months rebuffing requests by Lefevre's family for details surrounding the incident. Only at the urging of the family's lawyer, and following a successful open-records request that freed up crucial documents and video footage, did the NYPD change its tune in January 2012.
As it turned out, the police had in their possession a number of video clips, taken by a security camera used by a storage facility near the crash site, that captured pieces of the incident. The final report from the Accident Investigation Squad said that Lefevre "should not have been passing on the right while on the one-lane roadway." The Lefevres' lawyer contends that this was a lawful maneuver and that Mathieu was not at fault in his own death. Overall there is general agreement that the cyclist, who was riding in the same direction that the crane truck was moving, died because the driver made a right turn without using his signal.
When the news started to trickle out, Manhattan's two-wheeled community justifiably blew a gasket online, where the accountability of both cyclists and motorists is often a hot topic. "F#&K the NYPD," wrote a commenter on a Village Voice blog entry about the case. "Lying rotten scum. What a surprise."
Hottman, who's been a lawyer since 2004 and has focused exclusively on bike law for the past five years, says the cycling community's grievances are often justified and that the legal system in the U.S., unlike those found in Holland and Denmark, can be overwhelmingly biased against bike riders. Most district attorneys, judges, jury members, and cops own cars and don't ride. They tend to identify with motorists, who, after having accidents or conflicts with riders, argue that cyclists are simply too hard to see—annoying and underfoot, like little dogs. Last year the website for Next City, an urban-planning nonprofit, reported that traffic laws leave cyclists ridiculously vulnerable, noting, for example, that maiming or fatally injuring a cyclist is a felony offense in only three states. And when drivers are found to be at fault, the penalties can seem far too light. The reality of our system is that a driver whose behavior is deemed to be negligent or careless—but not intentional—may not face harsh charges for a brutal accident.
"An intentional charge is quite rare," Hottman says. "It's almost as if a passenger in the car needs to hear a statement of intent from the driver that they mean to do harm."
Consider the case of 50-year-old Annapolis, Maryland, cyclist Trish Cunningham, who was knocked down and killed in August 2013 while she was riding on a two-lane road. The accident happened when a minivan driver swerved into Cunningham while trying to avoid oncoming traffic during an attempt to pass her on a narrow uphill stretch. A grand jury found no probable cause for a charge of criminally negligent manslaughter, and the only consequence for the driver was the issuance of three minor traffic citations and a $1,500 fine.
Online comments were predictably unhappy with that result. "This driver actively thought, 'Instead of damaging my car or myself in an accident, let me run over this cyclist so that I am not struck by a car,' " argued J. Nadine Barclay in response to a WashingtonPost.com story about the accident. "She knew EXACTLY what she was doing."
---
Hottman understands the anger, but she and other cycling-policy experts also wonder about negative repercussions from all the noise. Social-media alerts spotlighting hit-and-runs are useful—they help create national awareness of incidents that, a few decades ago, wouldn't have reverberated beyond the coverage area of a local newspaper—but nowadays cyclists love to crowdsource their rage in other ways, like uploading snapshots of cars parked in bike lanes or sharing GoPro footage of yelling motorists.
The effects can be counterproductive. Hottman says that while incriminating video taken by cyclists can move law enforcement to take action, cops are hardly chasing down the drivers of every photographed license plate. Meanwhile, the general population, which frequently sees riders bending traffic rules themselves, often views cyclists' finger-pointing as sanctimonious.
In response to a long, sympathetic Chicago Reader story about cyclist Bobby Cann's fatal 2013 collision with an allegedly inebriated driver, an online commenter named "Cmccord" couldn't get past what seemed like the riding community's hypocrisy, since people on bikes are sometimes plastered themselves. "Perhaps this article can be addressed in all of its overwritten entirety during the next drunken debauchery meeting of cyclists knows as 'Critical Mass,' " Cmccord wrote.
Even heads of cycling state get uncomfortable with the riding community's tendency toward preachiness.
"That we can be arrogant jackasses and a pretty self-righteous group? That doesn't sell well," says Andy Clarke, president of the Washington, D.C., League of American Bicyclists, cycling's oldest national advocacy group. "It's an Achilles heel when we go to any city council meeting."
When drivers screw up or drive too aggressively—or with outright malice—the consequences are usually dire for bicyclists because of the harsh realities of physics. Cars are massive metal beasts; bikes are not.
From a statistical standpoint, the growing public outcry among cyclists may be running inversely to the problem itself. In 2012, the National Highway Traffic Safety Administration reported 726 cycling-related deaths and 49,000 cycling-related injuries, and many more injuries likely go unreported. But in the past 40 years, the number of annual traffic-related cycling deaths has generally been declining, while the U.S.'s population, the amount of bike commuting, and the number of bike trips taken have ballooned. One could argue that cycling, as it has experienced a rise in popularity but not in deaths, has actually become safer—more commonplace but no more lethal.
"If you look at the statistics, fatalities aren't increasing," Hottman says. "Social media would have you believe that every time you go out the door on your bike you're going to get hit. That's certainly not the case."
Research has shown that spooking people to the point where they mothball their bikes could create even more problems. Last year the University of Colorado Denver published a study in the journal Accident Analysis & Prevention reporting that greater numbers of riders actually make streets safer. Accidents involving cyclists and motorists at a given intersection, the researchers noted, were less likely to occur when more than 200 riders traversed it daily. One theory goes that the presence of more cyclists raises drivers' awareness and causes them to adjust their driving behavior.
"I tell people, 'I know you're afraid of the risk, but cycling isn't just for training. It's about going to the store and to work,' " says Hottman, who gives safety advice during bike-handling clinics, hosted in her office parking lot, and at bike-law presentations made to cycling clubs and shops. "But it's difficult to talk riders off the bike paths when all they see is coverage of people getting creamed."
---
Over the past few years, some hard-charging cyclists have made headlines themselves. They've performed unsavory acts like physically assaulting motorists, plowing into and injuring or killing pedestrians, and ignoring speed limits and red lights. Without a doubt, such incidents are far outnumbered by the grisly bike accidents caused by drivers, but they're widely reported, and they give people outside the bicycling community reasons to view the riding world with more suspicion and rancor. The Central Park accident that killed Jill Tarlov gave bike haters something to soapbox about, and they seized the opportunity.
"Yeah bicyclists get hit but they hit pedes-trians, too," one Twitter user commented right after the accident.
"Simple solution to this problem," a commenter called "Disturbing Violence" wrote in response to a story about Tarlov's accident on CBSNews.com. "When the police see a bicyclist exceeding 25 mph and jeopardizing public safety, the POLICE must be RESPONSIBLE to PULL THEM OVER, and PUT HANDCUFFS ON THEM. PUT THEM IN ***JAIL***."
Plenty of cyclists know that Central Park is, in many ways, a minefield. Exceeding the speed limit is easy. Riding outside the bike lanes is tempting. Pedestrians often have one eye on a stroller, another on an iPhone, and none on the traffic. But in the wake of Tarlov's death, some people in the riding community took the high road, noting that what happened should serve as a wake-up call.
"The upshot of all this is bound to involve the police coming down hard on cyclists, in a way that is simultaneously justified and infuriating," wrote blogger and author Eben Weiss, a.k.a. Bike Snob NYC. "There's long been a movement to ban cars from Central Park, but I'm willing to bet that before that ever happens they'll ban bikes first.… So please fellow Freds of New York City and beyond, let's get our shit together and keep it that way, OK?"
Hottman occasionally delivers a similar call for responsibility in Boulder, where local law enforcement is in regular contact with the fast-moving amateur racers, elite triathletes, and professional cyclists who flock to the thin-aired city. One night during my visit, she presented a 75-minute, 50-slide PowerPoint overview of cycling law to some two dozen officers at the Boulder County Sheriff's Office. She was there to make a case for cyclists, but she also wanted to emphasize to police that their job is to know and enforce the many facets of the law.
"If the lane is wide enough to be shared with overtaking traffic, the cyclist should ride as far to the right as he or she deems safe," she says, her long blond hair in a ponytail, her attire the athlete's version of business casual: flip-flops, shorts, and a polo-style shirt. "If the lane is not wide enough to be safely shared, the cyclist may take the lane."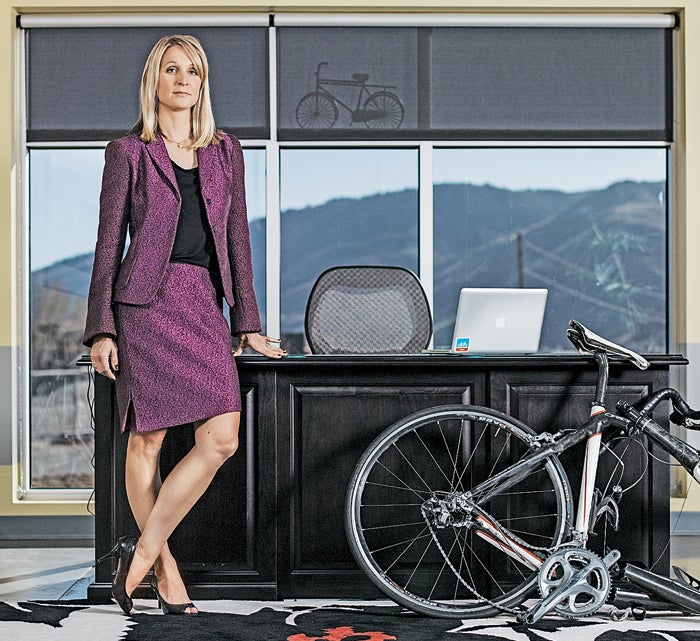 Hottman's manner is smooth, and she has thorough knowledge of the material. The book she cowrote with Jeffrey P. Broker, a biomechanics professor in Colorado, is called Bicycle Accidents: Biomedical, Engineering and Legal Aspects. Due out this year, it's a reference manual that covers legal issues, case histories, accident types, and regulatory information.
To help spread her message, Hottman has taken cops on bike rides, and this is the fourth cycling-law presentation she's made to the local sheriff's department. Her talk has become required training for Golden police.
As it happens, tonight's audience will only need to bone up on Colorado cycling laws; the statutes vary by state. Texas, for instance, sets no uniform distance for cars overtaking cyclists, while in Colorado drivers have to give riders a three-foot berth. Idaho cyclists can treat stop signs as yield signs, which isn't the case in most other places.
After the last slide, Hottman opens the floor to feedback, and I'm surprised to hear that local police often feel intimidated by riders. The notion of one officer corralling a fast and aggressive, 50-cyclist group ride that runs a red light is apparently unsettling.
"Half the time, the cyclists that I pull over are very polite," one policeman says. "Half the time, it's just attitude, attitude, attitude."
Hottman takes a deep breath. She thinks the officer has a point. "You all did not go into this line of work simply to harass people wearing Lycra," she says to the audience. "You're out there for the greater good, trying to serve our community."
---
Though peace is not exactly on the horizon, city by city, and cyclist by cyclist, steps are being taken across the country to quell the war between motorists and riders. Hottman, as you might imagine, is doing her part.
An 18-year-old concept called Vision Zero Initiative, which aspires to eliminate traffic-related fatalities, has caught on in the U.S. after reducing deaths by approximately 50 percent in Sweden, where the idea originated. Through changes like narrower crosswalks, improved first-responder skills, and better driver education, traffic-related fatalities in Minnesota, Washington, and Utah have been reduced by as much as 41 percent.
"Achieving Vision Zero doesn't just depend on cyclists and motorists cleaning up their act," says Clarke, of the League of American Bicyclists, who thinks that a range of factors—everything from driver behavior to urban planning to car design—can help make life safer for bike riders and pedestrians. "We're all in this together."
In the past calendar year, San Francisco, Los Angeles, and New York City have announced Vision Zero–inspired plans such as lower speed limits and raised bike paths. Organizations like Clarke's League and People for Bikes, an industry-led national coalition and foundation based in Boulder, have promoted and helped fund safer cycling routes everywhere from Chattanooga to New Orleans. Meanwhile, Manhattan has already hosted bike-bell and helmet giveaways, and the city now features an impressive 400 miles of bike lanes—with an increasing amount of them protected by measures like islands separating them from street traffic. Still, New York, like most cities, has a long way to go.
"NYC loses track of one in four traffic deaths," @jimschachter tweeted after the airing of a public-radio story last December, about the NYPD underreporting traffic-related fatalities by an estimated 25 percent. "How will we get to #visionzero?"
While Boulder may be home to 160 miles of bike paths, Hottman frequently takes a different route in pursuit of amnesty—that is, in addition to the 20 or so cycling cases she tackles annually. She heads outside to focus on interpersonal relations.
"Let's stop single-file here," says Hottman as we approach a red light.
It's early on my last day with her—a toasty Rocky Mountain Sunday—and I'm part of a six-cyclist group that she has organized. We're setting out on a hilly 60-mile spin. The outing is part training ride—the former three-time Colorado state cycling champion has her eye on the upcoming cyclocross season—and, as every ride is for Hottman, all goodwill tour.
"Don't swarm or mushroom out," she says as we straddle the top tubes of our bicycles, waiting for the green light. Hottman says that it's as illegal to stand three or more abreast at an intersection as it is to ride that way. Such a formation can earn you a ticket for impeding traffic.
We resume riding, and Hottman offers more guidance: Ride on the far left side of a designated right-turn lane to indicate that you're headed straight. Signal every time you change lanes. Tailgate and you could be cited.
Heeding her commands feels right. Along the way, I stop at stop signs and think of myself less as a bandit stealing my way around and more like a responsible citizen. As the group's miles pile up, Hottman continues to spread the gospel of responsible cycling.
Our bikes and bodies should be in good working order because—especially when we ride in a tight cluster—we depend on each other to remain upright. We should carry photo ID and proof of health insurance, not because it's the law but because, in case we're pulled over or hit by a car, the documentation will assist law enforcement or emergency medical providers.
"Drive your bike," Hottman says as we ride through the piney neighborhood of Willow Springs, a reminder that cyclists should behave like vehicles.
One highlight of our ride is a six-mile climb through sometimes narrow Deer Creek Canyon, where Hottman stresses that we should keep out of traffic's way by riding single-file or in tight pairs. Such cycling requires mindfulness and skill, and Hottman is one of four TheCyclist-Lawyer.com racers on the ride. They're all wearing the team's kit.
We're only a short way into the ascent before Hottman demonstrates another technique—one she definitely didn't learn as a racer: she waves. Mostly to motorists, particularly to those who give us a wide berth as they come up behind and around our group. She holds up her hand long enough each time to make it clear that she's acknowledging their courtesy.
After climbing for a while, I realize that others in the group are also waving. So I do it, too.
When we finally descend into the small town of Kittredge and make a store stop, I ask for a full explanation.
"You're very friendly," I say with a smile. She's chewing on licorice. Wisps of hair stick out from under her helmet, and her hazel eyes are red from physical effort.
"These might be the only real interactions those drivers ever have with cyclists," she says. "We have a chance to warm them up to us."
Hottman believes so deeply in the wisdom of cyclists friending motorists—she partially credits her exemplary behavior for not getting hit over the past 26,000 miles of riding—that she demands impeccable conduct from her race team. To join Hottman's squad, you have to sign an agreement stating that getting caught breaking traffic laws on your bike while in team kit is grounds for dismissal. She's made good on that threat.
Before Hottman can swallow her next bite of licorice and complete her thought, her teammates weigh in.
"Whether or not you're representing the team, you need to be safe," says Angela des Cognets. "If you're on a bike and get hit by a car? You're going to lose."
"If I flip off a driver, they're just going to take that to the next rider up the road," says Dain Carlson.
"We're ambassadors," says Tim McAndrew.
Even as she finishes chewing, Hottman grins. She often says that ending the war between drivers and riders won't take place in a courtroom or over the Internet. Instead, Hottman believes that peace will come incrementally—one wave, one car, one bike lane, one police officer, and one teammate at a time. Megan Hottman's ride isn't over, but it's already looking like the start of something good.
Andrew Tilin (@atilin) is an Outside contributing editor. He lives in Austin, Texas.