Marianne Vos Is the Boss
The world's best bike racer is a woman: Vos, a 31-year-old Dutch superstar with more than 300 podium finishes. She's also an activist, taking on the fight against gender inequality in a sport whose future has to involve knocking down a few doors.
Heading out the door? Read this article on the new Outside+ app available now on iOS devices for members! Download the app.
During the final laps of the 2017 Dutch National Road Championships, in Montferland, the peloton surged through a fine June rain. Helicopters thundered overhead, broadcasting the race live throughout the Netherlands. Thousands of spectators lined the course, which looped through corn and wheat fields. More than a hundred women were racing for the Dutch title, and their country was paying attention. Yet the race's four-time champion, Marianne Vos, was nowhere to be seen. She was not pushing the pace or launching attacks. Instead she was behind the pack, riding shotgun in the WM3 Pro Cycling team car. Vos was nursing a broken collarbone, the result of a crash two weeks prior on the Women's Tour. Less than a thousand yards from the finish in Royal Leamington Spa, England, a rider went down while traveling at 37 miles per hour, causing a pileup that slammed Vos into a metal barrier. (She still finished the race.)
If Vos was feeling crushed to have to sit this one out, it didn't show. Leaning in for a photo with her coach and mechanic, she beamed her signature dimpled grin. "Dutch National [road race] on the way," she typed on her phone, posting the shot on Instagram. "Not in the bunch, but in the car @WM3pro-cycling today. Let's see what it brings!"

Download the Audm app for your iPhone to listen to more longform titles.
Vos is one of the finest cyclists in the history of the sport. Winner of more than 300 races across four disciplines—road, track, mountain, and cyclocross—she excels at every distance, from hourlong criteriums to multi-day tours. "Marianne Vos is the rider of her generation," British commentator Anthony McCrossan told me last spring. At 18, she earned her first rainbow-stripe jersey (the exclusive badge of world champions) in cyclocross. At 19, she earned one in road. Two years later, in 2008, she was an Olympic favorite in Beijing. After a disappointing sixth-place finish in the road event, eight days later she refocused on the velodrome, where she didn't just win—she lapped the competition in the track points race. Her trophies stacked up as she systematically conquered every major women's event, from one-day spring classics to the Giro Rosa, a ten-day stage race through Italy.
Vos considers the Olympic gold medal that she won in the 2012 London Games road race to be the pinnacle of her career. That event is often held up as proof of how exciting women's cycling can be. As Vos wheeled up to the starting line, she heard Eminem's "Lose Yourself" playing over the loudspeaker. She has a habit of singing aloud on her bike, something she says annoys fellow riders, and this, her favorite psych-up song, felt special. When the 87-mile race started, she was ready. Her final sprint down the waterlogged Mall in central London, beating Britain's Lizzie Armistead by about a bike length, was one of the sport's most breathtaking moments. In the photos of Vos at the finish, you can see goosebumps on her arms. The memory of the crowd's roar still gives her chills. "That sound. I can still hear it," she told the Telegraph.
That same year, Vos again won the Road World Championships, the UCI Road World Cup, the Giro Rosa, and a half-dozen classics. Velo magazine named her the 2012 International Cyclist of the Year—over Bradley Wiggins, winner of the Tour de France and the Olympic time trial. "There is no one like her, man or woman, who has ever pinned on a number," Velo declared. "Merckx was not this accomplished at 25." Vos's competitors consider a runner-up finish behind her a victory. "Second to Marianne isn't too shabby," Katie Compton said after winning silver in the 2013 Cyclocross World Championships. "I can't think of anyone who is as talented as she is, as hardworking as she is, as motivated as she is. But it only makes everyone better."
Vos is one of the finest cyclists in the history of the sport. Winner of more than 300 races across four disciplines—road, track, mountain, and cyclocross—she excels at every distance, from hourlong criteriums to multi-day tours.
Vos, 31, is a natural and gifted athlete, with some of the biggest VO2-max and threshold-power numbers in the women's peloton. But she credits her success to her work ethic. She almost always skips rest days in favor of more time on the bike, and she logs hour after hour of base miles during the off-season. All of which is to say that she was in rare form last June, sitting in the team car. "Gutted to be out for a while and not be able to race," she posted to her fans on social media after an outpouring of beterschap, Dutch for "get well soon." "Thank you all for the well wishes; I'll be fine!"
Still, while the broken collarbone was an annoyance, her fans knew that it wasn't the only thing that was holding Vos back. In 2015, after almost a decade of dominance, she'd started losing races, finishing well behind the leaders, confounding her coaches and herself. It was as if her body had gone on strike, with zero explanation. Vos, who had practically lived on two wheels since the age of five, was forced to stop riding for six months, confronting her hardest challenge yet—stepping off the bike.
---
When I met up with Vos for coffee at the Hotel De Buunderkamp, a small inn in Wolfheze where she and her WM3 team were staying before nationals, there were no photographers or fans. Delivered by a handler who reappeared just once, only to be waved away, Vos was a model of Dutch understatement, wearing jeans and a team shirt, modest jewelry, and a touch of mascara. She's five foot six, with brown hair framing green eyes. A beast in the saddle, she's shy and laid-back out of it, that rare pro you'll see washing her own bike after a muddy cyclocross race. Most of her trophies are under a plastic tarp in a shed at her home in Babyloniënbroek. She's a household name in the Netherlands, where cycling is a national obsession and the sport's superstars carry as much clout as Tom Brady. "I never wanted to be famous," Vos said. "I just wanted to ride my bike."
So when doctors told her in 2015 that she needed to stop riding indefinitely, it felt like a prison sentence. In the first major cyclocross race of that year, she'd finished 12th. She wasn't out of shape, sick, or hurt. But the harder she trained, the worse she felt. "Your body at some point says, 'That is enough. I don't work anymore,' " she says. There was no specific diagnosis beyond overtraining. The doctors' prescription was equally vague: Stop. Rest. As long as you need. Vos had never been seriously injured. In the past, a shattered collarbone hadn't kept her from finishing a race. But this wasn't like a fracture—six weeks and good as new. This was like swimming toward the offing with no land in sight. "You don't know if it is ever coming back," she said, as six of her teammates settle around a nearby table. "Maybe it was the end of my career."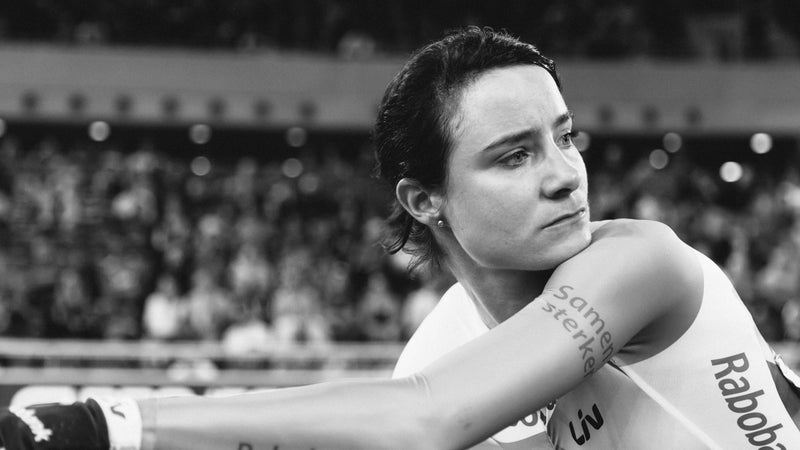 Finally, in May 2015, she agreed to take a break. "I got my identity from results, not from being a good human," she said. "Being at home only resting and trying to fill my days with recovery, I had no identity, because I didn't win races." She needed normalcy, which wasn't easy for her. "She's special in that she really enjoys training," says Vos's current team manager, Eric van den Boom. "Of course, she can be very angry and disappointed if the performance does not work as she planned or hoped. Her intense sports mentality is unique." But for six months, she tried to become less intense. Vos threw out her fitness and diet regimens. She stopped training entirely, though she allowed herself to spin around town on her cruiser. She napped, read a lot, and went shopping with her mom. She learned to ride a moped. She sought normalcy. Finally, Vos had an epiphany: sometimes a weakness is a strength driven to the extreme. "I had to accept that my injury might be caused by the same thing that got me so far—I push myself very hard," she says. "I learned to accept myself for who I am, apart from the bike."
She became more accessible, even to her own teammates. "After all these invincible years, she turned out to be a human being," observed Marijn de Vries, a journalist and retired pro. "Her teammates, who always put her on a pedestal, perhaps not even consciously, suddenly dared to talk to her about doubts and uncertainties. And Marianne slowly learned that vulnerability is not weakness, but something very powerful."
After six months off the bike, Vos's body started responding to the rest. In late 2015, she began a careful comeback. She focused on the Rio Olympic Games, in August, where she competed in the road race. This time, instead of rolling up to the start as the team superstar, Vos took on the role of tactical leader and domestique, dropping back to the support car to stuff her jersey with water bottles for her teammates. Later she launched a counterattack that looked like a possible race-winning move. It wasn't—Vos placed ninth—but her fellow Rabobank racer Anna van der Breggen got the gold. "People say, 'Now you have some age. You have to settle,' " Vos says. "Actually, I am pretty happy with what I do now with the team and just riding the bike."
She's still hungry for victories, though, and still capable of them. Since returning, Vos has won several big races, including the 2017 European Championships, her first international title since her recovery began. "With sports, you have your ups and downs," she says. "Over the past couple of years, there have been a lot of downs. But there are also highs when everything comes together."
Those highs no longer come just from wins. Vos has turned the podium into a platform, advocating for gender equality with an unassuming Dutchness. Since 2015, she has become a leading advocate for expanding the international women's road-race calendar, and she started a nonprofit to connect amateur and professional riders. The result is a different kind of triumph. "Whenever we would speak up about the fact that we're not getting paid much or that our races are too short, it came across as whining," says Meredith Miller, a former pro cyclist who leads the Boulder, Colorado, chapter of the Rapha Cycle Club. "Marianne turned the tone around and made it sound less like complaining. She added purpose and momentum—and a voice that people listen to."
---
Three days after the Dutch National Road Championships, on a blustery morning, I go to see Vos's home in Babyloniënbroek, a village of about 400 residents. She isn't there—despite the collarbone injury, she's headed to a team camp in Italy—but her brother, Anton, has agreed to take me on a 31-mile ride to see Marianne's local turf. A photographer with a sunny disposition, Anton is four years older and a head taller than his sister. Together with their parents, they share a thatched-roof home that Vos bought with her winnings. Over the course of her 12-year professional career, she's been able to comfortably support herself and is currently sponsored by several major companies, including Oakley, Shimano, and Volvo.
The house overlooks the marshy lowlands that connect the seven villages of Aalburg, a rural community not far from the Belgian border. Most of Vos's training rides start in her driveway, from which she has access to a countrywide network of paved bike paths that mostly prevent her from having to contend with traffic. Vos started riding after she watched Anton race at the local cycling club. When she was five, her father, Henk, bought her a tiny road bike. She couldn't reach the pedals, so Henk, a carpenter, removed the seatpost and clamped the saddle directly to the lime green frame. Three years later she entered her first race. At the starting line, the shy schoolgirl vanished. The bike awakened a fierce hunger to win. "We couldn't even play board games," Anton says. "She really hated losing." Once, after crossing the finish in third, she just kept on riding. "I was so angry, I didn't want to stop" she told me, cringing at the memory. She rode another half-mile and missed the podium ceremony.
Road cycling is perhaps the most inequitable sport on the planet: women's races are shorter and their salaries much lower.
We stop by the street where Marianne and Anton grew up racing each other on the neighborhood's only "hill"—a highway overpass. Anton shows me one of the monuments honoring Vos's 12 world titles. It's very Dutch: a simple wooden bench with a modest engraving. There's a similar bench in each of Aalburg's six other villages. "They ran out of villages," Anton says. "So they added a table and a couple of statues." One of the statues, a giant metal sculpture, rises from the middle of a roundabout. Taller than Anton and at least 15 feet wide, Marianne's Crown is a collage of bike silhouettes, each symbolizing a stage of her journey, from her little green bike to the one she raced to Olympic gold in 2012.
As glorious as that year was for Vos, it was also a turning point for professional cycling. Months after the London Games, Lance Armstrong was stripped of his trophies, triggering the biggest doping scandal in the history of the sport. One hero after another—mostly men—lost their titles and were sanctioned. Brands withdrew, including Vos's then team sponsor Rabobank, which was "no longer convinced that the international professional world of cycling can make this a clean and fair sport." Vos tweeted that Rabobank's choice was "understandable… but unfortunately this hurts many innocent [riders] in our sport." The company ultimately amended its decision. In the end, Rabobank ended up dropping the men but agreed to sponsor the women through 2016. Women have been caught doping, too, but in much smaller numbers, and none of the Rabobank women had ever produced a positive test. In 2017, Vos cofounded a new team sponsored by WM3, a Dutch green-energy consulting firm. For the 2018 season, WaowDeals, a smartphone payment app, stepped up as the title brand.
The doping scandals got Vos talking seriously about how to make women's cycling a financially viable profession for more than just a handful of elite riders. Professional road cycling is perhaps the most inequitable sport on the planet: women's races are shorter, the riders' salaries (if they exist at all) are much lower, and the prize money is a fraction of the men's. According to a survey by the Cyclists' Alliance, a women's union created in 2017, half of all female professionals earn less than $12,300 per year, and 17 percent don't get paid at all. By contrast, male cyclists on WorldTour teams have a minimum salary of around $47,000 and can make six figures through sponsorships and prize money, with a few at the top awarded multimillion-dollar annual contracts.
In 2006, when Vos began her elite career, she was the rare female pro who wasn't holding down a second job to get by. She wanted to change that. "In professional cycling, we saw limits in organization, development of teams, salary, and professionalization of the riders," she says. "Of course, it has to do with money, but also with…" she pauses, searching for the right phrase, "daring to make a difference. The UCI is a great organization, but it is big, it is old-fashioned. It is difficult to change big things."
---
After the 2012 doping fallout, Vos began speaking up for women's cycling. More coverage would build a bigger audience, which would attract more sponsors; more sponsors meant better salaries, which would attract more talent and grow the sport. Everything would have to start with visibility. Advertisers can't buy into what people can't see. In interviews, Vos contended that every major men's race should have a women's equivalent, with the same broadcast schedule. "I'd like to see the Tour de France [for women]," she told Cycling Weekly in early 2013. "We need a platform. The Tour de France is what people watch, that's where the world of cycling—media, fans, spectators—is."
That year, between winning two more world titles, she teamed up with three other cyclists and called on the Amaury Sport Organisation, the organizer of the Tour de France, to create a women's race. In 2014, the ASO launched La Course by Le Tour de France, a women's race held in Paris a few hours before the men made their victory laps. The 55-mile competition included 13 laps on the Champs-Élysées. The winner would receive $30,500—the same amount the men get for winning a stage of the Tour.
In July 2014, as the sun shone on Paris, 119 of the world's best female athletes stormed the Champs-Élysées in front of millions of viewers from 190 countries. In the final stretch, it came down to four riders. With her usual impeccable timing, Vos sprung out of the bunch, nailed the sprint, and won the race she helped create. "La Course is really something awesome for women's cycling, but it's just one step toward the recognition we deserve," she told Cycling News. "I hope everyone who saw us today realized the peloton's getting stronger and stronger."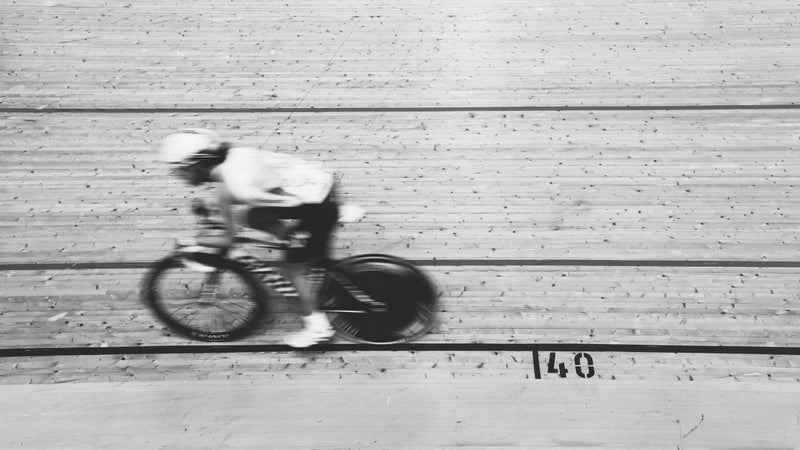 Though La Course was a significant milestone, it was still just one day tacked onto a 21-day race for men. So in 2015, during her break from the bike, Vos launched her second attack: to grow the number of women riders in the professional and amateur ranks by connecting pros with everyday rides. The pros would develop a fan base for the sport while the amateurs learned from them. More women. More bikes. More power. "We had an idea to improve grassroots cycling, because that's where everything starts," Marit Huisman, one of Vos's collaborators and a former pro cyclist, told me. "I can learn a lot from a beginner, and a beginner can learn a lot from us as well."
Vos and Huisman envisioned a worldwide platform. "We wanted to create some buzz and events," Vos says. It began with the Road Trip to Paris, a small group ride from Holland to watch the debut of La Course. The next year it was a festival in the Netherlands called We Own Yellow, held a week after the 2015 Grand Départ, the first stage of the Tour de France. There were bike-handling clinics, women-led rides, and evening socials. Around 1,000 women, ages 16 to 80, showed up. About two weeks later was the second Road Trip to Paris for La Course. This time, Vos came as a spectator.
Near the end of her six months off, Vos also launched Strongher, an online community for women cyclists. "Strongher links pro athletes and -grassroots riders," she says. The launch party, in London, unveiled her hand-picked team of Sheroes—female ambassadors from cycling's various disciplines, including world downhill mountain-biking champ Manon Carpenter. Today, Strongher has 300 ambassadors leading rides and hosting events around the world. In early 2018, it launched the Strongher app, which connects female cyclists of similar riding style and ability.
Growing the sport's fan base, Vos hopes, will lead to more mainstream coverage of women's races, which slowly seems to be happening. Last year, before the -women's Tour of Flanders, Belgian rider Jolien D'hoore tweeted, "We ride the same day as the [male] pros. A live broadcast is also welcome." Retweeted more than 200 times, the message jump-started the #wewantrvvlive campaign. A few days later, the event organ-izers tweeted back. "Let's make this official! There'll be live broadcasting of the Ronde for Women, thanks to @proximus and @sporza!"
---
Vos has returned to full-time racing. She's currently the leader of the WaowDeals Pro Cycling team, though she still doesn't feel 100 percent. She is committed to resting more and focusing on a few major races.
The rest of her 2017 season was marked by the highs and lows she's now grown accustomed to. After winning the European Championships in August, she came down with a serious cold and struggled in many of the major winter races. In February, she competed in the Cyclocross World Championships in the Netherlands, where she placed 18th. Her first win of 2018 came a few days later, in the C2 Parkcross cyclocross race in Maldegem, Belgium. In March, Vos and her team turned to the season's second major road event, the Netherlands' Ronde Van Drenthe, where she placed fifth. She plans to compete in the other Women's World Tour events this summer, targeting the Road World Championships in September.
Last summer in Montferland, as the National Road Championships neared the finish, Vos hopped out of the team car for an interview, then joined her sponsors inside the viewing tent to watch the end of the race. At the finish line, the crowd clustered near a beer truck, glued to a screen showing live footage. As the riders swung into the final lap, the leaders jockeying for position, the announcer's pitch rose two octaves: "Dit is een typische vrouwenkoers!"
"He was saying, 'It is a typical women's race,' " said Inge Neijenhuis, a 45-year-old Dutch high school teacher and amateur racer who I met on the sidelines. "It's a compliment. That means it is constantly moving and changing—anything can happen. 'Women's race' is synonymous with 'interesting.' "
As the peloton crossed the finish, my pulse raced. Still, I was skeptical that more coverage would get more women on bikes. I'm a believer in the grassroots cycling groups that have popped up all over the world in the past five years. I founded one in 2011 to meet other women to ride with in Alabama, one of the least bike-friendly states in the country. Today we have over 1,000 members on Facebook, and a few hundred show up for rides and clinics, including some who drive from nearby states for the camaraderie. Few of us follow pro racing. I have seven bikes but no cable TV.
Then, at the podium ceremony—where the medals were bestowed by fresh-faced podium boys in white button-down shirts—I met Kayleigh, an eight-year-old cyclocross racer who came to watch the women race. Her dad, Norbert, scrolled through photo after photo of Kayleigh mugging with her idols, Olympic road cyclists Annemiek van Vleuten and Anna van der Breggen, Vos's gold-medal-winning teammate.
I asked Kayleigh what made her want to race bikes. Her father translated.
"I saw the women," she said.
"What women?"
"The ones on TV."
I asked what her cycling dream is. She cocked her head and thought for a moment.
"To be world champion."
Kim Cross (@kimhcross) is the author of  What Stands in a Storm. This is her first feature for Outside. James Cannon is an Outside contributing photographer.