The Cycle Life: George Hincapie talks Paris-Roubaix
Heading out the door? Read this article on the new Outside+ app available now on iOS devices for members! Download the app.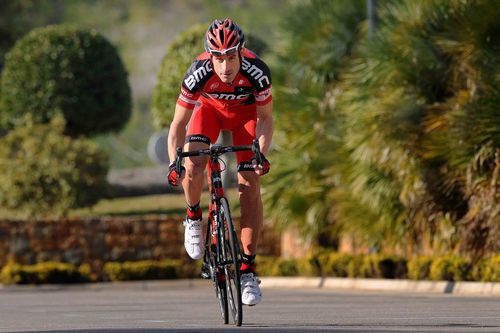 ©BMC/Tim de Waele.
This Sunday, BMC Racing Team's George Hincapie will line up for his 16th Paris-Roubaix as the top American contender. At 37 years old, he's been trying to win this monument of cycling for a long time and come heartbreakingly close (seven times in the top ten, including 2nd in 2005 and 4th in 1999 and 2001). At last week's Tour of Flanders, BMC proved that it's up to supporting him: The team almost singlehandedly brought back the dangerous breakaway duo of Fabian Cancellara and Sylvain Chavanel, and both Hincapie and teammate Alessandro Ballan reached the line in the select first group of 12, finishing 6th and 12th respectively.
But Paris-Roubaix, or The Hell of the North as it's known, isn't a race that's won on form alone. At 160 miles, it isn't the longest race of the year, but the extended passages of brutal cobbles (there are 32 miles of pavé spread over 27 segments) make the entrance to each section a drag race for positioning that can lead to time gaps and crashes. Because the cobbles are so hard on riders and equipment, they add a layer of volatility that's unmatched in the racing season. Case in point, in 2006 Hincapie crashed out of an elite group at the head of the race just 30 miles from the finish when his steerer tube broke on a rough section. Often, rain, snow, and freezing temps make the race even harder. And if Hincapie hopes to win, he'll have to overcome a strong field, including odds-on favorite Cancellara, Quickstep's one-two punch of Chavanel and Tom Boonen, a scrappy Juan Antonio Flecha, and many others.
A few days before the race, I caught up with Hincapie to see how he was feeling about his prospects for the 2011 edition of Paris-Roubaix.
–Aaron Gulley
www.aarongulley.com 
OUTSIDE: You've been chasing a win at Roubaix for years. Is this the year?
HINCAPIE: [Laughs] I've, uhhhh, have stopped making predictions.
When did the race become one of your primary objectives.
I knew from the start [of my career] that I was good at these types of races. I had some decent results early on, making the breakaways, making the first groups, and that was when I was still a pretty young rider.
How did such a tough race become one of your favorites?
The history of the race is very appealing to me. The fact that it's so difficult on your body and there are so many variables that can happen throughout the day makes it, in my opinion, one of the most exciting races we do all year.
Has this race gotten harder for you with age? Does it hurt more?
No, it just depends on my fitness. When I'm fit and healthy I think in some ways my experience helps a lot because I'm able to save energy where earlier in my career I probably would have spent it. It's simple: If you have a bad day in this race, it's horrible and you suffer through it and do what you can. But I don't believe that age is a factor. Although maybe it takes me a couple more days to get over it after the race.
Do you have favorite passages? Are there sections that you dread?
Every section is pretty brutal and terrible. The Arenberg Forest is tough, and that's not even the toughest [editor: this often-decisive 1.5-mile stretch comes 107 miles into the race]. From the Arenberg on they get really difficult.
With your teammate, Allessandro Ballan, also showing good form, does that complicate your aspirations?
No, it makes my chances even better. The more numbers the team has [at the front of the race], the more of a chance I have to win. Allessandro and I have a really good understanding. We know how to communicate well at the end of the race. If I feel really good I'll tell him, and he would do the same for me.
What would it mean to you to win Paris-Roubaix?
It would be a dream come true. I could leave my shoes on the track and walk away.
Trending on Outside Online