Denver Residents Are Fighting for Bike Safety
After two deaths and a shift in the conversation in Colorado, advocates are cautiously optimistic that change is coming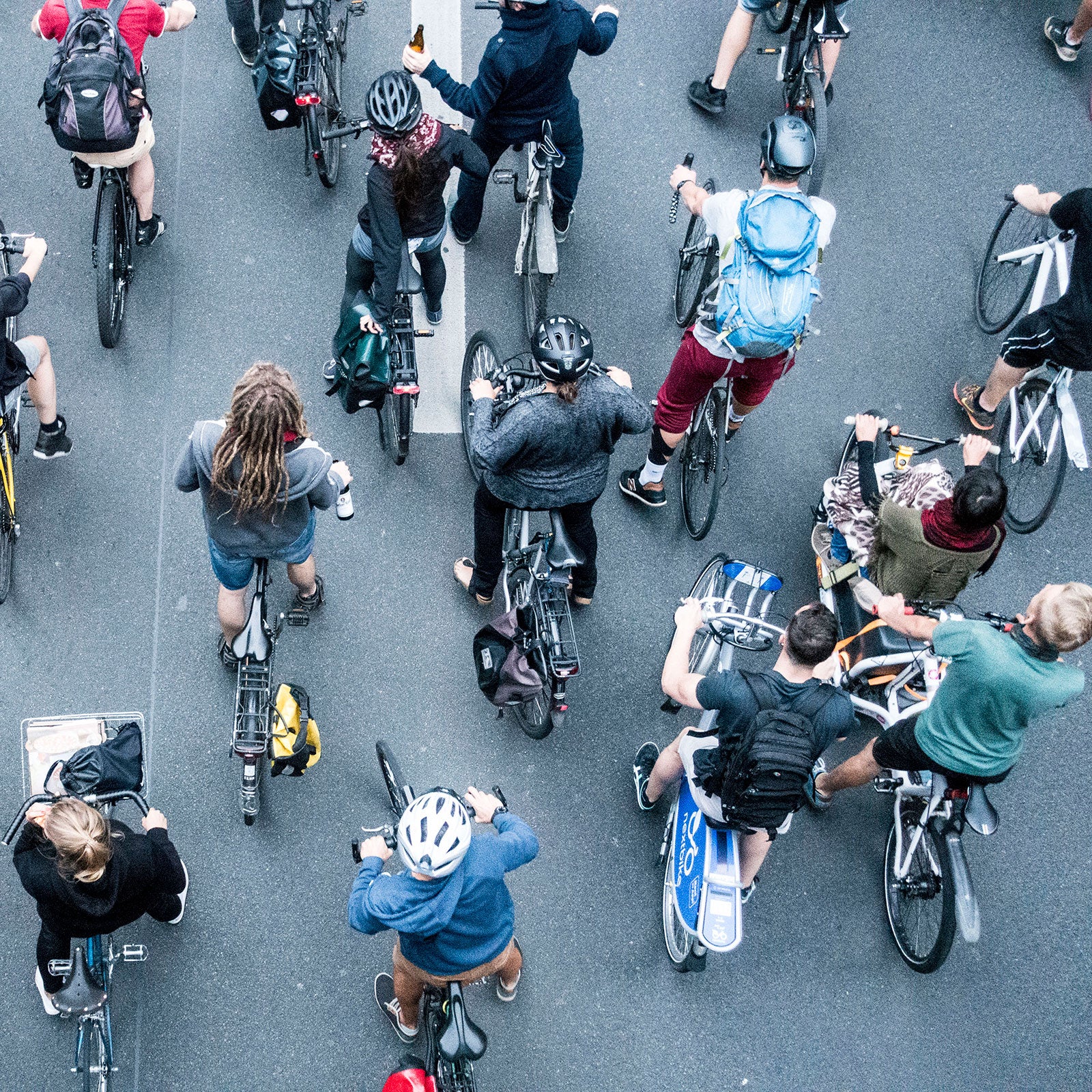 NurPhoto/Getty(Photo)
Heading out the door? Read this article on the new Outside+ app available now on iOS devices for members! Download the app.
Denver's cycling community made it through the first six months of the year without a driver-cyclist crash fatality. That changed on July 12, when a driver at an intersection in the Valverde neighborhood, just south of downtown, struck and killed Scott Hendrickson, who died the next day. Not even two weeks later, another cyclist, Alexis Bounds, was killed when a dump truck made a right turn into the bike lane.
In the past, the aftermath of a cyclist's death in Denver would likely have gone the same way it does in countless other cities: a quick and bloodless story in the local media, anger, and calls for action, followed by a gradual return to the numbing realization that little is going to change and traffic deaths are simply normal.
But this time, something seems different in the Mile High City. The response, including a revived Critical Mass ride, is louder and more sustained. Advocates are voicing a cautious hope that, perhaps this time, tragedy will lead to lasting change. 
Maybe the difference is the proximity of the deaths. Maybe it's that Hendrickson was a well-known cycling advocate or that Bounds was out for her first bike ride after the birth of her second child. Maybe it's that Bounds's death occurred on Marion Street, just behind the Denver Country Club, where neighbors have been protesting plans to add a protected bike lane that would include the very spot where she died.
"She wasn't the first person to get hit at that intersection," says Rob Toftness, a Denver resident and bike advocate who helped organize last Friday's Critical Mass ride. That's partly why the city chose it for a protected lane. Toftness, who tweets from the handle @nosquish (as in trying not to get squished by a car) calls the opposition to the lanes "ridiculous."
Whatever the case, the reaction has been as fierce as it has been swift. In an unusual shift, it's been led in part by the local mainstream media, with coverage largely steering clear of the detached, clinical language often used in articles about such crashes. The Denver Post ran an editorial telling drivers to pay more attention on the roads, especially when around vulnerable users. But no one has surpassed influential local TV news anchor Kyle Clark, whose NBC affiliate station, KUSA, has done multiple stories about the crashes and the community's outraged response. Clark's own commentary has been sharp. "Arguing for aesthetic appeal while bodies are lifted off the pavement is a bad look," he admonished in a blistering on-air editorial.
"That piece was absolutely smoking," says Jonathan Fertig, an architect and longtime vocal bike advocate in Boston who moved to Denver a year ago. "He held no bars." Fertig co-organized Critical Mass with Toftness and created the spring's Red Cup Project. Like other Denver riders, he's fed up with the slow pace of change. The two cyclist deaths, so close to each other, struck a nerve that the 15 pedestrian deaths so far this year have failed to do.
It's not that Denver ignores traffic safety for vulnerable users. Two years ago, the city introduced the five-year Vision Zero Action Plan, an initiative that spelled out ambitious goals to make streets safer for cyclists and pedestrians. "We think it's a national-level model plan," says Piep van Heuven, policy director for Bicycle Colorado. That's in part because of a focus on arterial streets called a High Injury Network and on low-income neighborhoods that see higher crash injuries and death rates, like Valverde, where Hendrickson was killed. It also enumerated specific benchmarks for how many new miles of bike lanes and sidewalks Denver should build per year (20 and 14, respectively, in 2019, jumping to 25 and 20 in 2020).
Still, follow-through has been erratic. So far, Denver has just nine miles of protected bike lanes (the first lane, on 15th Street, was built in 2014) and 28 miles of buffered lanes. The long-sought two-way protected bike lane on South Broadway, a vital north-south connector, has faced years of delays since a 2016 pilot project.
Whether due to slow progress, exploding growth, or some combination of the two, reducing deaths and injuries has proved stubbornly difficult. With 45 traffic-related deaths already this year, Denver is easily on pace to surpass last year's 61 such deaths, the highest in a decade.
Walk Denver gave the city a middling grade of C last year for its plan execution, which Jill Locantore, the organization's executive director, chalked up to missed goals (her group awarded Denver an A for new bike lanes but an F for new sidewalks) and the fact that improvements haven't focused on the High Injury Network. Most HIN roads are also designated as state highways, which makes for a complicated design process that includes the Colorado Department of Transportation. A recent Denver Post story noted that, even with vastly increased budgets, officials estimate it could take 18 years to fully build out its planned sidewalk and bike-lane network. 
Denver's halting progress has led to criticism that Vision Zero is more for political optics than anything. I started to ask Fertig if he thought Denver had made adequate progress when he cut me off: "No, absolutely not. The mayor [Michael Hancock] has tended to talk a big game in the past and has consistently failed to deliver."
But trends like population growth also represent an opportunity for meaningful change, says Eulois Cleckley, executive director of Denver Public Works. "We have a new generation of folks who put more value in traveling around in other modes," he says. "This kind of aligns with where the city is going." Cleckley, who was hired in December 2017, is the man most responsible for making these changes happen. And area transportation activists are mostly encouraged, not only by what he says but his own personal habits. "He doesn't own a car in this city, which is amazing," says Fertig.
"Eulois has a huge job," says Van Heuven. Cleckley restructured the department and has tripled the number of mobility staff in the past year. He says the city has built 184 miles of bike lanes (including the nine miles of protected lanes) and has 125 more planned for the next five years. This fall, Denverites will vote on creating a new transportation department out of public works. That kind of change could slow down immediate progress, but it could also create an opportunity to build a bike- and walk-friendly culture at the new department.
Cleckley also points out that infrastructure is just one aspect of Vision Zero. "There's enforcement, there's education … a whole bunch of factors that make a city safe," he says. Van Heuven points out that only about 40 percent of people have their minds made up about bike lanes—20 percent for and 20-percent against. "That 60 percent in the middle is important," she says, "because they need to understand the why." "The message [we need to send] is that, although this is change, it's necessary, and we're going to have to share [the roads]," says Cleckley. That may be a hard sell to some residents. Just days after Alexis Bounds's death, one of the Washington Park neighbors opposed to the Marion Street bike lane was still unmoved. "All I care about is preserving the beauty of the parkway," Patsy Brown said, as reported by Streetsblog.
Talk like Brown's leaves activists fuming. Toftness often tweets about delivery trucks blocking bike lanes and says that enforcement is largely nonexistent. As for education, "maybe you get 30 percent of people to change the way they drive, but 70 percent are still ripping right turns into the bike lane," he says. "If there's a barrier there that stops 100 percent of people, behavior will change."
To speed up the planning process, Fertig says some aspects of street design should be treated like architectural approvals. Planning boards and citizens can change things like building heights and facades, "but the thing that isn't up for community comment is how many fire [escape] stairs you can put in," he says. "Those are things we have to do, because code says this is what you do to make the building safe. It never made sense why we treat streets in a different way."
With Cleckley and a handful of other cycling advocates newly in office, including several city-council members elected in part to solve Denver's growth issues, such as transportation, things may be looking up.
Still, a lot more needs to happen. Mayor Hancock has to commit to specific actions in the Vision Zero Action Plan and support staff like Cleckley in the face of vocal opposition, says Locantore. Cleckley has to successfully navigate the public-works restructuring to create a culture where street design includes walking and biking as at least equal to cars. Denver's populace has to come to terms with the fact that 75 years of car-centric transportation design will take time to rebalance—and must as the city grows—and accept that simply owning a house doesn't give someone a special right to determine what happens on the public right-of-way in front of it.
But more than anything, more than the education and the restructuring and the politics, one change will make the biggest difference of all. "It's time to build the damn bike lanes," says Van Heuven.
Lead Photo: NurPhoto/Getty