Do Bikes Belong on Ski Hills?
A years-long battle has so far kept Oregon's Timberline Ski Resort from building a mountain bike park. We take a snapshot of the bigger picture.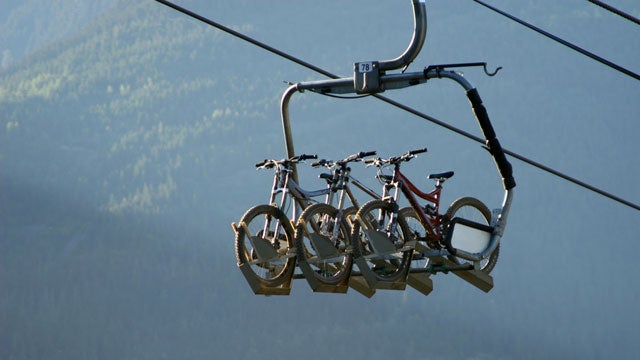 Heading out the door? Read this article on the new Outside+ app available now on iOS devices for members! Download the app.
This summer, during his speech to roll out his climate action plan, President Obama pondered the impact climate change is having on the United States tourism industry. "Mountain communities worry about what smaller snowpacks will mean for tourism," he said.
Indeed, ski resort managers are thinking a lot about how to fill their year-round offerings to adapt to a future with more erratic storms and less predictable seasons. Mountain biking is one obvious answer.
Resorts have been offering lift-served mountain biking for well over a decade, but as iffy snowpacks continue to drive down winter visits, it's likely that more resorts will start building out mountain bike trails.
That's why mountain managers and riders alike should be following a years-long legal battle being fought on the flanks of Mount Hood, at Oregon's Timberline Ski Area. Opposition to mountain bike trails is nothing new, whether those trails are lift-served or otherwise, and whether concerns are linked to environmental issues or a general dislike for mountain biking, expressed by people who would rather not share trails with bikes. But the Timberline case marks a new level of intensity in the debate, and it could have ripple effects as other resorts seek to build or expand bike parks. 
The Issue
Opponents claim that the Forest Service wrongfully green-lit a 2010 proposal by Timberline's operator, RLK and Company, to build a 17-mile network of downhill mountain bike trails and a skills park at the resort. A coalition of groups – Sierra Club, Northwest Environmental Defense Center, Friends of Mount Hood and Bark (a Mt. Hood watchdog group) – appealed the Forest Service decision, made in late 2012, to allow the park. But this past May, after the appeal was denied, the groups filed suit.
The Timberline park plan is simply the wrong park at the wrong place at the wrong time, say the suing parties. They allege Timberline is already failing to mitigate negative environmental impacts from recent developments, that the decision was made without thinking about cumulative impacts of other current projects on the hill, and that the bike park would only exacerbate the flow of sediment into nearby waterways that flow into salmon and trout habitat, further erode the mountain's native flora and apply undue stress to wildlife.
RLK is under an injunction to not break any ground on the project until the lawsuit runs its course.
The International Mountain Biking Association (IBMA) wants to see the park built, says its communications director Mark Eller. "Opponents have made some remarks about mountain biking being inherently destructive, and we would oppose that on every level," he says. "Yes IMBS believes all outdoor activities have impact on the natural world. Mountain biking has been shown to be right on the middle of the spectrum. Not a heavy impact, but some impact. Those issues take away from the worthy debate over whether this is a good time to add more recreation opportunities to the Timberline resort. That has been examined [through the Forest Service environmental assessment] and the answer has been yes." 
Managed Versus Feral
David Corbin, vice president of planning and development for Aspen Skiing Company, says there has been very little opposition to construction of 50 miles of lift-served trails at Aspen Snowmass. He believes as more resorts develop lift-served trails, the level of stewardship they perform to limit negative impacts will grow. "I think now there is much greater care or concern going into the use [than when resorts first started building bike parks]. There's more maintenance and preservation of those trails." After all, regardless of environmental concerns, their business depends on keeping the parks in good shape and maintaining them to Forest Service specifications.
On the other hand, he says, "we're seeing a lot of bandit trails being cut in the National Forest, and even on our own mountain." Would more designated, maintained tracks dissuade individuals from cutting their own trails? And would that lessen the  negative impacts, via erosion, wildlife disturbance and runoff, that come with those trails? Corbin thinks it might. At the very least, maintained trail concentrate mountain biker's environmental, rather than allowing them to spread, unchecked, into the wilderness.
Legitimate Use
Regardless of whether terrain parks might cut down on illegal trails, the U.S. Congress said bikes belong on chair lifts when it passed the Ski Area Recreational Opportunity Enhancement Act of 2011. This law updated the archaic National Forest Ski Area Permit Act of 1986, which didn't even recognize snowboarding as a legitimate conveyance at resorts. The law also codified mountain bike terrain parks and trails as a legitimate activity – as well as zip-lines, Frisbee golf courses, and ropes courses. The law was also written with the intent of barring non-recreational uses of mountain resorts. In other words, it should keep Ferris wheels out of base areas.
This new law does nothing to supersede the government's authority to permit terrain parks and trails built on public land within resorts, however. As required by the National Environmental Policy Act, resorts must submit plans and perform an environmental assessment before anything is approved.
Even when the environmental assessment finds no significant environmental or cultural impact and permits a project, the resorts are beholden to a long list of mitigation tactics to minimize degradation due to the trails. In places like the Cascades, mitigation is focused on reducing impacts to wetlands and feeder creeks. "For ours for bike trails," says John Meriwether, director of environmental sustainability at Washington's Stevens Pass Mountain Resort, "we do not build on wetlands, so that means we've built around 40 to 50 bridges going across little creeks."
Green on Green
The Timberline case also highlights a conflict felt among some of those who stand up against certain mountain bike trail development: they are mountain bikers, themselves.
In an opinion piece published in Bike Portland, Bark board member Amy Harwood said the group is continuing the fight the Timberline project "despite the risk of being swept onto an anti-bike blacklist." 
She then frames the debate around whether paying to ride is anathema to mountain biking, calling the Timberline proposal "a luxury theme park for the dwindling leisure class" that can afford access to world-class bike parks.
It's an argument familiar to the lift-served versus backcountry skiing debate, and one that will continue forevermore. In the end, riders vote with their dollars.
Trending on Outside Online