Fat Bikes Vs. the Polar Vortex
The flow is slow—and the psi way low—but Jon Billman's blimp-wheeled rig helped him beat back the worst sub-zero winter on record.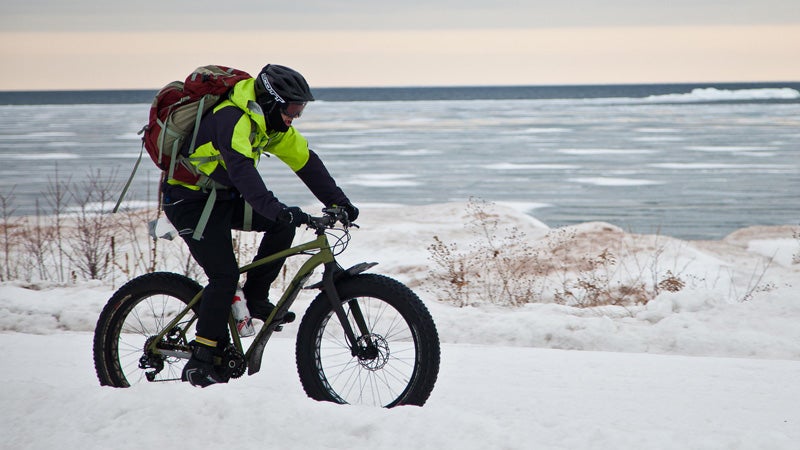 Heading out the door? Read this article on the new Outside+ app available now on iOS devices for members! Download the app.
My wife got the Subaru. We're still married and still live in the same house—a drafty wreck of a beach house built for the eight-week summer—but the Faustian bargain was that if I took a teaching job in Marquette, on Michigan's Upper Peninsula, she'd get a new all-wheel drive with heated seats and mirror defrosters, and—when we could afford it—I could get a fat bike. But hey, I lobbied: a fat bike isn't a toy, it's a tool. A carpenter needs a hammer, I said. You need another bike like a hole in the head, she said.
I'd never been to the U.P. and hadn't given it much thought outside of Hemingway's Nick Adams stories and the novels of Jim Harrison (who, oddly, lives in Arizona during the winter). We'd been living in Stillwater, Oklahoma, which gets its share of weather but nothing like the Upper Midwest. The U.P. is a little Alaska—we have wolves and whitefish and logging trucks—but better since it's only four hours to Green Bay! It's been colder than a tin toilet seat on the Edmund Fitzgerald since late November. I wear ski goggles to take out the trash, walk the dog, and shovel the driveway.
Most people have to bring their own job to the UP because there aren't many jobs here. There are iron miners and lumberjacks and stevedores and fisherman. I have the least North Country around—I'm an English professor. When I interviewed almost exactly one year ago, I stepped off the tiny jet in a sideways snowstorm. But it was warm, in the 20s! From my hotel room I saw a lime green creature roll through the whiteout down Front Street. Then a pylon-orange streak. This is how people got around on this frozen outpost, atop fat bikes! I could be a fat bike commuter. Since I loved to ride it'd be fun and maybe I could skip the gym.
This is my kind of place, I thought. Marquette is a type of Whoville. Spirited zipping and zapping. There's a world-class ski jump called Suicide Hill, and the UP 200 dog sled race runs through in February. There's an Olympic speed-skating training center here, along with the North American Skiing Hall of Fame. There's a manicured skating rink in the center of town. They groom 20 miles of snow-covered singletrack specifically for fat bikes. And in the evening you can watch fat bikers spin up and down the hills of the old downtown district; fat bike bar hops are an evening ritual here. It's this simple: You love outdoor winter pursuits or you move away.
---
MOVING AWAY ISN'T an ill-considered idea. As I write this, in late February, the "real feel" temperature is minus 39 degrees. I've lost count which Polar Vortex we're on, but the deep freezes have neutered the normally moderating effect the big water has on Marquette winters. Lake Superior resembles a Frank Hurley photo of Shackleton's Antarctica as it swallowed the Endurance. My route to work is 12.5 miles each way. I didn't get off the bike last night until 8:30 p.m., when I ate some aspirin and shellacked my entire body with Tiger Balm.
As I write this, in late February, the 'real feel' temperature is minus 39 degrees. I've lost count which Polar Vortex we're on… I didn't get off the bike last night until 8:30 p.m., when I ate some aspirin and shellacked my entire body with Tiger Balm.
In the summer and fall, it took me a pleasant hour on my 29er. Then the snow fell and didn't melt. I garaged my 29er and harnessed up a new Specialized Fat Boy. The bike had arrived on a truck and I assembled it in our living room and pumped up the tires. It looked like a cartoon come to life. There's nothing high tech about the bike, it's just mathematically smart, well-balanced, and pragmatic. It sports an aluminum frame, to resist corrosion. Lake Superior may be unsalted, but the Department of Transportation uses oceans of salt each winter. There's a carbon-fiber fork. Wide cranks, hubs and rims to accept the widest tires made. Hydraulic disc brakes, though I rarely reach speeds where they're necessary. That's about it. Not much more evolved than 1984.
Fatter is the future, Specialized said. And certainly around here, they're right. The Fat Boy comes with 4.6-inch Ground Control knobbies, nearly the fattest tire available. I'm gonna go on record that the tires are only going to get wider and tubeless and that the narrow-hubbed frames with less clearance are headed the way of the 26er.
"It's just blown up," says Greg Herrman, the man in charge of dealer support at Borealis, a Colorado-based company that builds high-end carbon fiber (sure, carbon fiber resists corrosion, too) bikes that can weigh as little as 23 pounds complete. He says that fat bikes are the fastest-growing segment of the cycling industry. Last fall parts suppliers had trouble keeping up with demand. "When it started they appealed to guys who wanted a fourth bike in the garage," he told me. "Now it's gotten to the point of mass adoption."
---
HILARY TOOK ME to the big-box craft store in her Subaru and I bought three 99-cent hobby-foam panels, cut them to shape with scissors, grabbed a handful of zip-ties and voila—fenders. The Fat Boy weighed in right at 30 pounds with my heavy clipless platform pedals; my office pack, by comparison, weights forty by the time I load it with my antique laptop, a pump, a spare tube, a soup Thermos, a coffee flask, various books, office clothes, and protein bars.
The best way to get your glasses broken in Marquette is to step off your new Fat Boy, amble into the Black Rocks Brewery on 3rd Street, and start bragging about your little ride to the office. There's a shortage of fatties and parts nationwide—especially tires and rims—and some of these guys had put a down payment on the Fat Boy sight-unseen in August and still hadn't seen it by December. Now the English professor wrangles one straight from the factory? In an attempt at stealth, I replaced the Fat Boy decal with a sticker of the U.P., which resembles a Seussian dogfish.
Some fun! In the videos it looks like skiing on wheels. Cold smoke, face shots, and float. Why, rolling to work would be a type of cheating, I thought. I'd fairly cane it! The popular documentary Cold Rolled was filmed in Marquette. The video shows locals trialing over natural ice sculptures and flowing along singletrack manicured with a proprietary groomer invented in the U.P. The bike-specific winter trail is called the NTN SBR—Snowbike Route—in the UP they call them snowbikes, as if to ignore non-winter altogether; I prefer the term fat bike so as not to confuse the rigs with those silly sleds the Beatles ride in the "Ticket To Ride" video. Nothing like some fat bike porn to get you fired up to ride; but the reality of the fat bike was not as YouTubey as I'd imagined.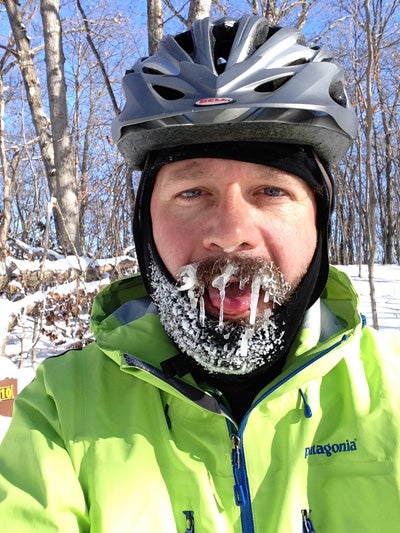 Fat bikes don't coast. Ever. At least on any amount of snow. It's like riding a fixie through a swimming pool. The difference is that you have 20 fixed gears to choose from, but you're either spinning or standing. In fresh snow you have to pedal down hill. The fattie has made me realize how much I cheated on my 29er in the dry—I hella coasted. My friend and go-to fat bike guru Yook, who has flames tattooed on his calves, said, "What did you expect? You gotta earn every inch."
Yook is a mountain biker, cyclo-crosser, and "not a skier"; I was noticing a pattern and a line in the snow—skiers don't fat bike and vice-versa. There's a lot of non-flow on a fat bike that no one talks about.
On my first ride, I headed into the jackpine woods. Three pedal strokes in I found myself doing a reverse snow angel after a header into the powder. I was moist and winded by the time I made the quarter-mile to where I'd tie in to the old railroad grade that is now called the Iron Ore Heritage Trail—my ice road to work. An old woman on cross-country skis glided past me. The next morning I woke up with a half dozen bruises on my thighs from whacking the top tube in that many falls.
I had to carve out an extra two hours in my day if I wanted to ride to work and back. More fresh snow and, even riding atop snowmobile tracks, the going was slow. I tried to figure out how I could engineer one of those magazine racks you see affixed to the exer-cycles in the gym so I could prep for work as I spun. Before the first test ride I thought for sure I'd want a cycle computer to gauge my speed, time, and mileage, but soon found that idea to be depressing. One night on my way home, a porcupine ran in front of, then alongside me. Then he pulled away, leaving me alone, crunching over the snow.
---
TIRE PRESSURE IS the paradox of the fat bike. Fatties talk tire pressure like roadies talk wattage and heartrates. How low can you go? I learned the hard way that it's much easier to let air out than to add air on the trail when it's -15 degrees.
I accompanied Yook to the Noquemanon 24-kilometer snowbike race and at the start racers mingled around in the sub-zero cold grabbing each other's tires like they were shopping for grapefruit. Except for Yook, who has a cool brass low-pressure presta gauge. But while it means extra floatation and grip, low is slow. And yes, there can be such a thing as too low, wherein your rear tire doesn't bite. In extreme polar cold, the tire can freeze in the deflated stance and, like a frozen flat basketball, not rebound to the round so that it clears the bike's frame as it revolves.
Roald Amundsen, the Norwegian who, in 1911, was the first to reach the South Pole, was a bicycle geek. In 1899, in part as a training trek, he and his brother Leon set off from Oslo and pedaled south to the southern coast of Spain. Two years ago my friend Edward and I reenacted the ride. But that was in shorts in summer, with all the spoils Europe has to offer.
That trip—and my daily trek to-and-from work—pales in comparison to Daniel Burton. Burton, who turned 50 in Antarctica this winter, rode his carbon-fiber Borealis Yampa with five-inch-wide fatties 750 miles from Hercules Inlet on the coast of Antarctica to the South Pole and became the first person to do so entirely by bicycle. He pulled two sleds—weighing nearly 200 pounds—behind the fat bike, over crevasses, through sastrugi, and into 40-mile-per-hour katabatic winds. His tire pressure was low (at times less than 1 psi!) and his speed was slow: some days he only covered between two and three miles (all day, not per hour). His longest day was just over 24 miles.
I spoke to Dan, who lives in Saratoga Springs, Utah, while he wrenched a bike in his shop, Epic Biking. I tried to brag about my ride to work, which is a little like telling Roald Amundsen you made a snowman in your front yard. Sweat mitigation was his biggest challenge (and this is on a trip where he was forced to cut outer-mittens from spare fat bike tubes). Daniel validated that it wasn't just me who had to work harder on a fat bike than on skis. "On skis you can ease off," he says. "On a bike you have to work to keep moving and stay upright." Much of the time, he says, he was struggling just to make "two to three knots." He admits that the trek from the coast to the pole can, in certain segments of the route from the Ronne Ice Shelf, be done faster on skis. "If you want to get to the South Pole fast," he told me, "take an airplane. It's not about being more efficient—I was trying to find out, Can you bike to the South Pole?"
---
I TEACH A NIGHT class on Thursdays. I can see it dumping in the security lights out the window. I leave campus at 10 p.m. It'd been snowing most of the evening—ski goggles mandatory, but I can tell by my feet (they're comfortable) that it's warmer. I've got Neil Young's Dead Man soundtrack on the iPod—appropriate music for a solo mission. My breath makes fog in my headlight. I roll down slushy Seventh Street—the only section where I really test my brakes, which honk louder the colder it is, but tonight are quiet and don't fade, telling me it's warmer—and onto the bike trail system. The trail along the lake is soft with fresh snow, which my tires push. I bleed two or three pounds of air from the tires which helps with float and grip, but costs me a couple gears. The snowmobiles have not been out and I'm spinning fast and going slow. I can see my rear Blinder reflecting red in the fat falling flakes like an airplane light.
I need to tell you that I'm hooked; far worse than a bleak forecast is the thought of having to catch a car ride to work. I'm not that excited to be at work, and the people I work with who are cranky—I promise you this—all drove themselves there. To fat bike in winter is to make your own fun, which is what you have to do in the U.P. And on the SBR there is a section of chicanes where you can rail perfectly bermed curves and the air-hockey feeling of super-fat tires on snow makes for a pretty good definition of flow. So in that sense, I tell myself, all those miles to and from work are training in order to make the climb up Benson Hill to get to the fun singletrack stuff.
I'm hooked on the fattie for the same reason I'm hooked on the literature of polar exploration in the late nineteenth and early twentieth centuries. Movement—transportion—is a constant puzzle in a wild, inhospitable environment. It's strategy. Equipment, calories, time, and air pressure. And I don't have to kill any dogs. If I had to have only one bike it'd be a fat bike (and the fat bike has me thinking this isn't a bad idea). I'm going to hear from the studded-tire cyclocross townie set here, but I'll argue that, out where I live, it's literally the only machine that will let you ride every day, all year long.
Has spending three to four hours a day on the bike gotten me into the shape of my life? I'll let you know in spring, if it ever arrives. The commute makes the fat biking mandatory in my life. But more than that the commute has become the highlight of my workweek. It's a great view of the world: the one through foggy goggles, atop the big rig. Sometimes, as I rolled along at my porcupine pace, I'd think of something Daniel Burton told me, and to which I could relate: "I had gotten to where I just hated winter, but the fat bike has made it not so bad anymore."