Floyd Landis Still Has a Lot to Say
The disqualified former Tour de France winner speaks openly about doping in cycling, moving forward, and his burgeoning CBD business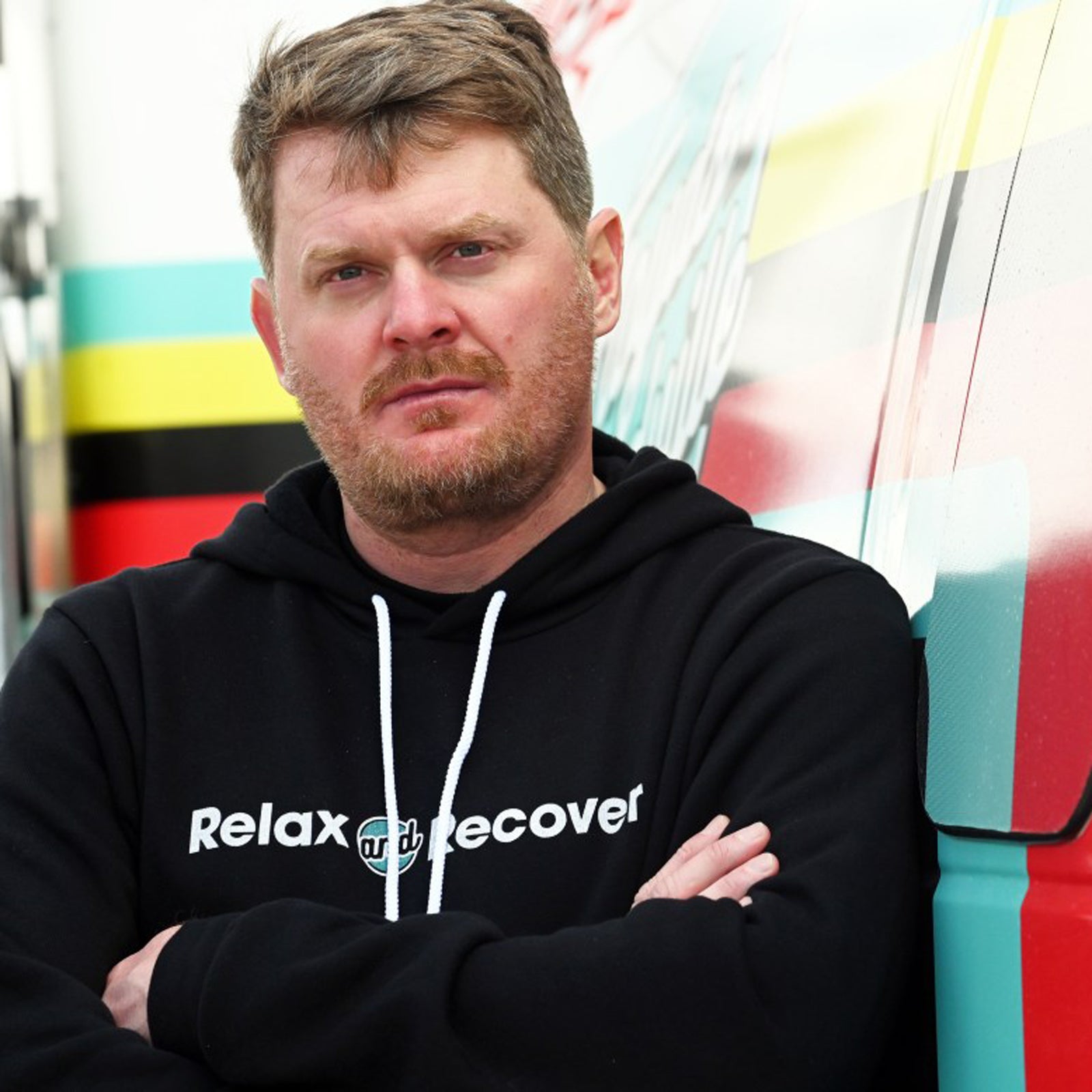 VeloImages(Photo)
Heading out the door? Read this article on the new Outside+ app available now on iOS devices for members! Download the app.
Floyd Landis sits on a tired couch in a half-lit living room in a mining-era bungalow in Leadville, Colorado, the highest city in America (elevation 10,152 feet). Sprawled around the former professional cyclist and 2006 Tour de France winner—a title he held for four days until he tested positive for an illegal level of testosterone—are his business partners and management team. Everyone has a laptop open, the glow from the screens lighting their faces as they discuss new markets and distributors. Kids in diapers run around. Wives and girlfriends chat in the bright kitchen. Dogs chill on the back step. There is no pot smoke in the air, no bud on the coffee table. 
Which is notable, because the bungalow is corporate headquarters for Floyd's of Leadville, the successful marijuana and cannabidiol (CBD) company that Landis founded in 2016. It's the hottest CBD provider in cycling, with thousands of bike shops moving the THC-free product to recreational riders in search of a solution to their aches, pains, and anxious lives. Floyd's of Leadville also owns a dispensary in Leadville, as well as four shops in Portland, Oregon, that sell marijuana products, primarily to athletes.
In the years since Landis, now 43, lost the biggest bike race on earth and then wrote the famous 2010 letter exposing the systemized doping by his former U.S. Postal Service teammates (including onetime friend Lance Armstrong), he's been seen as a whistle-blower and a pariah, a hero and a villain. His body has been wracked by the pain of a hip replacement, his mind tortured by the anguish of public shaming, hatred, and guilt. He's survived depression, alcohol abuse, the breakup of his marriage, and the 2006 death of his father-in-law to suicide (a tragedy that Landis believes was connected to the scandal). 
Last year the final chapter of that story finally came to a close with the settlement of a federal lawsuit that Landis filed in 2010. Armstrong paid out $5 million in settlements, $1.1 million of which went to Landis before taxes. (Landis's legal team was compensated another $1.65 million in legal fees.) But Landis has also been repaying the plaintiffs in a separate criminal case successfully brought against him in 2012 by former donors to the defense fund he started in the wake of his 2006 positive test results.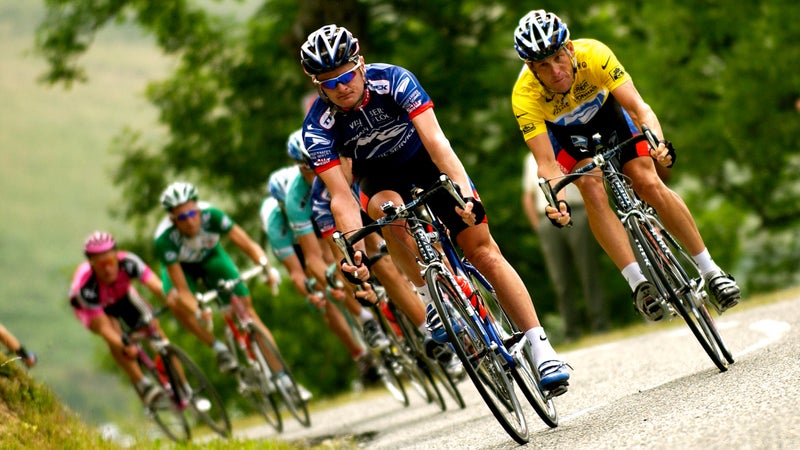 For the sport, the entire saga has been about as therapeutic as a public hanging. The more the truth came out, the more it seemed that a handful of cyclists paid the price for many. That group included Armstrong and Landis but also their former teammate Tyler Hamilton and coach Johan Bruyneel, as well as their onetime rival, German star Jan Ullrich. Like Landis, most of these people were blacklisted and several suffered a twisted penance, battling depression, substance abuse, or both. Meanwhile, other riders who admitted to doping or were caught—and who later testified in exchange for what amounted to free passes—became commentators, coaches, and officials. Today many of these public figures act as if the sport is all better now that Landis and Armstrong have been excommunicated. It's not. Last year the rosiest estimates that I got from informal discussions with pro-cycling insiders had the percentage of totally clean riders at just 50 to 60 percent of last year's Tour de France riders.
For his part, though, Landis is doing better. Last summer I spent a day with him in Leadville, and he gave me a tour of the pot shop turned national brand he founded in 2016. The two of us got out for an hourlong spin on gravel bikes on the local bike path. My goal was to try to know him beyond the caricature of the rube Mennonite and gifted cyclist who couldn't lie as well as Armstrong (disclosure: I also cover Armstrong's podcast for Outside). Landis seemed a bit unnerved around me—I've interviewed former military people with PTSD, and his demeanor at times seemed similar, as if he had to steel himself to talk about his past. But he spoke with pride about his business, and he didn't turn away from any questions I asked. What follows is a condensed, as-told-to version of his responses.
---
When I was first busted, I was angry. I knew the truth. I knew that the tests didn't work, that I was the exception in getting caught. I knew the entire story. But if I told it, I knew I would be destroyed by the press and I'd never work again. It was a no-win situation. 
I love cycling, but at the end of the day, I think you have shady management that runs from the top down, from the level of the International Olympic Committee [IOC]. And you have them pointing at me, saying I'm a cheater. It's beyond the pale. I will never stop speaking out against the IOC, WADA [the World Anti-Doping Agency], and the UCI [Union Cycliste Internationale, professional cycling's governing body]. They destroyed my life. My father-in-law committed suicide. Where the fuck were they when I was 18? I will never stop my crusade against them.
Take the budget for WADA: it goes up every year, but they spend less on research than they did ten years ago. [In response, WADA spokesperson Maggie Durand told us via e-mail: "While the research budget has decreased, the special research fund of USD 11,678,510 received from Governments and the International Olympic Committee in 2014–2015 still enables us to conduct research at a proper level." Durand also said that WADA expects to receive "budgetary increases" from 2018 to 2022, which will allow the organization to reallocate more money for research.] I don't think they have any interest in trying to clean up cycling, because they know that doping controls don't work. The drugs will only get more sophisticated. They will never fix it. They should accept it.
Just let them do it. Cyclists already dope at will. Legalizing it would stop a few people a year from dying by suicide, from public humiliation. That would be the only change. 
You either quit racing your bike or you dope. The only people that walked away weren't talented enough to do it in the first place. Let me clarify that: there's never been a rider that was talented enough to win the Tour that didn't win because they didn't take drugs. 
If you're watching the Tour de France for moral lessons, you have real issues. 
The first time I doped was in 2002. I was 27. It was my first year on the Postal Service team. I had been on Mercury, a Continental team, before that. If you were racing your bike and you were trying to win, you were doping. The first thing I used was testosterone. I got it directly from Lance. [Armstrong declined to comment on this claim.] I'm not slamming him. That's not an unusual thing. Cyclists help each other out.
Today, middle-aged men probably take more testosterone than I took as a racer. It's culturally accepted. That's bizarre. 
Younger racers are facing the same problems now. They work for ten years and they give them the choice: dope or go home. If you quit, your work was wasted, and they call you a fraud.
In hindsight, I don't know if it was the right thing to do—to expose it all. Nothing was accomplished by it other than a few Americans paying a really dear price, including me. They took down Lance and they named some Americans, but the people from the European peloton are now team directors. You'd be hard-pressed to find anyone that's working for the European teams or governing the sport that didn't do the same thing we did. The Olympic Committee is worse than the Catholic Church at this point. I don't think the IOC has the right to use the word "ethics." 
The money I received from the whistle-blowing case came with a bad association. The thing that people hung over my head was that I was in it for the money. "Floyd thinks he's going to get $20 million." That was never true. After taxes it was $600,000. Every dollar went to Floyd's Cycling, a Canadian team I founded in 2018 that I'm the title sponsor of. I started Floyd's of Leadville with my own money and the help of investors.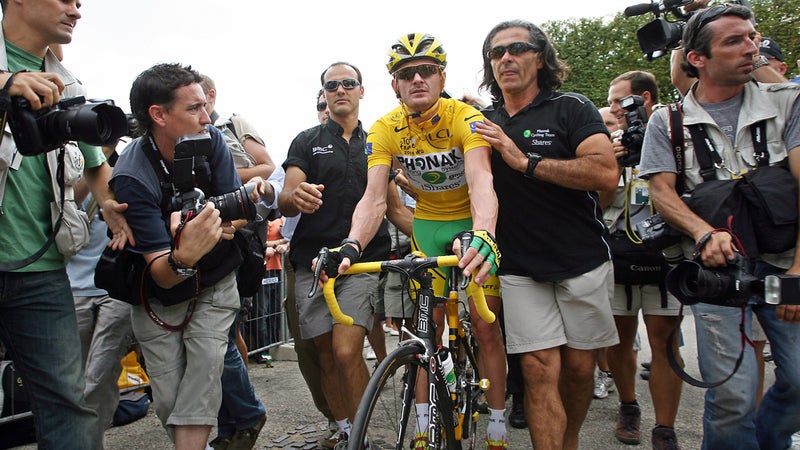 Lance? I hope he's alright. I felt like my punishment was outsized compared to the way everyone else was treated. I'm sure he feels the same way. I don't have any animosity toward him. 
I watched an interview with Lance recently, and he said he would do it all again. That's how I feel, too, but he was more or less crucified for saying it. I know what he meant. None of us started out trying to hurt anybody. You had to dope if you wanted to follow your dreams, and you had to defend yourself once you started. It's too fucked up to address. 
I hope we're all better people now.
For my part, I drank a lot of alcohol to deal with the controversy. I'm not advocating that, but alcohol helped me get through those times. When you have that much negative press… I can't put it into words. If you lived through it, you'd understand. 
Time healed me. Now I go weeks without thinking about those years at all. I found new things to focus on—my family and my business. It's a work in progress.
Initially, when I founded Floyd's of Leadville in 2016, we just focused on marijuana. We have four marijuana dispensaries in Portland and one in Leadville. But it's not just bud now. We've been selling hemp-derived products like CBD. That's half of our business. We sell CBD to 800 bike shops directly and 2,000 through Quality Bike Parts and other distributors. We also sell to 3,000 convenience shops. 
I still like the marijuana business. Even if socially you think legalizing marijuana is a bad thing, the alternative—putting people into jail—is worse. 
I was raised a Mennonite in Lancaster County, Pennsylvania, but all the Mennonite and Amish farmers know each other. We now have 85 farmers with three to five acres each in Amish country, growing hemp. It's good for them. Tobacco is not a cash crop for them anymore, which is good for public health but bad for the farmers. They're excited that there's a crop that they can get a decent profit from. They're the right people to grow it, too. You can't use industrial machinery because the oil in hemp jams up the works. 
With CBD, there's no oversight. There are good companies, and there are bad companies. The FDA isn't involved yet. The future depends on what the FDA does and how limiting they are on what we can do with it. Validating what's in the product would help. 
CBD isn't magic. It doesn't help everyone. But for most people, it offers an increased quality of life. It can help people sleep by calming your thoughts. We don't oversell that part, because it doesn't make you tired, it just helps you focus and keeps your mind from wandering. 
I'm not a very good salesperson. It goes along with not being a very good liar. 
I like to ride my bike again. It took a long time. An hourlong ride feels good, and it's good for my head—like when I was a kid. 
I'm no wise old man. But when you're 25, you feel desperate to make your dreams come true. Pace yourself. It's a long life. It's a long race.
Lead Photo: VeloImages
Trending on Outside Online