How Formula 1 Star Valtteri Bottas Became a Gravel Cyclist
The Finnish driver traces his cycling passion back to a misadventure on two wheels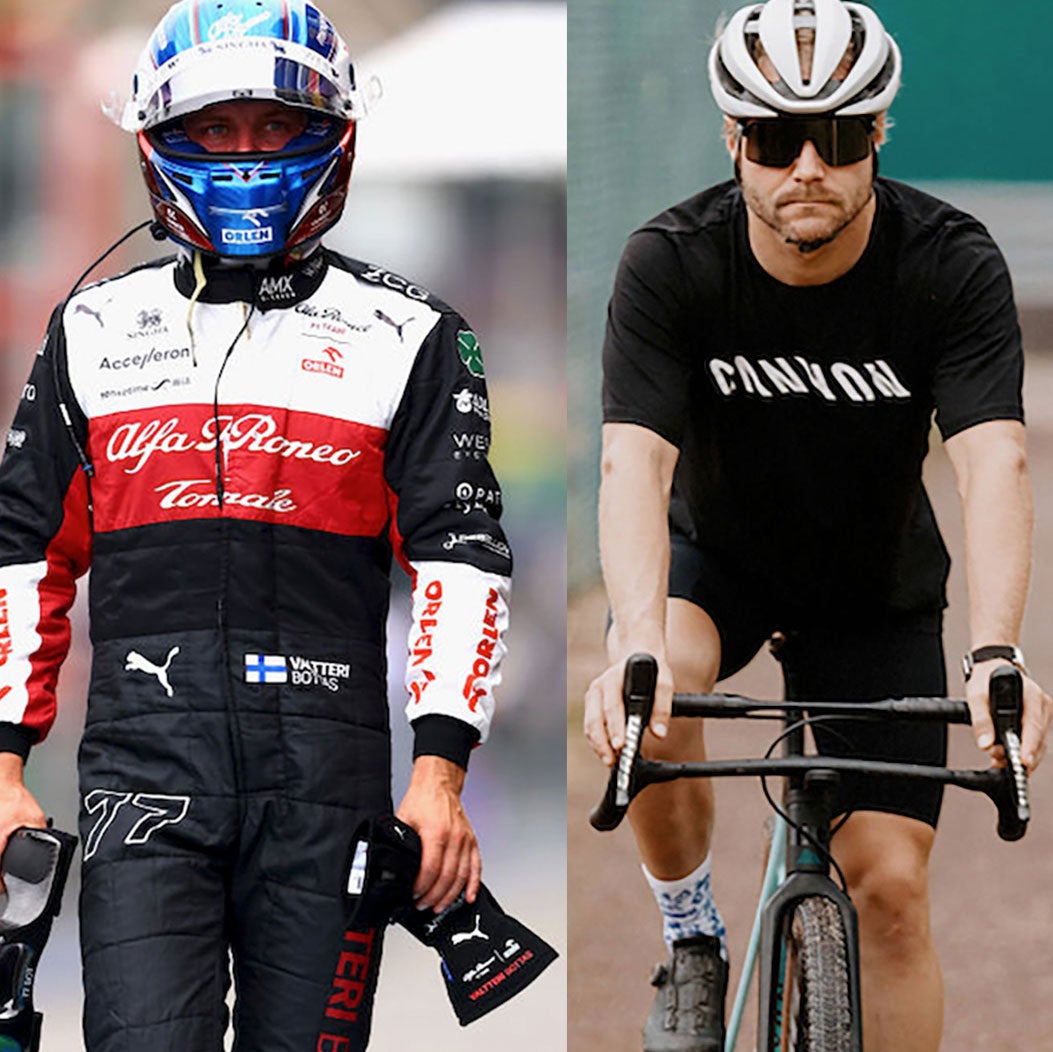 Heading out the door? Read this article on the new Outside+ app available now on iOS devices for members! Download the app.
This article was first published by CyclingTips.com.
Many cyclists remember their formative bike ride—that adventure on two wheels that ignited a passion for the sport. Formula 1 driver Valtteri Bottas has vivid memories of his. It was a chilly morning in November, 2013, and Bottas had recently moved from his native Finland to Monaco. Cycling is a popular activity within the tight-knit community of F1 drivers, and while Bottas didn't ride much at the time, he did own a road bike. So, when a fellow driver invited him to join the local group ride, he showed up ready to roll.
"I was on proper gear but maybe my clothing wasn't as appropriate as the other drivers," Bottas told me. "There were some ex drivers and professional cyclists—it was a nice mix."
The route was not long or particularly demanding: a rolling 30-mile out-and-back jaunt up the coast to the Italian border. As the group zipped along the winding roads, Bottas became absorbed by the sights and sounds of the peloton. He felt the pavement whoosh beneath his wheels, and marveled as the stunning coastline unfolded before the group. He found himself loving the new experience.
"I saw how fast you can gain by being in the bunch; just chatting along and everybody having a laugh," Bottas says. "At the same time, the sensations of the speed, of being so close to the other riders, and watching someone sprint away and then having the group catch them was new for me. It was so fun."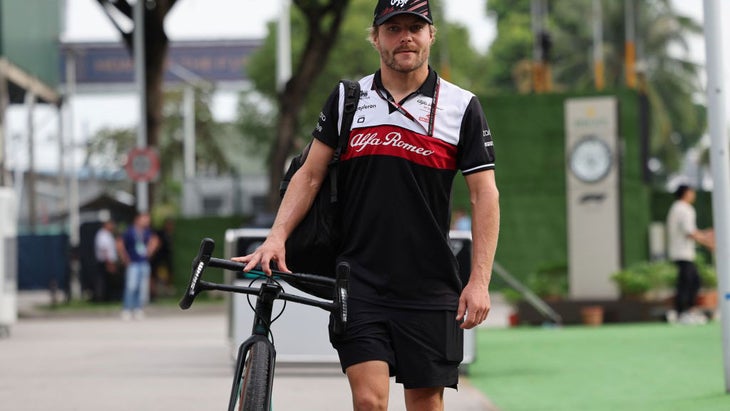 Bottas' newfound cycling passion was, alas, stronger than his leg muscles. The group picked up the pace on the return to Monaco, and Bottas slipped back through the peloton. Eventually he found himself riding into town by himself, exhausted.
"I got dropped. I got so annoyed that I told myself the next time I joined them I would never be dropped again," Bottas says. "That was really the motivation to pick up cycling. It seemed like such an easy ride for the pro guys and I blew up. Now that ride is a walk in the park."
These days, that ride feels like it was ages ago. Bottas, 33, has become one of the most famous cyclists on the planet. The fame, of course,  is largely due to his celebrity status within the world of Formula 1. In 2021 he won the Turkish Grand Prix for Team Mercedes ahead of Max Verstappen, and in 2022 he joined Italian racing outfit Alfa Romeo as the star driver. Bottas has also received ample attention from the Netflix docuseries Drive to Survive, which brought millions of new fans to auto racing and also raised his global profile. He has 3.6 million followers on Instagram alone.
And anyone who cares to click on Bottas's social media sites will see that cycling plays a major role in his life. He rides almost every day, and regularly posts photos from his training spins on Instagram. His partner, Tiffany Cromwell, is a decorated pro cyclist and an Australian Olympian. In January, Bottas clocked 71 total hours of riding—nearly two hours a day—which is pretty good for someone with a demanding day job. He's also a sponsored cyclist—in October, he inked a deal with bicycle brand Canyon to become an official ambassador.
"It's an addiction for me," he says. "It's good for me physically, and it does help with my racing. My endurance is on a good level thanks to cycling. But most importantly it's good for my head. It's a good escape from the noisy Formula 1 world."
Bottas no longer gets dropped on the easy 30-mile rides up the coast. His favorite rides these days include the Col de la Madone or the Col de Turini—two hulking passes that climb thousands of vertical feet.
"My fitness is improving and I prefer mountains—I'm not a climber, but I can still go up stuff and feel OK," he says. "You're going uphill for two hours on some of these climbs and coming down is so cool."
Gravel cycling has become Bottas' sport of choice, and he and Cromwell often navigate the dirt roads near their home in Monaco on long gravel rides. He also races gravel from time to time. In August, 2021, he traveled to Steamboat Springs, Colorado, to participate in his first gravel race, the 64-mile version of SBT GRVL. Bottas finished fourth place overall in the event and says he had a blast. So fun was the race, in fact, that he and Cromwell returned in 2022 with an announcement—he would launch his own gravel race in Finland in 2023 with the organizers of the Colorado race.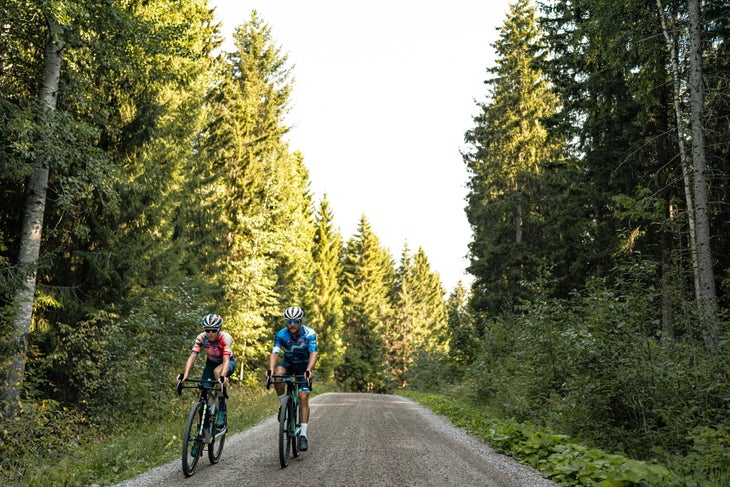 Last week, Bottas was doing press calls for the new race, called which is called FNLD GRVL, and we connected over the phone. The race is slated to kick off on June 10 in the town of Lahti in southern Finland with three different distances: 110, 50, and 30 miles. Launching a gravel race is a way for Bottas to blend his cycling passion with his desire to promote his homeland. "There are such cool gravel roads in Lahti. I grew up around there and have explored a lot of my mountain bike, and when gravel became a thing I wanted to show the riding here and showcase Finland," Bottas says. "It's something different, even within Europe. We're exposed to nature because we're so far north."
The lush forests and rolling terrain are Lahti's real draw, Bottas says. So is the fresh air and the relatively uninhabited countryside. It doesn't take long for a cyclist to leave the city of 100,000 and feel like they are in the wilderness, he says.
"There's a lack of traffic out there, especially on the gravel roads—you just don't see anybody," he says. "The gravel is pretty hard packed and fast, and there are also some trails. A lot of the route is cross-country ski routes from the winter. There are no mountains. Nothing that anyone can't climb, anyway."
I asked Bottas about his long-term vision for the event, expecting to hear a response about revenue goals, participant numbers, or sponsorship sales. Business metrics appear to be low on his list of concerns, at this point anyway. He's most interested in simply getting more people to ride. If he can harness the power of his global fame to bring first-time riders to an event, then that alone spells success.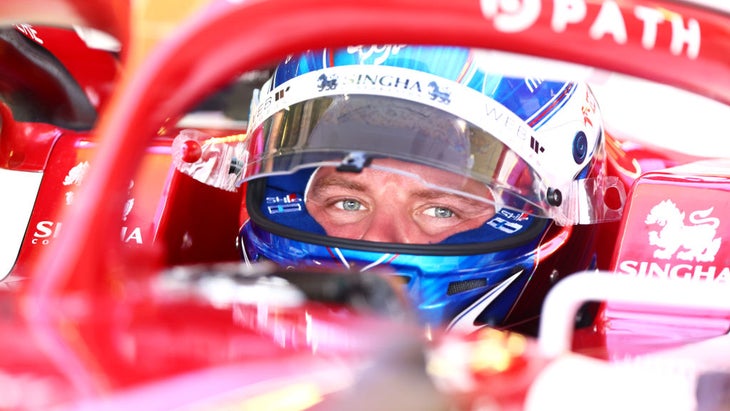 "I would just like to see more people get into the sport, and I feel like for some people, it's a big step to do an organized event," he said. "Road events can be scary, being in the bunch at high speeds. What I like about gravel is it's more accessible and less serious, and I feel like everybody is welcome, no matter what form you're in, where you come from, or your gender. There is a right distance for everybody, whether you're taking it on as a challenge or if you want to go full-gas."
New cyclists seem to be of ample interest for Bottas, and throughout our conversation he repeatedly mentioned his desire to open the sport up to the masses. Having seen the transformative power of Drive to Survive, he's seen firsthand what it's like when millions of new people simultaneously develop a passion for your sport. Currently Netflix is developing a similar series about the Tour de France, which was filmed in 2022 but has yet to air. I asked Bottas what he hopes the series captures about pro cycling—elements that could turn new fans onto the sport.
"It's a great way for people to see behind the scenes and actually get to know the personalities, whether its the athletes or the team personnel,," he said. "I just hope they take you behind closed doors. I'd love to see a typical training day for the riders. The emotions they go through. The teamwork side of things. I hope they can show how teams work together on the technology side, too."
When the Netflix series debuts this spring, you can bet that Bottas will be watching along, too. Of course there's no guarantee that it will bring cycling mainstream attention. Right now the streaming service is airing similar docuseries about golf (Full Swing) and tennis (Break Point), and both shows have generated plenty of chatter on social media. Whether that conversation brings throngs of casual fans to either sport, however, is still a question. Bottas has confidence that the Netflix magic can, at the very least, show people a new side of the sport—that's what it did with Formula 1.
"It showed parts of our sport to people who had never watched a race before, and some of them started to follow along," Bottas says. "I hope it does a similar thing for cycling, to encourage more people to watch or to go out and ride a bike."
There's a part of me that wonders if Bottas wouldn't be better off if his profile in cycling remained small. He told me that one of his favorite things about cycling is that he can attend major events and still feel like just another rider in the crowd. Sure, every now and then a fan recognizes him and asks for a selfie. But it's nothing like the attention he receives from his day job.
"Formula 1 racing weekends are hectic when the fans get to town, and it can become tricky to even leave the hotel and go to dinner—people will recognize you," he says. "Sometimes you just know you cannot go to a place because it will be a mess."
That's not the case at a bike race, where Valtteri Bottas can still attain that feeling he had during the fateful ride back in 2013. He can feel like just another guy in the crowd.
Lead Photo: Getty Images; FNLD GRVL