These East Coast Mountain Bikers Don't Want New Trails
A cabal of old-school riders in New England is fighting to keep their singletrack the way they like it: illegal and empty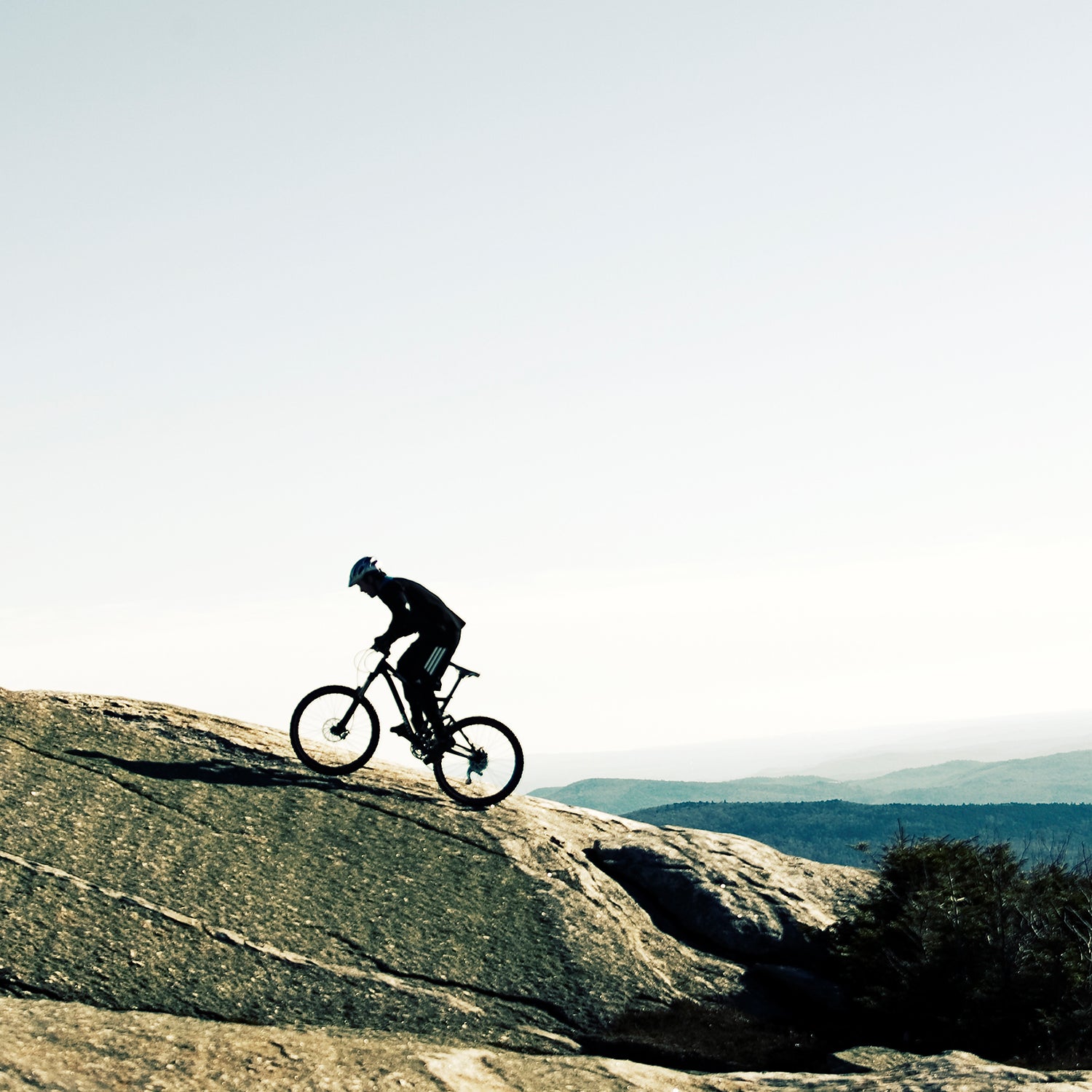 Heading out the door? Read this article on the new Outside+ app available now on iOS devices for members! Download the app.
Of all the outdoor athletes I've known, none can compete with mountain bikers when it comes to enthusiasm for building trails—especially illegal ones. Pirate trails, rogue trails, bootleg trails, whatever you prefer to call them, they're everywhere. They snake through the woods behind my home in a small New England city. I've found dense spaghetti monsters of trail networks in power-line rights-of-way in the exurbs of Boston. And wherever public-lands enforcement budgets are slim, there are renegade bikers carving out singletrack.
"They do a lot of work," agrees Jody Chinchen, a district trails manager with the U.S. Forest Service in New Hampshire. "They have a lot of energy."
Chinchen oversees more than 355,000 acres in White Mountain National Forest, where she is leading a project to fold illegal trails into official government-endorsed networks. She estimates that in her district, there is something in the neighborhood of 40 miles of unsanctioned trails dating back to the 1980s. The trails are split into two systems, and her office is targeting the smaller one first: around 17 miles of gnarly singletrack called Smarts Brook. Chinchen has been working with the International Mountain Bicycling Association to develop a proposal that would reduce erosion and reroute the steepest sections to make them more beginner-friendly. The working plan also adds a parking lot at the trailhead and signage throughout the network.
Trail Wars in New England

Outside Podcast episode
The effort is part of a larger trend in the northeast's woodsier regions, where shrinking small towns are looking to lure adventure travelers with mountain biking. The hope is that they can copy the success of places like Moab, Utah; Sedona, Arizona; Pisgah, North Carolina; and Bend, Oregon, by developing trail network that will empower expansive tourist industries while also staunching the flow of young people to major cities. The creation of the Kingdom Trails, more than 100 miles of singletrack built on private land in Burke, Vermont, back in the mid nineties, is credited with bringing in more than $10 million in tourism revenue per year to the area. Now, more than two decades later, other towns are seeing their chance.
Like any public project, the White Mountain trails conversion has its opponents. But in this case, it's not the hikers or equestrians you might expect. It's the mountain bikers.
Serious local riders are worried that an influx of newbies will overrun and quickly destroy their beloved clandestine trails, and they're pushing back hard. "The trails are going to get hammered and fall apart," asserts Jim Dill, a veteran mountain biker from Plymouth who's been enjoying the Smarts Brook network for many years. (When I asked if he helped build any of the trails, he said he'd "respectfully decline to answer.")
Rich Smith, another longtime Smarts Brook rider, argues that the Forest Service is taking control of trails it didn't build and doesn't understand. Smith and Dill also have a lot of complaints about the Forest Service's process, insisting that it's not transparent or inclusive and that the agency's approach to mountain biking over the years has been incredibly uneven, varying with each new itinerant federal employee on the job. But their core objection is that an influx of less experienced riders, who are prone to lots of braking and skidding, will wear away the trails.
"There are places for the masses, where they can manage them," says Smith, pointing to ski areas or other privately owned trail networks that charge fees or employ trail crews. "Leave the other places for the locals."
Ultimately, what's playing out in New England is a generational shift, where older locals accustomed to riding trails they built for themselves are succumbing to a wave of interest in mountain biking as both a sport and a driver of economic activity.
As evidence of what will become of Smarts Brook if the Forest Service's plan goes through, Dill points to the Moat Mountain Bike Trail System, just outside the popular vacation town of Conway, where the Forest Service completed its first pirate-to-legitimate conversion project in the White Mountains 2011. There, Dill says "overuse" has scraped away what thin New England soil there was, leaving exposed roots and rocks. "It's like riding down railroad tracks," he says.
The fact that the existing Smarts Brook trails were built illegally doesn't faze them. "So what?" says Smith. "A lot of the hiking trails started that way, too."
The Forest Service will soon be opening the Smarts Brook project for public comment, and it's aiming to settle on a finalized plan in fall 2019.
Beyond the angry old guard, many riders in the area seem to support working with the Forest Service. Most of the public responses to the early scoping proposal have been in favor of adopting the new trails, and the Pemi Valley chapter of the New England Mountain Bike Association–headed by a bike-shop owner—has been a key partner.
But the disgruntled riders have been a squeaky wheel, insinuating in public comments that NEMBA is only trying to drum up business for bike shops and ski resorts. Meanwhile, some preliminary mountain-biking trail signs that the Forest Service put up in the White Mountains have been vandalized or torn down.
The truth is, even if the Forest Service were to abandon the conversion effort, it's likely that Smarts Brook and other unsanctioned networks will be seeing more and more riders in the years to come. Thanks to mobile apps like the Mountain Bike Project, Strava, and Trailforks, digital maps of trail systems previously known only to a small number of locals can be accessed by anyone. And the more people who discover these once secret networks, the more likely that riders will expand them even further.   
That's exactly what I observed one day last fall, when Chinchen led me on a walk along the Smarts Brook trails. As we thrashed our way through the woods, following the yet-to-be-defined path of a redesigned trail, we emerged onto a trail that she wasn't expecting. She glanced up and down the unfamiliar singletrack and said, "So, this… is interesting." It was a brand new pirate trail that had been built right under the Forest Service's nose. "I don't remember this from two years ago," she murmured.
Ultimately, what's playing out in New England is a generational shift, where older locals accustomed to riding trails they built for themselves are succumbing to a wave of interest in mountain biking as both a sport and a driver of economic activity. As the Forest Service sees it, longtime riders should be contributing to the progress, not fighting to keep the woods to themselves.
"Everyone who cuts an unauthorized trail is not just violating federal statute but insulting the community," says Brian Johnston, the Forest Service employee who spearheaded the Moat Mountain trails project. "If there's a message that you've heard me convey, it's this: work with your local groups and land managers. If you're out there doing this on your own, you're messing it up for everyone in the long run."
Sam Evans-Brown is the host of the Outside/In podcast. You can listen to his expanded story on New England mountain bikers fighting new trails here.
Corrections:
(06/08/2023) An earlier version of this story incorrectly attributed a sentence about the Moat Mountain Bike Trail System. The story has been updated with the correct attribution. Outside regrets the error.
Lead Photo: Chris Milliman/Aurora