Riding 100 Miles* on a 102-Year-Old Bike
During the 2018 California L'Eroica, Bike Snob NYC braved saddle sores and a single pizza-size gear on a century-old Mead Ranger—all in an attempt to prove that bike technology hasn't gotten that much better. Or to prove that, well, maybe it has.
Heading out the door? Read this article on the new Outside+ app available now on iOS devices for members! Download the app.
In 2014, I traveled to Gaiole in Chianti, Italy, for L'Eroica. Founded in 1997 to "reconnect others to the heritage that inspired much Italian history, literature, culture, and music," the Eroica ride travels the famed Strade Bianche of Tuscany. Participants must ride vintage or vintage-inspired bikes that adhere to the following specifications: shifters on the downtube or bar ends only; toe clips and straps or original pedals for older bikes (no clipless allowed); no "aero" brake cables (they must run out the top of the lever and over the bars); wheels with low-profile rims and no fewer than 32 spokes.
Riding any type of bicycle in this beguiling region would have been stunning. Riding a vintage bike (even a loaner of questionable provenance) was transcendent. I'm hardly alone in feeling this way, which is why the Eroica format has replicated itself in various other sumptuous cycling destinations around the world, including the Peak District of Great Britain, La Rioja in Spain, and Paso Robles on the central coast of California, where I traveled in April to partake in my second Eroica.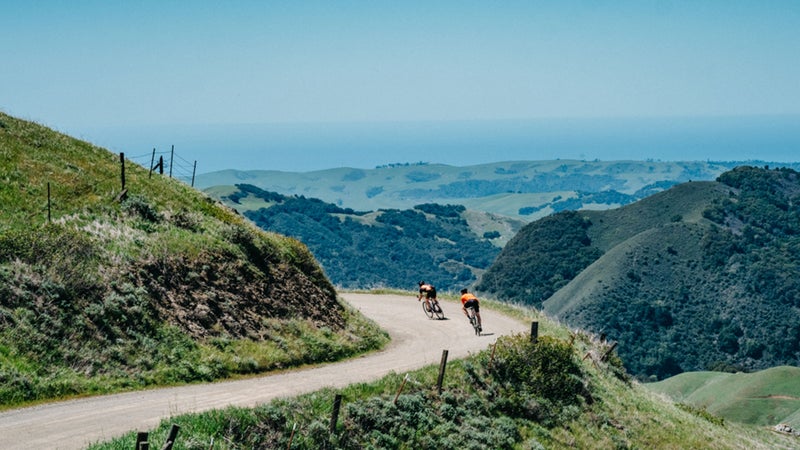 Four years ago, I'd spent my flight home from Italy fantasizing about the platonic ideal L'Eroica bike I would build. I already had a smattering of vintage components at home, as well as a Giro d'Italia–pink lugged Italian frame from the 1980s. The whole thing was really just a Campagnolo groupo, some white accessories, and a wheel build away from Pepto-Bismol-hued glory.
But over the ensuing years, I never made it back to Italy or got it together to build that classic bike. So, as L'Eroica California approached, I had to figure out what to ride. Thanks to the ever-increasing popularity of the format, putting together an appropriate bike for this event is even easier now than it was four years ago—parts are everywhere, and the event is so trendy that Bianchi will even sell you a brand-new vintage model off the rack. Given this surplus, I decided I wasn't interested in a regular old bike. I wanted a "holy shit, that's old!" bike, something that would transform the ride into a time-travel adventure and give me a real sense of how far bike frames and components have (or haven't) come. After all, once we worked out the pneumatic tire and the diamond frame, we were pretty much 90 percent of the way there. As someone who enjoys poking fun at bike-industry marketing, I wanted to know just how crucial to cycling enjoyment that remaining 10 percent really is. Plus, I wanted the smug sense of self-satisfaction that would come from having the oldest bike at the event. To that end, I was looking for the most ancient relic I could put under my ass without actually riding a penny-farthing.
I knew how I wanted this quest for a century-old machine to play out: After much searching, I'd stumble across the bike at a garage sale behind a table stacked with VHS tapes and old mixing bowls, then pay five bucks for it. Alas, this romantic scenario didn't happen. Instead, I took the easy route and turned to Paul Johnson, owner of Classic Cycle on Bainbridge Island, Washington. In addition to being a full-service modern-day bike shop, Classic Cycle is a bicycle museum with an astounding collection spanning every era of cycling from the 19th century to the 21st. After some back and forth, during which Paul implored me to try a bike with a derailleur so I'd actually enjoy myself, he ultimately offered up a 1916 Chicago-made Mead Ranger. At over a hundred years old, the Ranger certainly checked the "holy shit, that's old!" box. The safety bicycle had been invented only a couple decades prior, and unless any 102-year-olds were going to throw down at L'Eroica, this bike was was pretty much guaranteed to predate every other bike at the ride.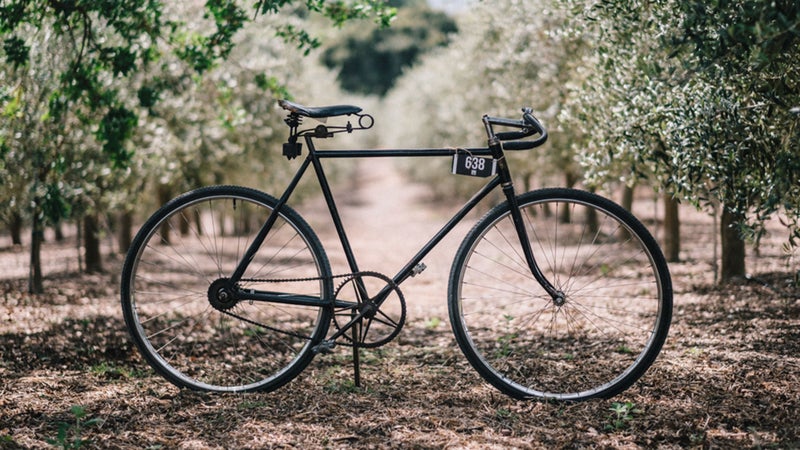 Intrigued, I scoured the internet for more information about the Ranger. Alas, I couldn't find any "Safety Bike Shootout!" reviews from the period, but according to Sheldon Brown's website (he himself owned a similar bike), a Ranger retailed for $40 in 1915 (the equivalent of just under $1,000 today), making it a fairly high-end machine. Mead sold the Ranger in various configurations, and this particular one was quite racy, with a sprung saddle, adjustable stayer-type stem, swept-back racer bars, coaster brake, and one (1) gigantic-looking gear.
But I wasn't ready for L'Eroica yet. In addition to an old bike, I also wanted a thoroughly modern machine to use as a benchmark—something that would neatly encapsulate the various cycling refinements and innovations that have emerged since the Ranger's heyday. (I also wanted it as a hedge, just in case riding a century-old singlespeed totally sucked.) Of course, nothing embodies the modern cycling ethos better than the oh-so-fashionable gravel bicycle, so I turned to Marin Bikes, which I figured would have the perfect thing for the local terrain, as the company is located just a couple hundred miles up the coast from Paso Robles. They agreed to lend me their $2,000 Cortina AX2. While an affordable bike by today's standards, the Cortina is very much on trend (certainly more so than any bike I own) and has the latest everything: hydraulic disc brakes, thru-axles, tubeless-ready wheels, 35mm all-terrain tires, and an 11-speed wide-range single-ring drivetrain. Obviously the Cortina is not an Eroica-approved bike, but it is perfect for the Nova Eroica, the modern-bike ride that runs concurrently with the vintage Eroica and caters to the gravel-grinding crowd. Also, it's purple, a color in which I'm reasonably confident the Ranger was never available.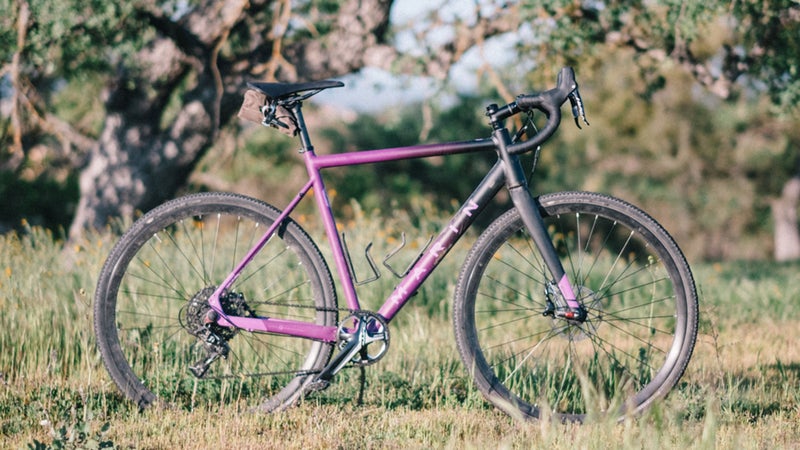 My plan was to ride the Cortina on Saturday, a day before the official L'Eroica, on the approximately 80-mile course. (All the events run simultaneously, so I couldn't ride the Marin in the actual Nova Eroica.) On Sunday, I'd ride the Ranger with the rest of the vintage crowd. Now, while I'm all for gonzo journalism, doing the long route on the Mead would have been stupid. There was no way I'd be able to ride up those monster climbs, and pushing an antique bike up a mountain is no different than pushing a modern one. So I opted for the 40-something-mile L'Eroica route, which included a more modest 2,000-ish feet of ascent. This, I figured, would be more than sufficient to explore both the Mead's limits and my own while at the same time ensuring this remained a ride and not a historically themed walking tour.
I had my two end posts. Now it was time to prep the bikes.
Setting them up was like making two calls, one on a rotary phone and another on an iPhone: fundamentally the same experience yet wildly disparate in terms of refinement. I had worried that assembling the Mead would require all manner of old-timey supplies—such as a hand drill and lube made from whale blubber—but the whole bike went together quickly with just a single adjustable wrench. The trickiest part was installing the front wheel, since the fork lacked open ends and had to be spread apart in order to insert the axle, but even that I was able to do by hand. Meanwhile, the Marin required dainty little metric hex keys and a light touch. I spent more time on the twin-bolt seatpost head dialing in my saddle angle than I did on the entire Ranger for the simple reason that I could.
Once I had my two bikes, it was time for the shakedown rides. The Marin was instantly comfortable, and as I jammed up the hill at the end of the street, I ran the derailleur up the cassette with a precise series of snicks. The Mead, of course, had no derailleur, just a large pizza for a chainring up front and a personal pan pizza for a cog in back. I never calculated the actual gear inches because I figured psychologically it was better not to know. But I'd guess it to be the equivalent of the 50/21 combo on your road bike. (I'm at the point in my life where I just assume everyone's running a compact—and where I don't care about riding crossed-over.)
If there was going to be a problem on the Mead, I figured it would be the saddle. With its giant springs, it looked like some sort of Victorian chastity device, the cover was rotting, and sitting on it was like riding one of those sprung metal rocking horses you find in playgrounds that haven't been upgraded since the 1960s.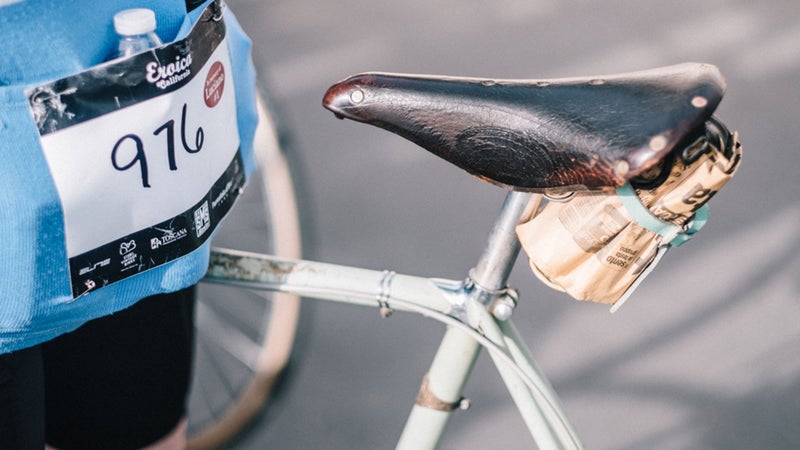 As I test-rode the bike up and down the street, I began to put my finger (and my perineum) on the problem: Modern racing saddles allow you to move forward and backward and leave plenty of room for your thighs when you have to stand up or shift your weight, but the great big metal seat-pan on this one just wanted to cradle my buttocks and keep me locked in place like an ergonomic toilet seat. Eventually, I found angling the saddle down allowed me to sit more toward the nose. This provided something closer to a modern saddle experience, and sliding back into the toilet seat position gave me more leverage when I needed to put power through the pedals.
On Saturday, I clipped into the Marin and set out on my approximation of the Nova Eroica. While California may be culturally less exotic than Italy, from a cycling perspective the terrain was at least as decadent and beguiling. Five miles of dirt climbing took me to the top of Cypress Mountain, from which I surveyed an undulating landscape of green velvet hills. At times, the surroundings evoked Chianti, complete with vineyards and olive oil farms. Yet once I reached the coast, there was nowhere I could have been but California. (There was also the odd impatient pickup truck driver to remind us I was still in America, though most of the time I had the roads to myself.)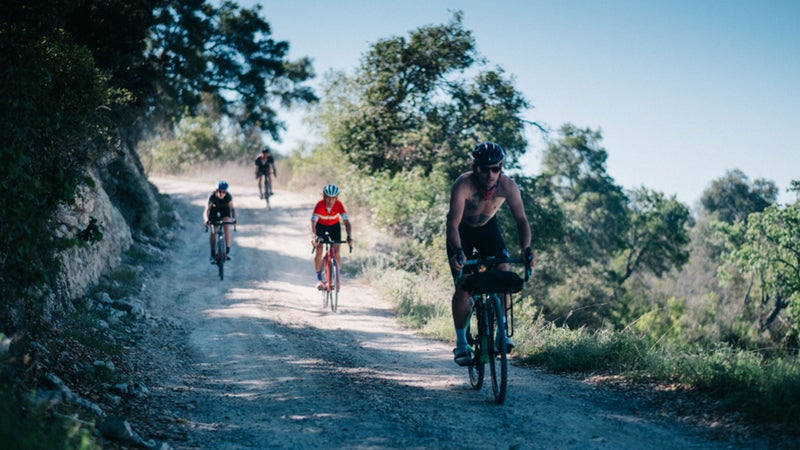 By the end of the day, I'd ridden just over 80 miles with something like 8,000 feet of ascent, and at no point had the Marin left me wanting. On the way up the climbs, I had all the gears I needed; on the way down, I had plenty of traction and smooth, consistent braking. Any shortcomings were my own.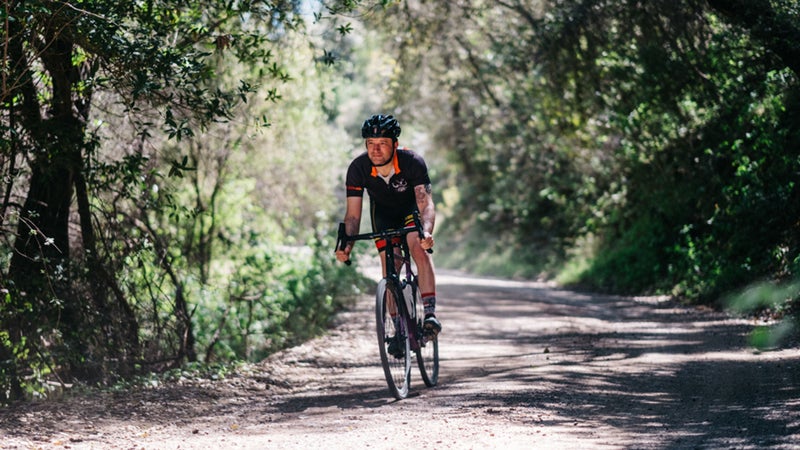 I was not looking forward to Sunday.
On the morning of the actual L'Eroica, I cooked an ample bacon-centric breakfast and got to work dialing in the Ranger one last time—though "dialing" implies a degree of accuracy that doesn't apply when cranking down on rusty old bolts. A few final warmup sprints up the nearest hill satisfied me that the Mead was not going to fall apart under me, so I changed into a wool jersey and shorts and headed down to the start. My only concessions to modernity were my personal electronics, my vaccinations, my sneakers, and the polystyrene safety hat I wore in just in case there was some sort of helmet requirement. (I ditched the helmet during the rollout in deference to both style and my cycling forbears. Deal with it.)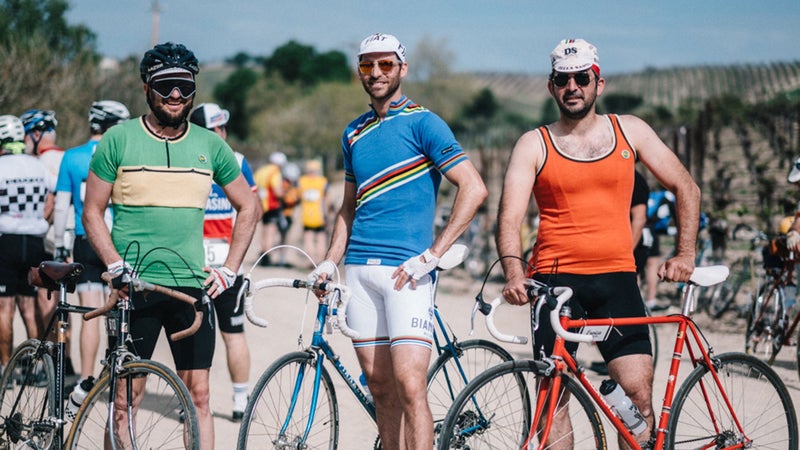 While cycling technology continues to improve, one can easily argue that, aesthetically speaking, the bicycle peaked 40 years ago and it's been downhill ever since. The start line was a sea of vintage machines in beautiful hues, straddled by aging dentists and adorned with glistening chrome components more evocative of jewelry than performance tools. Yet even amid all this velocipedal beauty, the Mead, with its dented tubes, faded black paint job, and utilitarian demeanor, attracted attention. First, people asked how old it was; next, they remarked on that massive chainring. Only then did they move onto the frightening condition of my legs, which had gotten badly sunburned the day before. (I live in New York and my skin hadn't seen sunlight since the previous October.)
As I muscled my way up the first gentle climb, I could feel every one of the previous day's miles in my legs, but it wasn't long before I grew accustomed to the bike. I happen to be one of those people who still enjoys riding singlespeed mountain bikes, so accelerating into a climb to build the momentum that will carry you up to the top feels fairly natural to me. And while, from reading bike reviews, you'd think the concept of "lateral stiffness" was something new, the Ranger was smooth and unyielding under these efforts. I was also far better prepared for the loose dirt descents than many of the other participants on their narrow rims and period-correct 21-millimeter tires. Grabbing the curbed portion of the bars and going into an aero tuck, I could bomb the downhills—though I was careful to scrub off speed occasionally so as not to overwhelm the ancient coaster brake.
Despite my best efforts at nursing the brake, I did occasionally find myself fishtailing, which immediately made me wonder about the integrity of the tires. After one such skid, I came alongside Paul from Classic Cycle, who was on a 1978 carbon fiber Exxon Graftek. I asked him when the Mead's tires had last been changed, figuring it had to have been sometime in the last ten years or so. "Oh, probably sometime in the '60s," he replied. I resolved not to do any more skidding.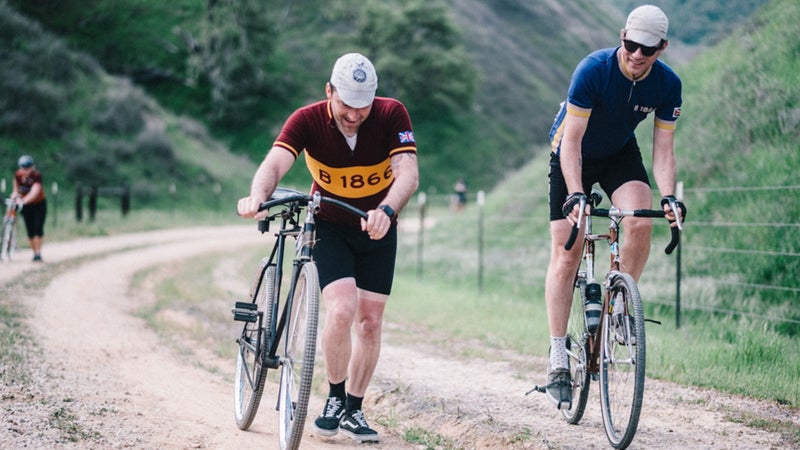 Of course, the best part of riding a singlespeed is the smugness you feel when geared riders experience equipment failure. That smugness increases exponentially when the bike dates back to the Wilson administration. "You know, they have these things called derailleurs now," one rider quipped as I wrestled the bike up a steep climb. As it happened, he seemed to be waiting for another rider who was having shifting issues, and I'd have pointed out that irony if only I'd been able to breathe. And despite my inability to shift, I was forced to walk up steep grades on only three relatively brief occasions, which I didn't mind because: 1) Plenty of other people were walking, too; and 2) it gave me a break from that goddamn saddle.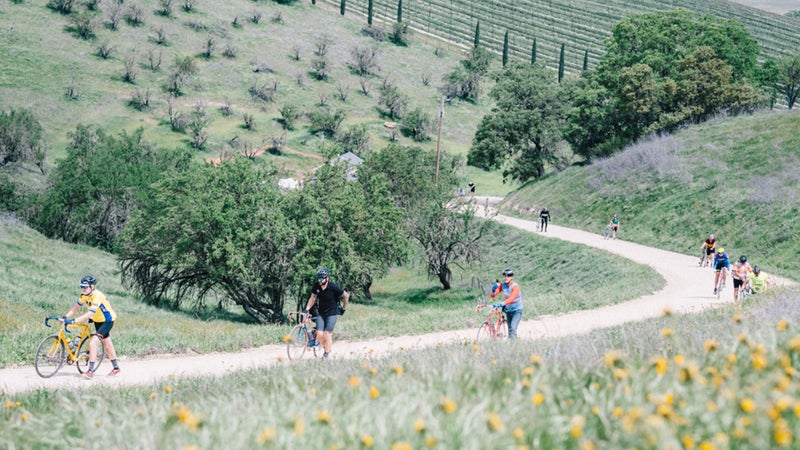 That aside, anything wrong with the Mead was really just a matter of age and wear. Sure, the saddle sucked, but it was also original, and who keeps a saddle for a hundred years anyway? All the bike needed was a double-railed Brooks B135 and maybe a pair of Ourys, as the rock-hard grips rendered my left pinky slightly numb for days afterward. As for performance, the coaster brake was the biggest drawback, but even today, Speedvagen will sell you a singlespeed coaster-only "Urban Racer" for like $3,500, so there you go. And while the quill stem did gradually migrate leftward during the ride in a slightly disconcerting fashion, the bike otherwise held up admirably.
I'd love to say that if I had to choose between the two bikes for next year's Eroica, I'd go with the Mead over the Marin because of its timeless ride quality. I'm not going to say that, because I'd be lying. By the end of the ride, I was more than ready to get off the Ranger for the foreseeable future, and there's no denying that 100 years of refinement makes for a pretty sumptuous package by comparison. Even so, after riding the Mead, it's clear to me that by 1916 we were indeed most of the way there in terms of pure cycling enjoyment, and if I got sent back to the World War I era like Bruce Willis in Twelve Monkeys, I like to think I'd have no problem slotting right into the pack and that my enthusiasm for cycling would be undiminished. For that matter, even if today I were sentenced to ride only a Mead Ranger for the rest of my life or else take up tennis, I'd opt for the former without hesitation. (Though I would insist on a new saddle.)
After a glorious weekend of West Coast riding, I loaded the bikes into a minivan so I could return them before heading back to New York. As I pulled away from the curb, the Mead fell over onto the Marin in a final attempt to crush the young whippersnapper into submission. The bike might be old as hell, but the fight isn't remotely gone from it.
Photos by Benedict Wheeler
---
*You thought I actually rode a century on the Mead? Please. That would be suicide by saddle.