The Outer Limits of Human Performance
A look at the outermost limits of human performance, from the fastest marathon and longest swim to smokingest fastball and deepest freedive.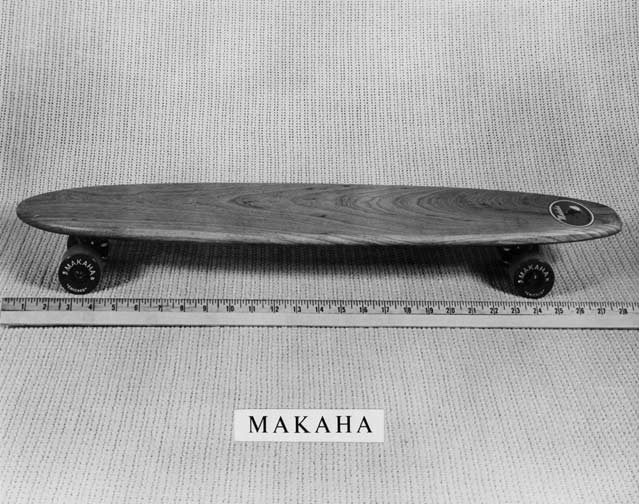 Heading out the door? Read this article on the new Outside+ app available now on iOS devices for members! Download the app.
Will we ever see a 1080 on a skateboard?
In the last two years, our prediction came true: Tom Schaar, a 12-year-old American completed the 1080.
Probably, and it may happen soon. The move—three full aerial rotations—is a daunting combination of force and balletics, requiring a rider to jump off a ramp, spin extremely quickly, then descend a vertical wall, abruptly breaking rotational momentum. Skate master Tony Hawk has said that Shaun White is, for now, the only contender. He should know: at the 1999 X Games, Hawk completed the first 900-degree spin on a skateboard—two and a half aerial rotations—after 13 years of practice.
Why White? For one, he's nailed the 1080 on snow, perfecting the move's motion with his feet strapped to a board that won't fly off upon landing. The experience has helped him figure out the speed he needs at takeoff to maximize spin. "Shaun has a very good feel for decreasing his moment of inertia," says James Riordon, a skater, engineer, and spokesman for the American Physical Society, the country's largest organization of physicists. Moment of inertia, he explains, measures an object's resistance to rotation. White's size may help, too: since he's only five foot seven, he can tuck into a ball—the shape that maximizes spinning speed—more quickly than, say, Hawk, who's six foot two.
Still, according to Riordon, three rotations is at least ten times more difficult than two and a half. That hasn't deterred White, who tried the move 29 times at the 2005 X Games, occasionally completing the 2.5-second rotation only to fall upon landing. "I'd love to land this 1080," he's told an interviewer. "And I think I can."
What's the longest possible open-water swim?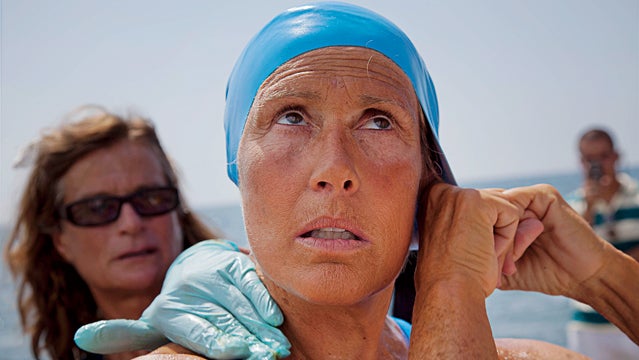 First you have to define what constitutes a swim. Most experts, including cold-water distance swimmers Lynne Cox, 54, and Lewis Gordon Pugh, 41, play by English Channel (EC) rules, which require you to start and end on land, allow the use of a swim cap, goggles, and a bathing suit (but no wetsuit, flippers, or shark cage), and permit a boat crew to feed and hydrate you. But you can't rest by hanging off the side of a craft or sleeping on it, a luxury that some distance swimmers allow themselves.
Indeed, sleep deprivation might be the biggest barrier. The longest known duration for an open-water swim is Canadian Vicki Keith's two-way crossing of Lake Ontario in 1987, a distance of 64.6 miles that took her 56 hours and 10 minutes. Diana Nyad holds the title for pure distance, with her 102.5-mile swim from North Bimini, Bahamas, to Juno Beach, Florida, in 1972. But Tim Johnson, author of History of Open-Water Marathon Swimming, says a fast current gave Nyad a major boost. Using EC rules, he says, "we're not going to see anything much longer than 60 miles unless you're utilizing currents."
Swimmers Jon Erikson, Philip Rush, and Alison Streeter are the only people to complete a three-way crossing of the English Channel, a 63-mile haul. Is anyone crazy enough to go for four? "I wouldn't even want to be on the boat to witness that kind of suffering," says Johnson.
When will somebody run a marathon in less than two hours?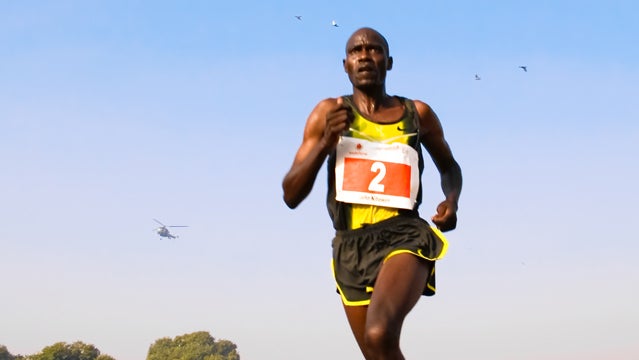 No runner has broken the two-hour mark, but the old record of Gebrselassie has been smashed. In September 2011, Kenya's Patrick Makau ran a 2:03:38 on the streets of Berlin. The next best time was set by Kenya's Wilson Kupsang at Frankfurt in 2011.
Ethiopia's Haile "Geb" Gebrselassie ran the fastest marathon ever (2:03:59) in September 2008 on the sunny streets of Berlin. (Eight of the ten fastest marathons have been run in Berlin or Rotterdam, home to flat, low-altitude courses.) Since then, nobody's come close to beating that time—the next best is a 2:04:27 run by Kenya's Duncan Kipkemboi Kibet at Rotterdam in 2009—and most experts think it will be a while. Running a marathon four minutes faster would require putting down 26 con-se­cutive four-and-a-half-minute miles—a feat that "will not be achieved in my lifetime by an athlete who is clean and not genetically modified," says Timothy Noakes, a sports-science professor at the University of Cape Town and the author of Lore of Running.
Elite runners tend to perfect their 10,000-meter time before advancing to marathons, and a fast 6.2 miles on a track often translates to a fast 26.2. (It's no coincidence that Geb held the world record in the 10,000 until 2005.) Once an athlete can run that distance 30 to 45 seconds faster than Geb's time, he might have a shot at a sub-two-hour marathon. But Noakes thinks it's "biologically impossible for the foreseeable future."
It took Kenenisa Bekele, another Ethiopian, seven years to take five seconds off Geb's 26:22:75 record in the 10,000. If this trend continues, 29 to 50 years will pass before the necessary track times are achieved and another few before a sub-two marathon time is recorded. Still, there's hope. "I truly believe it will happen," says running coach and former Olympian Jeff Galloway. "The human spirit is programmed to keep pushing." At 65, however, Galloway, like Noakes, doesn't believe he'll be around to witness it.
*In April 2011, Kenyan Geoffrey Mutai, 29, ran the Boston Marathon in 2:03:02. His time receives an asterisk due to the point-to-point nature of the run.
How deep can a human freedive in the ocean and live?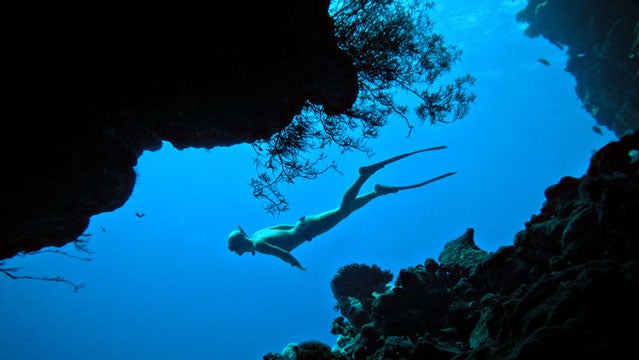 Around 500 feet … at least that's what Austrian freediver Herbert Nitsch was told ten years ago, when most people believed that diving deeper meant certain death due to nitrogen narcosis, oxygen toxicity, and the paralyzing effects of decompression sickness (the bends). Since then, however, that mark has been smashed many times, and Nitsch, 41, has become the "deepest man on earth" by plunging to 702 feet—about 70 stories—beneath the ocean's surface on a single breath. In November he plans to go a lot lower, attempting a "no limits" dive to a staggering 1,000 feet.
Freediving can be a confusing sport, since there are numerous genres, including no-limits (which permits any means necessary to achieve depth, from weights to watersleds) and unassisted (just you and your straight-down swimming stroke). Even in the unassisted style, old assumptions have been cast aside. Last December, New Zealand's William Trubridge—the current unassisted record holder—made it down to 328 feet in the Bahamas, surviving water pressure that reduced his lungs to the size of oranges.
The risks are compounded for no-limits divers. Before Nitsch, the two male divers to attempt 500-foot-plus no-limits dives—Benjamin Franz and Carlos Coste—ended up paralyzed for years. (Franz still hasn't fully recovered.) The former female record holder, Audrey Mestre, passed out and drowned in 2002 during a 561-foot attempt. Somehow, Nitsch doesn't seem fazed. "If you think about what is impossible tomorrow," he says, "the day after tomorrow you laugh about it."
How much higher can these waterfall-plunging kayakers go?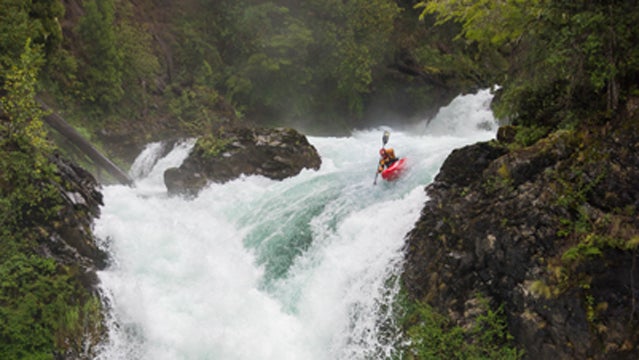 In 2007, paddler Dan West, then an undergraduate at Oregon's Lewis and Clark College, examined this question in a report called (what else?) "The Physics of Kayaking Down Waterfalls." Kayak durability isn't an issue—you could drop today's polyethylene boats from 1,000 feet—but human durability is. West crunched the numbers by kayaking small waterfalls with an accelerometer, which measures G-forces, and plugging his findings into physics formulas. Based on this, he figured the limit might be around 186 feet, a mark that was matched in 2009 when Tyler Bradt paddled off Washington State's 189.5-foot Palouse Falls and walked away with only a sprained wrist.
Still, West probably wasn't far off, judging by what happens to people who jump off the 245-foot Golden Gate Bridge to commit suicide. They hit the water at approximately 85.5 miles per hour, a jolt that can smash internal organs, break bones, and sever the aorta. Kayakers have one advantage over jumpers—they hit bow first, in pools aerated by waterfalls—but a cushion of bubbles can soften the blow only so much.
Will people keep pushing this crazy record? Bradt, who was likely going 75 when he landed at Palouse, thinks he's probably finished. "I'd have to have a lot of motivation to do something bigger," he says. Meanwhile, Rush Sturges, a top paddler who filmed Bradt's descent, predicts that someone will try a 200-foot waterfall within two years. (One likely candidate is Iguaçú Falls, on the border of Brazil and Argentina, which has several drops over 200 feet.) West thinks kayakers should seek out other thrills. "Somebody is going to get seriously hurt," he says.
Is a 110 mile-per-hour fastball possible?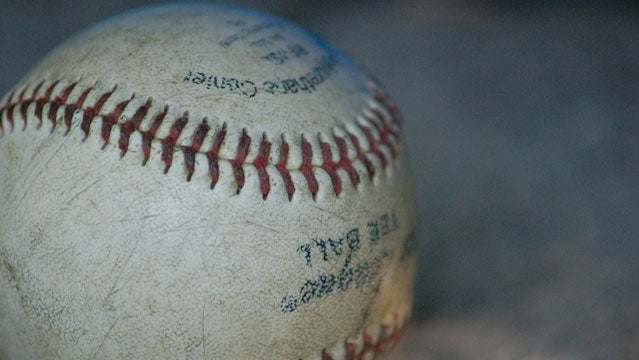 Last September, Cincinnati Reds flamethrower Aroldis Chapman hurled a 105.1-mile-per-hour pill past Tony Gwynn Jr., of the San Diego Padres, whipping the sports world into a frenzy. Was this the fastest pitch ever? And could the mark keep going up?
The first question is hard to answer because it comes down to trusting measurement technologies from the past. Before Chapman came along, the previous, unofficial record belonged to Joel Zumaya (104.8 in 2006), but there are old and unlikely claims that Nolan Ryan threw 108.1 in 1974 (as measured by Doppler laser radar) and that Bob Feller fired a 107.6 in 1946 (as measured by antiquated military equipment).
As for the second question, experts doubt we'll see any Usain Bolt–like quantum leaps. "Chapman is at the upper limits of what's possible," says Glenn Fleisig, research director at the American Sports Medicine Institute in Birmingham, Alabama, which studies the biomechanics of pitching. Why? Hurling a ball that fast strains the body's connective tissue to the breaking point. When a 200-pound pitcher throwing 100 mph releases the ball, the force on his shoulder is equivalent to a 200-plus-pound man trying to yank his arm out of its socket. Fastball throwing can injure the shoulder joint and the elbow's ulnar collateral (or Tommy John) ligament. While pitchers can strengthen their muscles and improve their mechanics, there isn't much that can be done to improve ligaments and tendons—barring, of course, a sudden miracle of evolution or (more likely) cyborg surgical techniques that haven't been invented yet.