Bike Racing Depends on Peter Sagan
Clever, goofy, charismatic, and fast, the two-time world champion may never win the Tour de France (he's not a climber), but he just might be the star who saves bike racing
Heading out the door? Read this article on the new Outside+ app available now on iOS devices for members! Download the app.
Peter Sagan is late, and the crowd is getting antsy. About 50 kids, ages seven to thirteen, are eyeing a row of gleaming new Specialized mountain bikes that are about to become theirs—if and when this "Peter" kid shows up. Small skirmishes break out as parents try to restrain their offspring from lunging at the precious pink and orange rides.
It's November 2016, and Sagan is in Southern California to host an exclusive charity ride. Two hundred fans have ­ponied up as much as $3,000 apiece to spend the weekend rolling and schmoozing with the two-time world champion, a 27-year-old from Slovakia who is the closest thing to a cycling celebrity since the days of you-know-who. The ride was supposed to benefit the Boys and Girls Clubs of America, including this bike giveaway to deserving local kids. But now the star and his entourage have gone AWOL somewhere on the grounds of the Westlake Village Inn, a romantic expanse of Tuscan-style villas, small lakes and bridges, and even a vineyard, which once played host to The Bachelorette.
"He's a once-in-a-­generation rider," his rival Mark Cavendish, a sprinter not normally given to praise, has said. "He's making us all look like ­juniors."
Scanning the horizon desperately, the emcee, a young woman in a Boys and Girls Club T-shirt, grabs the microphone and tries a diversionary tactic. "Peter! Peter! Peter!" she chants. A few kids and parents join in, but then the noise dies down, having failed to produce Peter.
Download the Audm app for your iPhone to listen to more longform titles.
The emcee changes tack and asks a more basic question: "Can anybody raise their hand and tell me who Peter is?"
After some awkward silence, one boy pipes up: "He's a man who races his own bike!"
"Yes!" the host says, a little relieved.
A little girl chimes in. "He's Peter Pan!"
Which is an even better answer, as we'll soon see. 
---
Sagan's rivals wish that he would be late more often, particularly at the finish line. Over the past two years, he's usually been the one waiting for them—in the process, establishing himself as the most compelling and entertaining cyclist of his generation. Sagan won the world-­championship road race in Richmond, Virginia, in September 2015, attacking the last climb and dropping his chasers on the downhill. In 2016, he came out strong and won two tough spring classics, Gent-Wevelgem and the Tour of Flanders, followed that summer by three days in yellow at the Tour de France. There he won three stages and took home his fifth green sprinter's jersey in five outings. If he wins this year, he'll tie Erik Zabel's record of six in a row. 
That would have qualified as an extraordinary year for any rider, but Sagan wasn't done. He took a break from the road to race in the mountain-bike event at the Rio Olympics, for the typically Sagan­esque reason that it seemed like "more fun." He started dead last and threaded his way to the front before he flatted on the second lap and dropped out of contention. Several weeks later, in Qatar, he came back to take a second world title on the road, beating a stacked field of sprinters. It was a stunning feat: only five other riders have ever won two world championships in a row. "Is just lottery," Sagan told me with a shrug. 
Almost no one else sees it that way. "He's a once-in-a-­generation rider," his rival Mark Cavendish, a sprinter not normally given to praise, has said. "He's making us all look like ­juniors." Others compare him to Eddy Merckx, widely considered the best all-around bike racer ever. Like ­Sagan, Merckx was a versatile athlete who won many one-day races but also took the Tour de France overall five times, a goal that may not be in Sagan's reach. Because of his relatively large size—he usually weighs around 175 pounds—his one weakness is long climbs, which are essential to winning the Tour. 
After he signed a contract with the Tinkoff-Saxo team, reportedly worth between $4.4 million and $6.5 million a year, he started shopping around for a replica of the General Lee from The Dukes of Hazzard.
Even so, Sagan has electrified a sport that has needed a dash of joy lately. When he's not winning races, he's lighting up YouTube with one-handed wheelies and other impromptu stunts, like riding his bike straight up onto the roof of a car and into the rack. In his most popular effort, he and his wife, Kate, spoofed "You're the One That I Want," the big-finish number in Grease. "We are actors," Sagan said during last year's Tour de France, after he and yellow-jersey winner Chris Froome pulled off an audacious breakaway on a sprint stage. "No, we are artists." 
In the media, he's famed for koan-like ­Sagan-isms, the product of a quirky mind and still somewhat-limited English: "Tour is Tour." "Uphill. Downhill. I like that." "I will think about tomorrow tomorrow." 
Best of all, with Sagan, there's never been a whisper of rumor about doping. Although, when I pointed that out to his agent and his press spokesman, they both said, in unison, "So far!"
---
A day before the charity ride, I drive over to Malibu to interview the champion. He has just come back from two weeks in Bora Bora, his longest vacation in years, and he looks tanned and relaxed, his signature chestnut mane—which he hadn't cut in more than two years—streaked with blond highlights. He and Kate have been staying in a California-perfect modern house overlooking the ocean, about 45 minutes from Westlake Village. The kitchen hums with blenders and mixers, because Sagan is here to shoot promotional videos for a new sponsor, Osmo Nutrition. There's a sleek lap pool, blond wood everywhere, modern furniture, and contemporary art on the walls. Sagan lounges on the couch, looking right at home.
"He loves coming to America," his former teammate Ted King told me. "He likes the American mindset." Sagan trains at altitude near Lake Tahoe and Park City, Utah, and he has a particular fondness for IHOP and muscle cars. A couple of years ago, after he signed a contract with the Tinkoff-Saxo team, reportedly worth between $4.4 million and $6.5 million a year, he started shopping around for a replica of the General Lee from The Dukes of Hazzard. (Apparently, the show is still big in Slovakia.) He eventually settled on a Dodge Charger, painted gray, with a blown fuel-injected engine. Sagan was still figuring out how to register it legally in emissions-conscious Europe, and the car was marooned in California.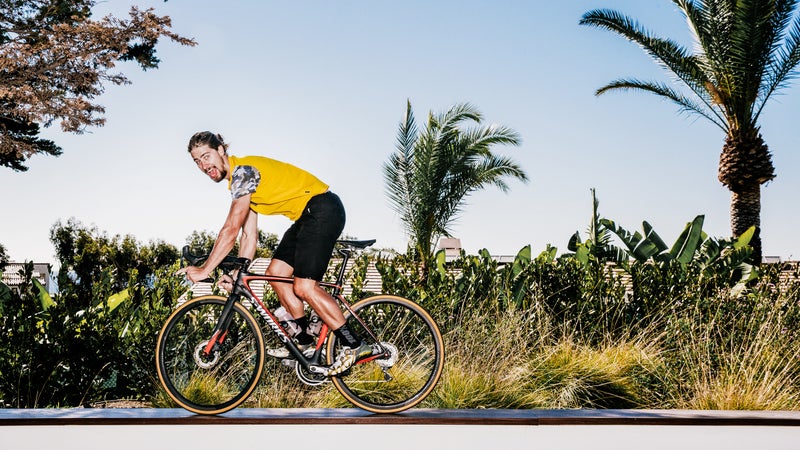 During races, he rides the way them Duke boys drove, with power slides and acrobatics that strike fear and awe into other riders' hearts. At the 2016 Paris-Roubaix, the biggest cobbled classic of the year, he bunny-­hopped a fallen rival, Fabian Cancellara. "His bike-handling skills are like no ­other," says Jonathan Vaughters, founder and general manager of the U.S.-based Cannondale-Drapac team. "He's got this situational awareness and balance that no one else has."
At the beginning of last season, Sagan showed up to race with something else that no one had: hairy legs. (Whether he was thumbing his nose at one of cycling's hallowed personal-grooming traditions or merely being lazy is anyone's guess.) Earlier this morning in Malibu, he rode up and down the steep driveway on his new red and black Spe­cialized Roubaix while a photographer snapped away. His agents watched nervously as he attempted a no-handed wheelie and then balanced on a slate ledge above the pool.
Such tricks make him a welcome anomaly in a sport that seems ruled by cyborgs. King remembers a miserable spring training ride in Italy in 2011, when they were both on Liquigas-Cannondale. As the group was struggling up a difficult climb, King looked over to see Sagan riding a no-handed ­wheelie up the hill. "He looked like a circus bear," he says. A painful outing suddenly became fun. The wheelie has since become Sagan's trademark move.
At the moment, Sagan is resting on a couch in the living room, eyeing his interviewer. Most cyclists resemble starving street cats. At a well-muscled six feet, Sagan looks more like a lion. "He's always watching, like a predator," says his friend Scott Tedro, CEO of Sho-Air, a trade-show shipping company that has sponsored Sagan's teams in the past.
He gives relatively few interviews, ­despite his outsize profile on social media and YouTube, and arranging this sit-down required the pulling of many strings. In Europe, he's besieged by journalists who want to talk to him; his face is plastered on billboards and shows up in TV commercials. A UK sports-­business magazine recently ranked him the 26th most marketable ­athlete in the world, ahead of Argentine soccer superstar Lionel Messi. In the U.S., his celebrity is more limited: on the first night of the charity event, a security guard demanded to see his entry wristband. 
For all Sagan's antics on the bike, the lovable eccentric proves to be surprisingly guarded in person. Perhaps it's because of his sudden fame and wealth; perhaps he's weary of answering the same questions over and over. When I open with a softball about his holiday, he turns to his agent, perplexed. "Is this going to be about my vacation?" he asks, in Italian. 
---
Sagan was an unknown in 2008 when he showed up at the junior world mountain-bike championships in Val di Sole, Italy, and crushed the field by a minute and a half. VeloNews editor in chief Fred Dreier remembers trying to interview him after the race, something that proved difficult, since the Slo­vakian spoke no English. Dreier was impressed by the young champion's sheer physicality.
"The other racers in the field looked like typical boys, with baby faces and skinny legs," he recalls. "Then there was Peter Sagan. He looked like a big, burly man, with bulging leg muscles and huge veins running down his calves. He was 18 but looked like he could walk into a saloon, order a beer, and then kick somebody's ass."
Born two months after the Berlin Wall came down, Sagan grew up in Zilina, an industrial city of about 85,000 in what is now Slovakia. His father, Lubomir, was a former barman who opened a small grocery store after the fall of Communism. Peter, the baby among four kids, was raised in part by his elder sister while his parents worked nonstop. When the big European supermarket chains began moving into Eastern Europe, his entrepreneurial dad closed the store and opened a pizza shop. 
Sagan was too adventurous for school. One day he wandered off from kindergarten and made his way back home, a journey of well over a mile. "He was always questioning things, and he was never satisfied with an answer like, 'You're too young for this,' " says Kate. "He was always pushing, pushing."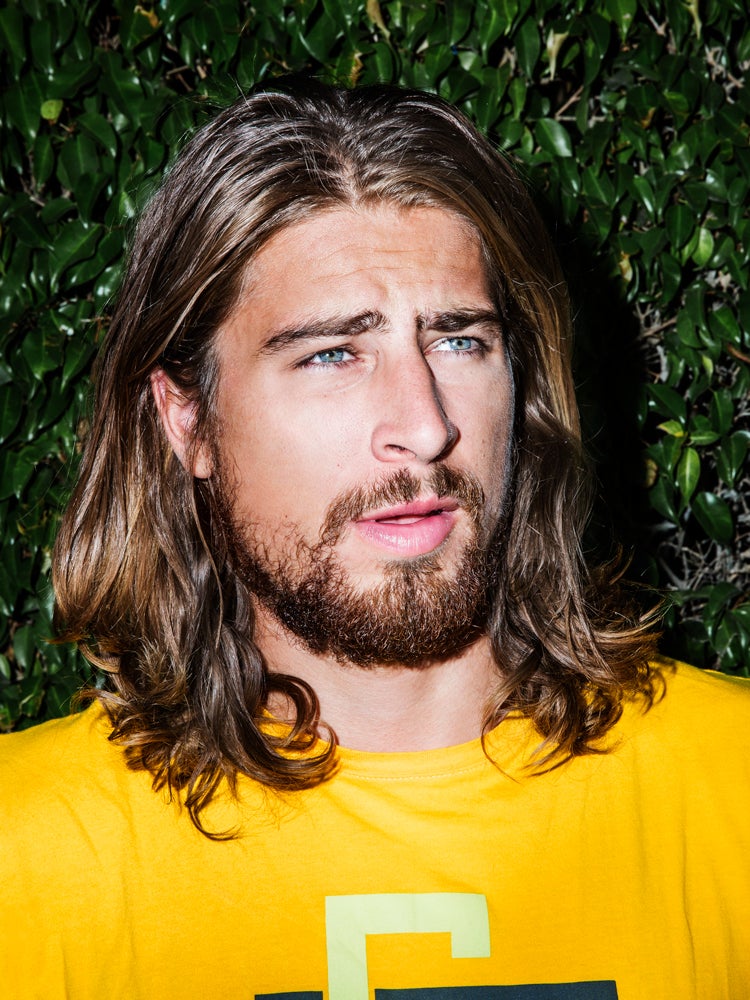 When Peter was eight, his brother Juraj (pronounced "you-rye") got into mountain biking, and Peter followed his lead. Juraj was 13 months older, and pretty soon they realized that their primary competition was each other. Peter rode mostly because it was fun; winning was something that just sort of happened along the way. He won one race on a department-store bike he borrowed from his sister. He dabbled in downhill mountain biking and on the track as well, developing the bike-handling and tactical skills that would later help him win professional races. The family traveled around Eastern Europe, going to events in Poland, Hungary, and the Czech Republic. After Peter's world-­championship victory on the mountain bike and a second-place finish in cyclocross, the pro teams came calling. 
"I remember watching him at 2010 ­Paris-Nice and thinking, Good Lord, who is this rookie who's destroying everybody?" says King. In his pro debut, the 2010 Tour Down Under, he made himself known by dropping Lance Armstrong on a climb. He followed that up six weeks later by winning two ­stages of Paris-Nice, a notoriously hard early-­season stage race, despite having an armful of stitches. Two years after that, he nabbed the first stage of his first Tour de France (and the third, and the sixth—enough to claim the sprinter's jersey). 
He won with seeming ease, often by surprise, and generally without help. He almost never has teammates in the finale of a big race, preferring instead to surf the wheels of the other favorites, waiting for the right moment. "Most people in the peloton are scared of him, just his abilities," Froome told the Associated Press. "He can do everything. He chooses when he wants to go in the breakaway, how he wants to ride the finish."
'I love riding my bike. I don't care how much I get paid.'
Occasionally, fans were reminded that he was basically still an adolescent—like the time in March of 2013 when he pinched a podium girl's behind while cameras rolled. He apologized almost immediately and brought the woman flowers a week later, but the Twitter backlash lasted for days. It didn't help that he'd also been videoed autographing a fan's breast. 
He's grown up since then, partly thanks to Kate, who he met within weeks of the butt-­pinching incident. She's also from Slovakia, blond, ­finely featured, and, importantly, ­nearly three years older. Her father and brother were in construction and worked on Sagan's house in Zilina. The couple got married there a year and a half ago. Sagan dressed in traditional Slovakian garb and, for kicks, rode a bicycle suspended on a wire more than ten feet above the ground.
Other than for holidays, the Sagans rarely go home. Not that they don't want to; they simply can't. Peter is a national hero, and he gets mobbed everywhere he goes. There was even a satirical play about him, called Tourminator, that ran for years in his hometown.
"In Slovakia, it's everybody—it's just too much," he says. The Sagans' home—in glitzy Monaco—is quieter, weirdly. They are on the road most of the time, global sporting ­nomads. They went to Bora Bora straight from the World Championships in Qatar, so by the time they make it back to Monaco, they will have been away for more than six weeks, circumnavigating the world in the process. Looking into Sagan's eyes, I get the sense that he's deeply, deeply tired. 
---
When Sagan flies home, it will be to a whole new set of responsibilities. He'll be anchoring a new team, after a difficult two years on Saxo-Tinkoff, where he suffered under the mercurial rule of Russian banker slash cycling aficionado slash tyrant Oleg Tinkov. When Sagan failed to deliver a Tour de France stage win in 2015—placing second or third an absurd seven times and extending a two-year winless streak—Tinkov mused that he wished he could cut Sagan's salary. 
Demoralized, Sagan started shopping for a midseason transfer. One of the first teams he approached was U.S.-based Cannondale-Garmin (now Cannondale-Drapac), which could pay only about half of what he got from Tinkoff, according to team general manager Vaughters. Sagan was interested anyway. "I said to him, 'You're really going to leave the largest contract in cycling?' " Vaughters recalls. "He said, 'I love riding my bike. I don't care how much I get paid.' " The deal ultimately fell through.
Sagan addresses the topic obliquely. "You have good periods and you have bad periods. You have also crazy sometimes," he says. "It's a lot about what people you have around you. If you have always negative people around you, it is bad."
Despite the fact that these are hypercompetitive Type A cyclists, nobody takes advantage of the chance to drop the world champion.
He adds: "It is how I see the life."
His new team, Bora-Hansgrohe, is built mostly around him (and, as always, includes his brother Juraj). This is novel, given his preference for freelancing during the lead-up to big sprints. While Sagan appreciates having teammates, he says he still prefers flying solo, which suits his temperament and gives him the advantage of surprise. "They can make the tactics," he says of his rivals. "I have just follow." 
"He leads with a sort of quiet humility," says King. "It's awesome. You want to go to work for him. He's not barking orders at you." 
But Sagan also knows that, in his second year in the rainbow-striped world champion's jersey, he will be a marked man. It's not going to be so easy to pull his trademark surprise attacks. This will prove true in the 2017 spring classics campaign, when Sagan will find himself stymied by the negative tactics of rival teams, who seem to be riding more to make him lose than for themselves to win. He'll come away with a close second at Milan–San Remo, a disappointing 27th at the Tour of Flanders, after a freakish crash, and well off the podium at Paris-Roubaix, which he really hoped to win.
Will he ever win the Tour de France? He doubts it. He is a power rider, good at punching his way up shorter, steeper inclines, then out-kicking his rivals to the line. He thrives in one-day races with a few sharp hills. Still, if the Tour course isn't too mountainous and the other cards fall into place—like he escapes in a ­breakaway, gains time on the climbers, and rides a decent time trial—anything is possible. "It's all destiny, because I never did any decision," Sagan muses. "It was always life bringing me here, in this point where 
I am now."
---
The next day, Sagan leads a pack of some 400 road cyclists up into the coastal mountains (including the paying guests and various hangers-on). At the top of the first big climb, the group stops at an espresso truck, and the champion is mobbed by delirious American cycling fans. He poses for selfie after selfie, the smile never leaving his face. He actually seems to enjoy this. 
On the next climb, surrounded by superfit Southern California riders, he tells the group to ride ahead without him. It's hard to tell if he's joking, but he says, "I am three weeks in the vacation with no bike! Go ahead!" 
Despite the fact that these are hypercompetitive Type A cyclists, nobody takes advantage of the chance to drop the world champion. 
The following afternoon, most of the guests have packed up and left when the kids start streaming into the plaza. It proves to be an excellent chance to see Sagan in his element. "He has like two sides, I think," Kate had told me. "One is like there is a big child in him, and one is a very responsible person."
Today at the charity event, the responsible person told the big child to show up, which he does, albeit a little late and looking slightly sheepish. He clacks across the cement in his cycling shoes and walks over to the row of bikes. The kids press forward, and he hands each one a brand-new toy, with a helmet thrown in. One by one, they hop aboard and their parents buckle the helmets on and send them off to wobble around the area; amazingly, no one falls. 
Then Peter gets on his own mountain bike and sails into the sea of swirling kids. Soon they're clustered around as he bunny-hops and does wheelies, showing off his moves like he's just another, bigger child. Peter Pan looks the happiest he's been all weekend.
Bill Gifford is an Outside contributing editor.