Professional Cyclist Jessica Phillips Van Garderen on Organizing Female Sports
A Q&A with an Outside in Aspen participant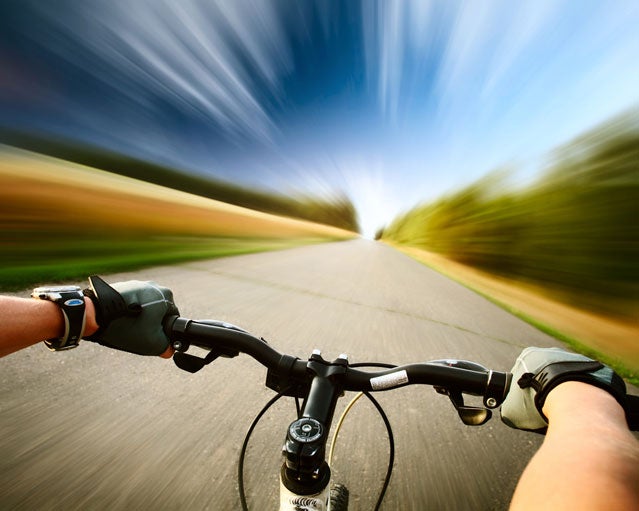 Heading out the door? Read this article on the new Outside+ app available now on iOS devices for members! Download the app.
In the past year alone, Jessica Phillips Van Garderen organized the first Aspen/Snowmass Women's Pro Stage Race, got married, and is now starting a charitable baby-clothing company. Van Garderen is a member of the Exergy Twenty12 cycling team. This summer will be her first Outside In Aspen appearance.
The first Aspen/Snowmass Women's Pro Stage Race last year seems to have been a success. What were some of your biggest challenges in organizing that event, and how did you overcome them?
I wouldn't say I've overcome all of them, but the biggest challenge was getting approval to put on a women's event. If you drop the name Lance to people, they're so excited to have a men's event come into town. Even though the U.S. has some of the best women cyclists in the world, it's hard to have everyone jump on board for a women's race and say, "Great! Let's get the roads closed and see what we can do." We had to make do with what we had, so we worked with the organization and used the road closures already in place for the men's race to make it as easy as possible to have a women's event. A three-day stage race is not ideal, but it's a start.
The race will take place again in August this year. Are you planning to make any changes?
We were really hoping to add a road stage, which didn't happen, but we do have a lot of the top teams coming again this year. It's great that more people are aware of it because of last year. If you go to the men's website for the Pro Challenge, there's a description of the women's race, so getting the information out there was a really big step. I want the public to know that there are top-level women racing.
Was there a specific incident that inspired you to start this race?
About a year and a half ago there was an article in the Aspen paper introducing the men's race for the next year. There was such a buzz around town about it, which was awesome, but it just did not make sense to me why there wasn't a women's race. Everyone said, "Aren't you so excited? This is so awesome, the men are coming through Aspen." I thought, "Yeah, I'm kind of excited, but I would really love to see the women be able to do the same thing." Colorado is such an active, outdoor state, and there are statistics about how female cycling is growing, so it didn't make sense to me. The U.S. has an Olympic gold medalist and a world champion, who actually won the race last year, and I think that's awesome for U.S. cycling in general.
Would you consider this race to be your biggest accomplishment, or is there another moment you're particularly proud of?
There were times in my own racing career that I was proud of, and I'm really happy with this race, but I'm not completely satisfied. I don't sit back and think, "Oh, this is exactly what I wanted to happen," so I'm working really hard to grow it even further.
You've addressed the gap between women's and men's cycling regarding prestige and awareness. What else do you think can be done to help women's cycling?
I feel like the gap is closing. There are a few key races that are inspirational to me, like Flanders and Flèche Wallonne. They are huge Classics races for the men, and they also have World Cup events for women. I really strive for something like that. I don't blame an organization for not putting on a women's race, because it's so hard to put on a cycling event in America. Having more people who can bridge the information gap and work together with the cycling organizations will help create something that works for women as well as men.
Congratulations on your marriage last November. Have your goals or plans changed since getting married, especially regarding your work in the cycling world?
Yes, all of them pretty much. I'm not really racing at all this year. It's so rewarding for me to support Tejay. We live part-time in Europe, part-time in America, and when he's home for a week training I think it's fair for him to have his wife around. If I were out doing my own racing, that just wouldn't happen. I raced for six or seven years, so I'm really happy with my own career, and I feel like it was a good time to move on.
Are you still into skiing?
I am. We went to Europe at the end of January and recently moved back to Boulder, which was partly so I could continue to ski. If you're a really competitive, athletic person, you're not happy to give that up. I loved ski mountaineering. For me, it's an outlet and a way to still be competitive. Next year I plan to attempt that again.
This might be like apples and oranges, but do you prefer skiing or cycling over the other?
Yeah, it's kind of like apples and oranges. I loved cycling. Women don't make a lot of money doing it, but it was a full-time job, and it was really great to be part of a team and know that was my profession. I'm working with the Exergy Twenty12 team, and the sponsor is so amazing and helps cycling on so many levels. It is really special to have a company like Exergy involved in cycling, and I feel fortunate to work with them.
Skiing was a little bit more low-key for me because I could decide which races I wanted to do. But as far as the actual places where the races are, the ski races are way more fun. I'd much rather go to those places, like Jackson Hole and Aspen, than where some cycling events are held.
What's next for Jessica? Do you have any other big projects in the works?
I'm starting an organic baby-clothing line. Well, it's not really a line—I'm not a fashion designer—but it's a company and a large portion of the proceeds are going to help a birthing center in Bali. It's been a fun project because it has nothing to do with sports. The line is called Bumsies, and it's going to help fund the Bumi Sehat center. We are hoping to launch our site at bumsies.org and our products in early July.
My main project now really is Tejay and trying to figure out the best schedule for him and where we want to live in Europe. Working out the schedule is really a full-time job. It's like one of my friends said: I'm the busiest person they know for not having a "real" job.
Final thoughts?
I've never been a feminist or anything like that, but I just can't believe how hard it's been to put on a top-level women's event. It's blown my mind. I'm just working so hard to get it out there, and it's really a challenge. This year is exciting because it's the Olympics, and I think the U.S. has a great chance of winning some medals. It would be so fun to bring those women to Aspen and showcase them.
Outside in Aspen, June 8-10, is a weekend filled with outfitter-led adventure, including mountain and road biking, kayaking, rafting, trail running, fly-fishing, hiking, stand-up river paddling, and rock climbing for all skill levels. The weekend also includes parties, a base camp featuring Outside's Gear of the Year, a symposium with professional adventure athletes and Outside personalities.