The Angel Who Keeps Citi Bike Working for New York
New York's Citi Bike, one of the largest bike-share programs in the world, relies on a volunteer army to help redistribute some 12,000 bicycles among 750 stations each day, ensuring that users can grab a ride when they need one. Most of these volunteers do a few out-of-the-way deliveries a month. Then there's Joe Miller, whose superhuman efforts seem to defy any plausible explanation.
Heading out the door? Read this article on the new Outside+ app available now on iOS devices for members! Download the app.
Sometimes late at night, when even the rambunctious streets of New York's Lower East Side have stilled, Joe Miller's dreams turn to Citi Bike.
He is not dreaming of the 45-pound, three-speed, bright blue, bank-logo-emblazoned workhorses of Gotham's bike-share system. Nor is he somnolently replaying a sunset cruise down the Hudson River Greenway. He is dreaming of the points. "I'll be having an unrelated dream," he says, "and it'll creep in. I'll notice that there's this impossibly large drop-off-to-pickup loop." This, he says, "is awful." So he'll talk himself down, open up a metacognitive moment in his immersed REM state: "What are you doing? I don't want to think about this right now, go away!"
The specter haunting Joe Miller's sleep is Citi Bike's Bike Angels program. The Angels are Citi Bike users who earn points—which entitle them to various rewards—for taking a bike from a particularly crowded docking station or leaving a bike at a particularly depleted one. The most satisfyingly holistic, points-producing move is to combine the two: take a bike from a dock that's full and drop it off at one that doesn't have enough.
In industry parlance, the Angels are helping "rebalance," restoring equilibrium to a network constantly thrown out of whack by its users. So vital is this task to the success of any bike-share system—even those that don't use docks—that rebalancing tends to be done, expensively, with box trucks and boots on the ground. In an ideal world, the system would self-rebalance; riders would get bikes where they need to be as a matter of course. The Angels are trying to take us to that nirvana via an alternate route, and their success may help determine the fate of the still burgeoning bike-share industry.
Almost since the Bike Angels program started, last September, Miller has owned the number-one spot on its leaderboard. This isn't because he will casually go a bit out of his way every day to commit a random act of kindness. It's because he spends a good portion of his waking hours—and some non-waking ones—physically moving bikes or thinking about moving bikes. On Citi Bike's app, stations that need rebalancing are highlighted on a map, along with the number of points Angels can earn by moving a bike to or from those locations. Most tasks net Angels between one and five points, depending on the level of need. As of April, Miller had more than 22,000 lifetime points, and he was routinely racking up more than 3,000 per month.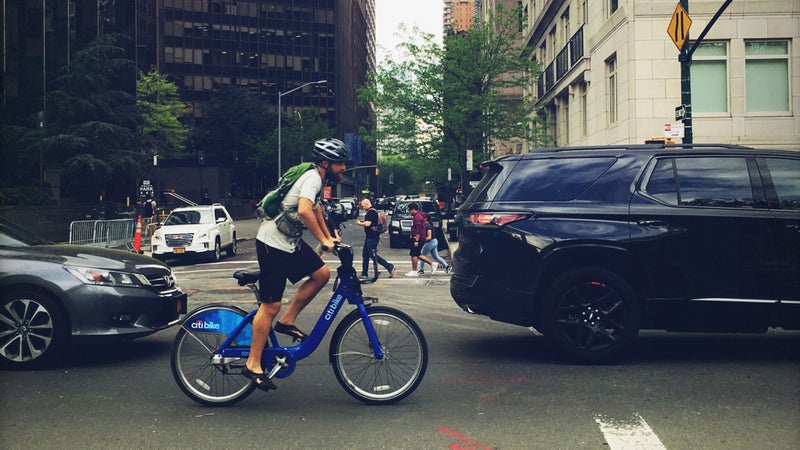 To put this in perspective, I too became a Bike Angel, after receiving an e-mail last fall that cheerily hinted at the good I could do—and the goodies I could get. (Membership extensions! Gift cards! The fabled White Key instead of the standard blue fob used by every other bike-share schmuck!) Since signing up in September, after a period of semisteady Citi Bike use, I have accumulated a grand total of 70 points. Miller frequently gets more than that in an afternoon.
In fact, as I write this, he has made 11,362 Citi Bike trips, covering more than 12,000 miles. You might have heard about the guy a few years back who rode a Citi Bike across the country. Miller has covered that distance more than four times, without ever leaving New York City.
---
Early one cool spring day, with mildly threatening clouds in the sky, I set out to meet Miller in the field, hoping to glean his strategies and learn something about the person lurking behind the shadowy JM009 tag, which is perched atop the Bike Angels leaderboard with the permanence of a stone gargoyle. Because the locations of available points are refreshed on the Citi Bike app every quarter of an hour, getting him to commit to a meeting place in advance was impossible. "We'll let the algorithm and the morning's bike activity dictate," Miller e-mailed.
At the appointed time, after a meeting in TriBeCa, I text him. Miller fires back that he is still at a "dummons gearing," keyboard slippage for "summons hearing." The Angels system is quiet—no big points on the board, which Miller blames on the "gloomy raininess." He suggests Brooklyn, so I walk a few blocks to a points-offering Citi Bike station. Word comes in as I climb the Manhattan Bridge bike path: Bergen and Flatbush.
When I arrive I see Miller, bearded and watch-capped, wearing running shoes, shorts, a 2013 Chicago Marathon T-shirt, and a CamelBak, standing on the pedals of a Citi Bike, pumping up Bergen's slight incline. As we exchange mildly sweaty handshakes, he explains that we will be "doing loops": taking a bike from one station a few blocks away, riding it to this one, running back down to the other station, and repeating the process.
A realization dawns. I had rather naively thought that Miller made organically flowing journeys across the city in pursuit of his points. But Miller was farming, or "interval-training points farming," as he calls it. We make the loop over and over—playing fast and loose with traffic lights (he's been busted), attracting looks from passersby for the sight of a man (me) running in street clothes and an aero bike helmet. (Long story.) The goal is to complete as many loops as possible in the allotted 15 minutes. In a version of a physics concept called the observer effect, the actions that the system is compelling us to make are changing the system. When the refresh comes, the points at this station will likely disappear. Over the next hour, hitting two separate farms, I total more than 20 points, enough to add a week to my Citi Bike membership.
---
Take a roomful of top Hollywood screenwriters, give them a week and a few cases of Red Bull, and they could not come up with a more appropriate character than Joe Miller to be a Bike Angel. A 33-year-old New York native, Miller began Citi Biking soon after the system launched in 2013, for the reasons most people do: his bikes kept getting stolen, he didn't have room for them in his apartment, and he couldn't resist the system's allure.
"It was just a very convenient thing," he says, "and back then it was $95 a year—which is almost giving them away." An avid runner who sometimes jogged to his job in advertising, Miller had begun "dog running" on the side—a more aerobically challenging dog-walking service provided for athletic breeds. That's when he began using Citi Bike in earnest. So much so that he soon got a call from a publicist. A newspaper was chronicling Citi Bike's most active users, and to his surprise, he was number one.
"Growing up in New York City, you're sort of raised not to think in the context of 'you're the top of this thing.' There's just people ­everywhere." He tells me this at a Brooklyn brunch spot where, after initially declining my offer of food—"I really only do one meal per day"—he finally relents, accepting coffee and an appetizer. "I'll see what these spicy charred brussels sprouts are all about."
A slight fracture and facial bruising didn't stop Miller from amassing a record for points: 4,444. "I just wanted to rise above," he says. All the while he was running anywhere from six to twenty miles a day with his clients' dogs.
Miller had heard rumors of the Bike Angels program when it was in beta, but he signed up only last September, when most other Angels did. "Once I joined, I saw that the app had this map on it. I saw these points," he says. And the leaderboard. He sensed cognitive dissonance if the top Citi Biker was not also the top Bike Angel. Something powerful clicked in his brain. He saw a way to use all the experience he'd accrued as a lifelong video-game and advanced board-game player. "I approach things with a lot of strategy," he says, "thinking of how to optimize things."
By then, Miller had left his day job and was going all in with his dog-running service, called Run.dog. (That summons hearing was for having a dog off-leash in a park past the allowed hour.) This meant he had more journeys to make and more spare time between them. Add that to his desire to make New York more bike-friendly—and, more broadly, the world a better place—and the die was cast. "I started to put together a plan, looking at the map, seeing what I would have to average to even begin to try and win for that month." Despite having joined midway through September, he still landed in third.
Miller has since owned the leaderboard. On the first day of the month, just after the midnight turnover, when the new top ten is posted, he will, he says, "come out swinging." He'll net 80 points in an hour and a half, enough for a monthlong membership extension—a big statement of intent. In December, taking a "slightly risky maneuver" on a Citi Bike in gridlocked traffic, he was hit from behind by a car. "I was not even points farming," Miller says. "I was just going home." A slight fracture and facial bruising didn't stop him from amassing a record for points that month: 4,444. (The numerical symmetry was intentional, and yes, it says something about Miller's personality.) "I just wanted to rise above," he says. All the while he was running anywhere from six to twenty miles a day with his clients' dogs.
Miller's strategy is to go big or go easy. He checks the app, looking for stations offering threes and fours—there were scarcely any today—or ones that are close together, without a hill in between. He maxes out on promotional multipliers. He keeps a hawk eye on the whole Citi Bike network, making him feel, he says, "intrinsically tied to the system." Indeed, as we're eating, he occasionally thumb-swipes the Citi Bike app, looking for interesting movement, glitches in the Matrix.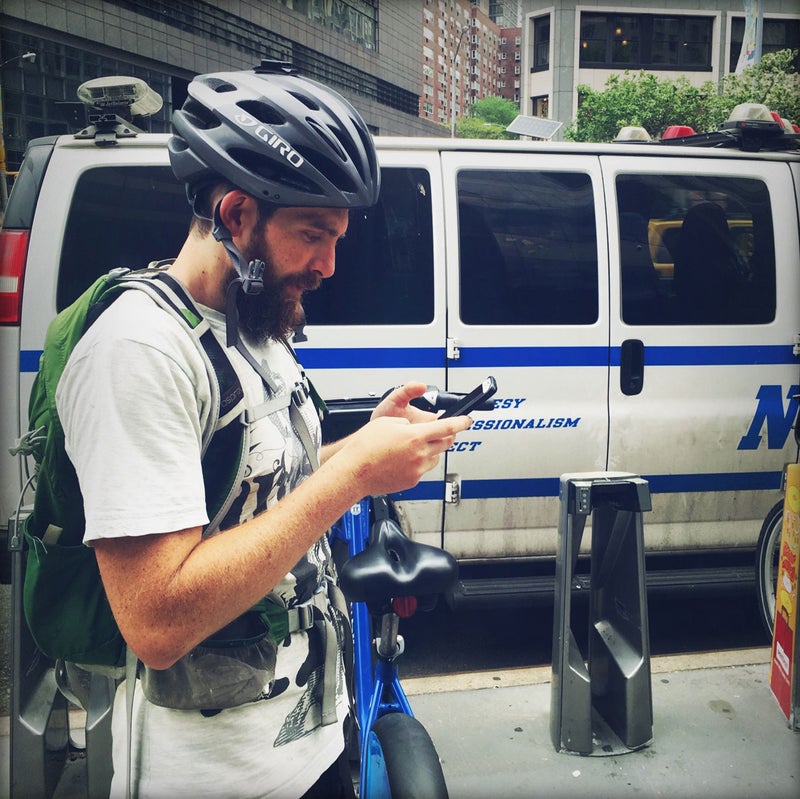 He also relies on old-fashioned New York hustle and guile. One day he noticed that a station inside the Brooklyn Navy Yard was offering a five-point pickup. That's because the Navy Yard is a gated facility; people ride bikes in and tend not to move them until they leave for the day. Miller, a member of the "500-station club"—an official group of users Citi Bike recognizes for having docked a bike or taken one out from 500 or more of New York's 750 stations—had never been inside. "I just wanted to check that station off my list," he explains. He donned a Citi Bike beanie he'd been swagged and told the guards he was working part-time for the company.
He got the points.
---
When Citi Bike launched, I joined straightaway, proudly receiving my blue key. But I hardly used the bikes and let my membership lapse after a year. The problem was simple. Transportation planners estimate that most people won't walk more than a quarter of a mile to get to any sort of transit. The closest bike-share station was a mile from my Brooklyn apartment; the subway was one block. You do the math.
I was a living embodiment of the last-mile problem, that nettlesome point of friction that troubles delivery networks of all kinds, whether they're moving goods or people. That last mile is often the most costly, time-consuming part of a trip. It's virtually why bike share was invented. "The most powerful use of bike share is actually serving as the first-last-mile connection," says Kate Fillin-Yeh, who is the director of strategy at the New York–based National Association of City Transportation Officials (NACTO). "Bike-share programs are really part of the transportation network in the places where they're working best."
There are two cardinal rules if you want bike share to overcome the last-mile problem: sharing locations need to be close to where people are, and there need to actually be bikes at them. Citi Bike addressed the first by adding more stations after its initial launch. Indeed, following a 2015 expansion effort, which planted a bike-share station the same distance away from my front door as the subway, I became a regular user. The Angels program is aimed at the second rule, which involves something much harder than infrastructure: changing riders' behavior, even if only a small number of them.
On another rain-dampened morning, I ride the 3.2 miles from my apartment to the headquarters of Motivate, which runs Citi Bike as well as bike-share programs in seven other U.S. cities. When I meet Julie Wood, Motivate's communications chief, and Collin Waldoch, who manages the Bike Angels program, I mention the vicarious relief I felt when I noticed someone claiming the last dock space at a station I passed. But I worried about the next person to arrive, who would be, in bike-share parlance, "dock blocked." Seeing the world through Bike Angel eyes, I wonder aloud to Wood and Waldoch whether one act—either supplying or emptying—ranked higher in the system's algorithms.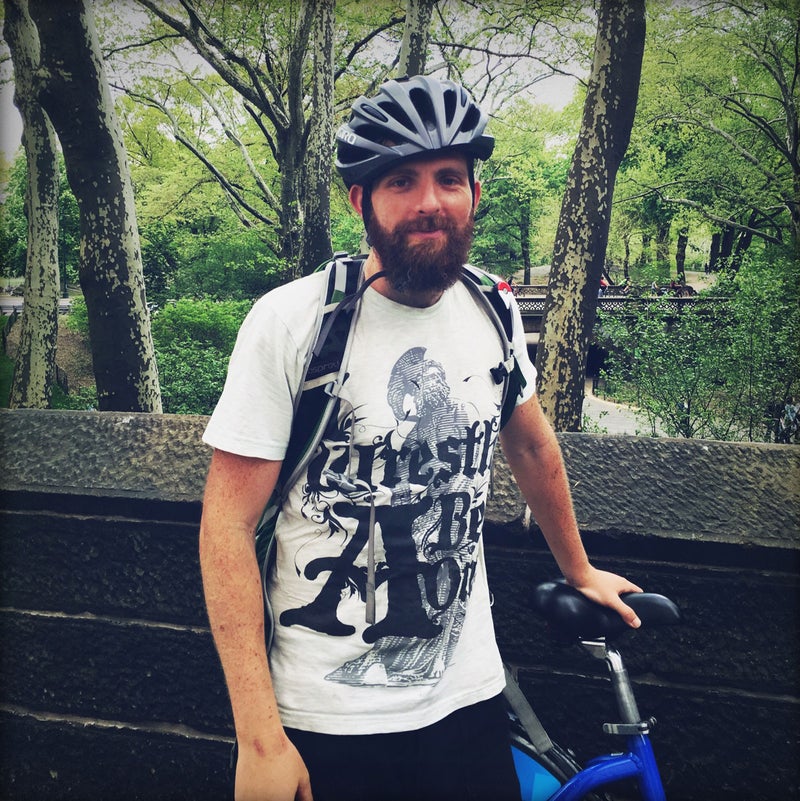 "It's worse to be full than to be empty," Wood says. An empty dock means a user might look for another station or choose some other means of transportation. But with a full dock, "you're stuck with a bike. That's a much worse experience."
Member-based rebalancing, Waldoch tells me, "is the holy grail of bike share." Citi Bike did not invent it. Paris's Vélib system, he notes, gives riders time bonuses for dropping off bikes at stations located a certain height above sea level. ("Bikes go downhill," Waldoch explains.) But no system has pursued rebalancing with as much thought, support, or scale as Citi Bike. Angels—now some 30,000 strong—account for roughly 30 percent of total bike rebalancing, more than 40 percent on days with multipliers. Most Angels, like me, get a few points here or there; a small cluster rack up a lot more. "The 80-20 rule"—the idea that a majority of effects are due to a minority of factors—"is a rule for a reason," says Waldoch. The Angels' success means that Motivate plans on taking the program to its other bike-share programs, starting with San Francisco's Ford GoBikes, which launched its Angels program on May 1.
Waldoch, who came to the job from Bain Consulting, has a long interest in incentivizing behavior. One general finding is that it's easier to get someone to increase the frequency of a trip—three days a week instead of two—than to get them to change their route. Another: rewards should be immediate. "People don't really like having to redeem something," Waldoch says.
That Citi Bike's basic incentives work is clear from the data, he says. "You can see this shelf of people who end at 20 points in a month"—enough to earn an extra week—"rather than 19." Altruism also drives Angel behavior, he adds. "That's why we tell you how many other riders you've helped."
Inside Motivate's sprawling, high-ceilinged offices, Waldoch gestures to a set of screens on the wall. There, like a replica of the WarGames big board, the system pulses with graphs, maps, and figures: how many riders are active, which stations have technical problems. Waldoch notes that the number of Citi Bike trips the day before—"which was not a nice day at all"—was "as much as our system in Columbus, Ohio, gets in almost an entire year."
The key number on display is Citi Bike's rideability metric: What percentage of the time, and for what percentage of riders, are at least a few docks and bikes accessible? The way people used to look at bike-share fallibility, Waldoch says, was more crude: How many stations are empty? How many are full? But as Wood notes, "At the right place and time, an empty station could be a good thing, if you know there's about to be a wave of bikes."
Maybe there's more than altruism at work here. Miller has wondered whether he's "semiconsciously trying to avoid having to think about my own personal adult responsibilities" or just drowning out the crushingly depressive news cycle.
Users themselves are, of course, the greatest enemy of rideability. Transportation planners like to say that the best way to predict the trip a person will make today is to look at the trip they made yesterday. Commute patterns are virtually hardwired: just like the sunrise, you can count on more people and bikes migrating from Brooklyn to Manhattan every morning than vice versa. But randomness intrudes—over half the system's usage happens outside peak commute hours. If it rains in the morning, fewer people will ride bikes. But if it gets nice in the afternoon, suddenly the bikes are not docked where they need to be.
Weekends have their own rhythm. "Pure entropy," Miller calls it. "That's when Sunday nights get really interesting"—points-wise—"because the system is trying to solve the earth for Monday morning." The data hint at weird little patterns. The East Village has rush hours both for work and for nightlife. People will ride to a Whole Foods but, laden with groceries, walk or take a taxi home. I began to imagine Waldoch and the rest of the Citi Bike team staring at all the docks on the big board, engaged in a massive game of chess with the system's users.
All this effort can seem a bit quaint, given that the bike-share industry is experiencing a revolution that should lead to systems with no docks at all. Armed with GPS, unlocked via app, and computationally powered by users' smartphones (rider data, not rides, several people told me, is where the money is), dockless bikes can be picked up and left basically anywhere. In other words, dockless bike share, via a half-dozen VC-backed startups, is already disrupting the docking model, one that was barely off the ground to start with. In 2017, according to a recent NACTO report, the number of bike-share bikes in the U.S. more than doubled, and most of them were dockless. In April, Uber—presumably hoping to grab a piece of that last-mile, too-short-to-hail-a-ride action—acquired Jump, a dockless e-bike-share startup.
Advocates pitch dockless as a more robust solution to the problems of supply and demand. Caen Contee, cofounder of Lime, says that his bike-share company can surpass supply bottlenecks through saturation—in essence, anticipating demand and oversupplying an area ahead of time. "If 15 bikes migrate, you've still got another 15 there," he told me. "In a typical [docked program], that would wipe out all bikes." Caroline Samponaro, a longtime transit expert who recently joined the Chinese dockless company Ofo as its head of policy in the northeastern U.S., notes that "docked systems undersupply bikes to make sure spaces are available for docking." She suggests that the dockless model, less limited by infrastructure constraints, can not only improve the equity of bike share as a transport system, but can also jump-start bike commuting in American cities.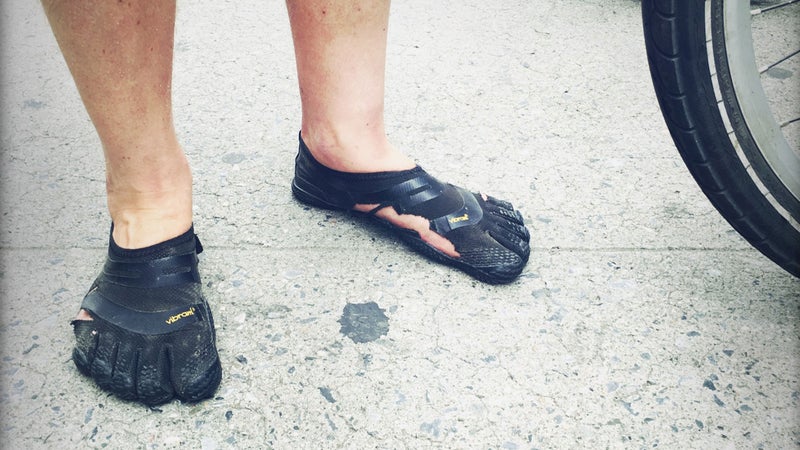 Dockless is prone to the same rebalancing demands as docked, perhaps even more so. And the great virtue of dockless bikes—that they can be dropped off anywhere and, at least theoretically, found closer to home—can be their main drawback. "The good and bad thing is that they're dockless," says Jared White, alternative-transportation manager for the city of Dallas, which, thanks to a recent influx of dockless startups, has the greatest number of bike-share bikes in the country. White's office is no stranger to 311 calls, typically from residential neighborhoods, about bikes left on sidewalks for days. The dockless companies I contacted said they knew, via gyroscope and GPS, not only when a bike had been tipped on its side, but also when it hadn't recently moved. "We were told, 'Oh no, if it sits for more than 48 hours we'll move it,' " says White. In large part, he says, "that's not happening."
And as NACTO's Fillin-Yeh points out, dockless still accounted for only 4 percent of all bike-share trips in the U.S. in 2017. "You'll get a few people riding if you just put out bikes," she says, "but if you actually want to change anything on a meaningful scale, you need the infrastructure." Which is to say, don't bet against the docked model—or the Angels—just yet.
---
Like any athlete, Miller keeps a close watch on the competition. He's also friends with some of them. During a recent early-spring snowstorm, the three regular podium finishers on the Angels leaderboard got together for lunch—choosing a day when they knew snow would muffle the system. "It was nice to just not have to think about Bike Angeling at all," Miller told me, a statement that struck me as slightly odd, given his lunch companions. He first spotted one of them, the Bike Angel he dethroned in October, outside the Javits Center in Manhattan. "He was doing some points," Miller says—he didn't ask, he just knew. He describes, with faint ­wonder, one of his rivals' methods: "He would use his wife's account to take out a second bike, then ferry it next to him. That's a skill unto itself."
The question demanded of any person locked in a monomaniacal pursuit is: Why? The rides, Miller says, keep his joints loose between dog-running appointments. The White Key? Nice, but it's largely symbolic, and anyway, he lost his. The free memberships help. "I like to keep all my costs way down," he points out. There is money involved—ten cents for every point earned beyond the 80-point monthly threshold. He's made as much as $500 in a month, but, he says, considering the time, "I don't want to calculate the hourly wage, because it would be a joke." In December, he donated 2,380 excess points to a charity that gives Citi Bike memberships to underserved communities. A true believer in the sharing economy, Miller rents out two bedrooms in his apartment on Airbnb, often giving guests Citi Bike day passes.
But there's something more profound going on with Miller. "I feel an almost perverse sense of satisfaction when I see that I've helped someone—that I've directly supplied a bike to a person, so they can immediately start their day," he says. It's that curious dopamine hit you get when you relinquish a parking space to a waiting driver. Miller's Bike Angel code prevents him from taking the last bike from a station or putting a bike into the last dock space. "Unless," he clarifies, "it's a five-point or more takeout from the trip I'm doing." He routinely redocks bikes that desperate users have abandoned for want of a space and returns objects left in bike baskets to their owners. "That's when I start to feel," he says, "the purest form of Bike Angel."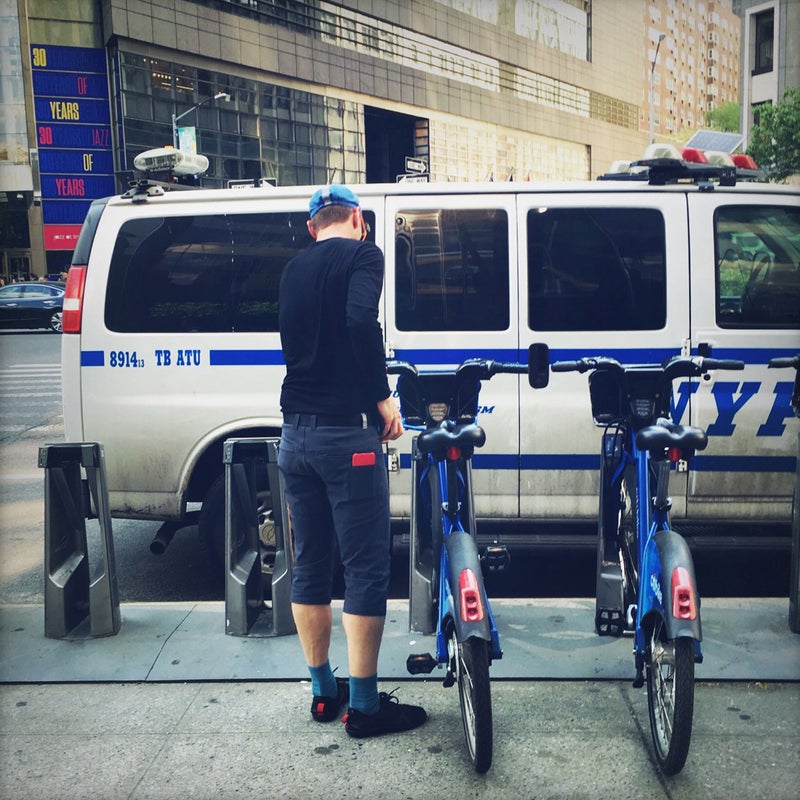 Maybe there's more than altruism at work here. He has wondered whether he's "semiconsciously trying to avoid having to think about my own personal adult responsibilities" or just drowning out the crushingly depressive news cycle. "Things seem like they're globally out of control," he says. "Humanitarian and refugee crises, nationalism is spiking again." Against that backdrop, "there's something about grabbing a bike from over here and moving it to there. I've effected change. It's very simple."
In a world out of balance, maybe balanced bikes make a difference. Arriving home after saying goodbye to Miller, I suddenly realize that I left my keys in the station I took a bike from. (It was a one-point pickup.) I race back in a panic. And there they dangle, half an hour later.
"Haha," Miller e-mails. "Bike Angels watching over you."
---
In April, Miller went far beyond any of his previous leaderboard-topping totals, closing the month with 8,888 points. I wondered if there was something symbolic in the number, not just its size but its perfect symmetry, the infinite nature of the figure eight. Was this the beginning of something bigger, or a cryptic send-off?
I had my answer on May 1, when I clicked on the leaderboard and saw he had dropped well below the pole position. YM565 now owned the top spot. Miller was midway down the table, with a points total just beyond the membership-extending threshold. It was like seeing LeBron finish in single digits in a playoff game. In one of our earlier conversations, Miller had alluded to the amount of mental energy he was expending to maintain his Angel position, the sheer psychic weight of being so jacked into the Citi Bike nervous system. It was his only admission that any of this might be taking a toll on him.
What I didn't know then was that he was already plotting his exit strategy. "I treated April as my blaze of glory or swan song and am now officially 'out of the game,' " Miller e-mailed me. "I left my mark, did whatever it was I wanted to do within it. It's better for me and my own sanity. I don't fully trust myself to casually play the game."
Contributing Editor Tom Vanderbilt (@tomvanderbilt) wrote about healthy office design in March. Photograph by Hannah McCaughey/Map by Norman Garbush.