Quinn Brett Is the First Adaptive Cyclist to Complete the Tour Divide
The former pro climber became paraplegic after a bad fall on El Cap. Now she wants to raise awareness for how accessible the outdoors can be.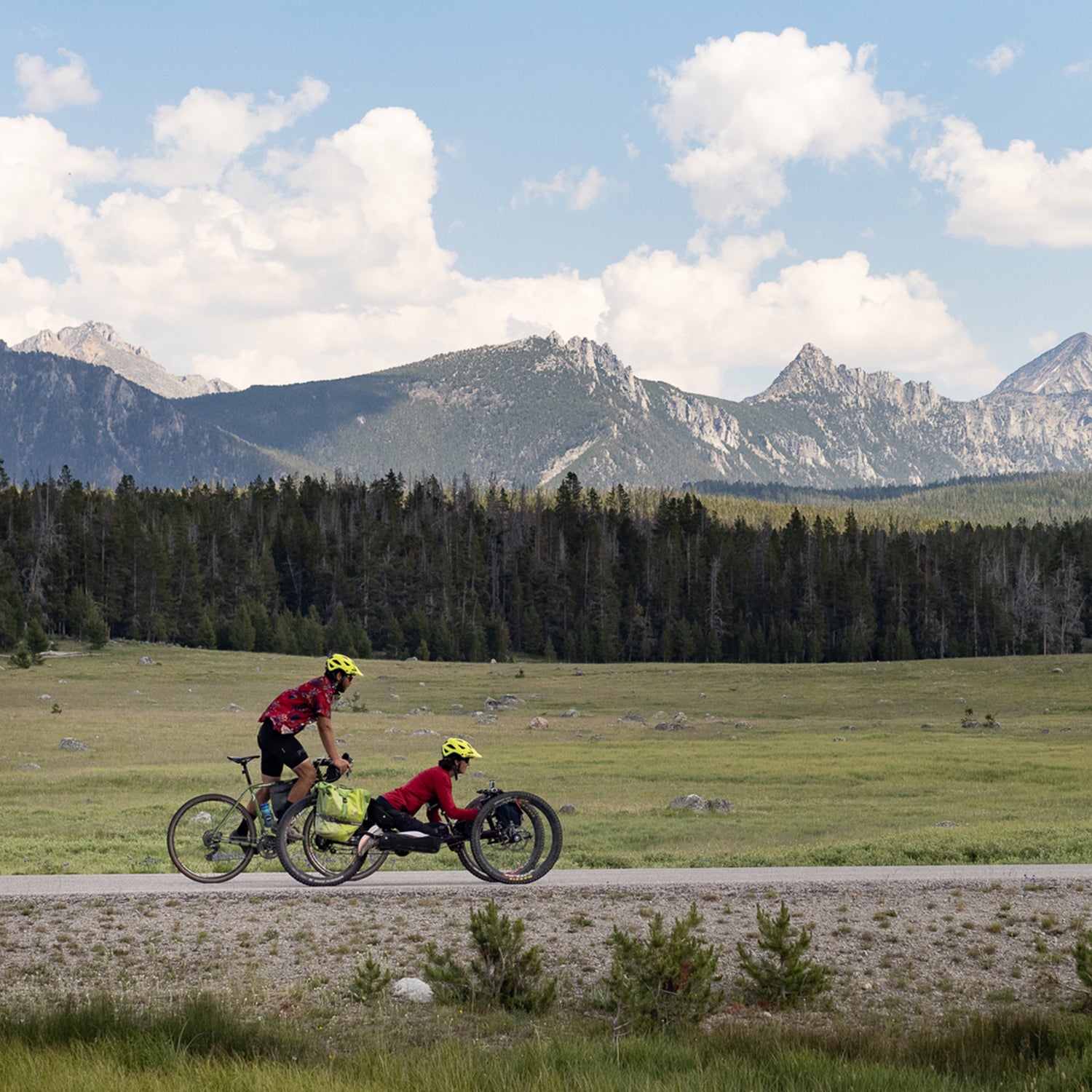 Heading out the door? Read this article on the new Outside+ app available now on iOS devices for members! Download the app.
When Quinn Brett rides her adaptive hand bike, she's always looking up—and not just because of the prone position the saddle keeps her in. Brett's whole athletic career has been defined by the search for new ways to push her limits. Case in point: she just completed the roughly 2,400-mile cross-country Tour Divide mountain bike race in 25 days. She's the first documented racer to finish the race on an adaptive hand bike.
The annual bikepacking race takes on the Great Divide Mountain Bike Route, which spans from Jasper, Canada, to Antelope Wells, New Mexico, along the Rocky Mountains. It's one of the longest established mountain-bike races in the world. This year, due to border closings, racers skipped the Canadian section and started in Eureka, Montana, finishing roughly 2,450 miles later at the Mexican/United States border.
Brett's path to the Tour Divide is far from average. Four years ago, she was a dominant big-wall climber. A 100-foot fall during a speed ascent of the Nose in October 2017 left her paralyzed from the waist down. While she recovered in the hospital, a friend and cyclist bought her a hand bike. It didn't take long for her ambitions to kick in. "I just love moving across the earth," she says. "I don't want to let anything stop me, I'm just like 'I need to move'." She quickly began seeking out cycling opportunities near her home base in Estes Park, Colorado.
On the second anniversary of her fall, Brett spent four days with friends camping and riding along the White Rim trail in Canyonlands National Park. "After that I was like, 'I think I could do White Rim in a day'," she says. In March, she did just that. "It gave me the energy and excitement to do the Tour Divide."
It would be an ambitious undertaking. The trail's overall length and 149,664 feet of vertical gain push riders who aim to finish at any pace. The fastest riders typically finish in 14 or 15 days (the first-place title in 2021 went to Jay Petervary, who completed the route in 14 days, 19 hours, and 14 minutes). But Brett would face other challenges. She rode supported, with cyclist Joe Foster. Finishing the route in 25 days meant riding an average of 100 miles a day, at roughly 11 miles per hour.
Her ride of choice: the Reactive Adaptations Bomber, a three-wheeled hand bike. The bomber keeps Brett in a kneeling stance, with her chest lying on the saddle, while her arms do both the pedaling and the steering. This puts her body weight over the crank set for added power, but can add strain on a lengthy ride. "My chest and neck were sore all the time," Brett said. "The saddle soreness was a lot, and paired with the workout on my arms and shoulders, I was in a lot of pain."
"I just love moving across the earth," she says. "I don't want to let anything stop me, I'm just like 'I need to move'."
Crucially, the Bomber has a built-in mid-drive motor (otherwise, any ride on the hand bike is slow and tiresome). Without the motor, Brett says she couldn't move in the outdoors the way she wanted. "Five years ago this wouldn't have been possible," she says." For example: adaptive bike companies have figured out how to tweak the motor's output to account for the difference in power made from pedaling with your arms instead of your legs.
She tends to keep to the lowest of the five motor settings, which was just enough for her to reach a three to six mile-per-hour pace (similar to brisk hiking) off road, and roughly 13 to 17 miles per hour on flat roads. "I wanted to really feel like I was getting a workout on steep hills and things like that," she says. She got what she asked for, thanks to a few days of rain, which yielded muddy conditions in the backcountry, coupled with a record-breaking June heatwave.
But those struggles went hand in hand with something Brett loves: the ability to spend a long time in the wilderness, out of a wheelchair.
She views her Tour Divide finish as more than just a personal achievement. To her, it's proof that the backcountry can still be accessible to people with disabilities. Brett paired her race with a fundraiser with the Kelly Brush foundation, a nonprofit dedicated to providing recreational opportunities for people with spinal cord injuries. The goal: raise money to purchase adaptive bikes and other equipment to be kept at or near national park sites. "It's hard as a person with a disability to travel with these big bikes," says Brett. "To have them at the gateway towns of these national parks where people can rent them and then use them is such a clear way to improve access."
Of course, with the Tour Divide done, Brett isn't slowing down. "When we finished out the route I was like, 'too bad there's this wall here, I want to keep going and do the Baja Divide!'," she says. For now, her immediate hope is to finish the roughly 300 remaining miles of the Tour Divide route, once restrictions are lifted. "We were talking about making that ride more of an adaptive cyclist event," she said. "Invite people in the community and get a group ride going… there are definitely lots more biking adventures I want to do."
Lead Photo: Rob Prechtl