In 2023, the Red Bull Rampage Riders Will All Be Men. Again.
But a dedicated group of women is pushing the iconic freeride mountain-bike competition to open its doors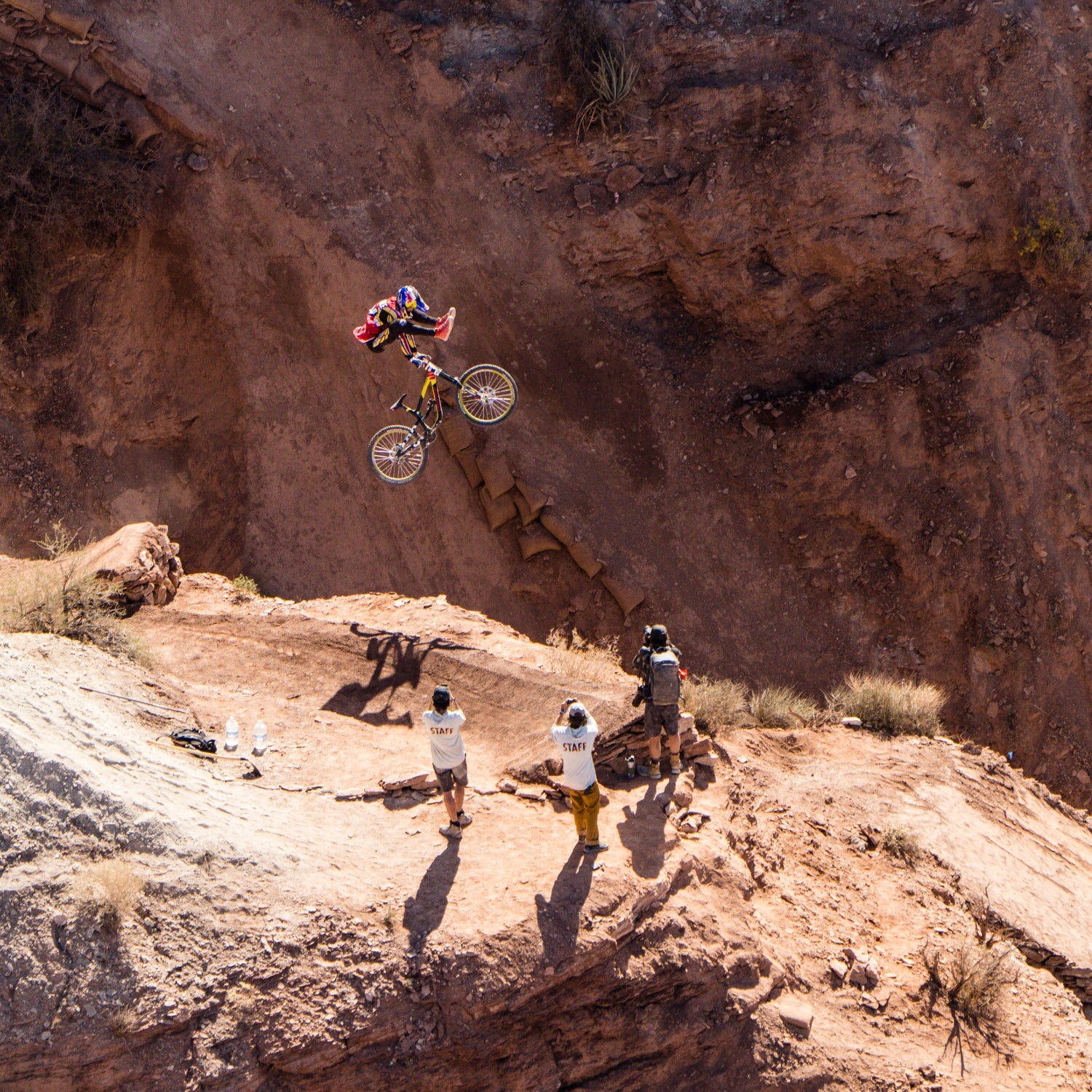 Christian Pondella / Red Bull Content Pool
Heading out the door? Read this article on the new Outside+ app available now on iOS devices for members! Download the app.
Every year, Red Bull invites the world's top freeride mountain bikers to to a dusty bluff near Virgin, Utah, to participate in Rampage, the sport's biggest competition. Or at least, the energy drink brand invites the top men—a woman has never ridden at Rampage, and this year will be no exception.
On Wednesday, September 13, Red Bull announced the 18-man roster for the 2023 competition, which is set to take place on Friday, October 13. The lack of women participants was a disappointing reveal for women's freeriding fans. Earlier this year Red Bull canceled Formation, a non-competitive women's freeride event, after just three editions.
Rampage co-founder Todd Barber told Outside in 2018 that, while women aren't prohibited from competing, there simply hadn't been a woman who can ride the Rampage terrain the way the men can. "I've had other women want to compete," Barber said then. "But there are a lot of guys out there to choose from. It's hard to say we'll give Casey [Brown] a shot when there have been so many guys knocking on the door for years. I'm not opposed to it. But it's gonna be tough. The Rampage is not a proving ground."
At this point, significantly expanding the field to accommodate women participants would be a challenge for organizers given the tight, one-day schedule. But the women riding jaw-dropping lines at Formation and other events—and the fans who want to see them on the biggest stage in freeriding—believe it's time to make the program inclusive.
"Red Bull is all about pushing boundaries, and I don't think anything more boundary-pushing could happen at Rampage than the first woman dropping in," said Alex Showerman, a Vermont-based mountain biker who has helped with course construction and content production for Formation and Rampage. "It's a no-brainer that women need to be there, and that that's what is going to grow the sport of freeride." (Red Bull released a statement to PinkBike saying it was "exploring with industry experts how we might develop a women's category at Red Bull Rampage.")
The lack of opportunities for women is most apparent at the top, but the problem persists throughout the broader mountain biking community. In the U.S., only 17 percent of mountain bikers are women (compared to 40 percent of all athletes across sports), and 80 percent of professional women mountain bikers have experienced sexism in their careers.
If the mountain-bike industry wants to elevate the level of women's riding and expand the field, athletes need resources and visibility. Rampage could offer that, but the women can't get their foot in the door without—you guessed it—a bigger field and higher level of riding. The men's lineup is stacked, which is a product of the visibility, sponsorships, prize money, and infrastructure that has existed for decades to help them push the boundaries of their sport.
"We want to push the sport and not only be equal with men, but progress it to the next level," said Chelsea Kimball, a professional rider who participated in Formation in 2021 and 2022. Kimball parks her van in Virgin, Utah, every winter to ride the iconic terrain, and hopes to someday ride in Rampage.
The push for women's inclusion in freeride spaces has been ongoing for years, led by athletes like Casey Brown, who petitioned the Rampage selection committee for a spot in 2018. Formation was co-founded in 2019 by Rebecca Rusch and Katie Holden, two decorated mountain bikers. The event was organized to help women riders progress, rather than to crown a winner, offering the athletes "tools and resources" to "advance the women's field of the sport," according to Red Bull. It was a forum for incredible riding, but lacked the budget of Rampage.
"Women are hitting Rampage lines at Formation but they get, like, a high five, a sweatshirt, some cool Instagram reels and maybe a YouTube," said Showerman
Past editions of Red Bull Formation were held in the same region as Rampage, sometimes at the exact same venues. A quick perusal of footage from the event makes a pretty strong case that women can ride the same lines as top male riders, even if they aren't pulling the same stunts. (Which is not to say women aren't pulling tricks on big stages—Caroline Buchanan was the first woman to land a frontflip at MTB Worlds in 2021, and Robin Goomes sent the first backflip at Formation in 2022).
Kimball doesn't argue that she's better than the male riders on this year's roster, and doesn't want women's inclusion in Rampage to take opportunities away from the current competitors. "Yeah, I'm not backflipping a 30-foot drop. That's 100 percent true," she said, but also pointed out that many of the guys at the event have been riding their entire lives. Kimball, 32 didn't get on a bike until she was in her twenties. "I basically learned to jump in 2017 and I'm already hitting the same size of drops that they're hitting," she said.
This year, Kimball is hosting an unofficial meetup for women riders in Virgin the week before preparations begin for Rampage. "I'm inviting pretty much every woman I meet who likes to jump. We're going to be riding a bunch and building stuff, and filming it all and just kind of seeing what happens," said Kimball. Around 50 people are already signed up. "It's a big showing. There are a lot of people behind this, not just a few women at the top that want to push it. There are a lot more."
This story has been updated to include Todd Barber's full statement in 2018.
Lead Photo: Christian Pondella / Red Bull Content Pool
Trending on Outside Online