bike
Road Cycling Is Ripe for Reinvention
No, it's not the new golf—road cycling is cheaper and easier than ever, and it's ready for a makeover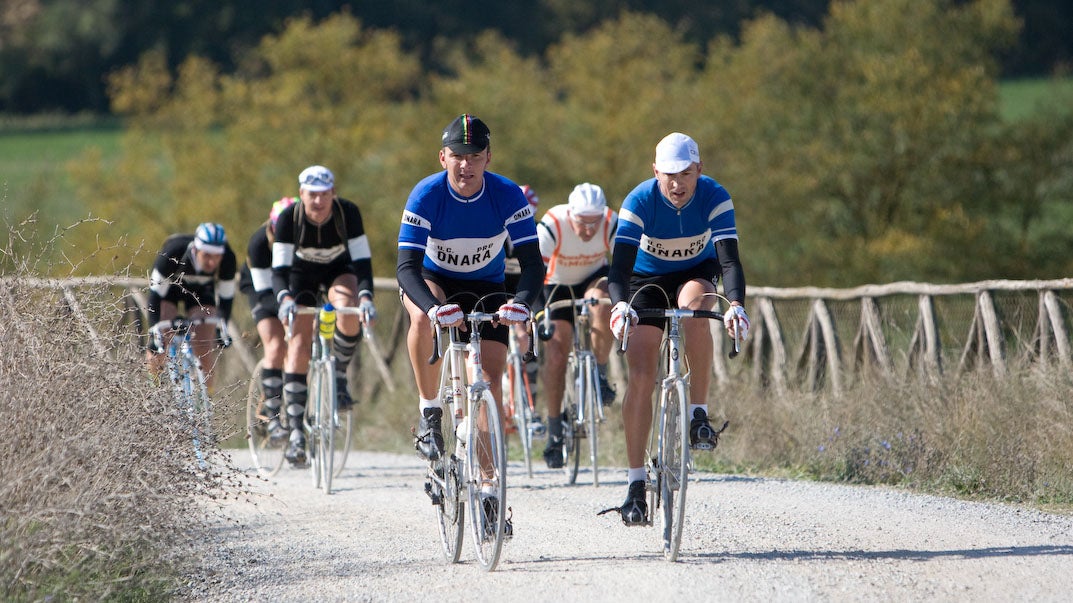 tetedelacourse/Flickr Creative Commons
Heading out the door? Read this article on the new Outside+ app available now on iOS devices for members! Download the app.
For many, many years, road cycling was synonymous with elitism. Inscrutable rules, costly custom frames, all manner of unguents and embrocations… In the heady days of the Lance Armstrong-era American Roadie Boom, cycling even became known as "the new golf," and anecdotes abounded about Lycra-clad business bros, high on Enervit and ego, making big-money deals as they cranked out the big watts.
Then road riding seemed to lose some of its unctuous, depilated sheen. The Waltons bought Rapha, which made roadies feel all icky and déclassé. USA Cycling got rid of Category 5 and introduced voluntary upgrades, which meant all those lofty Cat 4s no longer had anybody to ridicule. Gravel got more and more popular—its growth fueled in no small part by its very unroadlike inclusivity—and the marketing followed. In turn, riding on very small rocks has now gone from folksy to fancy, and the pointy end of the sport can be just as expensive as road riding ever was.
Ironically, the result of all of this is a sort of road/gravel inversion. Humbled and stripped of its caché, road riding is ripe for reinvention as an accessible and unpretentious approach to cycling. One important reason for this is that, for millions of people, it is quite literally the most accessible form of cycling. Evocative imagery of amber waves of grain notwithstanding, 80 percent of the population of the United States lives in urbanized areas. The upshot is that relatively few people have easy access to miles and miles of untrammeled gravel (or a motor vehicle with which to travel to it), but pretty much everybody lives on or near a road. Granted, those roads seem to be growing increasingly more dangerous, which is part of what's helping fuel gravel's growth in the first place. But at least the prospect of fewer preening roadies makes those roads slightly less daunting.
Another aspect of road cycling that many once found prohibitive was the cost of the equipment. Road cycling in the age of electronic shifting, disc brakes, and carbon everything is not a cheap proposition. However, the upside is that once you free yourself from the idea that you need all that stuff in the first place, the bottom falls out and you can get into road cycling for next to nothing. Gravel is so popular it's even driven up the demand for vintage mountain bikes, but bikes with rim brakes and relatively tight frame clearances are still deeply out of fashion and thus eminently attainable. For example, recently I've been riding a 1989 Trek 1200. Bonded aluminum frame, one-inch threaded headset, downtube shifters, single-pivot rim brakes…it's as outdated and ungravelly as a bike can be. It's also lots of fun to ride, has some vintage panache (at least if you're young enough not to know how common they were), and was on sale from an actual bike shop in ready-to-ride condition for a whopping $229. Trends aside, road bikes have been around forever, and until recently the pace of technological development in the segment has been slow. The result is that there are roughly a zillion used road bikes out there, and it often doesn't take much more than some fresh tires and bar tape to breathe new life into them.
The fact that traditional road bikes are out of fashion also makes them inexpensive to maintain and upgrade. Modern road and gravel rims are now optimized for wider, tubeless tires, which means the perfectly serviceable 23-millimeter clinchers roadies used for years are often on clearance. Downtube and bar-end shifters are as simple and durable as bike parts get, and in friction mode you can use just about any gearing you want, which means you can save or splurge on cassettes and chains as you see fit—or if that's too primitive for you, integrated shifters have been around long enough that there's not much of a premium on them anymore. Also, the reason rim brakes stuck around so long on road bikes is…they work great on road bikes. So the recent wholesale consumer shift to discs means more bargains and cheaper maintenance for you.
"Good for you, Mr. Thrifty," you may be thinking. "What about the clothes?" Well, fantastic news: if you've got sneakers, jeans, and a T-shirt you've already got pretty much everything you need to go road riding. There's some fantastic (and expensive) cycling-specific attire out there, but the fact is that you can get away with "regular" clothes on the bike a lot more often than all that technical-gear marketing might lead you to believe. Also, flat pedals are awesome, so you don't even need the special shoes. Mountain and gravel riders kinda-sorta get this, which is why their attire can skew a little less formal and platform pedals are fairly common, but unless you're deeply worried about your drag coefficient or are regularly engaging in career-on-the-line sprints, there's really no reason you can't also apply this dressed-down free-footed sensibility to riding on the road. Probably the biggest thing you forfeit on the road by not riding in bikey clothes is pockets on the back of your shirt, though a handlebar bag, frame bag, or similar accessory is an adequate–and more capacious–substitute. (And thanks to gravel, the sheer abundance of frame and handlebar bags is almost grotesque.)
All of this together has the potential to change the look, feel, and appeal of road riding. Actual sanctioned road racing has various rules regarding clothing and equipment, but beyond that there's nothing really stopping you from joining the many organized rides, tours, and fondos out there in a more casual state of dress. There's also room to put together new rides that place more emphasis on the casual. For instance, the main appeal of the Eroica concept is of course the chance to immerse yourself in lugged steel and wool, but it's also a respite from life on the bleeding edge of bike tech and a chance to talk to your fellow riders and revel in a shared love of cycling. So, why not a "Normcore Ride" for those proud curators of bike-boom bargains?
As for solo rides or gatherings with friends, road riding has always prioritized staying on the bike at all costs, to the point where you can't even walk in the shoes. Approaching road riding less formally means lingering longer at the coffee stop, savoring the scenery instead of relegating it to your peripheral vision, and maybe even incorporating a museum visit or a hike or a swim or an errand or a social call on a friend or family member. Or just put your head down and hammer, whatever works for you.
Road riding will always have a strong competitive contingent, and where there's competition there are barriers to entry such as rules and equipment and the considerable expense that comes with it. But with the gatekeepers distracted there's never been a better time to slip in through the service entrance and have fun with their castoffs. The cycling world can be a fickle one, so use that to your advantage.
Lead Photo: tetedelacourse/Flickr Creative Commons