Saddle Up a Tour Thoroughbred
If Floyd Landis and his Phonak teammates stumble on the road to Paris, they won't be able to blame their bikes. Built around the most advanced carbon-fiber frame on the market—the Pro Machine SLC01, from Swiss manufacturer BMC—Phonak's $8,600 ride boasts technical gadgetry, wind-cheating designs, and revolutionary materials that make it the en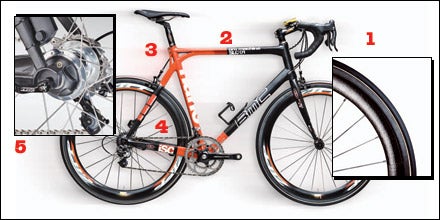 Heading out the door? Read this article on the new Outside+ app available now on iOS devices for members! Download the app.

1.) WHEELS

Tour Guide
Click here
for
Outside
's insider look at the 2006 Tour de France.
Also, visit Outside Online daily during the 2006 Tour de France (July 1-23) for race analysis by Chris Carmichael (the man who coached Lance Armstrong to seven tour wins), the latest stage results, and exclusive photos from our on-the-scene photographer.
The golf-ball-like dimples that cover the surface of the Zipp 404 wheels reduce drag along the surface of the rims to enhance aerodynamic performance. Also, the deep-dish rims allow for fewer and shorter spokes, to minimize air turbulence. On a flat road, the power required to maintain a 30-mile-per-hour pace—a typical speed in the pro peloton—is up to 10 percent less than it would be on standard wheels.

2.) FRAME


The weakest parts of any carbon-fiber product are the spaces between the individual carbon threads, which contain only brittle resin. The SLC01 is the first bike built with nanotubes, small arrays of carbon molecules—about one-millionth of a millimeter in diameter—added to the resin to fill the gaps. Because these tubes both weigh less and are stronger than the resin they displace, the resulting frame is as stiff as BMC's 2005 model yet a full 22 percent lighter.

3.) SEAT-TUBE CLUSTER


The SLC01's unique seat-tube cluster reduces weak points near the seatpost and provides a more comfortable ride by diffusing stress and vibrations across larger sections of the frame.

4.) CHAINSTAYS


The most important frame parts for transferring power to the rear wheel are the chainstays and the bottom bracket (the section that houses the cranks). Thanks to stiffer frame technology, BMC was able to build these areas up to cartoonish proportions, providing a solid, durable platform that can hold up in the Tour's 45-mile-per- hour sprints and grinding climbs.

5.) HUB


Power meters, mounted in either the rear hub or cranks, relay vital data on rider performance and have become common training tools for most pros. Due to the added weight, though, riders generally shun them on race day. But the SLC01 is so light that even with the 15-ounce PowerTap rear hub, it comes in right at the 6.8-kilogram (15-pound) minimum-weight requirement set by cycling's governing body.
The Bottom Line: Shameless Tour Promotion From the Experts
"People watch Desperate Housewives because they're hooked on the story. It's the same thing for the Tour."


Paul Sherwen—TDF commentator, OLN TV
Trending on Outside Online