Seven Straight. Ten of the Last 20. But, Hey, Who's Counting?
Tour dominance by LeMond and Armstrong has given the Euros fits for two decades. And if this group of U.S. pros is any indication, their suffering has only just begun.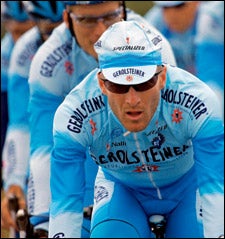 Heading out the door? Read this article on the new Outside+ app available now on iOS devices for members! Download the app.
GEORGE HINCAPIE
Tour Guide
Click here
for
Outside
's insider look at the 2006 Tour de France.
Also, visit Outside Online daily during the 2006 Tour de France (July 1-23) for race analysis by Chris Carmichael (the man who coached Lance Armstrong to seven tour wins), the latest stage results, and exclusive photos from our on-the-scene photographer.
Levi Leipheimer

Levi Leipheimer
Age: 33

Team: Discovery (USA)

TDF Finishes: 10

AFTER SEVEN YEARS as a dedicated lieutenant to Lance Armstrong, George Hincapie shocked the cycling world with an authoritative victory in the most difficult climbing stage of last year's Tour. Hincapie has long been America's greatest threat in the spring classics—cycling's toughest one-day races—but his time as Lance's chief wind block transformed him into a more complete rider, with the skills to challenge in any stage race. Discovery Channel is stacked with talent, though, and team director Johan Bruyneel refuses to say whether Hincapie will be the leader. "We have three or four riders of that type," he says. "The race will have to determine who works for who." Hincapie claims that a broken shoulder suffered in a crash in the Paris–Roubaix in early April won't be an issue. The Tour's July 8 time trial will be the test. If he shines there, he'll be trying to make it eight wins in a row for the U.S.
DAVE ZABRISKIE

Age: 27

Team: CSC (Denmark)

TDF Finishes: 0

NO AMERICAN RIDER better embodies the agony and the ecstasy of the Tour than Dave Zabriskie. He grabbed the yellow jersey with a record-setting 33.97-mile-per-hour ride in last year's prologue, just edging ex-teammate Lance Armstrong. Three days later he crashed out of the team time trial, suffering injuries that eventually forced him to abandon. "I still haven't figured out what happened," he says of the freak accident. (Even in replays, it's unclear why he went down.) "Lance had a voodoo doll maybe." Still, Zabriskie is the only American ever to win a stage in all three grand tours (France, Spain, and Italy). While he hasn't shown the climbing chops needed to be a serious Tour challenger, he did take sixth overall at the Tour de Georgia. And he's a threat to win every time trial he enters. Watch for him to crush it in the prologue.
TOM DANIELSON

Age: 28

Team: Discovery (USA)

TDF Finishes: 0

AFTER FLOYD LANDIS, America's best shot at winning the Tour in the next five years is probably Tom Danielson. "If you put him at the bottom of any hard climb and you're racing bottom to top, he'll beat anybody," says George Hincapie, Danielson's Discovery Channel teammate. A somewhat wasted year on the Italian Fassa Bortolo squad—where he spent his first season in Europe being largely ignored by the team directors—prompted Danielson to jump to Discovery in 2005, where he began studying the race tactics and gamesmanship he needed to get the most out of his raw talent. With Lance riding in support, he promptly beat America's best, including Landis, to win the 2005 Tour de Georgia. And last September he finished eighth overall in a particularly mountainous edition of the Vuelta a España, his first grand tour. A solid time-trialist as well as a world-class climber, Danielson set his main goal for 2006 as May's Giro d'Italia—in preparation for an assault on the Tour de France in 2007. "I'll only ride the Tour if my form is so good that I have a shot at the overall," he says.
LEVI LEIPHEIMER

Age: 32

Team: Gerolsteiner (Germany)

TDF Finishes: 3

WITH THREE TOP-TEN finishes at the Tour de France and a third place at the 2001 Vuelta a España, Levi Leipheimer is a seasoned vet in the dogfight for the overall. The one knock against him is that he has lacked the extra kick that would get him to the top of the podium. But he dropped a stacked field—including Jan Ullrich—on the steepest climb of the nine-day Tour of Germany last August to sew up a win against the world's best. So what of his prospects in France? He can crush any climb, and a time-trial win at the Tour of California in February showed that he's made needed gains in that discipline. Also, unlike last year, when he lined up as co-leader of the Gerolsteiner team, Leipheimer will be a fully supported solo captain in '06. He plans to make the most of it. "The results I achieved in 2005 have raised my expectations," he says. "It's not worth it to make all the sacrifices my wife and I make for cycling to not give it everything."
The Bottom Line: Shameless Tour Promotion From the Experts

"The people who got into cycling in the last seven years aren't going to quit. It's an addictive, social sport."



Greg LeMond—three-time Tour de France winner