Tadej Pogacar is Making the Tour de France Fun Again
The Slovenian superstar is injecting a heavy dose of humor and goofiness into sport that often takes things too seriously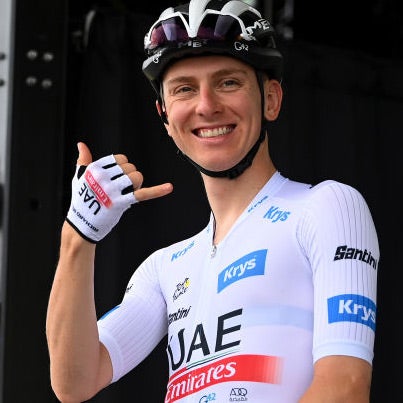 Tim de Waele/Getty Images
Heading out the door? Read this article on the new Outside+ app available now on iOS devices for members! Download the app.
Behind the colorful jerseys and blurring peloton, the Tour de France is a three-week pressure cooker of anxiety and frayed nerves for the 176 cyclists in the race. Each day they battle one another for career-affirming victory under the scrutinizing gaze of rowdy fans and pesky journalists. Most have spent thousands of hours training specifically for this one event. It's hot. They crash. Margins of victory are tiny. The whole thing is a recipe for psychological stress, and over the years we've seen Tour stars transform into grumpy and even violent grouches.
In my four trips to report at the Tour, I never got the sense that anybody was having much fun.
And then there is Tadej Pogacar. Here, let me help you with that pronunciation. It's Ta-day Po-GAH-Chur.
This year, the 24-year-old Slovenian wunderkind has blossomed into the Tour's patron saint of silliness, injecting an otherwise stuffy event with a much-needed boost of joy. He is bubbly in pre-race interviews, cracking jokes and giggling. Every morning, as the racers line up at the start, Pogacar makes the rounds, fist bumping his competitors. And online, Pogacar has flooded social media with photos and videos of even goofier antics.
If @TamauPogi can ball 🏀🤩.#TDF2023 #WeAreUAE https://t.co/o1skG1CAUw

— @UAE-TeamEmirates (@TeamEmiratesUAE) July 8, 2023
He has photo bombed stage winners, and shot hoops with roadside fans. The latest video, uploaded during Monday's rest day, shows Pogacar pedaling along a French street with a two-foot-long baguette sticking out of his jersey pocket. He grabs the hunk of bread, takes a mighty bite, and mugs for the camera. The Tour de France may be the world's toughest bike race, but Tadej Pogacar appears to be having a blast at it.
Looking at Pogacar, you'd never guess that he's currently locked in one of the most hotly contested Tour battles in recent memory. After Tuesday's tenth stage, Pogacar trails defending champion Jonas Vingegaard of Denmark by just 17 seconds in the overall. And Pogacar appears to have the upper hand. After losing time to Vingegaard on stage five, he surged back into contention a day later, winning stage six outright before gaining back valuable seconds during the uphill finish to stage 9.
Make no mistake: Pogacar and Vingegaard are rivals of the highest order. As the hottest young prospect of his generation, Pogacar won the Tour in 2020 and 2021, and most pundits expected him to cruise to an easy victory last year. But Vingegaard and his Jumbo-Visma teammates set a brilliant trap for Pogacar in the Alps, and their cunning plan dethroned him, relegating him to second place. The whole thing was chronicled in episode four of the Netflix Tour de France: Unchained series, which I highly recommend.
Again, you'd never guess that Pogacar and Vingegaard are foes. After each stage this year, Pogacar has embraced the Danish cyclist, or given him a congratulatory fist bump. Let me tell you—I've watched the Tour every year since 2001, and this is highly unorthodox behavior. Lance tried to intimidate his rivals with icy glares. Chris Froome, a four-time winner, would smile and nod. Other Tour champs have simply zipped away after the finish to do interviews and then focus on rest, recover, and rehabilitation before the next stage. Every second counts in the fight for yellow. So why waste valuable energy with a sweaty bear hug?
Another GC shakeup after an epic battle between Tadej Pogacar and Jonas Vingegaard!#TDF2023 pic.twitter.com/ipuu52k3j9

— NBC Sports Cycling (@NBCSCycling) July 6, 2023
I am here for Pogacar antics. As a lifelong cycling fan, I've often wished that the racers would show their personalities to the world, especially during the Tour. A few have done so over the years. Slovakian star Peter Sagan famously popped wheelies at the Tour and produced funny videos on his social media, prompting Outside to call him "a welcome anomaly in a sport that seems ruled by cyborgs." Other riders have released podcasts or published written columns to showcase their true selves.
Tadej Pogačar is always there. Even when you think he's not. He is. #TDF2023 pic.twitter.com/luAzdoczZy

— le tour de robyn (@robynjournalist) July 3, 2023
But no rider, to my knowledge, has maintained this outward level of fun while also fighting for the Tour's biggest prize. And in that sense, Pogacar truly is a unicorn amongst the robots.
Why is Pogacar able to maintain such a lighthearted attitude amid such a nerve-racking situation? He's endured plenty of Tour stress over these last three editions, so perhaps he's like a high school senior, ready to goof around and not take trigonometry class too seriously. Maybe humor is his key for staying confident amid the pressure. Or perhaps he really is that carefree.
No matter the reason, Pogačar is making the 2023 Tour a fun race to follow, both on the livestream and on social media. And to think the Tour hasn't even hit its halfway point.
Lead Photo: Tim de Waele/Getty Images