2011 Tour De France
Tour De France Preview: Doping scandals or no doping scandals, we still love the Tour. Here's why you should, too.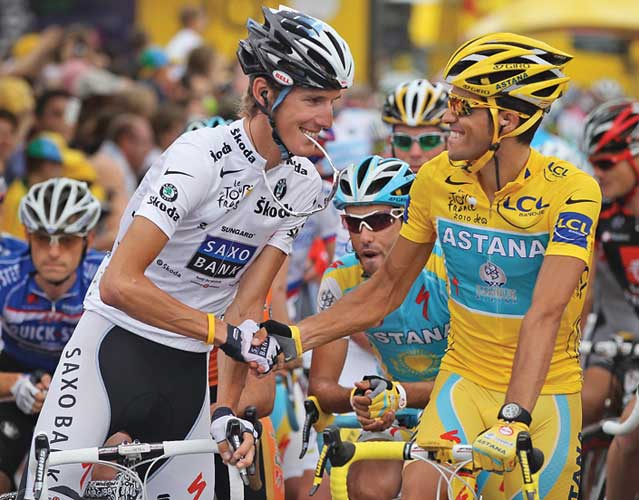 Bryn Lennon/Getty
Heading out the door? Read this article on the new Outside+ app available now on iOS devices for members! Download the app.
Tainted Love
Lance is gone, the current champ is embroiled in scandal, and many of the riders lining up on July 2 for this year's Tour de France will be cheating. So what? It's still the most exciting three-week event in sports. Six reasons even non-believers should keep watching.
1. It's Still Better Than Baseball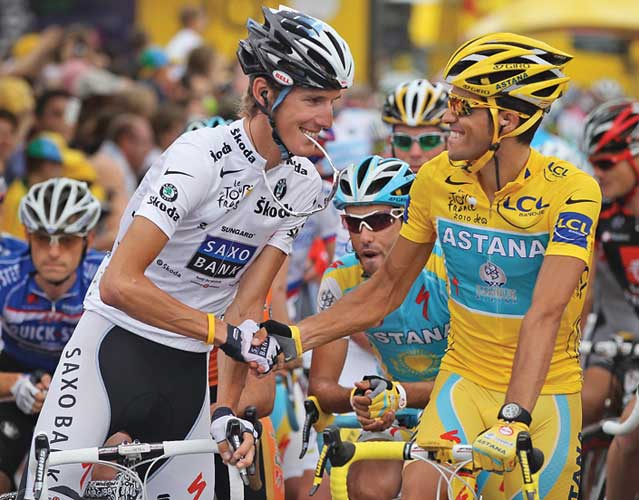 IF LIFE'S PLEASURES form the bedrock of happiness, my guiltiest one goes like this: Every July, I call up my local cable provider to request a 30-day upgrade, paying a mere $5 for the soothing companionship of Paul Sherwen, Phil Liggett, and the rest of the Tour de France coverage team at the Versus network. We'll spend 23 blissful days together. Each morning I'll wake to the sound of Liggett's breathless accounts of meaningless sprint finishes ("He nips him at the line, but only just!"), key mountaintop battles ("He's got the bit between the teeth!"), and stunning helicopter shots of the French terrain ("Just look at that buttress!").
Each night I'll settle in for the bonus coverage, watching it all over again in slow motion, tolerating Bob Roll's spastic analysis of remaining contenders like Andy Schleck and Denis Menchov. During these brief studio segments, the hosts will wring their hands and discuss the latest doping controversy, but it's always mercifully short. You're in a safe place at Versus; they'll never pierce your dreamy bubble of denial. When the champion is finally crowned, I'll pour my own glass of champagne, savoring a victory that will inevitably be revoked due to scandal in the coming weeks. But no worries—I've been here before. I'll just memorize the name of the second-place finisher. Was it Óscar Pereiro or Óscar Freire?
This year, as with the past few, there are people who will want to take this right away from me. They'll say the whole event is a sham, that cycling is beyond ­salvation. They'll point out the string of recent champions who have been embroiled in doping controversy. They'll say they're tired of me ignoring the kids and mono­polizing our one television. And for a ­moment, I'll think they're right and begin my annual sulk. But then I'll remember: drugs don't kill cycling; cyclists kill cycling. And I'll raise my right hand high in the air, clutching my remote. From my cold dead hands, I'll say.
2. Podium Girl Laura Shelton ­Antoine Knows As Much As Phil Liggett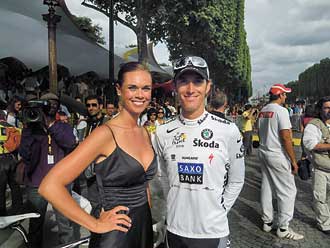 ON DOPING
You have to put it in perspective. There's doping in every sport, and cycling is one of the hardest sports in the world. American football? Come on. It's the nature of the beast of professional sports. If someone wants to not watch the Tour because of the doping scandals, that's their prerogative, but you can't go watch ­another sport. They all have their scandals.
ON THE GREEN SPRINTER'S JERSY
Mark Cavendish has ruled the sprints, and I expect him to win again on the Champs-Élysées. He really saves up to win that stage. When he's on, no one can beat him.
ON THE YELLOW JERSEY
Andy Schleck is going to pull through. I know how bad he wants it. After losing it to Contador last year, he will not give it up again this year. He's a nice guy, but you can see how much he wants to win.
3. Records* Could Be Broken
*medical records

4. The Pros Have Great Training Tips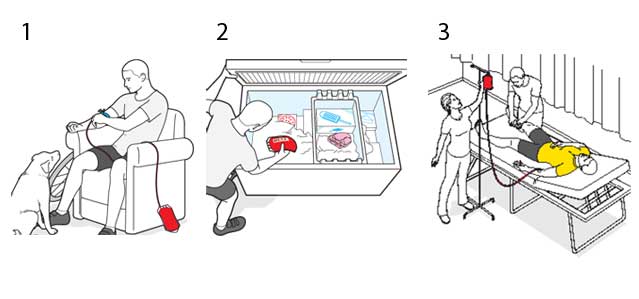 As many bike racers will tell you (off the record, at night, under a bridge), blood doping—using transfusions to boost one's percentage of oxygen-carrying red blood cells—is still the most effective way to gain an edge. Floyd Landis has claimed that he, Lance Armstrong, and other members of U.S. Postal used transfusions during Lance's string of Tour victories, in part because they're impossible to detect. (Or were. The World Anti-Doping Agency now has a test that will turn up trace amounts of blood-bag plastic in the body.) We consulted several doctors to show you how it's done, but we do not suggest you try this at home.
1. Tap a vein.
During the off-season, draw a pint—or several dozen—of your own blood. (Never use a friend's, which could kill you or raise red flags during a drug test.) Next, add an anticoagulant, such as citrate. Blood bags manufactured by Pall ($15; pall.com) come equipped with 16-gauge needles and are preloaded with anticoagulant.
2. Save it for later.
Freeze your blood to store it.
Put the bags on a Burrell Model AA wrist-action shaker ($1,850; burrellsci.com), then add intravenous-grade glycerol to keep those endurance-boosting red cells from bursting when they freeze.
Store the blood in a liquid-nitrogen freezer ($3,756; bsilab.com) at minus 112 degrees Fahrenheit.
3. Thaw and reinject.
Grab a cold bag and dunk it in a 98.6-degree water bath.
Wash out the glycerol, another potentially lethal and detectable foreign substance, by spinning it off in a Unico large-capacity variable-speed centrifuge ($1,695; medicus-health.com). Reinject your blood over a two-hour period using a gravity drop. Massages and bus breakdowns offer good cover. Side effects include stroke, staph infections, and feigned indignity.
ACCESSORIES
Latex-free tourniquet strips come in a variety of colors. $16 per roll
A Veinlite EMS can help locate hard-to-find blood vessels. $219
Phlebotomy totes conveniently organize your blood-doping supplies. $199
5. You Can Make It Interesting
The odds on the Tour's top contenders as of May

6. The Stories They Tell
Cycling history's most inventive alibis for drug scandals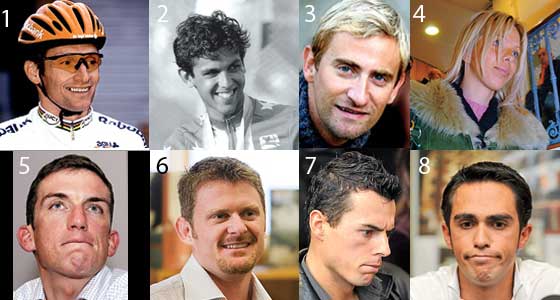 After testing positive for the veterinary steroid clenbuterol in 2010, Alberto Contador offered a bad-meat defense and then lashed out. "I believed in the anti-doping system," he said. "I no longer believe." The controversy won't prevent him from racing in this year's Tour, but it did earn him a spot on our list.
1. 1983
Adri van der Poel
Dutch Tour de France Rider
SUBSTANCE: Strychnine
EXCUSE: His father fed him pie made from euthanized pigeons.
2. 1992
Alexi Grewal
1984 U.S. Olympic road-race gold medalist
SUBSTANCE: Opiates
EXCUSE: He'd gorged himself on poppyseed muffins.
3. 2002
Frank Vandenbroucke
Belgian wunderkind
SUBSTANCE: Possession of EPO, morphine, and clenbu­terol
EXCUSE: They were medicines for his anemic dog.
4. 2002
Edita Rumsas
wife of Lithuanian Raimondas Rumsas, who finished third at that year's Tour
SUBSTANCE: HGH, EPO, and a dozen other banned materials found in her car by French customs agents as she was leaving the country 
EXCUSE: They were for her mother.
5. 2004
Tyler Hamilton
2004 Olympic gold medalist
SUBSTANCE: Caught with somebody else's DNA in his blood
EXCUSE: The DNA came from his chimeric twin, which had died in utero and been absorbed by Hamilton.
6. 2006
Floyd Landis
dethroned Tour champion
DRUG: Testosterone
EXCUSE: General manliness and whiskey were to blame for above-normal T levels.
7. 2007
Björn Leukemans
Belgian journeyman
DRUG: Testosterone
EXCUSE: Hey, he was having sex when the drug testers showed up unannounced to take his urine sample.
8. 2010
Alberto Contador
DRUG: Clenbuterol
EXCUSE: His steak was contaminated.